The Barstool Sportsbook App Is Live In PA, But Is It A Gamechanger?
The highly anticipated Barstool Sports betting app went live in Pennsylvania on Friday. The launch gave the industry and bettors in the Keystone State their first look at the company's sports betting app (powered by Kambi) and its underlying US sports betting strategy.
That strategy appears built on engagement.
There will be engagement through Barstool Sports personalities and their already popular content, and with new bet types like "The Hanson." The Hanson is a cute name for total points scored in all the NFL games on Sunday.
Besides industry-standard deposit bonuses, the early promos targeted Pennsylvanians, with exceptional odds boosts on in-state teams. For example, the Steelers and Eagles were boosted to 55-1 to win the Super Bowl.
I expect Barstool to continue this localized strategy as it launches in other states.
Barstool's Mission: Activate Stoolies
But the real strategy is activating Barstool's built-in fanbase of Stoolies. In an email sent to Barstool's mailing list on Friday, Portnoy made that strategy crystal clear: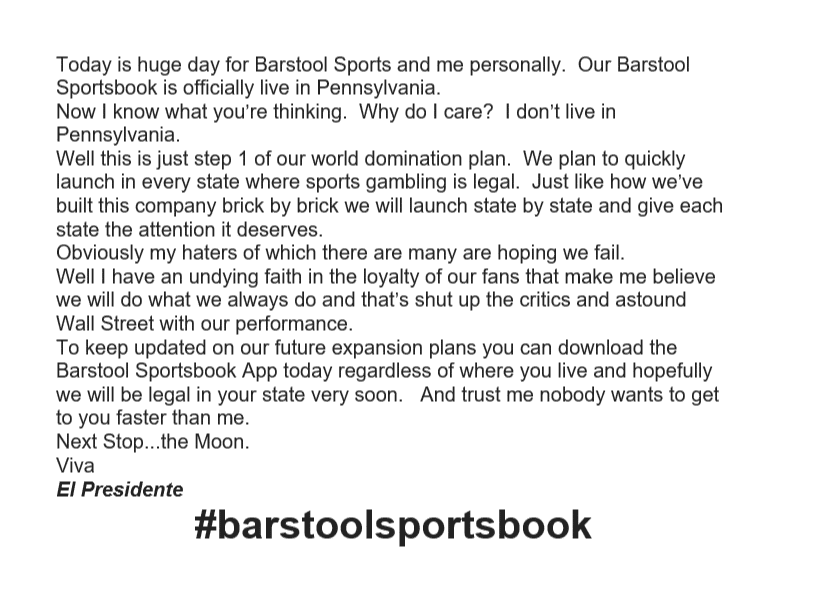 How will the Barstool Sports Betting app accomplish this? In an interesting and new way.
The Barstool app allows users to bet with or against several of the site's personalities. That includes boosted odds.
The strategy extends beyond the bet. The sports betting experience with Barstool includes media consumption, from pre-game shows to the games themselves.
Barstool provides users the ability to follow along in real-time with Barstool personalities, who are now located in Pennsylvania, through the pre-game Barstool Sports Advisors show or one of its other podcasts and media content. During games, they can watch Barstool personalities as they watch games (almost always with money on the line) on a live feed from the Barstool House.
The two big draws are Dan "Big Cat" Katz and Dave Portnoy, but app users can also back or fade other notorious Barstool bettors like Matt "Marty Mush" Cahill and Brandon Walker.
Katz and Portnoy have 1.1 and 1.8 million Twitter followers, respectively.
That doesn't include their Instagram and Facebook accounts or Barstool's strong social media presence and the countless other personalities employed by Barstool.
That reach and social media presence are unmatched by any other sports betting operator.
And that might be Barstool's secret weapon. Its personalities are into poker, video games, and lifestyle. That means the company can leverage its existing sports and betting followers, as well as having a pipeline into new, untapped segments. And as anyone will tell you, Barstool followers are highly engaged and loyal.
A Better Than Expected Debut for Barstool?
Barstool Bets had a strong opening weekend. By Saturday, it was the #1 ranked sports app in the Apple Store.
The launch wasn't without some hiccups, including an issue with Android downloads that led to a miserable 3.6 rating, compared to a 4.8 rating in the Apple Store. The Android issue has since been resolved, but in a highly competitive market with many options, it's difficult to undo the damage.
Even with the Android issue, it's hard to call the debut anything other than a success. The company's solid Pennsylvania debut sets it up nicely for launches in future states, including Colorado, Indiana, Illinois, New Jersey, and Michigan.
Reining in the Responsible Gaming Messaging
Last week, which just happened to be Responsible Gaming Education Week, Barstool was at the center of a responsible gaming debate stemming from the Barstool Sports Advisors show. Specifically, the messaging on the mugs in front of the hosts.
The Barstool crew seems to have gotten the message, as the mugs this go-round read, "Life's too short to bet the under," and "be advised," much tamer and acceptable language than last week's show.
Portnoy has also started including some forced-sounding bet responsibly language to his tweets.
That's not to say there aren't lingering responsible gaming questions with the brand.