In online sports betting, competition is the name of the game. We're not just talking about the action on the field or in the arenas either. Sportsbooks are competing to earn your hard-earned dollars, and the action on that field of play continues to intensify.
Deposit bonuses are common practice across the industry, and they won't be going anywhere anytime soon. Once the various operators get you in the door, the certainly don't want you leaving and taking your business elsewhere. Competition is especially fierce on the digital field where customers need only download an app to take their business to a new sportsbook.
As a result, the major mobile sportsbooks in NJ are already going above and beyond the call of duty with welcome bonuses to drive new customers and ongoing promotions to keep them happy.
You can see our betting site reviews for all the details on each site's welcome bonus, but today we will be focusing on a more niche type of offer: parlay betting promotions.
We'll take a look at the more interesting ones in a moment. First off, let's take a quick look at what constitutes a parlay wager.
What is a Parlay Bet and How Does it Work?
A parlay wager is a bet that links together two or more individual picks onto a single betting ticket. Using MLB as an example, we could place a wager on the team we think we would win an individual game as well as the total runs scored for the contest.
The odds for the two wagers would be combined into one single bet, and we would be able to see our potential return before pulling the trigger.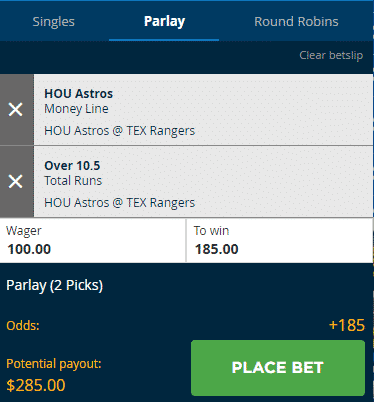 That's a fantastic return if all goes well. Now let's say we wanted to wager on the results of three individual wagers. We can put those bets together onto a single ticket in a quest for an even greater return on investment.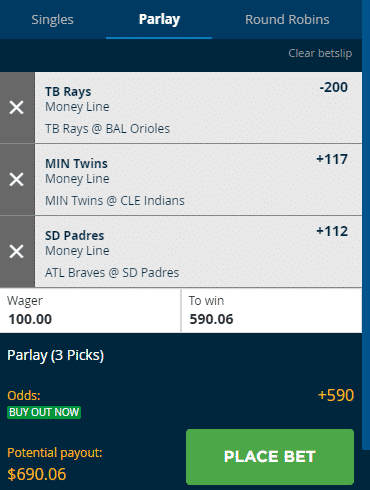 That would be another fantastic day at the office if our picks are spot on. We can add on even more games as well, but some books will cap the total at 10 or more wagers on one ticket or greater.
Naturally, the odds of hitting a parlay of this size are pretty slim, but the returns would be massive. Just for fun, here's what you would walk away with if you managed to hit this random six-game MLB parlay.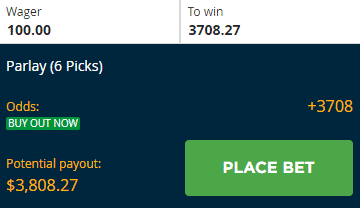 Parlay returns can be quite enticing, but the same rules that apply for individual wagers apply here as well: bet with your head, not over it.
Each game or event that you add to a parlay ticket increases the odds in the favor of the house. While it's certainly possible to have a perfect day, don't forget that it's tough enough to beat the line on a single game as it is.
To help illustrate the risk inherent in parlay betting, consider this line from a Sports Insights piece on the topic.
As it turns out, sportsbooks have made a fortune off parlays for years. According to the Nevada Gaming Control Board Gaming Revenue Reports, sportsbooks in Nevada boasted a nearly 30% hold on parlays between 1984 and 2015. In comparison, every other major sport has a hold below 5%.
We point this out not to discourage you from playing parlays, but rather to give you the full picture. Parlays can be fun and rewarding, but you should remember that there's a lot of risk involved. Profiting long-term off of parlay batting can be challenging as a result.
Now that we have that out of the way, we can get to the fun stuff. So, who's offering those interesting promos we discussed earlier?
Multi-Sport Parlay Insurance from FanDuel
Parlay wagers can lead to some heartbreaking losses. For a four-game ticket, you could see everything go beautifully on the first three contests only to watch the final game break differently than you expected.
FanDuel has an offer that helps to cushion the blow:
"Place any parlay of 4+ legs on any sport in any market, and get your money back if all of your legs hit except one."
You can get a maximum of up to $25 back per eligible wager on parlay tickets in which each leg has odds of -200 or greater.
Visit FanDuel at: www.fanduel.com
Parlay Boost from Golden Nugget
Golden Nugget wants you to feel even better when your parlay tickets come in. They offer a boost to your winnings that starts at 3 percent for three-game tickets and goes all the way up to 20 percent for tickets with 20 correct selections.
To qualify for this promo, all legs of your parlay must have odds of -145 or better.
When you build a parlay at Golden Nugget, keep an eye out for the gift symbol on your betting slip. When you see that, you'll know your parlay is on the way to qualifying for an enhanced payout. Golden Nugget offers parlay boosts on pre-game wagers for football, baseball, ice hockey, basketball, soccer and tennis.
Visit Golden Nugget at: www.goldennuggetcasino.com
 Click the thumbnail below for the full payout on all Golden Nugget parlay bonuses:
Jackpot Parlay from SugarHouse
The more legs you add to a parlay ticket, the more they become akin to a lottery ticket. In that spirit, SugarHouse offers a featured jackpot parlay each and every day.
This one is more of a gamble than an actual value-added promotion and promotes poor strategic decisions, but we can't deny it's fun to see the absolutely massive payouts SugarHouse jackpot parlays produce. If you ever feel like throwing a buck at a six-figure payout, this feature hits the mark.
The parlay offered defaults to multiple random events, but users can adjust it with fewer bets and to focus on a specific sport. Of course, that may lessen the potential return from the initial offering. This is a fun promotion, but we wouldn't advise investing more than one would spend on a single lottery ticket on it.
Visit SugarHouse Online at: www.playsugarhouse.com
No Lose Soccer Parlay Refund from 888 Sport
888 Sport is also offering a bit of insurance for parlay bettors in the form of a refund when things don't go your way on soccer parlays involving four legs or greater.
If you bet at least $10 on a 4-leg or greater parlay and lose by just one leg, 888 will refund your wager with bonus funds. This is an ongoing promotion and you can get back up to $50 per day every time you come up just a little short. Each leg of your parlay must have odds of -200 or greater to qualify.
Visit 888 Sport at: us.888sport.com
That's six intriguing parlay promos to check out, and we would imagine there will be even more to come from other operators as the competition continues to ramp up. Best of luck with all of your parlay wagers and remember to keep it under control. Parlays are great fun, but they can get expensive in a hurry if luck isn't on your side.
Free Bets Bonus on Winning Parlays from BetStars
Looking to knock it out of the park even further on winning parlay tickets? If so, this parlay promo from BetStars NJ may have just what you need with an offer that's good for up to $100,000 in bonus bets on your winning parlays.
Place a 3-leg or greater parlay on any sport at BetStars and they'll boost your payout with bonus funds if it's a winner. Bonus payouts start at 5% for winning three-leg tickets and run all the way up to 100 percent for 18-leg wins. The only caveat is that each leg of your parlay must have odds of -200 or higher (for example -200, -150 and +110 would all qualify).
Visit BetStars at: www.betstarsnj.com
Click the thumbnail below for the full pay table on all parlay bonuses.
Parlay Refund from PointsBet
PointsBet NJ offers something similar to FanDuel while kicking things up a notch. If one leg fails on a parlay with four wagers or more, you will get a refund of up to $50 in bonus bets.
For this promo, each leg of the parlay must have odds of -500 or better, and the total odds for the ticket itself have to be a minimum of +100.
This offer is available once per day for eligible users. If you happen to play multiple parlays in a single day, the refund would be applied to the first one that qualifies.