Dover Downs has been in operation since 1969 and was authorized to host online casino games and poker in 2013 after the Delaware legislature approved online gambling. This led to the launch of Dover Downs Online in late 2013 under the jurisdiction of the Delaware Lottery.
Dover Downs now offers online casino games and poker to anyone 21+ and physically present within state boundaries at the time of access whether or not you actually reside in Delaware. As long as you're located in Delaware, are 21 or older and have a social security number, you can play.
Dover Downs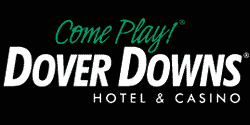 Dover Downs
Dover Downs offers online casino games and poker to customers 21+ located within Delaware state lines. This online casino is fully legal in Delaware, but suffers from limited game selection in the casino and spotty traffic in the poker room. Overall, this is a safe place to play.
Pros
Safe, legal and licensed
Online casino games and poker with one account
Mobile-friendly casino
Part of the Multi-State Poker Network
Cons
Poor desktop casino software
Buggy poker software
Limited promotions
Low trafic in the poker room
The Delaware Lottery oversees three online casinos, each associated with one of the state's three racetracks: Dover Downs, Delaware Park and Harrington Raceway. All three are powered by software developed by 888 Holdings and all are 100% legal in Delaware.
We'll be focusing on Dover Downs in our review today, but almost everything you read on this page applies equally to all three sites licensed in Delaware. They all offer exactly the same games, are powered by the same software and offer similar welcome bonuses.
An account with Dover Downs Online provides access to two major types of gaming:
Online Casino: Dover Downs Online Casino offers a collection of slots and table games that can be played online at the Dover Downs website or through the mobile apps offered for iOS and Android devices
Online Poker: The Dover Downs online poker room spreads cash games and tournaments 24/7 at a wide range of stakes. Player traffic is still fairly low, but player-sharing agreements with other states including New Jersey and Nevada have resulted in improvements on the traffic front.
Dover Downs Sports Betting
Dover Downs legalized in-person sports betting in June of 2018 and now accepts wagers on all the major pro sports of the world. This includes major North American sports such as baseball, football, basketball and hockey in addition to international sports such as soccer. The sportsbook also accepts wagers on auto racing, MMA, golf, boxing and more.
In short, this is a fully-functional sportsbook reminiscent of those you would find dotting the Vegas strip. Dover Downs Sportsbook maintains the following hours of operation:
Monday: 11 AM to midnight
Tuesday: 11 AM to 10 PM
Wednesday: 11 AM to 10 PM
Thursday: 11 AM to midnight
Friday: 11 AM to midnight
Saturday: 10 AM to midnight
Sunday: 9 AM to midnight
Online sports betting is not yet legal in Delaware, although that could change. The law that originally legalized sports betting in Delaware did not specifically outlaw wagers taken online. Regulators would have to approve new rules to allow online wagering, but it is possible that this does indeed happen one day. In the meantime, all wagers must be placed in-person at one of Delaware's three racetrack/casinos.
Dover Downs Online Casino Review
As is the case with Delaware's other gaming sites, Dover Downs Casino has some fairly prominent pros and cons.
Pros
Legal and Licensed: Dover Downs is a legal online gaming site authorized by Delaware gaming law. Playing here is expressly legal and there are no concerns that you're violating the law by playing online here.
Regulated by the State: Dover Downs Online is headquartered in Delaware and is subject to state regulations. This adds a measure of safety, because you know this site will not simply close shop and disappear with your funds. Such guarantees do not exist at unlicensed, offshore gaming sites.
Online Casino and Poker: A single account with Dover Downs grants access to both casino games and person-vs-person online poker.
Casino is Compatible with Most Devices: Dover Downs Casino is offered in two formats – instant play at the website and via mobile app. Whether you're visiting from a desktop or any iOS/Android device, you can play for real money.
Cons
Limited Game Selection: One of the biggest ongoing issues that has plagued Dover Downs Casino from the beginning is a limited game selection. Currently, the online casino only offers a collection of about 45 slots and 2 table games.
Poor Software: For desktop users, the only way to access the games is through the instant play casino located at the Dover Downs website. The interface here is low quality in terms of design, navigation and functionality – it looks and feels like it was designed in the 90s. However, the mobile app offers a significantly improved experience.
Lax Technical Security Standards: Dover Downs is safe in terms of the business being legal and licensed, but the website does not use https encryption. This is an easy fix that should have been addressed years ago.
This list basically sums up the Dover Downs Casino experience. It's a functional and legal online casino, but there are some obvious areas with room for improvement – most notably the software quality and game selection.
Dover Downs Casino Bonuses
Dover Downs Casino offers a two-part bonus for new players. One is a $10 registration bonus that requires no deposit and the other is a first-deposit bonus that offers up to $100 extra.
If you're physically present in Delaware and sign up for an account, Dover Downs will get you started with $10 extra. You do not need to make a deposit to claim this bonus; simply signing up for an account will trigger the casino to give you $10 to try the games for real money.
You have 30 days to use the $10 bonus and any winnings from the bonus may only be withdrawn after earning 3.75 status points per $1 in winnings. Status points are earned at a rate of 1 status point for every $16 wagered at the casino. This means if you end up with $10 in winnings, you will need to place a total sum of wagers equal to $600.
If you make a deposit of $20 or more, Dover Downs Casino will match it with a 100% bonus worth up to $100. For example, a $50 deposit will get you $50 in bonus money and a $100 deposit will get you $100 in bonus money.
The deposit bonus also comes with wagering requirements, but this one only requires 2.5 status points per $1 in bonus money. This works out to you needing to wager $40 for every $1 in bonus money. For example, a $100 bonus will only be cleared for withdrawal after placing wagers totaling $4,000.
Dover Downs Mobile Casino
The Dover Downs mobile app provides a much better experience as far as graphics and interface goes. While it looks similar to the desktop version in styling and general appearance, it is optimized for mobile play. This in turn makes it easier to navigate throughout the casino, the lobby just looks better in how it fits on-screen and the games all load fairly quickly.
One minor drawback is Dover Downs mobile games require all users to turn their phones sideways into landscape mode – not a big deal, but some players may find this annoying. Other than that, the mobile casino looks and functions quite well.
iOS users can visit the app store and search for "Dover Downs" to get the app straight from the App Store. If you're on an Android device, point your browser to DoverDowns.com, select "online gaming" and you'll see a link to download the app.
Mobile Casino Screenshots
Dover Downs Casino Software Review
The software at Dover Downs Casino is a mixed bag that gets the job done, but which leaves much room for improvement. For starters, the casino lobby is a clunky interface which lists games in no particular order and which requires manual mouse clicks to scroll through the various games. Searching for any particular game is a bit of a cumbersome experience.
On a more positive note, each individual game looks and functions great. If you can get past the clunky lobby, you'll find the games themselves are well-designed, move quickly and respond great to button clicks. The reels move smoothly and games chug along at a nice pace.
No download is necessary to play at Dover Downs Casino, which makes it compatible with PCs and Macs alike. All games load in-browser at the Dover Downs website and work well on all desktop setups.
Game Selection and Variety
And now we move back to a weak point: game selection. Dover Downs Casino has fewer than 50 games in total, with the overwhelming majority of those being online slots. There are 46 slots games and two table games in all. For table games, the only options are Classic Blackjack and American roulette.
The slots lineup at Dover Downs consist of traditional reel games, video slots and a few progressive jackpot machines. At the time of this review, the largest progressive jackpot topped out at just shy of $186,000.
Table games are severely lacking with Classic Blackjack and American roulette being the only non-slot options. The lack of additional table games or even video poker is puzzling because 888 Holdings, which powers all of Delaware's online gaming platforms, has a huge library of games it could offer the casino.
As it stands, this is clearly a casino for slots-oriented players. Although it is possible a bigger variety of games will be added over time, that doesn't seem very likely any time soon. Dover Downs Online has suffered from limited game variety since it launched in 2013.
Dover Downs Online Poker Review
Dover Downs Online Poker has started to see some growth in recent years thanks to player sharing agreements signed by the governors of Delaware, Nevada and New Jersey allowing sites to share players across state lines. Traffic remains a concern nonetheless, but the situation on that front has improved and now at least a few games can be found around the clock.
Cash games and tournaments are both offered, with No Limit Holdem and Pot Limit Omaha accounting for the majority of the action. The small and medium-stakes games tend the generate the most activity, although higher stakes games do run from time to time.
One major negative point here is the software is only compatible with PCs. Mac and mobile users cannot play poker online at Dover Downs. This is an issue for all three of Delaware's legal poker sites.
Pros
Multi-State Poker Network: Delaware poker sites are authorized to share player pools with licensed poker sites in other states. This has resulted in more active players and larger tournaments.
Welcome Bonus: The $500 welcome bonus serves as a nice incentive to try Dover Downs poker. Even if you have claimed the poker bonuses at Delaware Park and Harrington Online, you can still claim this one to further boost the bankroll.
Adequate Game Variety: Dover Downs offers no-limit ring games, fixed limit ring games, multi-table tournaments and sit-n-go tournaments. Traffic isn't always the greatest outside of cash games and MTTs, but everything is in place for a strong offering as additional states legalize online poker and join the Multi-State Poker Network.
Cons
Limited Poker Traffic: While poker traffic has improved since the formation of the Multi-State Poker Network, the Dover Downs poker room still comes up short in average daily traffic. To be fair, this issue is not limited to Dover Downs or even to Delaware – the US is still a young poker market.
Weak Software: The
No Mac or Mobile Support: One of the biggest misses for Dover Downs poker is zero support of Macs or mobile users. You must have a PC to play online poker in Delaware.
Limited Promotions: Delaware's three casinos for some reason do not seem too intent on offering valuable promotions to attract new players. There are a few promotions to be had, but this is an area that could easily be improved.
Dover Downs Poker Bonus
All new customers automatically receive a 100% welcome bonus in return for signing up and making a deposit of at least $20. You do not need any sort of special bonus code to claim this bonus – just sign up, deposit and the money is yours.
This offer effectively serves to double your first deposit. If you deposit $20, you'll get $20 on top of that. If you deposit $100, you'll get an extra $100 and so on. Just know that this bonus only applies to your first deposit and it tops out at $500.
Once the bonus has been credited to your account, it can be released for withdrawal by playing in real money cash games and tournaments. The first $20 of your bonus is released in $5 increments for every 40 status points earned and then the remainder is released in $10 increments for every 80 status points earned.
Every $1 you pay in tournament fees or rake earns 2 status points. This means if you play in a cash game one evening and pay a total of $10 in rake, you'll earn 20 status points. The more you play, the more points you earn and the faster the bonus is cleared.
Dover Downs Poker Software
The Dover Downs Poker software is poorly-rated despite being provided by one of the world's most experienced online gaming companies (888). Reviews from customers online have for a long time reported issues with geolocation problems, lagging software and random disconnections.
The lack of support for Macs and mobile devices further emphasizes the general sense that Dover Downs is not particularly motivated to generate action. Although Delaware is a small state population-wise, it does have access to a bigger player pool thanks to the Multi-State Poker Network. Improved compatibility could go a long way in generating additional traffic.
Dover Downs Online Deposit Methods
Dover Downs Online does not have a large list of accepted deposit methods, but the options it does offer should be sufficient for most players. Credit cards, debit cards and bank transfers are all accepted.
Here's a quick rundown of your options:
Credit Card: Visa and MasterCard are accepted, no fees charged and deposits credited to your account within 10 minutes.
Debit Card: Visa and MasterCard accepted, no fees, fast transactions.
Bank Transfer: Choose the ACH bank transfer method to move funds from your bank account to your Dover Downs account. No fees and transactions usually processed within 10 minutes.