DraftKings Sportsbook launched in August of 2018 in the state of New Jersey with plans to expand to additional states as legislation permits. Prior to entering the sports betting business, DraftKings operated as the world's largest daily fantasy sports site, home to some 9 million customers from across the country.
DraftKings Sportsbook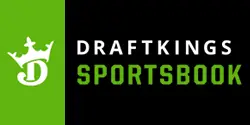 DraftKings Sportsbook
The world's leading daily fantasy site now offers real money sports betting for players in states where online betting is legal. The new DraftKings Sportsbook covers a wide range of sports and accepts all the same types of wagers as any major Vegas sportsbook in addition to in-play betting.
Pros
Mobile and online betting from a trusted name
In-play betting offered
Can "cash out" bets early to limit losses or protect winnings
Sleek, easy-to-understand interface
Cons
Only available in New Jersey
Limited number of deposit options
DraftKings Sportsbook Info
Numerous major cash injections from investors turned the fledging fantasy site into a behemoth on the back of aggressive marketing campaigns. DraftKings operated strictly in the fantasy sports arena for the first six years of its existence, but moved to sports betting after a Supreme Court decision ruled the federal ban unconstitutional.
Now, DraftKings fantasy and sports betting are provided on one platform. For customers, this means you can log in to your DraftKings account to place a bet on the Steelers to beat the Eagles and then immediately turn around and enter a fantasy football contest using the same account balance.
Leveraging widespread brand awareness and a database of millions of qualified sports fans, DraftKings entered the sports betting business with a running start. Prior experience in the online gaming space also eased the transition to sports betting. From day one, DraftKings Sportsbook covered mainstream and niche sports alike with a wide range of wagers.
DraftKings Sportsbook is authorized by the New Jersey Division of Gaming Enforcement (DJGE) and is now authorized to accept wagers from anyone 21+ and located within state borders. In New Jersey, DraftKings operates under an online betting license controlled by Resorts Casino.
Thanks to our partnership with DraftKings, we can also detail a juicy deposit bonus for all new customers. As DraftKings Sportsbook works to establish its place in the legal betting landscape, the company has made a strong promotional push of late that includes offers for new and existing customers alike.
Where is DraftKings sports betting available?
DraftKings Sportsbook is only open to customers from New Jersey at the moment. Daily fantasy contests are still available to customers in NJ and elsewhere, but actual sports betting is limited to New Jersey for now. If you live outside New Jersey, you can see our DraftKings fantasy review for more information.
Additional states are in the process of passing legislation to authorize mobile and online sports betting, and DraftKings will almost certainly expand to other states over coming weeks and months. We'll keep this page updated with a full list of states where DraftKings Sportsbook is active.
In December 2018, DraftKings announced it would be expanding its online operations to West Virginia next. An exact timeline on the pending DraftKings WV launch has not been revealed, but the company says the launch is coming soon and will include mobile betting for residents across the state.
DraftKings Sportsbook Bonus
Free bet worth up to $500
DraftKings launched with a nice promotion right off the bat: an offer to match your first real-money sports bet with a free wager of equal value worth up to $500. This means if you decide to try DraftKings Sportsbook and place a $50 bet to get started, they'll give you an additional free bet worth $50.
Whatever the size of your first bet, DraftKings will match it up to $500. The most important thing to know about the DraftKings bonus is that the free bet cannot be withdrawn. It may only be used to place additional wagers at DraftKings. Any money you win with the free bet is yours to keep or withdraw as you choose.
This promotion is only open to DraftKings Sportsbook customers age 21+ and located within New Jersey state lines. You do not need to be a resident of New Jersey, but you do have to be physically present in the state to place bets and claim this bonus.
Visit DraftKings Sportsbook and Claim Your Bonus Now:
Sports Covered and Types of Bets Offered
DraftKings says it will cover at least 60 different sports over the course of a year. On launch day, DraftKings Sportsbook began accepting wagers on the following sports:
| | | | |
| --- | --- | --- | --- |
| Football | Basketball | Baseball | Hockey |
| Soccer | Boxing | Tennis | Golf |
| MMA | Motorsports | Cricket | Darts |
| Rugby Union | | | |
The types of bets on offer cover much more than just who will win the game. DraftKings launched with a wide range of betting options from the beginning. If you visit any particular game on the DraftKings Sportsbook website or mobile app, you'll see dozens of other options including in-play bets.
In-play betting isn't something we've seen here in the United States yet, but it is a very popular form of betting overseas. With in-play betting, you can place bets in the middle of a game at odds that are updated in real time based on how the game is playing out in the real world.
What makes in-play betting different than traditional betting is it happens during the game and not just before the game. You can, for example, watch the first half of a game between the Giants and Broncos to get a feel for the momentum of the game and then place a bet at the current odds. Or, if the ball game is tied after nine innings, you might decide to place a bet at the top of the 10th inning on who will pull off the victory.
DraftKings also offers an early cashout feature for in-play bets. For instance, if you bet on the Giants to beat the Broncos and then halfway through the game, you see the Broncos up by 14, you can cut your losses and cash out early. Likewise, you might see the Giants get a lead and decide to claim a reduced payout in order to avoid any late-game surprises.
Here's how DraftKings co-founder Matt Kalish put it when interviewed by North Jersey on the day DraftKings Sportsbook launched:
"We have the capability to offers dozens of sports. We're working with regulators in New Jersey to determine what sports we will offer, and over time more may be available. But all major American sports – we're not missing anything that people would expect.
"What's interesting is the depth. You don't come on and only see, say, the Giants to win. There are dozens of markets within the game, real-time priced in game wagers. And there is the capability of cashing out bets already made. It's really an amazing platform with amazing depth."
DraftKings Mobile Sportsbook
DraftKings originally rolled out its sports betting service as a mobile-first product and that's where the focus remains today. In fact, DraftKings Sportsbook still is not accessible via web interface – wagers may only be placed on the official DraftKings sports betting app for iOS and Android devices.
You'll find the official download links for Apple and Android smartphones here.
Anyone familiar with DraftKings fantasy will not be surprised to see the sports betting app is clean and well-designed, as is par for the course with DraftKings.
The home screen of DraftKings mobile presents a quick listing of important promos and popular bets while a navigation bar along the bottom edge of the screen can be used to navigate to specific sections such as a listing of all promos, a full list of sports and in-game betting.
There are also places on the app where you can view in-game scoring, the statuses of your outstanding bets and manage your account. In short, the app provides everything you need to set up your account, bet on sports and cash out when you're done.
DraftKings App Screenshots
DraftKings Sports Betting Pools
DraftKings Pools are a sort of cross between daily fantasy and traditional sports betting in which you sign up for a contest, pay an entry fee and then make a number of straight-up picks. Then, prizes are paid out to the players who make the most correct picks in a tournament-style structure.
For example, a recent DraftKings Pools contest came with a $3 buyin and a guaranteed $10,000 prize pool. The contest covered a weekend slate of 15 NFL games. After paying $3 and entering the contest, you would pick which team was going to win straight up in each of the 15 games.
After the last NFL game was played, prizes were paid out as follows:
50% of the prize pool was split among the entrants with the largest number of correct predictions
30% was split among those with the second-highest number of correct predictions
15% was split among those with the third-highest number of correct predictions
5% was split among those with the fourth-highest number of correct predictions
Pools Contest Screenshots
Deposit Methods
DraftKings Sportsbook originally launched with electronic bank transfers as the only option, but has since added credit cards, debit cards and PayPal as deposit methods. If you have any trouble depositing with a credit or debit card, you can thank your bank for that. Some banks still refuse to work with anything related to online betting.
Bank transfers and PayPal are the best alternative deposit methods, and both are processed just as quickly. Bank transfers can be completed entirely online and are processed free of charge on DraftKings' end.
PayPal is even easier once you have a PayPal account. You may fund your PayPal account with credit or debit cards in addition to online banking transfers. Once you have a funded PayPal account, you can then transfer that money on to DraftKings. PayPal also comes in handy as a withdrawal method when you're ready to cash out your winnings.
State-Specific Restrictions
This portion of our DraftKings Sportsbook is reserved for special, state-by-state considerations. Each state in the US regulates sports betting a bit differently, and that has an impact on how licensed betting sites operate. We only have New Jersey to contend with for now, but it is a near certainty that DraftKings will expand to other states as quickly as the law permits.
New Jersey: Customers from New Jersey are prohibited from betting on college games or events that take place in New Jersey or on any single college game/event taking that involves a team from New Jersey, even if that event takes place elsewhere.