WorldWinner.com is a skill-based gaming website that allows you to compete against other people for real money. It is legal in the United States due to these being contests of skill and not of luck. You can play in heads-up matches against other people or participate in large tournaments for cash prizes. To date, World Winner has paid out more than $1.5 billion in winnings.
WorldWinner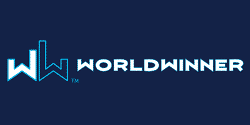 WorldWinner
WorldWinner is the only site I recommend to play games of skill online for real money. Play Solitaire, Bejeweled, Scrabble and more against real people and win cash.
Pros
Unique player-vs-player games
You can actually win real money playing games
Mobile friendly
Cons
Confusing website
Not compatible with all browsers
Rake is on the high side
WorldWinner Info
Betting Site: WorldWinner
Website: www.worldwinner.com
Established: 2002
Country: Canada
Support: E-mail form
Minimum Deposit: $10
Bonus Code: GOLDCLUB
The games list at WorldWinner includes a variety of arcade-style games, card games, sports games, strategy games and word games. Familiar names such as Bejeweled 2, Jeopardy, Wheel of Fortune, Tetris, Spades and Scrabble all have a place in the WorldWinner.com library. You can play all these games for fun or for real money.
Is WorldWinner Legal?
WorldWinner is legal in the United States and Canada (except Quebec) thanks to its classification as a skill games website. US law allows people to play real money games over the internet as long as these games are classified as skill-based and not based on chance.
However, several US states do not allow even skill games to be played for money. Below is a list of states from which WorldWinner.com cannot accept customers.
Restricted States: Arkansas, Connecticut, Delaware, Illinois, Louisiana, Maryland, Montana, South Carolina, South Dakota and Tennessee.
How WorldWinner.com Works
You can play both real and play-money games on WorldWinner by visiting the website and signing up for an account. Once you have an account, you can try the play-money games first to acquaint yourself with the rules and get comfortable with playing against other people. If you want to play for real money, you can visit the account area to make a deposit and fund your account.
WorldWinner.com accepts VISA, MasterCard and PayPal. They only allow deposits of $5, $10 or $20 at a time. After you deposit, you can test your skills in the games area. Each game can be played against a single person or in a tournament-format with multiple people. The rules of each game vary, but the goal is always the same: to get a better score than your opponents.
If you win a game, World Winner will credit your account with the winnings. Most games are only played for a few dollars, but they do occasionally host larger games with higher payouts. If you win money, you can withdraw your winnings and go have fun with the extra cash.
Types of Real Money Games
The real money games at World Winner are organized into categories. Each category offers a different type of games that relies on a unique skillset. Some games test your mental agility, others test your vocabulary while others require you to be quick with the mouse.
Here's a look at all the games they have on offer.
| | | |
| --- | --- | --- |
| Arcade Games | Card Games | Game Show Games |
| | | |
| Bejeweled 2 | Spider Solitaire | Wheel of Fortune |
| SwapIt! | Solitaire Rush | Super Plinko |
| Big Money | Solitaire Tri-Peaks | |
| Luxor | Spades | |
| Tetris Burst | Catch 21 | |
| Bejeweled Blitz | Pyramid Solitaire Adventure | |
| Vegas Nights 2 | | |
| Swipe Hype | | |
| | | |
| Strategy Games | Word Games | |
| | | |
| Angry Birds Champions | Scrabble Cubes | |
| Dynomite | Word Mojo | |
| Cubis | Scrabble Boggle | |
| Mahjohngg Dimensions | Trivial Pursuit | |
>>>Click here to play any of these games for free or for real money<<<
Clearing up WorldWinner and GSN Confusion
I had a hard time at first figuring out how WorldWinner and the Game Show Network (GSN) were related. They operate on two different websites, both offer games and sometimes while browsing one website you find yourself randomly redirected to the other. I think I've finally got a hold of it all now and would like to explain what's going on here to anyone else with the same question.
If you sign up for an account at WorldWinner, that same account also exists at GSN.com. You can log in to either website and you'll stay logged in whenever you switch between each site. One account; two websites.
Update: Since this review was originally published, WorldWinner has rebranded itself a bit to more clearly differentiate itself from GSN. However, both sites are still interconnected and one account can be used to log in to either site. You can also switch between sites using the tabs located near the top. For example, when you're logged in at WorldWinner.com, you can click the "GSN" tab to visit GSN.com and still stay logged in.
WorldWinner.com is where all the real money games are hosted. Any time you click on "cash games" you end up at the worldwinner.com website. For a little background info, WorldWinner.com is owned by GSN.com, which is named after the Game Show Network TV channel. GSN is in turn co-owned by DirecTV and Sony Pictures.
Anyways, WorldWinner.com is where you're sent to play against other people for real money. You can play all kinds of games against real people for actual cash prizes. You can also play in "warm-up" games against other people for free. This is a good idea to get the hang of each game and figure out a strategy before you start plopping down real money.
GSN.com is where the free-play and play-casino games are hosted. If you want to play a round of slots with value-less tokens, you would do that at GSN.com.
You must purchase tokens to play the casino games at GSN.com. For example, you can buy 75,000 tokens for $9.99. The funny thing is these tokens have no cash value, cannot be redeemed for cash and cannot be redeemed for prizes. You pay for these just so you can play in fake-chip games at GSN.com. I'm not sure what the value is here, but it's possible I'm missing something.
As you play games at GSN.com, you can also earn a different type of currency called "oodles." These are earned by placing high on the daily leaderboard, completing surveys or taking other actions either at GSN.com or Facebook. Unlike tokens, oodles can be redeemed for prizes. These prizes mostly take the form of free entry to raffles, entry to competitions, coupons for other online stores and magazine subscriptions.
Why are there two websites?
It appears as though GSN and WorldWinner want to clearly separate their play-money and real-money branches. WorldWinner.com is the place to go for real money games and GSN is the place to go for practice and to play casino-style games without any real money on the line.
Between the two different websites, lack of information on the website, tokens, oodles and mysterious matchmaking system, it all seems unnecessarily complicated. I tend to get skeptical when things are needlessly complex. It makes me think the product may not stand the light of close inspection.
Plus, a little Google research will show you that the internet is littered with complaints about this company. Discussion forums, complaint boards and blog posts abound with people complaining about deceptive marketing tactics and predatory terms and conditions.
Any real money betting site is bound to have angry former customers. That's to be expected – people tend to get emotional when it comes to money. But the sheer volume of complaints about WorldWinner and GSN is way beyond what anyone would call normal. Proceed with caution. I'll continue the rest of this review for anyone who may still be interested, but consider this your warning. I'm not ready to condemn OR endorse WorldWinner.
Pros and Cons
WorldWinner.com does some things very well and others not so well. This website has a lot of potential but I'd like to see it improve some key areas before I endorse it 100% to my readers. Here's a look at what's good and bad about World Winner.
Interesting Games: There aren't many US betting sites with games quite like these. It's refreshing to see something that doesn't look like gambling on the outside. Instead of the usual horse racing or fantasy sports, you can visit World Winner to test a whole different set of skills such as memorization, fast-twitch mouse clicking and word association.
Win Real Money Playing Fun Games: A lot of the games you see on WorldWinner.com are offered for free all over the internet but they cannot be played for real money. It's fun to see old classics like Bejeweled and Scrabble taken to a new, competitive level where you can actually win money for all that hard work you put in improving your skills.
Mobile Friendly: World Winner can be accessed via mobile devices simply by visiting the website. From there, you can choose between the mobile-friendly website or downloading the app for iOS or Android devices.
Confusing Website: The WorldWinner and GSN.com website is confusing. If you click on some games, you're redirected to GSN.com. Click on other games and you're redirected to WorldWinner.com. It's not clear how these two websites are linked without a good deal of research.
Doesn't Work on All Browsers: Some of the games I tried at WorldWinner.com did not work with my up-to-date version of Firefox. I had to use Internet Explorer to access games such as 9-Ball Pool. Overall, the website feels dated and could use modernization so it works with all the latest browsers.
High Rake: The rake at World Winner is killer. Up to 25% of all entry fees are collected as rake, with the remaining 75% paid out as prizes to the winners. This makes it extremely difficult for anyone to win over any significant length of time. World Winner really needs to tone it down on the rake.
Final Thoughts
WorldWinner.com is a decent real money betting website. It does offer some unique games and could be fun to play from time to time just for the sake of variety. However, the high rake, dated software and limited number of active games will most likely prevent you from ever making this a serious passion.