Now that sports betting legislation is rolling out across the country, established sports news media app and website theScore is taking the next logical step in business with the launch of its own mobile sportsbook.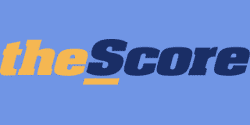 theScore
theScore is a mobile sportsbook from the famed sports news and scores app of the same name. theScore.Bet launched in September 2019 with a $100 welcome bonus, cross-app integration and a variety of pre-game and in-play betting markets.
Pros
Operated by a trusted and highly-experienced sports news brand
Has forged partnerships with reputable gaming companies such as Penn National
Provides a unique blend of wagering, news and cross-app integration
Welcome bonus comes with no rollover requirements
Cons
Could use more betting options for each game
theScore Info
Betting Site: theScore
Website: www.thescore.bet
Established: 2019
Support: Phone and e-mail
Minimum Deposit: $10
Deposit Bonus: $100
theScore is now live in four states and will soon be expanding to additional states thanks to a market access deal reached with Penn National Gaming. Currently, theScore offers mobile betting in:
New Jersey
Colorado
Indiana
Iowa
Many of our good readers here at BettingUSA may already recognize theScore as the name of the wildly-popular mobile app dedicated to breaking sports news, betting odds, alerts and so much more.
theScore has long served as a useful companion for sports bettors on the go and seeks now to bridge the gap between sports news and sports wagers. At the end of 2018, theScore announced it would soon be launching a mobile betting app in NJ and elsewhere as legislation rolls out across the country.
On August 26th, 2019, the New Jersey Division of Gaming Enforcement (NJDGE) granted approval to theScore to engage in online and mobile betting after a successful soft launch phase.
Now that we've had a chance to give the app a test run for ourselves, it is time for a thorough theScore review based on our experience so far. If you would like to see it in action for yourself, you can search for the app in the App Store or visit theScore.bet for download links and information.
theScore Sports Betting
theScore announced plans to expand beyond sharing sports news and odds to becoming a mobile sportsbook of its own with a press release issued in December 2018. theScore Bet mobile app went live in New Jersey in September 2019 and in Colorado one year later.
At launch, theScore debuted with a basic lineup of North American sports, soccer and standard types of wagers. Support for additional sports such as golf, tennis and MMA was delayed at the outset with plans to increase its coverage over time.
Sports fans from across the country can download theScore Bet and create an account to view the lines and take advantage of cross-app integration between the betting platform and the standard sports media app.
Launch notes provided by theScore detailed wide-ranging plans including the introduction of in-play betting, early cashout and more. A quick list of current or soon-to-come features includes:
Cross-app integration between theScore's betting and media apps
In-play betting
Early cashout
Track your bets inside the media app with live scoring updates and odds changes
Detailed game overviews and betting information between both apps
Synchronize betting preferences and favorite teams between both apps
Live scoring updates inside the betting app
theScore Bet Mobile App
Sports fans located in New Jersey can visit theScore.bet to download the app for iOS and Android devices. Currently, customers may only place wagers through the mobile app. A desktop-friendly website interface has not yet launched.
iPhone / iPad users can also find theScore in the App Store by searching for "theScore Bet." Note the standard news app still comes up first if you search for theScore. You will need to look specifically for theScore Bet. Google does now allow gambling apps on the Play Store, but Android users may head over to theScore.bet for a direct download.
Our first impression of theScore Bet is that this is a sleek and simple mobile sportsbook. The sports coverage is focused primarily on the major pro and college North American sports plus int1ernational soccer.
Extra features and even the types of wagers that may be placed are still limited relative to the competition, but we do know theScore has plenty of capability from its feature-rich sports news app.
theScore is powered by software from Bet.Works, which is a relatively young sports betting services provider staffed by some very experienced people.
The current theScore apps veers into overly simplistic territory in our opinion, but we do think that will change over time as the company gets settled in as a sports betting operator. However, a closer look under the hood does reveal some unique features – particularly features that make use of theScore's existing sports media capabilities.
Mobile Screenshots from theScore Bet
Screenshots from theScore Media App
theScore Sportsbook Bonus and Promotions
100% up to $100
theScore Bet the ground running with a 100% welcome bonus worth up to $100 for all new customers. We were wondering if they would even offer a bonus because theScore has such a massive customer database already through its prior media offerings, but they have decided to give all potential customers one more reason to give it a try.
No promo code is needed to claim this offer. Just register an account and then make a first deposit of $10 or more. You can deposit as much as you want, but the bonus itself maxes out at $100.
theScore's welcome bonus does not come with any rollover requirements, which makes it better than the average deposit bonus even if it's not as large as some others on the market. The bonus money is awarded as a single risk-free bet that can be used on any market at odds of up to +300.
Download the App and Claim Your Bonus at:
theScore In-Play Betting
theScore's in-play betting interface follows the rest of the app's simple and straightforward approach. You can see which games are in-play right now by tapping the "live" menu item at the bottom of the app for a list of all games with live markets. From there, select any specific game for a listing of all current markets available.
There was little doubt theScore would offer in-play betting considering the news app's considerable capabilities in providing live scoring and data to users. Additionally, theScore's technology supplier Bet.Works is well-versed in live betting.
theScore appears so far to bring that same capability to actual sports betting, but the current iteration of the app is still keeping things simple with live betting for only the major North American sports events. theScore has said over time it intends to significantly expand its lineup of sports.
Some things that are not yet active that we would like to see include digital representations of what's happening on the field or court in a manner similar to how other betting apps do it. For example, theScore would greatly benefit customers by showing who has possession in real time, where every pitch lands in the strike zone, a summary of every NFL play and so on.
theScore Deposit Methods
theScore launched with just three deposit methods, but we understand more are to be coming online soon. All current deposit methods are processed instantly. Customers may currently deposit via any of the following options:
Credit and Debit Card: theScore Bet accepts Visa and Mastercard deposits. The process for depositing is the same as buying something online – you'll be asked to confirm your date of birth and then submit your card details and choose an amount to deposit.
Play+ Card: Play+ is a virtual and physical prepaid card option that can be used for instant deposits. You can fund your virtual card online instantly, and you will also receive a physical card in the mail that can be used to withdraw cash at ATMs and make purchases.
Online Banking: theScore uses eCheck Select as its online banking provider, which itself is authorized to process gaming transactions and supports instant transfers. All you need to use this method is a bank account and your routing number.
About theScore
theScore has roots dating back to 1994, when it was founded as a simple, text-based TV channel showing sports scores, odds and news under the name Sportscope. Sportscope would later change its name to The Score, begin broadcasting sporting events and airing sports talk TV shows.
The Score sold off its TV assets in 2012 and rebranded itself as theScore to focus on digital content and entertainment – thus kicking off the beginnings of its mobile operations.
theScore has long integrated sports betting odds and stats as a key component of its product, so the company's decision to launch its own mobile sportsbook makes sense in multiple ways.
With a userbase numbering in the millions, theScore is perfectly positioned to grab a big piece of the sports betting market before it even has to consider buying ads elsewhere. To add to that, theScore's existing userbase is already well in tune with sports betting as the app has long placed an emphasis on providing wagering-related information such as the latest odds and line movements.
More recently, theScore announced it will be changing its corporate identity to Score Media and Gaming Inc. to better reflect its newfound entry into sports betting. Today, theScore boasts nearly 4 million active users a month and is traded on the TSX Venture exchange under the symbol SCR.
In Which States Does theScore Operate?
theScore is live in New Jersey and has a pathway to entering multiple other states thanks to a deal reached with Penn National Gaming in July 2019. With the New Jersey launch complete and Penn National deal in hand, theScore has already entered or may eventually enter the following states.
Sports media company theScore has made no secret of its plans to branch out into the sports betting space. Those plans continue to take shape, but they are also beginning to bear fruit.
Sports media company theScore, best known for its mobile app connecting fans with breaking news and scores, confirmed this week it is preparing to launch an online sportsbook in New Jersey next year.