Online horse racing betting is legal in most US states. In fact, licensed horse racing betting sites in the USA have agreements in place with local tracks that allow fans across the country to watch live simulcast races and bet on races held around the country.
All racebooks listed on BettingUSA.com are legal, licensed and operate in compliance with federal law in the USA.
Best Horse Racing Betting Sites and Apps
Rank
Betting Site
Bonus
Rating
Visit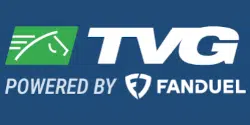 On this page, BettingUSA.com discusses legal horse racing betting sites, bonuses and promotions, applicable horse racing laws, major horse racing events, how to bet on horse races and what all new fans need to know about getting started.
Online Horse Racing Betting Reviews
Strong regulations at the state level ensure a safe experience at licensed racing betting sites, but some online racebooks and horse betting apps stand above others when it comes to the number of tracks covered, wagering interface, handicapping tools and value of promotions.
The best horse betting sites cover hundreds of racetracks and have agreements in place with each track allowing online bettors access to each track's pari-mutuel pools and live racing video.
Our horse racing reviews take these factors into consideration and present a straightforward overview of what you'll find at reputable racing betting sites.
Horse Racing Betting Promotions
Horse racing betting sites use promotions and bonuses to compete for new business and to enhance marketing campaigns. Signing up for a mobile betting account almost always entails receiving a deposit bonus or some other monetary incentive designed to entice new customers.
Understanding how horse racing betting promotions work is important as no two promos are the same and all come with certain terms and conditions that impact their bottom-line value. In this section, BettingUSA will explain how horse racing promos work and what customers should know before they sign up.
Here's a look at current signup promotions from leading racebooks:
New AmWager customers can claim a welcome bonus worth up to $500 over their first 30 days as a customer. The AmWager welcome promo offers a 10% cash back bonus on all win and exotic wagers placed for thirty days, meaning players can claim up to $500 based on their total wagering activity.
TVG welcomes all new customers with a $300 risk free bet. All new players who sign up for an account and place a real money wager on a single horse to win are refunded with a free bet worth up to $300 if their first wager loses.
TwinSpires offers all new customers up to $100 extra in return for signing up and placing real money wagers. New customers who sign up and wager at least $500 within 30 days are automatically credited with a $100 bonus.
BetAmerica offers new customers a 100% match deposit bonus worth up to $100. As an example, customers who sign up and make a first deposit of $50 are given an extra $50 on top of that as a welcome bonus. Customers who deposit $100 or more max out the bonus to get $100 extra.
States With Legal Horse Racing Betting Sites
Legal racing betting sites operate in most US states today aside from a handful of exceptions due to unclear or unfavorable laws. The following map displays where legal racing betting sites are available (blue) and where they are not (red).

Online Racing
Is Online Horse Racing Betting Legal in the USA?
Yes. Horse racing betting is legal at the federal level and in most US states.
Off-track betting (OTB) was first legalized in 1978 with the passage of the Interstate Horseracing Act. The act made it legal for horse racing venues to accept wagers at off-track locations provided that all wagers taken at OTB locations went directly to the prize pools of the tracks actually hosting races.
The act was amended by Congress in 2000 to specifically legalize wagers made over the telephone or "other electronic media." This paved the way for the first legal horse racing websites and betting apps.
Online racing betting received further legal protections in 2006 when it was specifically exempted from a law (the UIGEA) passed that year intended to crack down on illegal online gambling. Shortly thereafter, the first US horse racing betting sites went live. Today, the majority of US states permit online horse racing betting.
Betting at licensed US racing sites contributes to the domestic racing industry because all wagers placed online are pooled with those taken at the track. This means that not only do you get paid at full track odds, but your business contributes to racing purses and the care of horses.
US horse betting sites are not limited to taking wagers on domestic races. Licensed racebooks are also permitted to accept bets on races held at tracks around the world.
Major Horse Racing Events
People bet money on horses year-round, but a big portion of betting action revolves around major horse racing events.
Kentucky Oaks
Arlington Millions
Florida Derby
Arkansas Derby
Wood Memorial Stakes
Travers Stakes
Pegasus World Cup
Pegasus World Turf
Santa Anita Handicap
Haskell Invitational
Betting on The Triple Crown
The Kentucky Derby, Preakness Stakes and Belmont Stakes comprise the Triple Crown of Thoroughbred Racing and collectively mark the high point of the racing betting season each year.
The Triple Crown kicks off each year with the Triple Crown at Churchill Downs in Louisville, Kentucky on the first Saturday of May.
The Derby is followed by the Preakness Stakes on the third Saturday of May at Pimlico Race Course in Baltimore, and this is where the racing world gets to see if here will be a Triple Crown contender as all eyes watch for the Kentucky Derby winner to achieve a repeat at Pimlico.
The third and final Triple Crown event is the Belmont Stakes, held on the third Saturday following the Preakness Stakes. If one horse wins all three events, a Triple Crown winner is crowned for having achieved one of the most difficult feats in all of horse racing.
The pinnacle of horse racing glory is to win all three events in the Triple Crown. It is exceedingly difficult to win a Triple Crown because every race is of a different length, and horses typically fare better at some lengths than at others.
Add to that the fact that every horse only gets one chance ever to win, combined with the grueling schedule involved in winning three races in short order, and it is no surprise Triple Crown winners are a rare thing indeed.
How Horse Racing Betting Works
This is your primer guide for placing all types of bets and wagers on horse races. The bets outlined below can be placed in-person and online via websites and mobile horse racing betting apps. The best way to get started is to try basic straight bets at first. As you become comfortable with how it all works, you can progress up to more complex wagers.
Before we get into each type of bet, I'd like to give you a general overview of how the betting system works with horses. Horse wagering is classified as a form of "parimutuel wagering." This is a little different than sports betting, so read closely if you're new to horse betting.
In parimutuel betting, all bets on a specific race are pooled together. The racetrack then sets aside a percentage of that pool to keep for its own income and operating expenses. This is called the "vig." This system ensures that the racetrack earns its money regardless of the outcome.
The percentage taken out of the pool varies depending on the track and type of bet placed. Generally, you can expect to see a vig of anywhere from 15% to 30%.
After the vig is taken out, the rest of the money in the pool is used to pay out the winners. The payouts in a horse race change in real time up until the start of the race. As new wagers are collected, the offered payouts change to account for the new betting action.
This is why favored horses offer lower payouts. More people tend to bet on the favorite, so when the favorite wins, the portion of the pool assigned to that horse has to be split up among more people. When a longshot horse wins, there tend to be fewer people backing that horse, so each bettor collects more winnings.
Types of Bets and Wagers
There are all kinds of different bets that can be placed on a single race. The general rule is that the more difficult the bet is to win, the higher it pays. For example, a straight bet on a single horse to win pays pretty well, but a bet on the exact finishing order of the top 3 horses pays even better.
Here are the most common types of horse racing bets and wagers:
What About Pari-mutuel Betting?
Parimutuel betting is the preferred wagering format for horse and greyhound racing.
What makes parimutuel different is that all bets are pooled together, the house takes a cut, and then payouts are divvied out to the winners.
Thus, it is the betting public that determines the odds for each wager and not the bookmaker.
Getting Started
Now that you have a grip on the basics of horse betting, you can apply that knowledge to betting on the internet. In practice, it's basically the same idea. The only difference is that instead of talking to a cashier at the racetrack, you select your wagers onscreen using your mouse and keyboard.
Greyhound Betting
Most people think of horses when they think of "racing betting," but greyhounds remain an option as well. Online greyhound betting is governed by different rules than horse racing, but the basic idea is the same. In states that allow online greyhound betting, fans are free to go online and bet on dog races just the same as they can bet on horse races.
You can read more about the state of greyhound betting and how it works at the following link:
Racing Betting FAQ
Below are answers to frequently asked questions related to greyhound and horse racing.