Online horse racing betting is legal in most US states. In fact, licensed horse racing betting sites in the USA have agreements in place with local tracks that allow fans across the country to watch live simulcast races and bet on races held around the country.
All racebooks listed on BettingUSA.com are legal, licensed and operate in compliance with federal law in the USA.
Best Horse Racing Betting Sites and Apps
Rank
Betting Site
Bonus
Rating
Visit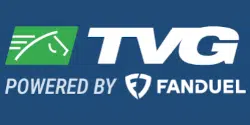 On this page, BettingUSA.com discusses legal horse racing betting sites, bonuses and promotions, applicable horse racing laws, major horse racing events, how to bet on horse races and what all new fans need to know about getting started.
Online Horse Racing Betting Reviews
Strong regulations at the state level ensure a safe experience at licensed racing betting sites, but some online racebooks and horse betting apps stand above others when it comes to the number of tracks covered, wagering interface, handicapping tools and value of promotions.
The best horse betting sites cover hundreds of racetracks and have agreements in place with each track allowing online bettors access to each track's pari-mutuel pools and live racing video.
Our horse racing reviews take these factors into consideration and present a straightforward overview of what you'll find at reputable racing betting sites.
Horse Racing Betting Promotions
Horse racing betting sites use promotions and bonuses to compete for new business and to enhance marketing campaigns. Signing up for a mobile betting account almost always entails receiving a deposit bonus or some other monetary incentive designed to entice new customers.
Understanding how horse racing betting promotions work is important as no two promos are the same and all come with certain terms and conditions that impact their bottom-line value. In this section, BettingUSA will explain how horse racing promos work and what customers should know before they sign up.
Here's a look at current signup promotions from leading racebooks:
AmWager Bonus: 10% Back for up to $500 Extra
New AmWager customers can claim a welcome bonus worth up to $500 over their first 30 days as a customer. The AmWager welcome promo offers a 10% cash back bonus on all win and exotic wagers placed for thirty days, meaning players can claim up to $500 based on their total wagering activity.
See more AmWager promos: www.AmWager.com
TVG.com Bonus: $200 Risk Free Bet
TVG welcomes all new customers with a $200 risk free bet. All new players who sign up for an account and place a real money wager on a single horse to win are refunded with a free bet worth up to $200 if their first wager loses.
See more TVG promos: www.TVG.com
TwinSpires.com Bonus: $100 Extra
TwinSpires offers all new customers up to $100 extra in return for signing up and placing real money wagers. New customers who sign up and wager at least $500 within 30 days are automatically credited with a $100 bonus.
See more TwinSpires promos: www.Twinspires.com
BetAmerica.com Bonus: 100% up to $100
BetAmerica offers new customers a 100% match deposit bonus worth up to $100. As an example, customers who sign up and make a first deposit of $50 are given an extra $50 on top of that as a welcome bonus. Customers who deposit $100 or more max out the bonus to get $100 extra.
See more BetAmerica promos: www.BetAmerica.com
States With Legal Horse Racing Betting Sites
Legal racing betting sites operate in most US states today aside from a handful of exceptions due to unclear or unfavorable laws. The following map displays where legal racing betting sites are available (blue) and where they are not (red).

Online Racing
Legal Horse Racing by State (A-Z)
Alabama
Alabama law does not specifically address online racing betting, but multiple ADWs offer their services to residents. Customers must be 18 older to participate in parimutuel wagering in Alabama.
Read more: Alabama Racing Betting
Alaska (Online Betting Not Allowed)
Alaska does not permit much by way of gambling, horse racing betting included. Currently, none of the country's legal racing betting providers operate in Alaska.
Read more: Alaska Racing Betting
Arizona (Limited Access)
Arizona horse racing law is fairly restrictive as it only allows wagers to be phoned in rather than placed online. As a result, TVG is the only mainstream racing betting site that accepts customers from Arizona.
Read more: Arizona Racing Betting
Arkansas
Arkansas law permits advance deposit wagering providers (ADWs) to provide online betting to residents 18 or older. Regulations posted here (pg. 134) require ADWs to submit a business plan to the Arkansas Racing Commission prior to offering online or mobile betting.
Read more: Arkansas Racing Betting
California
Online racing betting is legal and regulated in California by the CA Horse Racing Board (CHRB). Most major racing betting sites operate in California and are open to customers 18 or older.
Read more: California Racing Betting
Colorado
Colorado law permits online racing betting and the Department of Revenue maintains a list of authorized ADWs here. Bettors must be 18 or older to bet on horse races in Colorado.
Read more: Colorado Racing Betting
Connecticut
Advance deposit wagering is legal in Connecticut although state law on the issue is unclear. The Gaming Division under the Department of Consumer Protection recognizes Sportech as the sole authorized provider of online racing betting in Connecticut, but major ADW operators still offer their services to residents under a different interpretation of state law.
Read more: Connecticut Racing Betting
Delaware
The Delaware legislature has never gotten around to formally legalizing online horse wagering, but several large ADWs do operate in Delaware under an understanding of state law that could be interpreted to permit online racing betting.
Read more: Delaware Racing Betting
Florida
Advance deposit wagering is permitted in Florida but is not subject to licensing requirements or regulatory oversight. Florida lawmakers attempted to pass legislation in 2017 to address online horse racing betting, but the bill was poorly worded and failed to advance. Currently, most major betting sites accept Florida residents.
Read more: Florida Racing Betting
Georgia (Online Betting Not Available)
Georgia's blanket ban on parimutuel wagering extends to the internet, leaving no legal online betting options for residents. There has been talk in recent years of opening the state to parimutuel wagering, but this is still a work in progress.
Read more: Georgia Racing Betting
Hawaii (Online Betting Not Available)
Hawaii prohibits gambling across the board and horse racing betting is no exception. There are no in-person tracks, ADWs or legal betting sites open to residents. Lawmakers have introduced bills in the past to legalize horse racing betting, but have been unable to get anything past the finish line to date.
Read more: Hawaii Racing Betting
Idaho
Idaho regulates advance deposit wagering (see regulations here) and requires operators to apply for licenses to offer online racing betting. All big-name ADWs operate in Idaho today.
Read more: Idaho Racing Betting
Illinois
The Illinois Racing Board oversees horse racing betting across the state and provides a list of licensed ADWs here. Most of the biggest names in mobile parimutuel wagering accept Illinois customers.
Read more: Illinois Racing Betting
Indiana
The Indiana Horse Racing Commission regulates horse racing, wagering and advance deposit wagering activities throughout the state. State law specifically authorized online racing betting, and all operators are required to acquire a license from the Commission prior to accepting wagers from Indiana residents.
Read more: Indiana Racing Betting
Iowa
Advance deposit wagering is legal in Iowa provided operators go through all the necessary steps to acquire a license from the state. State law on horse racing requires operators to reach agreements with local racetracks and horse racing organizations to determine source market fees and other issues, but there has been some controversy over the years with numerous out-of-state operators accepting wagers from Iowans without having such agreements in place.
Read more: Iowa Racing Betting
Kansas
Kansas horse racing laws do not specifically discuss advance deposit wagering, but several major ADWs have accepted Kansas residents for years without issue. With all of the state's live racing facilities shuttered and no walk-in OTB locations, ADWs remain the sole option for horse racing wagering in Kansas.
Read more: Kansas Racing Betting
Kentucky
The Kentucky Horse Racing Commission (KHRC) oversees parimutuel horse wagering and licenses operators that wish to do business in the state. KRS Chapter 230 addresses the conduct of advance deposit wagering in Kentucky.
Read more: Kentucky Racing Betting
Louisiana
Louisiana law (LA Rev Stat § 4:149.5) permits advance deposit wagering provided all online betting providers adhere to rules adopted by the state horse racing commission. Currently, residents 18 or older have access to a variety of licensed betting sites.
Read more: Louisiana Racing Betting
Maine
Maine enacted legislation in 2016 ordering the Gambling Control Unit to hold a competitive bidding process to award one operator sole control over advance deposit wagering. Penn ADW LLC, parent company of HollywoodRaces.com, won the contract and is now the state's only approved online racing betting provider.
Read more: Maine Racing Betting
Maryland
Maryland law does not address online betting but the majority of the major ADWs in the US accept customers from Maryland. The minimum age to bet online through an ADW service is 18.
Read more: Maryland Racing Betting
Massachusetts
Massachusetts law allows advance deposit wagering and most major betting sites operate in the state. Parimutuel horse racing betting is overseen by the Division of Racing under the Massachusetts Gaming Commission.
Read more: Massachusetts Racing Betting
Michigan
Michigan approved new online racing betting legislation at the end of 2019 to establish a licensing process for ADWs. Under Michigan law, operators must apply for a license, provide a proposed plan of operation and pay a fee prior to offering mobile racing wagering to residents.
Read more: Michigan Racing Betting
Minnesota
Advance deposit wagering providers are required by MN law to acquire a license in order to offer online wagering to residents. MN law establishes a minimum age of 18 to participate in parimutuel horse wagering.
Read more: Minnesota Racing Betting
Mississippi (Online Betting Not Available)
Mississippi has been slow to embrace horse racing betting. Online wagering is prohibited to this day, but retail sportsbooks at casinos are allowed to offer parimutuel horse wagers.
Read more: Mississippi Racing Betting
Missouri
Missouri law does not address advance deposit wagering. Many ADWs interpreted state law to prohibit online racing betting, but BetAmerica does offer its services to residents.
Read more: Missouri Racing Betting
Montana
The Montana Board of Horse Racing oversees the conduct of horse racing and parimutuel wagering, including online betting. Numerous ADWs are licensed and offer their services in Montana today.
Read more: Montana Racing Betting
Nebraska
Parimutuel wagering is legal in Nebraska but state law does not clearly address the legality of advance deposit wagering. Some lawmakers have argued that online betting platforms violate state law, but the opinion is not universal and some ADWs do offer their services in Nebraska. State law enforces a minimum age of 19 to bet on horses.
Read more: Nebraska Racing Betting
Nevada
Horse racing betting is legal in Nevada, but only through authorized sportsbooks. Residents and visitors may also register for mobile betting accounts at land-based casinos to bet on horses through mobile sportsbooks from anywhere within state lines.
Read more: Nevada Racing Betting
New Hampshire
New Hampshire law clearly permits parimutuel wagering at racetracks and is unclear on the status of online betting. Even so, all major ADWs accept New Hampshire residents.
Read more: New Hampshire Racing Betting
New Jersey
New Jersey allows advance deposit wagering but limits online betting to two licensed providers. 4NJBets.com is the only operator authorized to offer parimutuel wagering online while Betfair US is permitted to offer exchange wagering on horses to NJ customers.
Read more: New Jersey Racing Betting
New Mexico
New Mexico horse racing law is unclear on the legality of advance deposit wagering, but several operators have offered their services to residents for years without issue. Customers must be 18 or older to bet on horse races in New Mexico.
Read more: New Mexico Racing Betting
New York
New York law allows online racing betting providers to apply for licenses from the state to offer advance deposit wagering to residents. In New York, the minimum age to bet on horse races is 18.
Read more: New York Racing Betting
North Carolina (Online Betting Not Available)
The law in North Carolina does not allow for horse racing betting except at licensed sportsbooks. Online wagering is prohibited and no ADWs serve North Carolina.
Read more: North Carolina Racing Betting
North Dakota
Online racing betting is legal and regulated in North Dakota. The ND Racing Commission maintains an up to date list of licensed ADWs here. All major parimutuel betting sites are available in North Dakota.
Read more: North Dakota Racing Betting
Ohio
The legality of advance deposit wagering is debatable in Ohio. State law on horse racing does not specifically address online betting, but the Ohio State Racing Commission does have rules in place governing telephone wagering. Debate aside, most ADWs accept Ohio residents.
Read more: Ohio Racing Betting
Oklahoma
Oklahoma racing regulations allow account wagering by telephone but do not specifically address the legality of online and mobile wagering. However, most ADWs operate in Oklahoma and allow customers to place wagers online.
Read more: Oklahoma Racing Betting
Oregon
Mobile racing betting is legal in Oregon and ADWs are licensed by the state Racing Commission. Most of the major US racing betting sites are licensed and active in Oregon today.
Read more: Oregon Racing Betting
Pennsylvania
Pennsylvania law authorizes advance deposit wagering and the majority of ADW operators accept residents. Customers must be 18 or older to bet on horses in Pennsylvania.
Read more: Pennsylvania Racing Betting
Rhode Island
Rhode Island regulations touch on simulcast wagering but do not specifically address online wagering. However, most advance deposit wagering operators offer online betting in Rhode Island. The Division of Gaming & Athletics oversees all parimutuel wagering in the state.
Read more: Rhode Island Racing Betting
South Carolina (Online Betting Not Available)
South Carolina gaming laws prohibit most forms of betting across the board. This makes South Carolina one of just a handful of states with no legal horse racing betting whatsoever.
Read more: South Carolina Racing Betting
South Dakota
South Dakota law permits advance deposit wagering and requires all operators to acquire a license prior to accepting wagers from residents. The South Dakota Commission on Gaming oversees all parimutuel betting and the licensing of ADWs.
Read more: South Dakota Racing Betting
Tennessee
Tennessee law on advance deposit wagering is unclear. The law that formerly authorized parimutuel wagering was repealed in 2015, but numerous US-based racing betting sites still accept customers from Tennessee.
Read more: Tennessee Racing Betting
Texas (Online Betting Not Available)
Texas permits in-person wagering but amended the Texas Racing Act in 2011 to prohibit advance deposit wagering. As a result, no reputable racing betting site accepts customers from Texas today.
Read more: Texas Racing Betting
Utah (Online Betting Not Available)
Utah regulates horse racing but does not permit parimutuel wagering in any form. The Utah Horse Regulation Act specifically prohibits horse racing betting and none of the major US-based ADWs accepts residents.
Read more: Utah Racing Betting
Vermont
Horse racing betting is legal in Vermont and regulated by the state Racing Commission. Most major ADWs accept customers from Vermont even though the law on online betting is unclear.
Read more: Vermont Racing Betting
Virginia
Advance deposit wagering is authorized in Virginia under the Administrative Code and is offered by a handful of licensed betting sites. The Virginia Racing Commission oversees all racing and parimutuel wagering.
Read more: Virginia Racing Betting
Washington
Washington legalized advance deposit wagering in 2004 and authorizes a handful of big-name providers to accept wagers from residents. The Washington Horse Racing Commission maintains a list of licensed betting sites here.
Read more: Washington Racing Betting
West Virginia
WV law permits advance deposit wagering offered by licensed providers. Specifically, WV Racing Commission rule §178-5-5 states wagers may be accepted via self-service terminal, telephone or internet.
Read more: West Virginia Racing Betting
Wisconsin
Wisconsin law states no person may "place any wager on a race at any location except at a racetrack," but to date, the state has not taken action against the multiple ADW operators that serve residents.
Read more: Wisconsin Racing Betting
Wyoming
Wyoming law authorizes the Wyoming Gaming Commission to regulate advance deposit wagering. Currently, most ADWs accept customers from Wyoming.
Read more: Wyoming Racing Betting
Is Online Horse Racing Betting Legal in the USA?
Yes. Horse racing betting is legal at the federal level and in most US states.
Off-track betting (OTB) was first legalized in 1978 with the passage of the Interstate Horseracing Act. The act made it legal for horse racing venues to accept wagers at off-track locations provided that all wagers taken at OTB locations went directly to the prize pools of the tracks actually hosting races.
The act was amended by Congress in 2000 to specifically legalize wagers made over the telephone or "other electronic media." This paved the way for the first legal horse racing websites and betting apps.
Online racing betting received further legal protections in 2006 when it was specifically exempted from a law (the UIGEA) passed that year intended to crack down on illegal online gambling. Shortly thereafter, the first US horse racing betting sites went live. Today, the majority of US states permit online horse racing betting.
Betting at licensed US racing sites contributes to the domestic racing industry because all wagers placed online are pooled with those taken at the track. This means that not only do you get paid at full track odds, but your business contributes to racing purses and the care of horses.
US horse betting sites are not limited to taking wagers on domestic races. Licensed racebooks are also permitted to accept bets on races held at tracks around the world.
Major Horse Racing Events
People bet money on horses year-round, but a big portion of betting action revolves around major horse racing events.
Kentucky Oaks
Arlington Millions
Florida Derby
Arkansas Derby
Wood Memorial Stakes
Travers Stakes
Pegasus World Cup
Pegasus World Turf
Santa Anita Handicap
Haskell Invitational
Betting on The Triple Crown
The Kentucky Derby, Preakness Stakes and Belmont Stakes comprise the Triple Crown of Thoroughbred Racing and collectively mark the high point of the racing betting season each year.
The Triple Crown kicks off each year with the Triple Crown at Churchill Downs in Louisville, Kentucky on the first Saturday of May.
The Derby is followed by the Preakness Stakes on the third Saturday of May at Pimlico Race Course in Baltimore, and this is where the racing world gets to see if here will be a Triple Crown contender as all eyes watch for the Kentucky Derby winner to achieve a repeat at Pimlico.
The third and final Triple Crown event is the Belmont Stakes, held on the third Saturday following the Preakness Stakes. If one horse wins all three events, a Triple Crown winner is crowned for having achieved one of the most difficult feats in all of horse racing.
The pinnacle of horse racing glory is to win all three events in the Triple Crown. It is exceedingly difficult to win a Triple Crown because every race is of a different length, and horses typically fare better at some lengths than at others.
Add to that the fact that every horse only gets one chance ever to win, combined with the grueling schedule involved in winning three races in short order, and it is no surprise Triple Crown winners are a rare thing indeed.
How Horse Racing Betting Works
This is your primer guide for placing all types of bets and wagers on horse races. The bets outlined below can be placed in-person and online via websites and mobile horse racing betting apps. The best way to get started is to try basic straight bets at first. As you become comfortable with how it all works, you can progress up to more complex wagers.
Before we get into each type of bet, I'd like to give you a general overview of how the betting system works with horses. Horse wagering is classified as a form of "parimutuel wagering." This is a little different than sports betting, so read closely if you're new to horse betting.
In parimutuel betting, all bets on a specific race are pooled together. The racetrack then sets aside a percentage of that pool to keep for its own income and operating expenses. This is called the "vig." This system ensures that the racetrack earns its money regardless of the outcome.
The percentage taken out of the pool varies depending on the track and type of bet placed. Generally, you can expect to see a vig of anywhere from 15% to 30%.
After the vig is taken out, the rest of the money in the pool is used to pay out the winners. The payouts in a horse race change in real time up until the start of the race. As new wagers are collected, the offered payouts change to account for the new betting action.
This is why favored horses offer lower payouts. More people tend to bet on the favorite, so when the favorite wins, the portion of the pool assigned to that horse has to be split up among more people. When a longshot horse wins, there tend to be fewer people backing that horse, so each bettor collects more winnings.
Types of Bets and Wagers
There are all kinds of different bets that can be placed on a single race. The general rule is that the more difficult the bet is to win, the higher it pays. For example, a straight bet on a single horse to win pays pretty well, but a bet on the exact finishing order of the top 3 horses pays even better.
Here are the most common types of horse racing bets and wagers:
There are three different types of straight bets. These wagers are pretty simple and act as a good starting point for newbies.
Win: This is a bet on a single horse to take 1st place
Place: A bet on a single horse to take either 1st or 2nd place
Show: A bet on a single place to take 1st, 2nd or 3rd place
Exotic bets are more complicated than straight bets. In an exotic bet, you make multiple picks that include more than one horse and maybe even more than one race.
Exacta: A bet on two horses to take 1st and 2nd place. Your horses must finish in that exact order to win
Quinella: A bet on two horses to take 1st and 2nd but the order doesn't matter
Trifecta: A bet on three horses to take 1st, 2nd and 3rd place in that exact order
Superfecta: A bet on four horses to take 1st, 2nd, 3rd and 4th place in that exact order
Daily Double: A bet in which you pick the 1st place finishers of two different races
Pick 3: A bet in which you pick the 1st place finishers of three consecutive races
Pick 4: A bet in which you pick the 1st place finishers of four consecutive races
Boxing comes in handy when you know that a few horses are solid favorites, but aren't sure which order they will finish. You can "box" these horses to cover every possibility.
Quinella Box: You pick three horses and you will win if any two of those horses finish in 1st and 2nd place. A quinella box on horses #3, #4 and #5 would cover all possible outcomes: 3-4, 3-5, 4-3, 4-5, 5-3 and 5-4.
You can also box exactas, trifectas and superfectas in this manner.
You can key horses when you have a strong feeling that one horse will finish first but you aren't as sure about the horses that will take 2nd and 3rd place. In other words, you have one "key" horse picked to win the race and a few other horses that will come in after that one.
So let's say you make a $1 trifecta key of #1 over #2, #3 and #4. In this example, you need the #1 horse to win, and then any of the other three horses to finish in 2nd and 3rd place in no particular order.
What About Pari-mutuel Betting?
Parimutuel betting is the preferred wagering format for horse and greyhound racing.
What makes parimutuel different is that all bets are pooled together, the house takes a cut, and then payouts are divvied out to the winners.
Thus, it is the betting public that determines the odds for each wager and not the bookmaker.
Getting Started
Now that you have a grip on the basics of horse betting, you can apply that knowledge to betting on the internet. In practice, it's basically the same idea. The only difference is that instead of talking to a cashier at the racetrack, you select your wagers onscreen using your mouse and keyboard.
1. Create and Fund Your Betting Account
The first thing you'll have to do to bet online is sign up for an account at a legal horse racing site (see the legal betting sites recommended near the top of this page). All you have to do is visit the race betting site of your choice, click one of the big "join now" buttons and fill out the new account form. It should be pretty self-explanatory.
The next step is to fund your account. You do so by logging in to your account at your betting site and then hitting the "deposit" link in your account area. If you have never made a deposit before, you'll probably get a pop-up asking you to deposit.
Then, you can choose from a number of deposit methods:
Wire transfer
Credit cards and debit cards
Check or money order
E-Check
Green Dot Moneypak
Note: The Green Dot Moneypak is a type of prepaid voucher that you can purchase at stores like Wal Mart and Walgreens. You pay cash for the Moneypak and then redeem that Moneypak online by typing in the unique number on the back of the card. Basically, it's an easy way to fund your account with cash.
After you have an account funded with money, you can begin placing your wagers. Click on the "bet now" button and this will take you to an area that shows a list of all the tracks supported by your betting site. Click on the name of a track and then you'll see a list of upcoming races and the horses competing in each race.
Every betting site does it a little differently but in general, you will see a screen that allows you to select your bet amount, the type of bet and the horses that will be competing. As you make your selections, you should see a bet slip that shows a summary of your current bet. You will also have the option to box and key your horses at this time.
When you think you have your bet all set up, you'll see a "verify" or "submit" button near the bet summary box. Hit that button and then it will ask you one more time if you're sure this is the bet you wish to place. If everything looks good, click the confirm button and your bet will go live.
After you submit your bet, you can go back and place more wagers, watch the race live on the website or go about your day as usual. The website will track your bet and pay out your winnings if applicable. If any of your wagers are winners, the racebook will instantly credit your account with the money. You can then cash out your winnings or use them to place more wagers.
Greyhound Betting
Most people think of horses when they think of "racing betting," but greyhounds remain an option as well. Online greyhound betting is governed by different rules than horse racing, but the basic idea is the same. In states that allow online greyhound betting, fans are free to go online and bet on dog races just the same as they can bet on horse races.
You can read more about the state of greyhound betting and how it works at the following link:
Racing Betting FAQ
Below are answers to frequently asked questions related to greyhound and horse racing.
Is racing betting legal in states that don't have active racetracks?
Yes. Numerous states no longer have active racetracks but still allow residents to bet on races held in other states over the internet.
What is the minimum age to bet on races online?
Most states establish a minimum age of 18 to bet on horse or greyhound races online with the exceptions being Alabama (19+) and Texas (21+).
What is the difference between the morning line and the actual odds?
The first odds to be posted for any particular race are the morning line odds, often abbreviated as ML. A track oddsmaker determines the morning line by comparing the horses slated to run and his or her expectation of the public betting action.
There are two important things to keep in mind when dealing with morning line odds. First of all, the morning line is not necessarily a reflection of the oddsmaker's actual opinion. The oddsmaker's primary goal is to predict how the public will bet. Secondly, the ML only serves as a rough estimate. As wagers start coming in, the odds will change to reflect the betting action.
The actual odds are what the odds actually are at any given time based on public action. Remember, dog and horse racing are parimutuel activities. That means the payout odds are determined by the amount of money wagered on each horse. After a horse is declared the winner, the pool is split among all people who backed that horse.
To recap: the morning line odds are an estimated of what the oddsmaker thinks will happen that day based on the relative strengths of each horse and anticipated wagering activity. Actual odds are what you actually get paid after all the wagers have been taken in.
The upside to parimutuel wagering is that it does not put you in direct competition against a highly-skilled oddsmaker. The sportsbook does not care who wins any given race because it receives its commission regardless of the outcome. The downside is that you never really know for sure what the final odds will be until after the race begins.
How does parimutuel wagering work?
The basic idea of parimutuel wagering is that patrons bet with one another rather than against the house. To put it simply, all wagers taken on a particular race are pooled together, the house takes a cut of the pool as commission and the rest is paid back out to the winning bettors.
Let's use an example to illustrate how this works. Note that this is a very simplified example, but it depicts the concept in action.
Imagine a simple 3-horse race with the following amounts bet on each horse to win:
Horse A: $100
Horse B: $200
Horse C: $300
The total betting pool is $600. Now, let's say the racetrack enforces a 10% "take" (a.k.a. commission). That leaves us with a total pool of $540.
Now, let's say Horse A wins the race. A total of $540 would be split evenly among the backers of Horse A. Every $1 wagered on that horse would receive $5.40 in payouts.
Now, imagine Horse B wins the race. The $540 pool would be split evenly among the backers of that horse. Because more money was bet on Horse B, every $1 wagered on that horse would receive $2.70 in payouts.
The upside to parimutuel wagering is that it does not put you in direct competition against a highly-skilled oddsmaker. The sportsbook does not care who wins any given race because it receives its commission regardless of the outcome.
How can I tell which racing betting sites are legal in my state?
Not all horse and greyhound racing sites serve the exact same list of states. The licensing requirements vary from state to state, and not all betting sites have chosen to acquire licenses in the exact same set of states.
The easiest way to see which betting sites operate where you live is to see our state pages here. Each state page provides an up-to-date list of sites that are licensed in that state. Alternatively, you can always just try signing up at one of the major racing betting sites. They'll let you know early in the registration process if players from your state are not accepted.
What does "ADW" refer to?
ADW is short for "advance-deposit wagering" and refers to betting sites or betting shops that require bettors to fund their accounts prior to placing wagers. In other words, ADW requires you to pay for your bet at the time it is placed as opposed to being able to wager on credit with a shop that settles accounts at the end of the month.
All racing betting sites and most phone betting operations are operated in the ADW format. You might be able to deposit with a credit card at a betting site, but the site itself will not lend you credit.
What does "OTB" refer to?
OTB is short for "off-track betting." As the phrase implies, it refers to placing wagers while not physically present at the racetrack. In most cases, you'll see OTB used in reference to small betting shops that accept wagers on a variety of in-state and out-of-state races.
Did Florida vote to end greyhound betting?
Not exactly. Florida voters approved Amendment 13 in the 2018 midterm elections to outlaw exactly two activities:
Hosting greyhound races in Florida
Betting on greyhound races held in Florida
Florida residents may still bet on greyhound races held in other states through online betting sites. Greyhound racing is definitely an industry in decline, but Floridians do still have the ability to bet on races held in other states. Horse racing is still alive and well in Florida.
Is horse racing gambling a declining industry?
Major horse racing events draw impressive crowds to this day, but the sport as a whole has experienced a slow, steady decline over the past couple of decades. Betting handle is down significantly since the 1970s and many horse racing tracks are suffering financially.
One can point to a variety of reasons for the decline. Americans have more gambling options, other sports have grown in popularity, it's easier to sit at home and watch TV and so on. Today, you can get the general public to tune in to the Kentucky Derby, but other races tend to be the realm of serious horse racing fans.
Racetracks first looked into adding other gambling games to their premises as a way to bump up revenues. We can see this with state legislatures finally opening to the idea of racinos and slot machines. The tracks that have managed to add slots have benefitted greatly from the new income.
Likewise, tracks are depending more and more on off-track betting – specifically internet betting. The horse racing industry still holds considerable clout in politics, and that is probably one reason why horse racing received a carve-out from the UIGEA in 2006.
Online betting benefits the tracks directly, and it gives smaller tracks access to a much wider audience. This additional betting handle is a huge benefit to the industry, but we still have a long way to go before we see horse racing reach anything near its glory days of years past.
Accessibility has done wonders for increasing revenues, but the industry still has a long way to go. There are still concerns about PEDs, inhumane horse treatment, risks to racehorses and life for horses after racing. If the industry can combat these issues and improve the industry's reputation, there is plenty of room to grow.
Internet racebooks and mobile horse racing betting apps aren't the end-all solutions to horse racing's financial woes, but they do help. Combine that with unique marketing strategies, such as what Churchill Downs has accomplished over the past few years, and there are bright spots in the future.