FanDuel is the largest fantasy sports betting site in the United States. Lately, you may have heard their commercials on ESPN radio or seen the promos plastered around the web. You may also have read about FanDuel in the Wall Street Journal or any number of other national newspapers. FanDuel.com is relatively young (est. 2009) but it has been making big waves every year since its inception.
FanDuel
FanDuel
FanDuel is the original daily fantasy sports site. Headquartered in the United States and home to more fantasy contests than anyone else, FanDuel is always worth a look.
Pros
Biggest fantasy site in the world
Huge guaranteed prize pool events
Some contests pay $1 million+ to the winner
Constant influx of new, unskilled players
Cons
Biggest contests are tough to win
Does not offer season-long leagues
FanDuel Info
Betting Site: FanDuel
Website: www.fanduel.com
Established: 2009
Country: United States
Support: 24/7 E-mail
Minimum Deposit: $10
In short, FanDuel.com offers real money fantasy sports betting over the internet. Just like in regular fantasy leagues, you get a salary cap, draft your team and watch as your picks accumulate stats in the real world. The winner is determined by whoever's team accumulates the most points over the duration of the contest.
Fantasy contests can last for a day or a season at FanDuel.com. You can compete in large tournaments with million-dollar prize pools or play heads-up against a single opponent for as little as a dollar. The site offers something for all budgets.
What makes FanDuel different than the fantasy leagues you may have played in the past is you're not locked in for the whole season. FanDuel.com opts instead for week-long and day-long contests. You draft your team and accumulate stats like normal, but the contest only covers every game for a single day or week of games. You get paid faster, you can test new strategies and you don't get completely ruined for the season if any of your picks are injured.
Is FanDuel.com Legal?
Yes. Online fantasy betting received an exemption from the Unlawful Internet Gambling Enforcement Act of 2006 (UIGEA). Other forms of online betting were affected by the law, but fantasy betting likes like FanDuel and its competitors are 100% legal. They are headquartered in the United States, advertise on TV and even accept deposits via PayPal.
However, state laws may differ. Five states have banned online fantasy betting and so residents of the following states may only participate in free contests.
Restricted states: Arizona, Hawaii, Idaho, Iowa*, Louisiana**, Montana, Nevada and Washington.
*Note: Iowa approved a new piece of legislation in 2019 to legalize fantasy sites such as FanDuel. The law has not yet taken affect, but soon FanDuel and other sites will be able apply for licenses and serve customers from Iowa.
**Note: Most Louisiana parishes opted to legalize daily fantasy sites in a November 2018 ballot measure. Soon, people in most Louisiana pages will be able to play at FanDuel. It's just a matter of time now as the state forms rules and regulations before FanDuel may begin accepting players.
How It Works
A typical fantasy contest begins by logging in to your account, visiting the lobby and choosing any open contest. The lobby is organized to show all upcoming contests, how much they cost, what the prizes are and how many players are already registered. You may sort the lobby by sport league, contest type and buyin fee.
After you choose a contest, a new window opens with all the details. This is where you can confirm your entry and draft your team. Your virtual salary cap shows how much money you have to spend on your team. Each player has a cost and you cannot exceed your salary cap. The salary cap renders it impossible to choose a team full of all-stars.
Once you choose your team and confirm the buyin fee, the cost of joining is deducted from your account balance. Now you just wait for your players to play in games in the real world. Your fantasy team will earn points as your players accumulate stats in the real world.
In football, you would earn points for your quarterback achieving passing yards and throwing touchdowns. Your running back would earn points for rushing yards and rushing touchdowns, your defense would earn points for turnovers and so on.
The customer whose fantasy team accumulates the most points wins the contest and a real money payout.

Types of Contests
There are a variety of different contest types available at FanDuel.com. Sometimes FanDuel mixes and matches contest types and comes up with new hybrids so there's always something new. The goal in each contest is to accumulate the most points.
Contests vary by duration, number of players and prize structure. Currently, FanDuel offers fantasy contests for football, baseball, basketball, college football, college basketball and hockey.
Head-to-Head
A head-to-head contest is played against one other person in a winner-takes-all matchup. You and the other person put up your money and draft your teams. The person whose team accumulates the most points wins the whole prize pool. Buyins range from $1 to $10,400.
Leagues
Leagues are daily contests that involve 3, 5, 10, 20, 100 or 250 contestants. Multiple prizes are awarded to the top finishers in each contest. The number of payouts depends on the number of entrants. A 3-person league only pays the 1st place finisher while a 250-person league offers payouts of varying sizes to the top 27 finishers.
50/50s
In a 50/50 contest, the top 50% of the finishers earn double their money back. For example, a 6-person contest would double the money of the top-3 finishers. These contests may involve anywhere from 6 to 100 contestants.
Triple-Ups and Quintuple-Ups
Triple-up and quintuple-ups are similar to 50/50s except in a triple up, the top 1/3rd of finishers get triple their money back and in a quintuple-up, the top 1/5th of finishers get five times their money back.
Tournaments
Daily fantasy tournaments have the most contestants and biggest prizes. These are typically more difficult to win but they offer much larger prizes. Buyins range from $1 to $1065 and sometimes even more. Prizes are paid to the top few finishers and vary based on the number of participants.
FanDuel also has guaranteed tournaments that promise a prize pool of at least X dollars no matter how many people join the contest. For example, the weekly $1.25 Million NFL Sunday Million has a prize pool of at least $1,250,000 every single week with a first place prize of at least $120,000.
Survivor Tournaments
Survivor tournaments work in rounds. In a basic survivor contest, the top 75% of finishers advance to round 2. Round 2 begins and then another 25% are cut before moving to round 3. This continues on until the final round in which prizes are awarded.
The strategy for Survivor Tournaments is unique because you don't necessarily need to go for high risk, high payoff picks. More emphasis needs to be placed on safe picks who can earn enough points to keep you out of the bottom 25%. There's no point in high risk plays during the early rounds because there is absolutely no benefit to coming in 1st place vs. 200th place as long as you're above the cutoff.
Single Game Contests
FanDuel launched single-game contests in 2018 and as the name suggests, these tournaments involve just a single game on game day. For instance, FanDuel held a single game contest for the last Super Bowl that involved The Big Game only.
Single game contests involve a roster of just five players and are based on standard scoring rules with one exception: one of your players is designated as the MVP and accumulates 1.5x points.
Half-Slate Games
Near the end of 2018, FanDuel took single game contests one step further and launched half-slate contests that cover just half of one game. You still pick a roster of five players (with one of those being an MVP who scores 1.5x points), but the scoring only begins after the second half.
Deposit Bonus
FanDuel changes its welcome bonus frequently, but currently offers up to 4 free contest entries to new customers. The current bonus will give you two vouchers to major contests when you deposit $10 to $99. If you deposit $100 or more, FanDuel will give you 4 free entries to large contests.
During the NFL and NBA seasons, for example, you can get up to 2 free entries to the NFL Sunday Million (with at least $1 million in guaranteed prizes) and 2 free entries to large NBA contests. Visit FanDuel.com to see the current offer and which contests are available as a part of this promotion.
>>>Click here to claim your bonus<<<
No bonus code necessary
Fanduel.com Championship Events
One of the greatest advantages to playing at a site as large as FanDuel.com is it has the numbers to support massive tournaments with huge prize pools. The weekly Sunday Million with its $100,000+ first place prize may be impressive, but it goes much, much further than that. FanDuel also holds a special championship event every year for each league.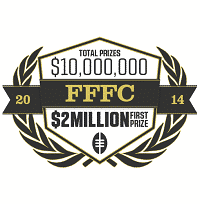 FanDuel Fantasy Football Championship (FFFC)
The FFFC is the premier event every year for NFL fans. In 2014, FanDuel had $10,000,000 up for grabs in the Main Event with a first place prize of $2,000,000. Players were able to qualify for the Main Event by competing in online qualifiers each week for as little as $10.
After one hundred qualifiers had earned seats to the Main Event, they were all flown out to Las Vegas to compete for $7,000,000 (the other $3,000,000 was given out as runner-up prizes during online qualifying rounds) in a 100-person final tournament.
The first place winner received a flat $2 million, second place got $1 million, third place got $500,000 and so on down the line. Even the person who took last place got $15,000 for his time. Basically, if you won a qualifier, the absolute worst thing that could happen is you'd get a 3-day paid vacation in Las Vegas, a VIP viewing party during the contest and $15,000 cash. That was the worst case scenario, folks.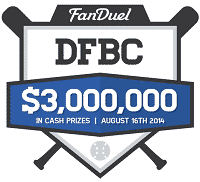 Daily Fantasy Baseball Championship (DFBC)
Where NFL fans get the FFFC, MLB fans get the DFBC. The Daily Fantasy Baseball Championship works in a similar manner to its football cousin but smaller with a total prize pool of $3,000,000 and a $1 million first place prize in 2014. This is still an impressive tournament in its own right.
In this one, 70 finalists who qualified online were flown to Las Vegas to stay at the Cosmopolitan Hotel and compete in two private championship parties on Friday and Saturday nights. Even the person who finished in last place in the Main Event still got to go home with memories of a free trip to Vegas and $5,000 in his pocket.
Daily Fantasy Basketball Championship (DFBBC)
2014s DFBBC culminated in a $1.2 million championship event that paid $120,000 to the first place finisher. Fantasy basketball doesn't garner as much interest as football and baseball so the prizes aren't as big. But still, $120,000 for an evening of fantasy sports isn't a bad deal at all.
This one didn't require a qualification like the other two championship events described above. You were able to buy in direct for $200 or play in satellite tournaments to win a spot for much cheaper. All of these events grow larger every year, so I'm sure we'll see the prizes for this one only improve going forward.
Depositing and Withdrawing
You can fund your betting account with a credit card, debit card or PayPal. These deposit methods are instant and FanDuel charges nothing. Withdrawals can be credited back to your PayPal account or sent to you via a paper check in the mail.
FanDuel also accepts Bitcoin deposits via BitPay. In a September 2019 press release, BitPay stated it has been selected by FanDuel for customers wishing to make Bitcoin deposits.
In my opinion, the best option is to get a PayPal account and use that to deposit and withdraw. PayPal itself accepts multiple funding methods and works quickly. It's also nice to receive withdrawals to PayPal because then you can just transfer your winnings straight to your bank account instead of waiting for a check.
The minimum deposit is $10 and I still haven't found a maximum.
Overall Opinion
I've liked FanDuel.com for a long time and consider it a "must-have" for anyone interested in fantasy sports betting. This is the biggest fantasy site in the US with the most tournaments and largest prizes. If I had to choose just one fantasy site to play at from now on, it would be FanDuel.
FanDuel could stand to expand its lineup of sports and add new types of competitions, but I'm not going to start complaining any time soon. They've only been around since 2009 and have already grown by leaps and bounds. Add to that the fact that they are licensed and legal right here in the United States and it's a no-brainer. You won't go wrong with an account here.