TVG.com is a racing betting website that offers legal real money betting on horse races to residents of the United States. Unlike the many offshore gambling sites you see mentioned on the internet, TVG is licensed, regulated and headquartered right here in the USA.
TVG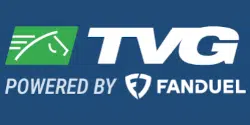 TVG
TVG is a legitimate racing betting website headquartered right here in the United States. With a history dating back to 1993, TVG.com is one of the more experienced horse racing brands on the internet.
Pros
Excellent U.S. track coverage
Pays at full track odds
Trusted name in online betting
Licensed and headquartered in the USA
Cons
Could cover more international tracks
Not available in all US states
TVG Info
Betting Site: TVG
Website: www.tvg.com
Established: 1993
Country: United States
Support: Phone and e-mail
Minimum Deposit: $10
Deposit Bonus: $300
An account with TVG.com will give you access to 150 tracks across the US and a few from other parts of the world. Every day, you can select from races taking place around the world and place all the same bets that you could place if you were actually there. In fact, you get full track odds on every bet you place online because your wagers are combined with the bets placed by everyone present at the track.
You'll also be able to take advantage of a suite of handicapping tools, news updates and commentary from the pros. This is all stuff that you can use to get a leg-up over the competition. In some ways, it's better to bet online than it is to do it in person. You miss out on the thrill of seeing your horses run in person, but you have access to so much more information that you can use to get an advantage.
I have a decent amount of experience with the site and decided to write this TVG review to share that experience with you. I'm a fan of the site so far, but I'll keep this review as unbiased as possible.
TVG Company Overview
TVG.com is the online horse betting property of the Television Games Network. If you haven't heard the name, TVG is a betting service and television channel devoted full-time to horse racing. They show live horse races, commentary and behind-the-scenes access to anything and everything related to the industry.
They have been involved in horse racing betting since 1993 and are now licensed to offer their services online and over the phone in 30 US states. TVG was acquired in 2009 by Betfair. Betfair is another well-respected betting company based out of the UK and traded on the London Stock Exchange.
Today, TVG and TVG.com work in synergy to show live races on TV and offer wagering on hundreds of tracks around the world. Members can bet on horse races online, over the phone and with box-top sets in some states.
TVG Bonuses and Promotions
Welcome Offer: $300 Risk Free First Bet
TVG offers a simple welcome offer to all new customers: place your first single win bet and if it loses, TVG will refund your account with up to $300 back in wagering credits.
TVG.com Betting Experience
You'll find it pretty easy to get everything up and running. TVG requires you to open an account before you can even view the available wagering options, so that's the first step. They will want to know your name, address and all the normal information that a site asks for when you sign up.
They do ask for your social security number which you may find off-putting. Just know this is a requirement of the IRS and licensing commission to ensure that you pay your taxes and are located in one of the site's accepted states (more than that below). TVG is a legitimate betting site so don't worry; they'll keep your information private.
Once you get that out of the way, you'll be free to browse the tracks, today's races and the full lineup of handicapping information. You can browse the full track list or click on "upcoming races" to see a quick list of everything they have open. Choose a track or individual list and the website will show you all the betting options for that event.
The betting options shown on the website correspond to every available wager at that track. Every open bet that you see online corresponds to an actual bet at the track. This includes everything from standard win/place/show bets to the most exotic exotics. You can key your bets, box them and get as in-depth as you want.
I alluded to this earlier, but here it is again. All wagers placed online are combined with the bets placed in person at the track. This is a major advantage over offshore sites because it leads to bigger payouts for everyone, larger purses for the racing teams and more financial support for the local track. As you may know, many racetracks around the country have hit hard times in recent years. If you lose, you can always take comfort knowing that you're doing your part to keep this longstanding industry alive.
Anyways, you place your bet by selecting the track, narrowing it down to a specific race and then making your selections online. The TVG wagering interface looks a lot like the betting slip you would use at any racetrack. The only difference is you use your mouse and keyboard to make your selections.
Bets are deducted from your account instantly and winnings are paid out at the end of the race. There are no restrictions on how much or how often you can bet other than what each track imposes. TVG itself accepts wagers from $1.00 to $10,000 but some of the smaller tracks have lower limits.
What I found really fun was being able to watch the races in real time on my computer. TVG doesn't just show races on its specialty TV channel – they also stream the events live online. It's absolutely free to watch your horses race. All you need is an account.
TVG Mobile App
TVG has a mobile-friendly website as well as an iPhone app available for free in the iTunes store. If you have an Android or any other non-Apple device, you can point the browser to TVG.com and you'll get the mobile-friendly version of the website. There, you can log in, place bets and monitor your races.
If you have an iPhone, the mobile app is definitely the way to go. It comes with more features than the mobile website and can even serve live video on your phone. It's also just easier to navigate and place bets with the actual app as opposed to the mobile website.
TVG Deposit Methods
You can fund your betting account with a number of deposit methods. Some of these are free while others come with small fees. Here's a quick overview of each.
Accepted and Restricted States
Horse racing websites are required to get authorization from each state in which they would like to offer their services. State laws vary so not all states are accepted by all sites. This chart shows the list of sites that TVG DOES accept. If your state is not on this list, you'll need to try a different racing site.
Accepted:
Arizona
Arkansas
California
Colorado
Connecticut
Delaware
Washington
Florida
Idaho
Illinois
Indiana
Iowa
Kentucky
West Virginia
Louisiana
Maryland
Massachusetts
Minnesota
Montana
New Hampshire
Wyoming
New Jersey
(as 4NJBets)
New Mexico
New York
North Dakota
Ohio
Oregon
Pennsylvania
Rhode Island
South Dakota
Tennessee
Vermont
Virginia
And below is a list of states that TVG DOES NOT accept. If your state appears on the list below, it means you cannot play at TVG.
Restricted:
| | | |
| --- | --- | --- |
| Alabama | Alaska | Georgia |
| Hawaii | Kansas | Maine |
| Michigan | Mississippi | Missouri |
| Nebraska | Nevada | North Carolina |
| Oklahoma | South Carolina | Texas |
| Utah | Wisconsin | Washington DC |
Overall Opinion
TVG.com has always treated me well and it has a positive reputation among other customers. The website is operated by a solid group of professionals who have decades of experience. This is what you would expect from the company that operates America's only national horse racing channel.
I like how TVG offers a fair game and pays full track odds. What I don't like is TVG's extreme focus on horse racing. Yes, I know that's their business model but some other sites are starting to get into new things such as daily fantasy sports. TVG is great for online horse racing betting, but not so much for a wide variety of non-racing options.