Jackpocket is the only third-party lottery app approved in the USA that allows players to order official lottery tickets from state lotteries online.
A growing number of states that do not already sell tickets online have granted the Jackpocket app their stamp of approval to purchase tickets on behalf of customers who prefer the convenience of ordering tickets through their mobile devices.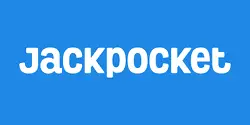 Jackpocket
Jackpocket is an authorized lottery courier service that allows customers to purchase real lottery tickets online. Winnings under $600 are paid instantly online while larger prizes are paid by physical delivery to the winning customer.
Pros
Authorized in every state it serves
Convenient way to order lottery tickets online
Small wins paid instantly
Images of lottery tickets scanned and uploaded for verification
Cons
Not available in all states
Can only order tickets from within state lines
Jackpocket is headquartered out of New York and offers its lottery courier service in eight states plus the District of Columbia:
Arkansas
Colorado
Minnesota
New Hampshire
New Jersey
Ohio
Oregon
Texas
Washington DC
Unlike other similar services that have come and gone over the years, Jackpocket works hand-in-hand with state regulators to ensure its legality and to avoid stepping on any toes. For instance, Jackpocket launched in New Jersey in 2019 with the explicit approval of the NJ Lottery as the state's first registered lottery courier service.
Jackpocket was founded in 2013 but has reached much higher levels of prominence in more recent years. With that in mind, today's Jackpocket review will explain how it works and what users can expect.
How Jackpocket Works
Jackpocket works on a simple premise: purchasing real lottery tickets on behalf of customers.
Users log in to the app, make their picks and submit their orders. This in turn prompts Jackpocket to purchase tickets for those customers from an authorized retailer, upload a scanned image of each ticket and then to notify customers of any winning tickets.
Jackpocket users may pick their own numbers, opt for random picks, purchase one ticket at a time or set up recurring subscriptions to ensure they never miss a drawing. Jackpot also supports team play, allowing friends to pool their resources to purchase tickets in bulk.
How Prizes Are Paid
Winnings under $600 are automatically credited to each customer's Jackpocket account. From there, customers may withdraw those funds via electronic bank transfer or use them to purchase additional tickets.
Users may withdraw funds by logging in to their Jackpocket account and selecting "payout" from the main navigation menu. Once inside the payout area, users are prompted to enter their banking information and an amount to withdraw. All payouts are completed within 3-5 business days.
Customers who win $600 or more from a ticket are contacted by Jackpocket to arrange safe transfer of the winning ticket so the winner can claim his or her prize directly from the state lottery. This may involve mailing the winning ticket in the case of a small-to-medium win or hand-delivering the winning ticket in the case of a substantial prize.
Jackpocket Fees
Jackpocket charges a variable percentage fee when customers load funds to their accounts. The exact amount of the fee varies by location and deposit method, but Jackpocket always discloses the fee up front before the deposit is made.
This is the only fee Jackpocket customers pay.
Jackpocket does not charge fees in the form of deductions from winnings or premiums on ticket prices. 100% of anything a customer wins is paid every time and ticket prices in the app match those paid in the real world.
Jackpocket App Review
Jackpocket CEO Peter Sullivan comes from a user interface / user experience background and the experience shows in the design of the app. The Jackpocket app is easy to use despite offering a fairly large number of features.
Public Pools: Large public pools cost one ticket to enter and winnings from all tickets are split evenly among all players.
Private Pools: Invite friends and family to participate in private pools and prizes are automatically distributed among participants based on the number of tickets purchased by each (i.e. the more tickets you buy, the bigger your share of the prize pool).
Invite Friends to Private Pools: After creating a private pool, Jackpocket customers can invite their friends via quick-share links to send an e-mail, text message or social media invite.
Refer-a-Friend: Users can use the refer-a-friend to earn $10 for every friend they refer who goes on to make a deposit. Each friend also gets $2 just for being referred.
Auto Funding: The auto-fund feature allows customers to automatically refill their accounts if their balance dips below a pre-selected amount.
Autoplay Subscriptions: The autoplay feature allows users to automatically purchase tickets for every drawing. Select the "autoplay" menu item from the app to set up a recurring subscription to any game. Customers can choose quick pick for random numbers or have the app purchase specific numbers each time. This feature works well in tandem with auto-funding to ensure a drawing is never missed.
Find a Retailer: Customers can use the "find a retailer" tool to launch a map of all nearby ticket retailers for in-person purchases. This feature is available in all 50 states.
iOS Download
iPhone and iPad users can download the official app from Apple's App Store. The app can be downloaded from any state and used to check lottery results but uses geolocation software to restrict ticket sales to customers who are located in states served by Jackpocket.
Android Download
Android users can download a lite version of the app from the Google Play Store to check winning numbers but must visit the Jackpocket website to download the full-service app because Google does not list real money lottery apps.
Identity Verification
State law requires Jackpocket to verify the age, identity and location of every customer to ensure tickets are only sold to customers who are of legal age and physically located in the state for which they would like to purchase tickets.
After the app is downloaded, Jackpocket verifies the phone number of each customer by sending a verification code via text message. Then, customers are asked to scan the bar code on their driver's license or state-issued ID to verify age and identity.
Geolocation technological is used to verify the physical location of each customer. Federal law does not allow lottery tickets to be sold across state lines, so Jackpocket may only sell tickets to customers who are physically located within state lines. Customers are not able to purchase tickets from other states' lotteries.
App Screenshots
Is Jackpocket Safe?
Jackpocket is headquartered in the USA and works closely with state regulators in each state in which it operates. In some states, Jackpocket is actually registered by the lottery as an authorized lottery courier service.
Additionally, the Jackpocket "Ticket Lock" feature ensures tickets are properly tied to each user's personal identity.
When a customer orders a ticket through the app, Jackpocket purchases a real ticket, scans an image of the ticket and watermarks the image with the customer's name. Each actual ticket is then stored in a fireproof safe under strict access control policies.
Customers also receive an e-mail with an image of the ticket, ticket information, serial number and other details to further confirm ownership of each ticket.
Deposit Methods
Customers who log in to Jackpocket from a state in it is authorized to purchase tickets may fund their accounts via four deposit methods:
PayPal: Jackpocket accepts payments via PayPal, but only from personal accounts that are linked to a confirmed bank account.
Credit and Debit Cards: Visa, Mastercard and Discover are accepted, but Discover is only accepted in some states.
Bank Transfer: Transfer funds by selecting your bank from the list and logging in to your bank's online banking feature to send money straight to your Jackpocket account.
eCheck: If your bank is not listed for a bank transfer deposit, select eCheck to manually input your bank's routing number and checking account number to make an electronic banking deposit.
Play+: The Jackpocket Play+ card is part e-wallet, part prepaid debit card. You can sign up online and make an electronic deposit that same day, but you will also receive a physical card by mail that can be used to make in-store purchases and withdraw cash at ATMs.
When Will Jackpocket Launch in Additional States?
Jackpocket is actively pursuing opportunities in additional states.
In an interview with BettingUSA, Jackpocket CEO Peter Sullivan revealed his company is "ready to go" in several jurisdictions and could launch in those states within 48 hours of receiving the green light from lottery officials.
Responsible Gambling
Jackpocket takes a proactive approach to responsible gambling by meeting or exceeding all state requirements in this regard.
Users can log in to set spending and deposit limits per day, week and month. Jackpocket automatically caps all spending to no more than $100 per day and deposits to $285 per day, but users can select lower limits if they wish.
Jackpocket also offers self-exclusion. Users can set self-exclusion periods of 30, 60 or 90 days or permanently.
Jackpocket State by State Information
Jackpocket conforms to the rules in each state in which it operates, which means the types of games available for purchase online and how winnings are paid vary by state.
Generally, winnings of under $600 are credited straight to players' accounts while prizes greater than that prompt Jackpocket to securely transfer the physical ticket to the winner to be claimed in-person from the lottery.
However, many state lotteries allow prizes larger than $600 and under certain amounts to be claimed by mail to further enhance the convenience of playing with Jackpocket.
In any state, customers who choose to claim their winnings by mail should take several steps to protect their tickets:
Sign the back of every ticket
Take pictures of the front and back of winning tickets
Save a copy of the completed claim form
Send tickets and claim forms via registered mail (note this does require a trip to the Post Office)
Jackpocket in the news: