TwinSpires.com is named after the iconic twin spires that adorn Churchill Downs racetrack in Louisville, Kentucky. This is the official horse wagering website of Churchill Downs Incorporated, which is the owner of the Kentucky Derby and various other racetracks and gaming properties.
TwinSpires
TwinSpires
TwinSpires is owned and operated by Churchill Downs Incorporated, which itself is a staple in American horse racing. You would be hard-pressed to name a company more respected and experienced than TwinSpires.com.
Pros
Wide variety of US and international tracks
Reputable site owned by Churchill Downs
Headquartered in the USA
Live racing video on your computer
Cons
Customers restricted from some states
Lack of greyhound betting
TwinSpires Info
Betting Site: TwinSpires
Website: www.twinspires.com
Established: 2006
Country: United States
Support: Phone, live chat and e-mail
Minimum Deposit: $1
Deposit Bonus: $100
The Churchill Downs racetrack opened in 1875 and Churchill Downs Incorporated (CDI) was officially formed in 1937. The first Kentucky Derby was hosted on May 17th, 1875 and has only grown in prestige every year since. It is this race that spawned the now-famous phrase "the fastest two minutes in sports." The Kentucky Derby is now the largest and most well-known racing event in North America.
Today, CDI is the strongest brand in US horse racing with more than a hundred years of horse racing and betting experience. Twin Spires now serves as their official web property for online horse betting and live racing video. TwinSpires.com is licensed by the state of Oregon and is available in 30 states for real money play.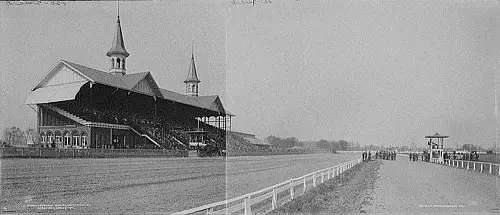 Twin Spires is a safe, legitimate and legal place to bet on horses. This is one of the few legal options for customers in the United States to play. The company is headquartered in the United States and is at no risk of suddenly being shut down by the feds.
How Horse Betting at TwinSpires Works
TwinSpires.com covers hundreds of horse racing tracks in the US and abroad. The full list covers most major tracks in the United States as well as racetracks in the UK, Ireland, Sweden, Japan, the UAE (Dubai), New Zealand, Lebanon, South Africa and Australia.
On any given day, you may log in to your Twin Spires account to see a list of tracks that are hosting racing events. Select a track and a list of races will appear. From there, you can select your race, make your picks and place your bet. In many cases, Twin Spires shows the race in real time on its website via streaming video.
Any type of bet that you could place in person is also available online. This includes the standard lineup of win, place and show bets as well as all the usual exotics. Wagers placed online are comingled with bets taken at the track. This comingling of funds results in larger payouts and purses for everyone.
Twin Spires has three different betting interfaces that you may choose from when placing bets.
TwinSpires TV is the interface to choose if you like to watch the races in real time as you place your bets. Choosing this option opens a new window that is split between live video and a place to select your wagers. The betting interface is designed to fit into a smaller window but it has all the available wagering options and a few betting tools that you can switch between on the screen.
The Express and Pro views drop live video in favor of more space to devote to showing your wagering options. Express shows you the advanced racing program, pool totals, latest news and weight changes and much more. This is the way to go if you're serious about making money and could care less about watching the action unfold.
With hundreds of tracks and thousands of wagers available every day, Twin Spires offers the most well-rounded horse racing experience of them all. I've noticed a trend lately where other racing sites such as BetAmerica are experimenting with fantasy sports betting and other options, but Twin Spires focuses entirely on horse racing – and it shows.
If horse racing is the only thing you're interested in, TwinSpires.com is your best bet. If you'd like to switch it up between other gambling options such as fantasy sports betting or greyhounds in addition to horse racing, you might want to take a look at BetAmerica.
Twinspires Welcome Bonus
Twin Spires has an interesting welcome bonus for all new customers. If you sign up for an account and wager at least $500 within the first 30 days, Twin Spires will give you $100. There are no catches or strange terms and conditions. You don't have to "clear" the bonus like you would at most betting sites. All you need to do is wager $500 and the cash is yours.
This bonus is also unique in that the size of your first deposit has no bearing on the size of your bonus. It doesn't matter if your first deposit is $20 or $2500. It also doesn't matter how much you win or lose during this time. The only thing that matters is you place a total sum of wagers equal to $500 during your first month there.
Other online gambling sites may offer larger bonuses, but this one is more valuable than 90% of anything else you'll see out there. Whenever you see those large $500+ bonuses like you see at unlicensed offshore sites, there's always a big clearing requirement that makes it difficult to come out ahead.
>>>Click here to claim your bonus<<<
No bonus code necessary
Depositing and Withdrawing
One of the advantages of doing business with US-legal betting sites is the ease of depositing and withdrawing. Banking regulations do not apply to horse and greyhound racing so you'll find it simple to fund your account. TwinSpires.com accepts all of the following deposit methods.
TwinSpires.com calls this the "EZ-Money" deposit option but it's basically just an echeck. You fill out the information online, pick an amount between $10 and $1,000 and hit the "submit" button. The money will be credited to your betting account instantly. There are no fees for using this method.
Deposit limits: $10 to $1,000
Fee: $0
Speed: Instant
If you have a bank account that supports online bill-pay, you can use that feature to move funds to your TwinSpires.com account. You can find out if this option works with your bank by logging in and choosing the bill pay method.
Deposit limits: $1 to $500
Fee: $0
Speed: Instant
MoneyGram is a cash transfer service that allows you send actual cash to anyone in the world. This method is the best for loading actual, physical currency into your online gambling account. MoneyGram stations can be found all over the place. Some of the most common locations include pharmacies, Wal Marts and Albertsons.
Deposit limits: $1 to $899
Fee: $0
Speed: Instant
Twinspires customers can use VISA and MasterCard-branded debit and credit cards as well as non-branded ATM cards to fund your account. All you have to do with this method is type in your card information and choose an amount to deposit.
Note: Some issuing banks still block transactions to TwinSpires even though TwinSpires is legal and licensed in the United States. The problem is that banks are required to block deposits to unlicensed gambling sites (usually located overseas) but deposits to legitimate sites end up getting caught in the net. If this happens, you can call customer support to deposit with your card over the phone.
Deposit limits: $1 to $500
Fees: $5
Speed: Instant
Walk-Ins / Cash in Person
Players can bring cash to Churchill Downs in Louisville, the TwinSpires.com call center in Lexington, KY or Scioto Downs in Columbus, OH to fund your account in person. If you happen to live near any of these locations, this is the best method for large deposits.
Deposit limits: $1 to $10,000
Fees: $0
Speed: Instant
Customers send a personal check, money order or cashier's check in the mail to Twin Spires. Yes, this is the old-fashioned way but there's nothing wrong with that. It's free to deposit this way but there's quite a waiting period.
Deposit limits: $1 to $10,000
Fees: $0
Speed: Up to 5 days after mail delivery
Wire Transfer: This is the best method for extra-large deposits. It's free for deposits over $1,000 and has no upper limit. Your account will be credited as soon as Twin Spires receives confirmation from the bank.
Deposit limits: $1 to unlimited
Fees: $10 under $1,000; free over $1,000
Speed: Same day usually
TwinSpires State Restrictions
TwinSpires.com is only available in the following states. These are the states from which Twin Spires DOES accept customers.
Accepted States:
| | | |
| --- | --- | --- |
| Alabama | Arkansas | California |
| Connecticut | Delaware | Florida |
| Illinois | Iowa | Kansas |
| Kentucky | Louisiana | Maryland |
| Massachusetts | Montana | New Hampshire |
| New York | North Dakota | Ohio |
| Oklahoma | Oregon | Pennsylvania |
| Rhode Island | South Dakota | Tennessee |
| Vermont | Virginia | Washington |
| West Virginia | Wisconsin | Wyoming |
Below is a list of states that from which Twin Spires does NOT accept customers.
Restricted States:
| | | |
| --- | --- | --- |
| Alaska | Arizona | Colorado |
| Georgia | Hawaii | Idaho |
| Indiana | Maine | Michigan |
| Minnesota | Mississippi | Missouri |
| Nebraska | Nevada | New Jersey |
| New Mexico | North Carolina | South Carolina |
| Texas | Utah | |
Final Verdict
It's probably clear by now: I like Twin Spires. I have nothing bad to say about the company. They run a professional operation and are 100% legitimate and safe. This is the same company that owns Churchill Downs so they know a thing or two about real money horse betting.
The only thing you might not like about Twin Spires is their exclusive focus on horse racing. They don't do greyhounds, fantasy sports or anything else. They focus entirely on online horse wagering. If you want to switch it up, you might find BetAmerica to be a better fit. However, if horses are your thing, you won't go wrong with TwinSpires.com.