TwinSpires Sports is the product of Churchill Downs Inc, parent company of the Kentucky Derby and Churchill Downs racetrack. TwinSpires.com launched in 2007 as a dedicated horse racing betting site and operated for years as one of the country's largest online racebooks.
In early 2021, Churchill Downs Inc announced plans to merge another betting site it operates, BetAmerica, into the TwinSpires platform. The move brought all of Churchill Downs' gambling products under a single brand: TwinSpires Sports.
TwinSpires.com now operates as an all-in-one gaming site that offers:
Mobile sports betting: Open in Michigan; coming soon to IN, NJ, PA, CO, and more
Online casino: Open in Michigan; coming soon to NJ and PA
Online horse racing betting: Currently available in most states
TwinSpires
TwinSpires
TwinSpires is owned and operated by Churchill Downs Incorporated, which itself is a staple in American horse racing and now sports betting. You would be hard-pressed to name a company more respected and experienced than TwinSpires.com.
Pros
Offers sports betting, horse racing betting, and casino games
Reputable site owned by Churchill Downs
Headquartered in the USA
Live racing video on your computer
Cons
Customers restricted from some states
Lack of greyhound betting
TwinSpires Info
Betting Site: TwinSpires
Website: www.twinspires.com
Established: 2006
Country: United States
Support: Phone, live chat and e-mail
Minimum Deposit: $1
Deposit Bonus: $1,000
Bonus Code: FREE1000
The Churchill Downs racetrack opened in 1875 and Churchill Downs Incorporated (CDI) was officially formed in 1937. The first Kentucky Derby was hosted on May 17th, 1875 and has only grown in prestige every year since.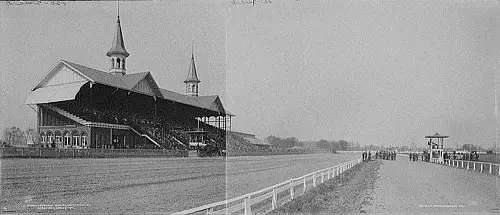 With more than 150 years' worth of experience related to its horse racing operations, TwinSpires is a reputable firm with a verifiable track record. The company holds gaming licenses in multiple states and is in good standing with regulators in every jurisdiction where it operates.
As TwinSpires launches additional gambling products, enters new states, and releases new promotions, we will update this page accordingly. We update this TwinSpires review often to ensure we provide information that is up to date and accurate.
TwinSpires Sports Review
TwinSpires parent company Churchill Downs has been involved with sports betting since 2018, when it launched retail sportsbooks and mobile betting platforms in multiple states under the BetAmerica brand.
Churchill Downs previously relied on SBTech software, but it had trouble growing market share in states where it operates and suffered a three-week outage in April 2020 due to a ransomware attack perpetrated against SBTech. Churchill Downs Inc changed its software provider to Kambi later that year after one of TwinSpires' competitors acquired SBTech.
TwinSpires Sportsbook launched in early 2021 from a clean slate with a fresh new look and improved functionality. Kambi once served as the primary software platform for DraftKings Sportsbook and was instrumental in the latter's success. What this means for TwinSpires Sports customers is they can expect competitive betting lines, responsive software, and no shortage of in-play betting markets.
TwinSpires Sportsbook Bonus
The TwinSpires bonus offers all new customers one week of risk-free betting worth up to $1,000. Additionally, customers can claim a variety of ongoing promotions revolving around the most popular sports of the season.
New Customers: One Week Risk Free up to $1,000
TwinSpires welcomes new users a signup bonus that makes it hard to start on the wrong foot. Bettors who sign up for an account and use the bonus code FREE1000 and place their first wager qualify for up to a week of risk-free betting.
If your first bet loses, TwinSpires will refund it with a free bet of equal value for up to $1,000 extra. If your first bet doesn't max out the $1,000 refund limit, you will continue receiving risk-free bets until you either reach $1,000 in refunds or place a winning wager.
All wagers must settle within seven days of registration to count toward this promotion and the free bets are not withdrawable, but anything won with the free bets is awarded as cash and may be withdrawn.
Claim Your Bonus Today: www.twinspires.com
Use the bonus code: FREE1000
Other Promotions
Other TwinSpires.com sports betting promotions take a variety of forms, but they usually involve special offers related to the current sport of the season.
For example, during the latest NBA season, TwinSpires hosted a promotion in which customers who placed a $50 pregame bet on any NBA game received $1 in free bets for every three-pointer scored in the game. In a recent college basketball promotion, customers who bet $50 on any Tuesday night NCAA game received a $20 bet to use on any Wednesday NCAA game.
The ongoing promotions change often, but customers can usually find a few offers available throughout the week.
Sports Covered and Types of Bets Offered
TwinSpires Sportsbook offers betting on a wide range of sports. Options include a large number of markets each day for professional sports, college sports, and international events.
In-play betting is also on the menu for domestic and international sports. Bettors can expect to see all the standard types of pregame bets such as moneylines and spreads, futures, props, player props, totals, exact score predictions, and many more. The number of markets for individual games is often large – sometimes in excess of 200 options for a single game.
Below is a full list of sports TwinSpires covers throughout the year. Note that not all sports are available in all jurisdictions due to varying gaming laws. For example, esports betting is permitted in some states but not others.
Athletics
Aussie rules football
Badminton
Badminton
Baseball
Basketball
Beach volleyball
Boxing
Cricket
Curling
Cycling
Cyclo cross
Darts
Esports
Football
Golf

Handball

Hockey
Horse racing
Mixed martial arts
Motor sports
Netball
Olympics
Pesäpallo
Rugby League
Rugby Union
Snooker
Soccer
Speedway
Squash
Surfing
Swimming
Table tennis
Tennis
Trotting
Volleyball
Winter sports
TwinSpires Mobile App Review
The TwinSpires mobile app is powered by GAN and Kambi, which served DraftKings well as it expanded to become one of the nation's leaders in sports betting. Suffice it to say, the TwinSpires mobile app is in good hands.
After switching to Kambi, TwinSpires Sportsbook already shows improvements in design, loading times, responsiveness and uptime. The TwinSpires app uses a standard navigation format that presents popular betting markets front and center upon logging in with multiple menus provided near the edges of the screen to visit specific sports.
Users can tap the odds listed next to any game to add that wager to the betting slip, or tap anywhere else on that game's listing to view a full selection of betting markets for that game. If in-play betting is provided for that game, the TwinSpires app integrates a live stats display into the interface so bettors can view the live betting odds and streaming stats at the same time.
Mobile App Screenshots
In-Play Betting
In-play betting is a strong suit for TwinSpires. Parent company Churchill Downs has offered in-play betting since 2018 under the BetAmerica brand and already had a solid interface for in-game wagers even before the switch to Kambi.
With Kambi software now in place, the TwinSpires in-play betting experience competes on equal footing with other major operators such as FanDuel and DraftKings. The in-play betting calendar provides comprehensive coverage of US sports (college and pro) plus major and medium-sized international leagues.
Stats are streamed live for most games with a data visualization tool that looks shows where the ball is on the field or court, who has possession, who's on the attack, and so on. The number of in-play betting markets varies, but is often in the range of 20 to 100 depending on the game.
The most obvious area where there is room for improvement is live streaming video. Some of TwinSpires' competitors provide live video for select games, but TwinSpires Sportsbook does not as of this review.
In-Play Betting Screenshots
Sportsbook Deposit Methods
TwinSpires Sportsbook customers can fund their accounts with a variety of standard deposit methods:
Credit and debit cards: TwinSpires Sports accepts Visa and Mastercard
PayPal: Customers can use their PayPal accounts to deposit, but note that PayPal only allows transfers of funds from accounts that are linked to a personal bank account. PayPal does not allow customers to fund online gambling accounts with money that was uploaded via credit card.
Bank transfer: TwinSpires supports electronic bank transfers – have your account and routing numbers handy
PayNearMe: Customers who would like to fund their accounts with cash can select PayNearMe to generate a pay slip, then visit a nearby PayNearMe outlet finish the deposit with cash
Play+ prepaid card: TwinSpires users can sign up for a Play+ account to make instant online payments, receive payouts, and receive a physical card that can be used to make purchases anywhere Discover is accepted
Skrill: Skrill is an online payments account that operates similarly to PayPal
Online bill pay: Most bettors who bank with a national bank can select online bill pay to make an electronic payment by choosing an amount to deposit and authorizing the transaction by logging in with their existing online banking username and password
TwinSpires Sports Betting Expansion and BetAmerica Transition
TwinSpires Sportsbook and Casino launched in Michigan on January 22nd, 2021. Company representatives say the operation plans to extend its reach to additional states over the coming months, including converting existing BetAmerica operations over to the TwinSpires brand.
The launch began with TwinSpires opening its sports betting and online gambling platform in Michigan. Churchill Downs also says it will migrate all BetAmerica Sportsbook customers in Colorado*, Indiana, New Jersey, and Pennsylvania to the TwinSpires platform in the first half of 2021. The transition will occur automatically and all customer information such as login info and passwords will be transferred over seamlessly. Current BetAmerica customers do not need to do anything in the meantime.
*BetAmerica was close to launching online betting in Colorado when Churchill Downs announced the plan to merge all sports betting operations under the TwinSpires brand. It is unclear how Churchill Downs plans to manage its Colorado launch moving forward.
Retail BetAmerica Sportsbooks in the aforementioned states plus Mississippi will also be rebranded to TwinSpires this year. In some states, the transition is already underway – Michigan's Island Resort and Casino has already updated its sportsbook with TwinSpires logo and imagery.
Bill Mudd, President and COO of Churchill Downs Inc, explained the rationality behind the brand change in a statement published at the start of 2021:
"Our TwinSpires brand has consistently delivered over 13 years and is associated with more than a century of wagering experience. That history and heritage offers a unique point of difference in a competitive space.

"We remain focused on building a profitable sports betting and iGaming business that provides our customers with an integrated experience alongside our horse racing wagering platform. The transition to TwinSpires not only generates marketing efficiencies, but also allows us to deliver a more complete overall experience to our growing online wagering customer base."
TwinSpires Sportsbook States of Operation
Churchill Downs Inc will soon rebrand all existing BetAmerica platforms and retail sportsbook to TwinSpires. The company also states it plans to expand to additional states as legislation permits.
Customers who have mobile betting accounts with BetAmerica do not need to take any action throughout the rebranding process. Churchill Downs Inc says it will transfer all account over to the TwinSpires platform automatically. Look for many BetAmerica sportsbooks and mobile betting platforms to become TwinSpires over the course of 2021.
TwinSpires Michigan
Availability: Retail sportsbook, mobile betting, and online gambling
Land-Based Partner: Island Resort & Casino
Churchill Downs Inc offered sports betting in Michigan through BetAmerica Sportsbook at Island Resort & Casino but rebranded its operations to TwinSpires at the the start of 2021.
TwinSpires New Jersey
Availability: Mobile betting
Land-Based Partner: Golden Nugget Casino
Churchill Downs Inc. offers sports betting in New Jersey through BetAmerica Sportsbook and plans to rebrand the platform to BetAmerica in the first half of 2021.
TwinSpires Pennsylvania
Availability: Mobile betting and retail sportsbook
Land-Based Partner: Presque Isle Downs
BetAmerica offers mobile betting in Pennsylvania plus a retail sportsbook at Presque Isle Downs in Erie. Both will transition to TwinSpires branding over the next year.
TwinSpires Mississippi
Availability: Retail sportsbooks
Land-Based Partners: Harlow's Casino and Riverwalk Casino
BetAmerica has two retail sportsbooks in Mississippi, one at Harlow's Casino in Greenville and one at Riverwalk Casino in Vicksburg. Both are slated to rebrand to TwinSpires.
TwinSpires Indiana
Availability: Mobile betting and retail sportsbook
Land-Based Partner: Rising Star Casino
TwinSpires will take over for BetAmerica in Indiana in the first half of 2021. Currently, BetAmerica offers mobile betting and a retail sportsbook at Rising Star Casino in Rising Sun.
TwinSpires Colorado
Availability: Retail sportsbook open; mobile betting coming soon
Land-Based Partner: Bronco Billy's Casino
TwinSpires parent company Churchill Downs is partnered with Bronco Billy's to offer mobile betting and a retail sportsbook. Look for mobile betting powered by TwinSpires to launch in Colorado soon.
TwinSpires Tennessee
Availability: Mobile betting coming soon
TwinSpires Sportsbook is coming soon to Tennessee. Tennessee sports betting law is unique in that it does not require mobile sports betting providers to partner with local, land-based gaming interests. As such, TwinSpires comes to Tennessee as a standalone online sportsbook. The Tennessee Education Lottery (TEL) has issued a license to Churchill Downs Inc., the parent company of TwinSpires, but TwinSpires is not yet live. We will update this page when TwinSpires launches in TN.
How Horse Betting at TwinSpires Works
TwinSpires.com covers hundreds of horse racing tracks in the US and abroad. The full list covers most major tracks in the United States as well as racetracks in the UK, Ireland, Sweden, Japan, the UAE (Dubai), New Zealand, Lebanon, South Africa and Australia.
On any given day, you may log in to your Twin Spires account to see a list of tracks that are hosting racing events. Select a track and a list of races will appear. From there, you can select your race, make your picks and place your bet. In many cases, Twin Spires shows the race in real time on its website via streaming video.
Any type of bet that you could place in person is also available online. This includes the standard lineup of win, place and show bets as well as all the usual exotics. Wagers placed online are comingled with bets taken at the track. This comingling of funds results in larger payouts and purses for everyone.
Twin Spires has three different betting interfaces that you may choose from when placing bets.
With hundreds of tracks and thousands of wagers available every day, Twin Spires offers the most well-rounded horse racing experience of them all. I've noticed a trend lately where other racing sites such as BetAmerica are experimenting with fantasy sports betting and other options, but Twin Spires focuses entirely on horse racing – and it shows.
Twinspires Horse Racing Welcome Bonus
TwinSpires features an interesting welcome bonus all new customers that's worth up to $200 extra.
New users who sign up for an account and use the promo code BET200 can earn either $100 in bonus funds or $200 based on the amount of wagers they place in their first 30 days as customers.
Customers who place $400 worth of wagers within their first 30 days receive $100 in bonus funds while users who place a total of $800 in wagers over that same period earn an extra $200. One of the advantages of this bonus compared to others is it comes with no other catches or unfavorable terms and conditions.
This bonus is also unique in that the size of your first deposit has no bearing on the size of your bonus. It doesn't matter if your first deposit is $20 or $2500. It also doesn't matter how much you win or lose during this time. The only thing that matters is you place a total sum of wagers equal to $400 or $800 during your first month there.
>>>Click here to claim your bonus<<<
Use bonus code BET200
Depositing and Withdrawing
One of the advantages of doing business with US-legal betting sites is the ease of depositing and withdrawing. Banking regulations do not apply to horse and greyhound racing so you'll find it simple to fund your account. TwinSpires.com accepts all of the following deposit methods.
Wire Transfer: This is the best method for extra-large deposits. It's free for deposits over $1,000 and has no upper limit. Your account will be credited as soon as Twin Spires receives confirmation from the bank.
Deposit limits: $1 to unlimited
Fees: $10 under $1,000; free over $1,000
Speed: Same day usually
TwinSpires Horse Racing State Restrictions
TwinSpires.com is only available in the following states. These are the states from which Twin Spires DOES accept customers.
Accepted States:
| | | |
| --- | --- | --- |
| Alabama | Arkansas | California |
| Connecticut | Delaware | Florida |
| Illinois | Iowa | Kansas |
| Kentucky | Louisiana | Maryland |
| Massachusetts | Montana | New Hampshire |
| New York | North Dakota | Ohio |
| Oklahoma | Oregon | Pennsylvania |
| Rhode Island | South Dakota | Tennessee |
| Vermont | Virginia | Washington |
| West Virginia | Wisconsin | Wyoming |
Below is a list of states that from which Twin Spires does NOT accept horse racing betting customers.
Restricted States:
| | | |
| --- | --- | --- |
| Alaska | Arizona | Colorado |
| Georgia | Hawaii | Idaho |
| Indiana | Maine | Michigan |
| Minnesota | Mississippi | Missouri |
| Nebraska | Nevada | New Jersey |
| New Mexico | North Carolina | South Carolina |
| Texas | Utah | |
Final Verdict
It's probably clear by now: I like Twin Spires. I have nothing bad to say about the company. They run a professional operation and are 100% legitimate and safe. This is the same company that owns Churchill Downs so they know a thing or two about real money horse betting.
The only thing you might not like about Twin Spires is their exclusive focus on horse racing. They don't do greyhounds, fantasy sports or anything else. They focus entirely on online horse wagering. If you want to switch it up, you might find BetAmerica to be a better fit. However, if horses are your thing, you won't go wrong with TwinSpires.com.