Legal online NFL betting is finally here. Since New Jersey won its long-running court case to legalize sports betting in mid-2018, multiple states have joined the party with legislation of their own to legalize, regulate and tax in-person and online sports betting.
Licensed NFL Betting Sites
Rank
Betting Site
Bonus
Rating
Visit
If the NFL and sports betting were a Facebook couple, there is no doubt their relationship status would be listed as "it's complicated." It is proven that sports betting increases viewer engagement, which is good for the NFL and its advertisers but at the same time, the league has for years expressed fears that legal betting would open the sport to the risk of corruption.
So, for years, the NFL fought tooth and nail against New Jersey's attempt to legalize sports betting. The NFL, along with the NCAA and other major pro sports leagues, sued New Jersey after the state passed its first sports betting bill back in 2012.
The leagues and New Jersey battled in court for years, and eventually the case made it all the way to the Supreme Court. In 2018, the Supreme Court ruled PASPA (the federal law prohibiting sports betting everywhere except Nevada) unconstitutional and allowed New Jersey to proceed. Other states have since followed suit and now the US in the early stages of what is likely to become a sports betting boom.
NFL betting kicked off in time for the 2018 season and numerous states have gotten a taste of just how much money there is to be made taxing the activity. New Jersey, for example, generated total sports betting handle of nearly $600 million within four months of going live and is expected by many to eventually surpass Nevada in both handle and revenue.
These numbers include other sports as well, but NFL betting is by far the most dominant driver of revenue every year in Nevada. That trend is likely to hold in other states as well. When we put it all together, sports betting has the potential to generate as much as $7.1 to $15.8 billion in revenue per year across the United States.
The NFL itself also sees the potential not just for viewer engagement, but also as an opportunity to tap directly into the massive revenue stream legal sports betting promises as it spreads across the United States.
Despite the NFL's previous opposition to sports betting, the inevitability of additional states legalizing the activity combined with the eye-popping revenue numbers we're already seeing in some states has prompted a change of heart.
Now, rather than fight sports betting in the courts, the NFL is jumping on the opportunity to form partnerships with legitimate gaming companies while also seeking to shape legislation both at the state and national level. More on that shortly.
States with Legal NFL Betting
Sports betting (including NFL wagers) is now legal in the states listed below. We keep this map up to date and will continue to fill it out as additional states legalize sports betting. Nine states have made definitive moves to legalize sports betting since the Supreme Court's decision in May 2018, and more are on the way.

States with Legal Sports Betting
Map Key
Blue: Online/mobile betting is legal
Green: Land-based sportsbooks only (no online betting)
Red: NFL betting coming soon; legislation fully passed but waiting for implementation
If you do not yet live in a state with legal NFL betting, the next best thing in the meantime would be daily fantasy sports (DFS). Although DFS is not quite the same as sports betting, it does offer a similar experience by making every game interesting because you have money on the line and every play from kickoff to the final whistle counts.
We are confident this map will continue to fill with color fairly quickly based on the rate at which states have legalized sports betting since the Supreme Court decision. In the short time since states gained the ability to legalize and regulate sports betting, more states than we could have ever hoped in our most optimistic projections have jumped on the opportunity.
Eventually, people in most US states will be able to legally bet on the NFL online, from their mobile devices, in-person or all of the above.
What the NFL Gains from Legal Sports Betting
The NFL may have lost its war against legal sports betting, but the league still stands to win big in one key aspect: money. Lots of money. NFL management and team owners were already considering this side of the business even before the Supreme Court issued its monumental decision.
A Nielsen Sports study commissioned by the American Gaming Association in 2018 concluded that a fully mature sports betting market in the United States could be worth as much $2.3 billion per year in additional revenue for the league.
Nielsen Sports arrived at the $2.3 billion figure based on a combination of increased fan engagement measures and direct spending by gaming companies through advertising, data rights and sponsorship agreements.
First, the study considered increased fan engagement based on surveys that found "casual bettors are attending more games and watching more games on TV, but avid bettors more often read sports websites, watch sports generally, and engage more on social media."
Increased fan engagement is expected to grow media rights revenues by nearly 18%, sponsorships by 7.6%, merchandise sales by 2.1% and ticket sales by 6.5% for an extra $1.75 billion in indirect revenue growth.
Additionally, direct investments from the gaming industry may add another $573 million. This figure comes from projections of an additional $451 million in advertising placements on NFL properties and digital platforms, $92 million in sponsorship agreements and $30 million in statistics and data-sharing agreements.
Granted, these numbers derive from a best-case scenario point of view based on surveys, trends and widespread state adoption of favorable gaming laws. Still, it shows great potential. The NFL has likewise shown little hesitation in taking full advantage of the new opportunities presented by legal sports betting despite its previous opposition to legalization.
The NFL has already changed its rules regarding team-casino partnerships and several teams have already signed sponsorship agreements with major gaming companies. Even if the Nielsen Sports study is speculative in nature, legal NFL betting is already providing the league with tangible benefits.
It wasn't long after the rules change that NFL teams took advantage of the opportunity and began signing sponsorship deals with major gaming operators. Just a few examples include:
NFL Stance on Sports Betting
The NFL was opposed to sports betting for years leading up to the Supreme Court's May 2018 decision to lift the federal ban. The NFL joined with other leagues to fight New Jersey's PASPA challenge and occasionally issued statements describing sports betting as a threat to the game.
After the Supreme Court ended the federal sports betting prohibition, the NFL pivoted away from a position of outright opposition toward a position of acceptance and making the best of the situation.
The NFL's first official response to the Supreme Court decision was issued one week after the ruling. Here's what NFL Commissioner Roger Goodell said at the time:
As it was for my predecessors, there is no greater priority for me as the Commissioner of the National Football League than protecting the integrity of our sport. Our fans, our players and our coaches deserve to know that we are doing everything possible to ensure no improper influences affect how the game is played on the field. This week's ruling by the Supreme Court has no effect on that unwavering commitment.
We have spent considerable time planning for the potential of broadly legalized sports gambling and are prepared to address these changes in a thoughtful and comprehensive way, including substantial education and compliance trainings for our clubs, players, employees and partners. These efforts include supporting commonsense legislation that protects our players, coaches and fans and maintains public confidence in our games. We are asking Congress to enact uniform standards for states that choose to legalize sports betting that include, at a minimum, four core principles:
There must be substantial consumer protections;
Sports leagues can protect our content and intellectual property from those who attempt to steal or misuse it;
Fans will have access to official, reliable league data; and
Law enforcement will have the resources, monitoring and enforcement tools necessary to protect our fans and penalize bad actors here at home and abroad.
The comments about protecting the integrity of the game were to be expected, but one thing that stands out is the NFL's desire for federal regulation. Right now, states are legalizing sports betting on their own. The NFL would rather see Congress step in and create a national regulatory framework.
A national framework would make things simpler and probably lead to more people gaining access to legal sports betting faster than the state-by-state approach, but with Congress being Congress, there's also a risk they produce poor legislation that that prevents the industry from reaching its full potential.
The NFL is not seeking the so-called "integrity fees" that some leagues have been asking for, but it does want legislation that would require sports betting operators to rely exclusively on data provided by the league. Data stands to be a big moneymaker for the leagues because timely, accurate data is critical for in-play betting.
Lawmakers at the state level have for the most part been resistant to NFL suggestions that legislation make it mandatory for sportsbooks to buy data directly from the leagues. With little success convincing state-level lawmakers, the NFL has pinned its hopes on federal regulation giving the league what it wants.
In any case, the NFL still stands to benefit financially from data. Even without legislation forcing sportsbooks to rely on data supplied by the league, the NFL can provide sportsbooks with advanced statistics and in-play betting data that cannot be found by simply watching games. The NBA, for example, has had some success in this regard without relying on legislation to force the issue.
In September 2018, the NFL appeared before a US House subcommittee to lay out its vision for federal sports betting regulation. Some of the key things the NFL would like to see in a federal sports betting bill include:
Minimum age of 21 to bet on sports in the US
Require operators to rely on data supplied exclusively by the leagues
Give leagues a say over the types of bets that may be offered
Establish some sort of data sharing program that leagues, regulators and law enforcement can use to combat corruption in sports betting
The likelihood of federal regulation remains uncertain at this point. Some groups such as the American Gaming Association have come out strongly against federal legislation in favor of the state-by-state approach. Additionally, as an increasing number of states legalize sports betting on their own, the demand for federal regulation should decrease.
Integrity Considerations
The NFL had its first serious run-in with integrity considerations during the 2019 season after Arizona Cardinals defensive back Josh Shaw earned the unfortunate distinction of becoming the first NFL player in 35 years to be banned for sports betting.
According to reports, Josh Shaw places wagers on several NFL games while with the Cardinals. One of his wagers reportedly involved a three-game parlay in which one leg of the wager had him betting against his own team.
Shaw was on injured reserve at the time and the NFL concluded he did not compromise any games or use inside information to place the wager, but the NFL maintains a strict policy as Commissioner Roger Goodell said in a statement at the time:
"If you work in the NFL in any capacity, you may not be on NFL football."
The NFL ended up suspending Josh Shaw for the rest of the 2019 season, the entire 2020 season, and considered terminating his contract for good.
NFL "integrity of game" rules (document pg. 265) in the collective bargaining agreement state:
Player recognizes the detriment to the League and professional football that would result from impairment of public confidence in the honest and orderly conduct of NFL games or the integrity and good conduct of NFL players.

Player therefore acknowledges his awareness that if accepts a bribe or agrees to throw or fix an NFL game; fails to promptly report a bribe offer or an attempt to throw or fix an NFL game; bets on an NFL game; knowingly associates with gamblers or gambling activity; uses or provides other players with stimulants or other drugs for the purpose of attempting to enhance on-field performance; or is guilty of any other form of conduct reasonably judged by the League Commissioner to be detrimental to the League or professional football, the Commissioner will have the right, but only after giving Player the opportunity for a hearing at which he may be represented by counsel of his choice, to fine Player in a reasonable amount; to suspend Player for a period certain or indefinitely; and/or to terminate this contract.
NFL Slowly but Surely Cozying Up to Sport Betting
The NFL is slowly but surely warming up to legal sports betting and, in some ways, is actively embracing the activity.
In early 2020, the NFL relaxed its stance once again when it revealed it would allow the construction of "betting lounges" at stadiums in jurisdictions with legal sports betting. Betting lounges do not include actual betting windows where fans can place wagers. Instead, the updated policy allows teams to form partnerships with licensed betting operators to display signage and maintain an on-property presence.
As ESPN reported, the new policy requires the word "sponsor" to be included in reference to sports betting operators and signage is prohibited in the lower bowels of stadiums. The NFL hasn't quite opened up to the idea of actual sportsbooks on property, but the change in policy marks a dramatic departure from the league's previous stance on sports betting.
NFL Authorizes First Team + Sportsbook Partnership
The NFL broke new ground in its relationship with sports betting in June 2020 when the Denver Broncos announced a multi-year partnership with FanDuel.
Under the terms of the partnership, FanDuel now serves as the official sports betting and daily fantasy partner of the Denver Broncos. The deal gives FanDuel permission to use Denver Broncos logos and branding, access to in-stadium, radio, television and digital advertising.
Additionally, the partnership facilitates the Broncos and FanDuel teaming up to offer "once-in-a-lifetime experiences" and unique offers for FanDuel customers.
NFL teams had partnered with gaming companies prior to the Broncos and FanDuel agreement, but strictly on a fantasy sports basis and never specifically for sports betting. The Broncos + FanDuel deal marked another major milestone in the relationship between the NFL and sports betting.
Best NFL Sportsbooks
The process of identifying the best NFL betting sites begins with figuring out which sites are legal in your state. In states with legal online betting, you can check your state regulator's website for a list of licensed betting sites.
For example, the New Jersey Division of Gaming Enforcement (NJDGE) provides a list of legal betting sites right here. You can also look for your state's seal of approval for further confirmation. In New Jersey, that seal looks like this:
The thing to be careful of with logos is anyone can slap a logo on a website, so always make sure to confirm with the regulator itself to ensure you're actually looking at a licensed operator in your state.
We would also like to point out at this time that BettingUSA.com only recommends licensed betting sites. From day one, we have maintained a strict policy of only recommending gaming sites that legal and licensed in the USA and we will not budge on that policy.
Websites that recommend offshore gaming sites are still quite common, but we believe that's a bad idea for numerous reasons. For one, those sites operate contrary to US law that and that opens a whole host of other problems such as a lack of player protection regulations and uncertainty about being paid when you win.
If you live in a state that has not yet legalized online sports betting, our advice is to hold tight until the law changes where you live. Alternatively, fantasy sports sites offer an experience similar to sports betting and are legal in most states. Our two top recommendations for readers in states without legal online sportsbooks are FanDuel and DraftKings.
How to Bet on the NFL Online
Sportsbooks purposely make NFL betting fairly simple, but there are a few key things to understand before jumping in. Most importantly, it is critical to understand how the odds work before placing any wager.
Whenever a sportsbook (or even a sports announcer on TV) mentions the odds, what they're referring to is how much you must bet versus how much you stand to win. The odds are listed in moneyline format, which also happens to be the name of the most common type of football bet.
The moneyline is both the name of a specific type of bet as well as the name of the default odds format used in the United States. In a typical moneyline bet, the wager is listed in a format that looks something like this:
What we're looking at is a money line bet between the Washington Redskin and Philadelphia Eagles. The oddsmakers have considered this matchup and decided to price the Redskins as underdogs and Eagles as the favorites.
Whenever you see a positive price next to a team, you know that team is considered the underdog. This in turn means you stand to win more than you are being asked to risk. In this example, the Redskins would be said to be "+210 underdogs."
What this means if you stand to win $210 in net profits for every $100 risked. The moneyline is always priced in units of 100, but you can bet any amount and the ratio holds true. For example, you could bet $100 for a shot at netting $210, $10 for a shot at netting $21 or $1 for a shot at winning $2.10
The negative sign next to the Eagles means they are the favorites to win the game and that you will need to risk more than you stand to win if you wish to back them. At odds of -265, you would need to wager $265 for every $100 in potential profit. Or, you could also look at it as needing to risk $2.65 for every $1 in potential profit.
The one downside to the moneyline format is that it isn't always as intuitive figuring out how much you stand to win when betting odd amounts such as $22 or $35. Fortunately, online betting sites provide a digital betting slip that shows how much you stand to win before you confirm the wager.
Here's an example of such a betting slip in action with a $35 bet: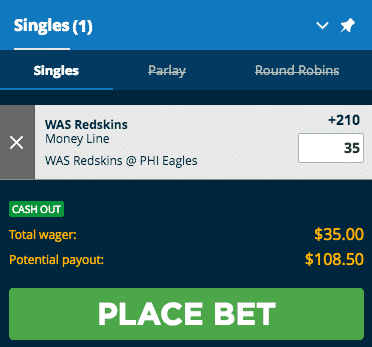 And here's one with a $100 bet:
Note that the potential payouts shown here include the return of your original wager. In the previous example, the total return of $310 includes $210 in net profit plus your original $100 wager.
Other Types of NFL Bets
Once you understand how the basic moneyline bet works, you'll be able to apply this knowledge to other forms of wagers as well. The following wagers operate under different names, but all display potential payouts using the same moneyline odds format.
NFL point spreads are similar to money line bets in that you're still making a basic prediction on who will win the game. The difference is that the underdog team is given points while the favored team gives points and the betting odds tend to be closer to even.
To continue our Redskins vs. Eagles example, let's look at that same matchup as a point spread. Now, instead of the Redskins being given juicier odds, they've been given 6.5 points. This means if you bet on the Redskins, your bet is considered a winner if the Redskins win straight up OR if they lose by fewer than 6.5 points.

On the other hand, the Eagles are giving 6.5 points. If you bet on the Eagles, they need to win the game by a full touchdown or more for your wager to be considered a winner. If the Eagles lose outright or only win by 6 or fewer points, your bet loses.
Point totals are appropriately-named wagers in which you are betting on how many points will be scored by both teams in total over the course of the game.
You may sometimes notice sports announcers mention the point total whenever two teams with high-powered offenses square off. That's because this is expected to be an action-packed game with a lot of scoring. The point total is sometimes referred to as the "over/under."
Your job as the bettor is to simply predict whether the actual point total will be higher than or lower than the total published by your sportsbook. For example, if the point total is 45.5, you can bet on the actual combined score being more than that amount or less than that amount.
Oddsmakers often set the point total on a half-point to avoid ties, but not always. If the actual total lands exactly on the total set by the bookmaker, your bet will be classified as a "push" and your original wager will be returned to you.
NFL parlays combine two or more wagers into one bet with an enhanced payout. There are an almost endless number of ways parlays can be constructed, and many NFL betting sites allow customers to construct their own parlays by simply adding multiple bets to the betting slip and then wrapping them all up in a single parlay.
A parlay wager can cover the outcomes of several games, include different aspects of a single game and more. For example, you can build a parlay in which you bet on the Chiefs to beat the Raiders and the Patriots to beat the Seahawks or you can make a parlay in which the Chiefs win the game and the point total is more than 45.5 points.
The key thing to keep in mind with parlays is that every "leg" of the parlay must be a winner for the bet to win at all. If you construct a parlay involving the outcomes of five games, you have to get every prediction correct. If just a single leg of the parlay doesn't go as you predicted, the entire bet is lost. Parlays offer the highest payouts in sports betting, but they can be quite difficult to win.
NFL prop bets, also known as propositions, cover just about everything other than who will win the game or what the final score will be. Props can involve anything from predicting which player will score the first touchdown to how long the National Anthem will last.
The possibilities for prop bets are limited only by the imagination of the oddsmakers, but some of the most common that you're likely to see over and over again include:
First to X points: These prop bets have you pick which team will be the first to score 10, 15, 20 or so on points.
First scoring play: Predict if the first play to result in points is a home team touchdown, away team touchdown, home team field goal and so on.
First or last touchdown: In these props, you are attempting to predict which team will score the first touchdown or which team will score the last touchdown. Variations of this one include first field goal, first turnover, etc.
Touchdown Scorer: Predict the first player to score a touchdown.
First Quarter Winners: Who will be up in points after the first quarter? Variations of this bet include second/third/fourth quarter winners and first half/second half winners.
First Quarter Total: How many points will be scored in the first quarter? Variations of this can also be found for second/third/fourth quarter and first half/second half.
Everything Else: NFL betting sites can come up with all sorts of other props. Some examples that we've seen before include the length of the national anthem, what color of Gatorade will be thrown on the winning coach, over/under on how many times the announcers will say a certain phrase such as "wardrobe malfunction."
The most outlandish prop bets tend to show up for the Super Bowl every year.
Betting on the Super Bowl
Betting on the Super Bowl certainly feels different than betting on any other regular season game, but the mechanics are exactly the same. One major difference is mobile sportsbooks and betting sites tend to launch a barrage of promotions during the lead-up to the Super Bowl each year, giving bettors a lot of value to leverage.
The American Gaming Association (AGA) estimates Americans bet nearly $7 billion on the Super Bowl every year between licensed sportsbooks, mobile betting apps and illegal offshore operators. As legal sports betting expands to additional states, competition for those dollars will only intensify, which is good news for bettors.
Read more here:
In-Play NFL Betting Sites
Here in the United States, our traditional view of sports betting comes purely from the pre-game perspective: we make sure to get our wagers in before the kickoff, watch the game and hope for a payout. This is how it's been done in Nevada for decades, but if you think about it, this is a pretty passive way to partake in sports betting.
In-play betting changes things in a big way by booking and settling wagers during games. This makes for a much more interactive experience because instead of just sitting back and passively watching the game after you've placed your wagers, you stay tuned in from kickoff to the final seconds with new betting opportunities presenting themselves the entire time.
In-play bets are short-term nature, lasting anywhere from a few seconds to as long as however much time remains in the game. You can bet on extra short-term propositions such as the number of yards gained by the next play, what the next play will be, whether or not the field goal will be good and much more.
Live betting can also involve slightly longer-lasting wagers such as the point total or game winner, but at updated odds based on the current status of the game. For instance, you might choose to watch the first quarter to get a sense of the game's momentum and then place a bet on who will win. Likewise, you can use in-play betting to hedge your wagers when it looks like the game might be turning against you.
In-play betting is still fairly new in the US, but it is massively popular in other countries that have had legal online betting for years now. In the UK, for example, sports betting giant Bet365 earns nearly 75% of its sports betting revenue from live betting. That is no small amount for a company that accepts more than £52 billion in wagers per year.
This brings up a tangentially-related point. Something many analysts may be missing in their projections regarding how much sports betting could be worth for the NFL and other leagues is live streaming combined with in-play betting. Some of the biggest European betting operators are now live streaming upwards of 150,000 sporting events per year online for their customers.
Live streaming deals may eventually become a major revenue generator for pro sports leagues in the US. It is no secret the NFL and other pro sports leagues have been experimenting with alternative distribution solutions as the increasingly dated TV model continues its slow decline.
Live streaming deals with established betting sites would be a match made in heaven for the NFL, not just because of the potential reach, but because it would connect the league with the most engaged demographic there is: people who have money riding on games.
Daily Fantasy NFL Games
Daily fantasy football gives people like you and me the opportunity to take the driver's seat and draft our own NFL teams. It's one thing to watch your favorite teams battle for glory on the field, but it's a whole new experience to actually have some skin in the game. Participation in a real money fantasy league brings new significance to every snap of the ball, even when your team has the day off.
The NFL has maintained close ties with the major daily fantasy sites since the idea of DFS underwent its rapid expansion phase back in 2014 and 2015. Nearly every NFL team signed a partnership with either FanDuel or DraftKings in 2015 for marketing purposes.
It is our firm belief that these early tie-ups helped ease some of the NFL's fears regarding the mixture of professional sports and online gaming. After the Supreme Court overturned the federal sports betting prohibition in 2018, it did not take long for the NFL itself and individual teams to bring themselves closer to legal sport betting entities via a multitude of sponsorship agreements.
Today, the NFL maintains a positive relationship with the major DFS operators. You can visit any of the main fantasy sports sites to participate in real money fantasy contests featuring significant prize pools.
No Legal Sports Betting? No Problem!
Beyond being a fun activity in its own right, fantasy football serves as a handy alternative for our readers who live in states that have not yet legalized traditional sports betting. Playing in a fantasy contest is not quite the same as laying down a bet on Sunday's big game, but it does offer an experience that is quite similar.
Drafting a lineup, putting some money on the line and then watching the game combines to create an experience that gives each game an added sense of important just like you would find with traditional wagering.
We believe most states will legalize sports betting sooner or later, but fantasy sports contests are already legal in most states today. If you're still waiting for lawmakers in your state to pass a law authorizing sports betting, daily fantasy is the best option in the meantime.
Where Can I Play Fantasy Football Online?
FanDuel and DraftKings are both the two largest fantasy football sites by a long shot. Both have added sports betting in certain states, but their fantasy platforms are still holding major contests across nearly every state in the US.
MonkeyKnifeFight.com is another option with games that are even closer to actual sports betting. At Monkey Knife Fight, you actually make predictions in a manner similar to sports wagering and receive payouts if enough of your predictions turn out correct.
All three sites accept customers from all but a small handful of states, so the odds are good you can play online from your current location. You can also see our main daily fantasy page for an up-to-date list of states in which DFS contests are legal.