Legal NFL betting is available in more than two dozen states and counting. The 2020 NFL season has been far from ordinary, but the league is back in full swing, and mobile sportsbooks across the country are open for business.
As the league prepares to host the 2021 Super Bowl, the best football betting sites will be there every step of the way with large NFL promotions, welcome bonuses, and odds on many different types of wagers.
Licensed NFL Betting Sites
On this page, we clearly explain where it is legal to bet on the NFL online or in-person and how to get started. We also discuss several legal alternatives for readers who live in states that have not yet legalized sports betting. Some readers may be surprised to learn that some fantasy football sites are remarkably close to the real thing.
Live NFL Betting Odds
States with Legal NFL Betting
The following map provides a brief overview of where NFL betting is legal. In each highlighted state, fans can bet on the NFL online or in-person at licensed sportsbooks. Hover or tap on any highlighted state for more information.

States with Legal Sports Betting
Map Key
Blue: Online/mobile betting is legal
Green: Land-based sportsbooks only (no online betting)
Red: NFL betting coming soon; legislation fully passed but waiting for implementation
For readers in states that have not yet legalized NFL betting, daily fantasy sports sites serve as the next best alternative. Fantasy football is not quite the same as full-fledged sports betting, but the experience is quite similar.
Sites such as FanDuel and DraftKings provide a standard daily fantasy experience, complete with massive prize pools. Fans can also try sites such as Prize Picks and Monkey Knife Fight that involve making predictions regarding what will happen on the field for an experience similar to sports betting.
Best NFL Sportsbooks and Apps
The quality of mobile sportsbooks is relatively high across the board in states with legal sports betting due to strict licensing requirements and regulatory regimes.
However, no two online sportsbooks are the same. Each takes a unique approach to design, oddsmaking, bonuses, and customer service.
The best NFL betting sites provide users an experience that is safe with fair odds, frequent promotions, and user-friendly software.
Bet on the NFL with Licensed Online Sportsbooks
Finding the best NFL betting sites begins with understanding which online sportsbooks are legal where. Each state operates as an independent market and is therefore served by a unique lineup of mobile betting apps and websites.
Note: Some states grant a single operator a monopoly over sports betting. In those states, finding the best NFL sportsbook is a moot point. However, most states operate as competitive markets with multiple providers compete for customers.
In most states with legal online sports betting, the agency in charge of approving sportsbooks maintains a public list of licensed operators. Bettors can verify any sportsbook's licensing status in their state to ensure it is legal, regulated, and safe.
For example, the New Jersey Division of Gaming Enforcement (NJDGE) provides a list of legal online sportsbooks on this page. Likewise, Indiana provides a similar list here, and Illinois does the same here.
Bettors can also look for their state regulator's seal of approval on any online sportsbook's website for further confirmation. In New Jersey, that seal looks like this: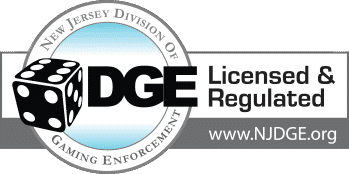 The key takeaway is bettors should always confirm any mobile sportsbook they are dealing with holds a valid license in the USA. Many offshore sportsbooks claim to be legal but operate contrary to US law.
Offshore sportsbooks present significant risks because they are unregulated and operate under questionable security standards. Additionally, customers of offshore sportsbooks have no legal recourse should something go wrong. If such a provider refuses to pay a customer's winnings, there is little chance that customer will ever recover their money.
Note: BettingUSA.com only recommends online sportsbooks and mobile betting apps that are licensed in the USA. Readers can rest assured that NFL betting sites recommended anywhere on this website are legal, licensed, and regulated.
Other Considerations
Once a prospective bettor knows which online sportsbooks are legal, choosing a place to bet becomes a more personal decision subject to each customer's needs and wants.
Two other things to consider:
Odds: One of the best ways to differentiate good from great sportsbooks is to compare the odds given for NFL games across several providers. Over time, it will become clear which betting sites offer the best NFL odds most often.
Promotions and Bonuses: Some betting sites tend to offer more NFL-centric promotions than others – these should be a bettor's go-to sportsbooks for free bets, deposit bonuses, and odds boosts.
Finding a Retail Sportsbook to Bet on the NFL In Person
Many of the same points discussed above also apply to finding a retail sportsbook, subject to driving distance. The atmosphere, seating situation, and overall ambiance can also be important things to consider, especially on big game days.
Readers can visit our state-specific pages for lists of sportsbooks in each state.
For Readers in States Without Legal Sports Betting
Daily fantasy sports offer the next best thing to sports betting for readers in states without legal online sportsbooks. Fantasy sites are legal in most states and are actively regulated in many to provide a safe experience for customers.
BettingUSA.com recommends readers to avoid offshore sportsbooks due to the risks discussed above. The odds of something going wrong are too high to make it worthwhile.
In the meantime, there are plenty of high-quality fantasy sites to choose from – some of which offer game types that are strikingly similar to sports betting.
How to Bet on the NFL Online
Sportsbooks make NFL betting relatively easy, especially with interactive betting slips that allow users to input any wager amount to view instantly how much they stand to win.
Still, new bettors will find it much easier if they go in with a basic understanding of how the odds and most common types of bets work.
The following examples provide a basic overview of how the most common types of NFL bets work. For a more detailed explanation of how the odds work, see our live betting odds page.
Other Types of NFL Bets
A firm understanding of how moneyline odds work lends itself to easily understanding other types of NFL wagers. Each of the following bets is unique in how it works, but all display potential payouts using the moneyline format.
Betting on the Super Bowl
Betting on the Super Bowl certainly feels different than betting on any other regular-season game, but the mechanics are the same. One significant difference is mobile sportsbooks and betting sites tend to launch a barrage of promotions during the lead-up to the Super Bowl each year, giving bettors a lot of value to leverage.
The American Gaming Association (AGA) estimates Americans bet nearly $7 billion on the Super Bowl every year between licensed sportsbooks, mobile betting apps, and illegal offshore operators. As legal sports betting expands to additional states, competition for those dollars will only intensify, which is good news for bettors.
Read more here:
In-Play NFL Betting Sites
Whereas traditional sports betting markets close for action once a game begins, in-play betting keeps bettors in action from kickoff to final whistle.
In-play betting changes things in a big way by providing new markets throughout the game, many of which settle even before the game ends. Bettors can leverage in-play betting markets during an NFL game for a more intense and hands-on experience than placing standard pregame wagers and then watching passively from the sidelines.
In-play wagers are short-term in nature, lasting anywhere from a few seconds to as long as however much time remains on the play clock. Some of the options include extra short-term propositions such as the number of yards gained by the next play, what the next play will be, whether or not the field goal will be good, and much more.
Live betting can also involve longer-lasting wagers such as the point total or game winner but with odds that are updated continuously in real-time based on what's happening on the field. For instance, a bettor might choose to watch the first quarter to get a sense of the game's momentum and then place a bet on who will win.
Likewise, bettors can use in-play betting to hedge their pregame wagers when it looks like the game might be turning against them.
The volume of in-play bets dramatically exceeds that of pregame wagers in some jurisdictions. In Europe, where sports betting is a more established industry, in-play betting accounts for up to 70% of all betting handle. In the United States, in-play betting accounts for 30-50% of total handle.
Every indication is that in-play betting will only continue to increase in volume, especially as licensed sportsbooks strike licensing deals with sports leagues to offer live streaming sports feeds.
NFL Stance on Sports Betting
The NFL's stance on sports betting has evolved since the Supreme Court struck down the Professional and Amateur Sports Protection Act (PASPA) in May 2018.
For years, the NFL viewed sports betting as a threat to the integrity of its games and actively opposed legalization. The NFL joined the NCAA and other major sports leagues in challenging New Jersey's effort to legalize sports betting but came up short in front of the United States Supreme Court.
After the Supreme Court ended the federal sports betting prohibition, the NFL pivoted away from a position of outright opposition toward a position of acceptance and making the best of the situation.
The NFL responded to the Supreme Court's ruling one week later with a statement that affirmed its commitment to integrity. In part, the statement read:
As it was for my predecessors, there is no greater priority for me as the Commissioner of the National Football League than protecting the integrity of our sport. Our fans, our players and our coaches deserve to know that we are doing everything possible to ensure no improper influences affect how the game is played on the field. This week's ruling by the Supreme Court has no effect on that unwavering commitment.

We have spent considerable time planning for the potential of broadly legalized sports gambling and are prepared to address these changes in a thoughtful and comprehensive way, including substantial education and compliance trainings for our clubs, players, employees and partners. These efforts include supporting commonsense legislation that protects our players, coaches and fans and maintains public confidence in our games.
The NFL also implored Congress to introduce legislation at the federal level to provide uniformity and certain protections for the leagues. Since then, Congress has failed to act, and many states have legalized sports betting since then, leaving any hopes for Congressional action increasingly dim.
In the intervening years, the NFL has softened its stance on sports betting as it shifts its focus away from opposing the inevitable to taking advantage of the opportunities provided by legalization.
Shortly after the Supreme Court decision, changed its rules to permit NFL teams to enter sponsorship agreements with casinos that operate sportsbooks. In 2019, the NFL chose Caesars Entertainment as the league's first-ever official casino partner.
The NFL further relaxed its rules in 2020 with changes to league policy allowing individual teams to partner directly with sportsbook operators and for stadiums to construct betting lounges.
The Denver Broncos were the first team to take advantage of the modified policy, partnering with FanDuel in June 2020 to make FanDuel an official sports betting and daily fantasy partner.
Additional teams have reached similar deals with sports betting operators since, and more are likely on the way. As the American Gaming Association noted in 2018, the NFL stands to gain billions of dollars in additional revenue via increased viewership, sponsorship agreements, and data rights.