Legal in-play sports betting (live wagering) has become a rich facet of sports betting culture in the United States.
Recently, the popularity of live in-game sports bets has catapulted into the stratosphere, largely due to advances in mobile technology. In select international markets, in-play sports betting accounts for as much as 80% of sports betting revenue.
Live betting in the legal U.S. sports betting market hasn't quite caught on as it has in Europe, but with the rapid proliferation of online sportsbooks in the United States, we expect the divide to be bridged soon.
Rank
Betting Site
Bonus
Rating
Visit
What is In-Play Betting?
Traditionally, the first crack of the bat or first dribble on the hardwood hardly signifies the end of betting.
Put simply, in-play wagering is betting on a game already in progress. Bettors will find that many of the most popular pregame bets morph into an in-play form once the bell sounds. These include point spreads, moneylines, totals, and derivatives. Players can even parlay multiple live bets together or mix and match live and pregame wagers as they see fit. The possibilities aren't endless, but they'll often feel that way.
In-play wagering differs subtlety from traditional in-game wagering. In-game wagers only occur when there is downtime, like a timeout or at halftime, whereas in-play odds may change after every single event. Whether it be a run on first down, a missed 3-pointer, or a save by a goalie, it will all be reflected in the in-play betting odds.
As you may have surmised, the nature of in-play betting dictates that the odds change constantly, and bettors often have mere seconds to place an in-play wager before the odds shift again.
In-play is largely a product of technology, with today's computers able to run algorithms that produce up to the minute odds within seconds. Are the results as accurate as pregame lines? No, and as a result, the playing field between bookmakers and players is more level.
What are the Limitations of Live Betting?
The main hurdle to in-play wagering is time. Whereas players have hours and often days to plot their course for a game that hasn't yet started, they'll be lucky to have 10-20 seconds in between plays to grab an in-play line of their liking.
Time is so impactful, that at retail sportsbooks, in-play betting is much less of a thing. Instead, in-game dominates, with bettors primarily restricted to placing their wagers during prolonged downtimes such as commercial breaks. And that's fair, as it would be just about impossible for bettors to find a line they like while the game is flowing and get to a betting kiosk or cashier fast enough to plunk down money on it.
Therefore, most in-play wagers are going to be made via mobile or desktop.
Furthermore, in-play bet types are less prevalent compared to pregame. For instance, while one might find 200 different pregame wagers for an NFL game on a site like BetRivers Sportsbook, in-play wagering might be limited to 70 or 80 bets. It's also much more common to find in-play wagers on game outcomes than on individual player outcomes, unless we're talking about a sport like tennis where individual and game outcomes are synonymous with one another.
In-play betting markets are also more restrictive than pregame. This makes sense, as covering every single play for every single game would require a tremendous amount of computing power and human resources. But don't worry, all major U.S. markets, like NFL, NBA, NHL, MLB, as well as soccer, tennis, and a variety of niche sports, feature in-play wagers.
Placing an In-Play Wager
So now that you have a semblance of how in-play wagering works, just how do we go about doing it?
Step #1: Ensure that your mobile sportsbook offers in-play wagering
This one is sort of a give me: If your mobile book doesn't offer live betting, then it's game over. Luckily, in-play wagering has become an extremely common offering at regulated online sportsbooks in the U.S.
Typically, the in-play wagering menu is featured predominantly on a site's homepage. Just click into it, and in-progress games and matches will be listed. If you're lucky, your sportsbook will provide tabs that subdivide in-play games by market. FanDuel Sportsbook does this: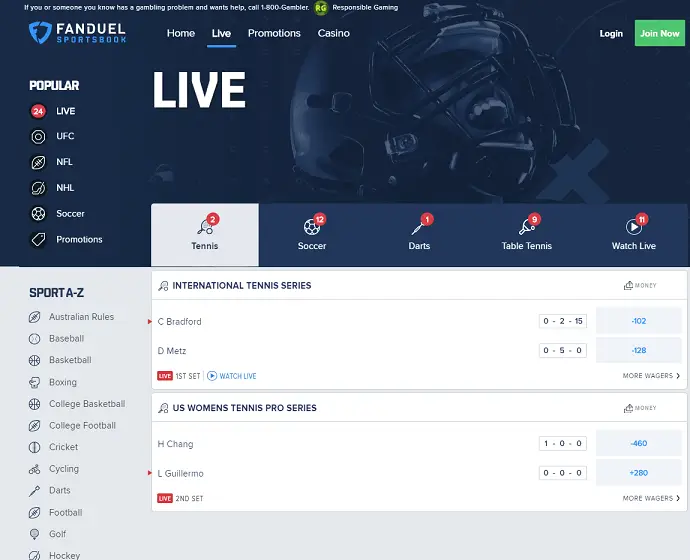 Step #2: Start tracking the game
In-play wagering can be pretty intense and requires a lot of focus. For that reason, it's best to track one game at a time, ideally one you are already watching.
Bettors can see a snapshot of popular bets right from the main live betting menu, but if they want to bet on something a bit more obscure, they'll have to click into the game of their liking. There, they'll be able to view all in-play wagers for that contests, typically broken down into categories.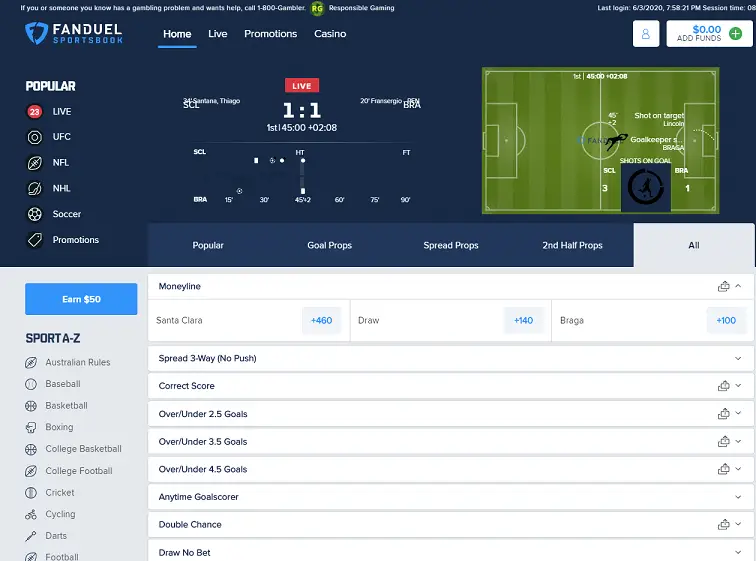 Step #3: Understanding line movements
You found the game you want, and you've honed in on a bet that you want to track. Now it's just a matter of waiting for a favorable line.
Most mobile sportsbooks make it obvious when there's been a line movement. Typically, if a bet icon flashes green and/or displays an "Up" arrow, it means that the implied odds of an outcome worsened, and the price for the bettor improved. For instance, if the Miami Heat go on a 1st quarter tear against the Chicago Bulls, the moneyline on the Bulls might drop from -180 to -110. In this instance, the bet indicator on the Bulls would flash green, indicating an improved payout on the Bulls.
Of course, for each reaction, there must be a counterreaction. A red icon and/or "Down" arrow indicates that the implied odds of an outcome improved, and the price worsened. These red and green bursts of light happen in tandem, and of course players will also see the numbers change.
On FanDuel Sportsbook, it looks like this, and most online sportsbooks follow a similar theme:

Step #4: Placing a bet
The final step is placing the wager. For the most part, betting on an in-game line is the same as betting any other wager. You click on the bet, the bet slip populates, and you enter in the amount that you want to wager. Confirm the wager, and you're done.
Well, it's not always that simple.
With pregame wagering, your bet is almost always going to be accepted at the indicated line, in so long as you don't try to wager more than your allotted limit. However, in-play lines change so fast, that by the time you place a wager, the line might already be gone.
In some instances, the book will offer the option to place the same monetary wager at the new line. Other times, it will outright reject the wager. This can be a point of frustration for in-play bettors.
Also worth noting, that if an in-play line is replaced by a lock icon (or something equivalent) the in-play line is temporarily unavailable. Most books will lock in-play wagering permanently on a contest that is drawing to a close.
Which U.S. States Allow Mobile In-Play Betting?
The number of states that offer mobile in-play betting has swelling dramatically in the past couple of years. Here's a quick rundown:
Colorado is one of the warmer climates for sports betting, featuring remote mobile registration and a fair number of top-tier operators like FanDuel and Fox Bet.
Live betting is available on mobile.
Illinois legalized retail sportsbooks and mobile betting in 2019. The IL sports betting law specifically lists in-game and in-play wagering as approved forms of wagering.
Look for most of the nation's big-name sports betting operators to set up shop in Illinois and to offer live betting to their customers.
Many of the industry's big guns, including DraftKings, FanDuel, Bet Rivers, and PointsBet have set up shop in Indiana.
In-play wageringcan be found at all of these sites, and players do not need to visit a land-based casino to get started.
For now, mobile sports bettors in Iowa will have to register in-person at a land-based casino. That's subject to change in January 2021, when remote registration becomes available.
In-play wagering is available on the state's apps.
Michigan's Lawful Sports Betting Act includes in-game wagering in its definition of legal sports betting. Therefore, MI sportsbooks are allowed to accept in-play bets both online and in-person.
Mississippi has only partially embraced online wagering, as it both forces players to register in-person and restricts mobile wagers to casino floors.
With the growth in popularity of mobile wagering and increasing competition from neighboring states, it's likely the Mississippi legislature will revisit these oppressive limitations.
But for now, live mobile betting is available to those willing to jump through a few hoops.
To no surprise, Nevada has tons of mobile live betting options, but in order to take advantage, players are forced to register accounts at land-based casinos.
In this sense, Nevada is playing catch-up with other states that allow for remote mobile registration.
There is only one mobile sports betting operator in New Hampshire: DraftKings. In-play wagering is permitted, but oddly, it's only allowed on online sportsbooks.
With dozens of mobile sports betting apps, New Jersey has more in-play betting options than just about anyone.
There are no specific restrictions on live betting in the Garden State. However, operators are forbidden from offering any wagers that involve college teams hailing from New Jersey.
Oregon online sports betting is run through the state lottery. As such, there's only one mobile wagering options – but at least it has live betting. Players can sign up remotely.
Pennsylvania has a solid number of mobile sports betting apps, and all of them offer in-play wagering. Remote registration is permitted, even if you're not physically located within the state.
Expect even more mobile sportsbooks to hit the Keystone State in the near future.
In Rhode Island, online sports betting is only permitted through the lottery's app. Remote registration is available as is live betting.
Like Rhode Island, Washington D.C. offers live betting through its lottery run sports betting app: GamBetDC. Players can register from anywhere, but they may take a hard pass, given how poor the lines are.
West Virginia only supports a few mobile sportsbooks, but at least they're operated by familiar names such as MGM, FanDuel, and DraftKings.
Remote registration is permitted, and in-play wagering is allowed.
What are the Key Advantages of In-Play Betting?
Perhaps the biggest advantage to in-play wagering is the increased inefficiency of the market.
For pregame wagers, sportsbooks have plenty of time to hammer the market into efficiency, resulting in final lines that are incredibly hard to beat.
Not so with in-play, where there is only as little as a few seconds between line movements. This nuance particularly benefits the fan who is watching a single game, as they can focus on the momentum of just that event, whereas books typically have to shift the odds for multiple games at the same time.
Hedging
In-play wagering also empowers players to hedge their bets. While some may argue (correctly) that players lose value by hedging, it allows them to lock up wins.
An example would be if the Golden State Warriors go off at a pregame moneyline of +500 against the Los Angeles Lakers, and jump out to a 12-point lead halfway through the third, resulting in an in-play line of +200 on the Lakers. Players can now choose to bet an equal amount on the Lakers and guarantee themselves a profit. Yes, they're limiting their own upside, and yes, they'll be paying vigorish twice, but they'll also be mitigating their risk – and for some, that's worth it.
Lastly, in-game provides players with an unparalleled amount of flexibility. Couldn't get a bet down because you were at work or in the grocery store? No problem; just plunk down a wager once you get home. With in-play there will be significantly more hours in the day in which sports contests are running.
Any Other Disadvantages Worth Knowing About?
In-play wagering isn't for everyone. The frantic line movements may prove too overwhelming for new and recreational bettors. They'll also be unable to fully recognize when a book overreacts or underreacts to certain in-game events. Getting good at in-play wagering requires a lot of focus and homework, and that homework will be extensive. Most won't want to be bothered.
Higher Vig
Furthermore, the decreased efficiency of in-play markets is usually offset by a higher VIG. So whereas a book might offer a pregame point spread of -110 on both sides, it's pretty common for the in-play line to jump to -115 or even -120.
Information Delay
And unless you're physically at the game, it's likely that you're going to be about 7-10 seconds behind the bookmaker in your feed. That's because televised broadcasts have a fairly long delay. Sportsbooks, on the other hand, get their feed with a much shorter delay, giving them the advantage.
Then on top of that, the bookmaker makes you wait while it confirms your wager. If the line moves in your favor, it may deny the bet. Or, if the line moves against you, giving you a worse bet than you intended, the book will force you into either accepting the new line or cancelling the bet. It's for this reason that many astute in-play bettors wait until there's at least a short downtime to place their wagers.
Easy to Get Carried Away
Finally, and most importantly, in-play grants players many more betting options – maybe too many. It transforms what was previously a form of discontinuous betting into one of continuous betting. Higher bet frequency, chasing losses, ill-informed wagers: These are all characteristics of problem gambling, and in-play wagering makes it that much easier to trigger these irresponsible habits. Take caution, and if you find yourself chasing or making random wagers, it may be time for a break.
In-Play Betting Advice for Beginners
Avoid egregious vig: Some books charge an absurd premium on live bets. It's your job to find the ones that don't. We don't recommend doing this during the game, as you'll already have enough on your plate. Instead, take some free time to learn about your mobile sports betting options, and check out their live lines. Find the ones with the lowest vig, and only leave them open during the game.
One game is plenty: One of the characteristics of a winning in-play bettor is that they only track a very limited number of games, often just one. Sure, there's more to professional sports betting than just that, but if you want to minimize your losses right out of the gate, focus exclusively on one game, preferably one that features teams you already follow regularly. Remember, the books have very limited time to set live lines and must do so for multiple games – use this knowledge to your advantage.
Don't chase: Always set a budget for in-play betting, and if that budget evaporates, you're done for the day. The worst thing bettors can do is chase losses on events they know little about. This applies doubly for in-game where you'll be paying a steep vig. You wouldn't enter a coin flipping contest where the rules stated you would win $1 on heads and lose $1.20 on tails. By the same logic, don't place random in-game wagers just because you're stuck.