Legal NHL betting began in earnest this year with the start of the 2021 season in January. The best NHL betting sites are now taking wagers on who will win the 2021 Stanley Cup and booking bets on every game from start to finish.
With that in mind, BettingUSA has everything fans need to bet on the NHL legally and intelligently. Read on for live NHL betting odds, recommended mobile sportsbooks, and legal information for readers in every state.
Best NHL Betting Sites
Live NHL Betting Odds
Where It Is Legal to Bet on the NHL
It is legal to bet on the NHL online or in-person in more than half of US states, with more to come. The following map shows where mobile betting apps, retail sportsbooks, or both are legal and regulated. Tap or click on any state for more information about the legal sports betting environment there.

States with Legal Sports Betting
Map Key
Blue: Online/mobile betting is legal
Green: Land-based sportsbooks only (no online betting)
Red: NHL betting coming soon; legislation fully passed but waiting for implementation
Best NHL Sportsbooks and Betting Apps
The legalization of sports betting has vastly improved the quality of online sportsbooks across the board. Where once illegal offshore betting sites dominated the industry and operated with questionable security standards, today bettors can do business with licensed and regulated operators.
Choose Licensed Sportsbooks for a Safe Experience
The most effective way to ensure a positive experience is to bet exclusively with licensed online sportsbooks and mobile betting apps. Doing so ensures the safety of funds, quick payouts, and other safeguards mandated by state regulators.
In most states, sports betting law permits multiple operators to offer their business in competition with one another, which keeps the overall quality of licensed sportsbooks high. As a result, most betting sites provide competitive lines and offer attractive welcome bonuses. Simply sticking with licensed online sportsbooks goes a long way in ensuring a positive experience.
States with legal online sports betting provide a public listing of licensed operators that bettors can check to verify which sportsbooks are licensed. For example, the New Jersey Division of Gaming Enforcement (NJDGE) keeps an up-to-date list of authorized betting apps and websites here.
Licensed betting sites in most states also display an official seal of approval to indicate their licensing status. Here's what the seal of approval looks like in New Jersey: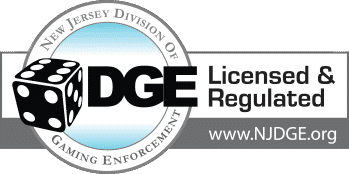 Other states provide similar seals of approval for licensed operators. It is also worth noting that a seal of approval alone is just one indicator. Bettors should still verify the licensing status of any online sportsbook by visiting their state regulator's website or checking in with BettingUSA.com (see our state guides here).
Alternatives in States Without Legal Online Betting
In most states without legal online betting, NHL fans can visit daily fantasy sports sites for an experience that is quite similar in some cases.
Standard fantasy sites such as FanDuel and DraftKings provide host traditional daily fantasy contests in which users draft teams and compete for same-day prizes. The experience is slightly different than sports betting, but there is a lot of crossover in the skills needed to win. Plus, there is significant money to be won in DFS.
Other sites such as Monkey Knife Fight and PrizePicks dance right up to the line of actual sports betting with unique types of prediction-style fantasy contests that feel a lot like betting on props.
Consider Sportsbooks with NHL Partnerships
Sportsbooks that are partnered with the NHL provide bettors with benefits not offered by competing betting sites.
For example, FanDuel's deal with the NHL includes access to real-time data straight from the league. In turn, FanDuel can use that data to provide more detailed, up to date in-play betting markets to customers.
The NHL has similar deals in place with BetMGM and William Hill.
Likewise, PointsBet Sportsbook has a wide-ranging partnership with the Colorado Avalanche and Ball Arena. The deal includes placing a PointsBet Sports Bar in the arena plus special promotions and events for PointsBet customers.
Such partnerships also extend into live streaming, giving sportsbook customers the ability to stream live NHL games online and through mobile betting apps. In early 2020, the NHL partnered with sports data firm IMG Arena to provide live NHL streams to IMG Arena partners.
How to Bet on the NHL Online
NHL betting begins with understanding how the odds work. Readers can see the BettingUSA live odds page for more information, but the basic rundown follows.
All NHL bets are accompanied by moneyline odds that express the relationship between risk and reward.
Types of NHL Bets
Bettors with a basic handle on how the odds work will find it easy to understand how the various types of NHL bets work.
Below are some of the most common NHL wagers found online.
Betting on the Stanley Cup
Every NHL betting season culminates with the Stanley Cup, which generates a significant uptick in betting handle and sportsbook promotions.
Stanley Cup betting mostly functions the same as betting throughout the regular season. NHL sportsbooks cover each Playoffs and Finals game in detail with a standard range of straight bets, props, and in-play betting.
Betting sites also offer "to win the series" wagers for each round of the Playoffs, plus outright bets on who will ultimately win the Stanley Cup.
All year long, bettors can also place longer-term futures on who will win next season's Stanley Cup. Sportsbooks adjust the odds throughout the year, and as the NHL season progresses and various teams are eliminated, the odds begin to tighten as fewer teams remain viable contenders.
Bettors can get great odds on the Stanley Cup by betting well in advance of the Playoffs but at the cost of placing those wagers when information is still limited. Bettors should also keep in mind any futures they put on the Stanley Cup will be locked in until they either win or lose the bet.
Readers can scroll up and use the chart near the top of this page to view the latest Stanley Cup betting odds year-round.
In-Play NHL Betting Sites
In-play NHL betting markets provide live odds throughout the game. Standard in-play wagers settle at the end of the game or period, while instant wagers (sometimes called "flash bets") settle during the game.
Standard in-play bets mimic the types of wagers one would place before the game (who will win, point total, second period total, etc.) but are offered throughout the match with odds updated in real-time. Thus, bettors can watch the game for a while to get a sense of how it's going before placing a wager.
Flash bets occur over a shorter time, covering markets such as who will score the next goal. Instant in-play betting provides an even more intense experience, but bettors have to think quickly because the odds change frequently, and each bet is only open for a short time.
Specific things to look for when choosing a sportsbook for in-play NHL betting include:
The average number of betting markets offered during a typical game
How often the sportsbook introduces new in-play wagers during games
How quickly live stats are updated
Availability of live streaming NHL feeds
Daily Fantasy NHL in the USA
Readers who live in states without legal online sports betting can turn to daily fantasy sports as an alternative in the meantime.
Fantasy NHL contests provide many of the same perks as sports betting, particularly the opportunity to put one's knowledge to the test to win real money. The mechanics are different, but overall, fantasy hockey leans on the same skills that yield success in sports betting.
Best Fantasy NHL Sites
For players looking for a standard daily fantasy experience, it is critical to find sites with volume. Hockey lacks the sheer number of fans enjoyed by other major pro sports, so it is important to find fantasy sites with many players and contests. Busy fantasy sites provide more variety and bigger prize pools.
For players looking for something closer to sports betting, non-standard fantasy sites offer predictions contests rather than standard DFS games.
PrizePicks: Choose 2-4 athletes and predict whether their actual fantasy point totals will be higher than or lower than their projected fantasy totals for prizes of up to 10x the original buyin.
Monkey Knife Fight: Make prop-style predictions such as how many goals a player will score or picking which of two players will have the most shots on goal. MKF carefully designs its contests to fit the "daily fantasy" classification even though the concept draws heavily from sports betting.
NHL Stance on Sports Betting
The NHL's stance on legal sports betting has evolved from one of outright opposition to careful embrace. The NHL joined the NCAA and other major pro sports leagues in challenging New Jersey's effort to legalize sports betting but is now taking advantage of the many opportunities provided by legalization.
After the Supreme Court ruled in favor of New Jersey in May 2018, the NHL issued a statement acknowledging the decision:
The Supreme Court's decision today paves the way to an entirely different landscape – one in which we have not previously operated. We will review our current practices and policies and decide whether adjustments are needed, and if so, what those adjustments will look like. It's important to emphasize that the Supreme Court's decision has no immediate impact on existing League rules relating to sports wagering, and particularly, wagering involving NHL games. So, while changes may be considered in the future, today's decision does not directly impact the operation of the League or any of our Clubs in the short term.
A short quote from NHL Commissioner Gary Bettman uttered a week after the Supreme Court's decision efficiently previewed the NHL's evolving stance on betting:
The Supreme Court has spoken and we need to deal with the realities of our world.
Since then, the NHL has come to embrace sports betting via partnerships with sportsbooks that involve data rights, advertising, and even the construction of in-stadium lounges.
The league struck some of its earlier agreements with sports betting operators within months of the Supreme Court's decision. A small sampling of NHL agreements with operators provides a look into the NHL's approach to sports betting:
Clearly, the league's prior opposition to legalization has given way to making the most of the situation. As the American Gaming Association estimated in 2018, the league stands to earn an additional $216 million in revenue due to legalization due to increased fan engagement, sponsorships, and product fees related to sports betting. Prior opposition aside, the league would be foolish to pass on the opportunities now before it.