WSOP.com is an online poker room available to customers in Nevada and New Jersey for real money and everyone else for play money. The site is run by Caesars Interactive Entertainment and powered by software from international online gaming behemoth 888.
While Caesars Casino maintains the online gaming license required to operate legally in New Jersey and Nevada, WSOP provides the branding and 888 supplies the software platform that makes it all possible.
WSOP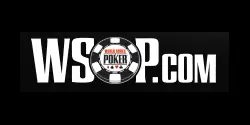 WSOP
WSOP.com offers online poker to players located in Nevada and New Jersey. As the name indicates, this is the official poker site of the World Series of Poker and is home to some of the largest online prize pools. Players can also play at WSOP Online to win seats to actual World Series of Poker events. In addition to tournaments, WSOP.com hosts cash games as high as $100/$200 no-limit.
Pros
Licensed to offer real money poker in the USA
Official site of the WSOP
Shared tables between Nevada, New Jersey and Delaware
Large guaranteed prize pool tournaments
Players get up to 32% rakeback
Cons
Cash games other than Texas Holdem lacking in traffic
Could use more Omaha, Stud and other tournaments
WSOP Info
Betting Site: WSOP
Website: www.wsop.com
Established: 2013
Country: USA
Support: Phone and e-mail
Minimum Deposit: $10
Deposit Bonus: $1,000
With the backing of the World Series of Poker, WSOP.com offers certain advantages not offered by other poker sites. For example, WSOP regularly runs online qualifiers for live events at the annual World Series of Poker in Las Vegas. Win one of these online qualifiers and you'll be playing alongside the best at the next WSOP in some of the biggest tournaments poker has to offer.
---
Visit WSOP Online Today
Traffic is growing, but WSOP still lags behind PokerStars NJ in terms of average number of players that can be found online at any given time. However, New Jersey signed a multi-state player sharing agreement with Delaware and Nevada in 2018 allowing poker sites that operate in all three states to share player pools.
The WSOP/888 network operates the only poker site (WSOP Online) in Nevada, which means WSOP NJ and 888 NJ are the two poker sites in New Jersey benefitting the most from the multi-state poker agreement. This has boosted traffic across the board, and it will be interesting to see if the new player sharing agreement helps WSOP overcome PokerStars NJ in terms of traffic. In Nevada, WSOP is the undisputed traffic leader.
The 888 software also powers Delaware's regulated poker sites. You won't see the WSOP name plastered on Delaware's poker sites, but they are based on the same software and now share players with WSOP in New Jersey and Nevada.
WSOP.com Bonuses and Promotions
WSOP Online offers a three-part welcome bonus to all new customers who sign up for an account and make a first deposit of $10 or more. First, you'll get a 100% bonus added to your first deposit for up to $1,000 in bonus cash. Second, you'll get seven tickets into WSOP Gold Bracelet freerolls. And finally, you'll get a $5 Blast Poker tournament entry with a chance to win up to 10,000x your buyin.
100% Deposit Bonus
All customers who sign up for an account, verify their identity and then make a deposit qualify for a 100% match bonus worth up to $1,000. This means a $10 deposit will get you $10 in extra bonus cash, a $100 bonus will get you an extra $100 in bonus cash and so on. You may deposit as much or as little as you wish, but the most bonus money you can get for your first deposit is capped at $1,000.
Clearing the Bonus
After claiming your welcome offer, the bonus money is placed in a pending bonus account and released in increments as you earn Action Player Points (APPs) by participating in real money games. APPs are earned at a rate of 2 APPs for every $1 paid in rake in cash games and 2 APPs for every $1 paid in tournament fees.
The first $10 worth of bonus funds are released in increments of $1 for every 10 APPs earned. This means you will need to earn a total of 100 APPs after paying a total of $50 in rake or tournament fees for the first $10 to be released to your real money account.
The next $50 in bonus money is released in increments of $5 for every 50 APPs earned. From that point on, your bonus money is released in increments of $10 for every 100 APPs earned. This works out to a rake-back rate of about 20%, which is generous.
First Depositor Freerolls
In addition to the match welcome bonus, new depositors also earn free tournament entries. A first deposit of $10 or more will get you seven entries to WSOP Gold Bracelet Freerolls as well as $5 to play in BLAST sit-and-go tournaments.
The Gold Bracelet Freerolls offer the opportunity to win your way into the WSOP online tournament event, which is stocked with $500,000 and a WSOP gold bracelet for the winner. The BLAST SNG tournaments are 4-player SNGs with randomized prize pools that can be worth as much as 10,000x your buyin. For example, a $0.10 BLAST SNG can potentially have you competing for a share of a $1,000 prize pool while a $30 BLAST SNG can potentially be played for up to $300,000 in prize money.
Other WSOP Promotions
WSOP.com offers many more promotions than the average US poker site today. It's clear WSOP does not court new customers exclusively. Existing players can also take advantage of frequent reload deposit bonuses, special tournament events, actual WSOP online events (where the winner receives a real gold bracelet in addition to cash winnings), player of the year leaderboards, daily freerolls and more.
The offers list is in a state of constant change, but you can always view the latest promotions by heading to WSOP.com and then choosing the "promotions" tab from the navigation menu at the top of the website.
VIP Loyalty Rewards Program
All WSOP.com members are automatically enrolled in a loyalty program that unlocks rewards based on real money play in cash games and tournaments. As you participate in cash games and tournaments, you earn 2 APPs for every $1 paid in cash game rake or tournament fees.
Earning 200+ APPs in a month bumps you up to Bronze status in the WSOP VIP program. At this level, all APPs earned as a Bronze level player are automatically converted into WSOP points, which can be redeemed for real money.
The higher your status in the VIP program, the more WSOP points you earn per APP earned. WSOP points can be redeemed for cash at a rate of $1 for every 100 WSOP points converted.
Here's how the VIP program works and how many WSOP points you earn per APP earned:
| | | | |
| --- | --- | --- | --- |
| APPs Earned | Level | WSOP Multiplier | Rakeback % |
| 0+ | Player | 0x | 0% |
| 200+ per month | Bronze | 4x | 8% |
| 750+ per month | Silver | 10x | 20% |
| 1,500+ per month | Elite | 12.5x | 25% |
| 20,000+ per year | Champions Club | 16x | 32% |
What this table is showing is how many APPs you must earn in any single month to reach that VIP level. Each level has a different multiplier it uses to determine how many WSOP points you earn per APP earned.
For example, let's say you earn 1,000 APPs next month playing at WSOP.com. This would classify you as a Silver VIP player. Your 1,000 points would also be converted into 10,000 WSOP points due to the 10x multiplier. Those 10,000 WSOP points could then be redeemed for a total of $100 in cash.
This all works out to a generous rakeback program that gives players anywhere from 8% rakeback at the Bronze level to 32% at the Champions Club level. In the above example detailing a player earning 1,000 APPs, it is the equivalent of paying a total of $500 in rake and getting back $100 for a rakeback percentage of 20%.
WSOP Poker Download
You can head over to WSOP.com to download the poker software for PC, Mac, iOS and Android devices. The WSOP website will detect whether you're visiting from a PC or Mac if you're on a desktop and automatically serve the right software download for your system. Mobile players can visit the app store to download apps for the iPhone, iPad or almost any Android device.
The WSOP software platform was designed by 888, which is one of the largest providers of online poker in the world. As you would expect, they bring a sense of professionalism with a poker interface that is clean, fast and easy to use.
After you download and install the WSOP software, you can run it to log in to your account, make deposits and play real money games. The default table view shows you beginners tables if you're new, and the quick seat option allows you to select the game type and stakes before selecting a table automatically.
Personally, I do not find much value in using the quick seat option because it eliminates the ability to select exactly which table you want. It is better to visit the "all games" tab in the software to see a full list of tables that shows the number of seated players at each table, the average pot size and other stats showing how active the players are. This view is the best because it facilitates choosing tables that look like they offer the most action.
The software interface is fairly simplistic, but that only makes it easier to use the software. I had no issues navigating between the various cash games and tournaments, choosing tables and managing software settings.
Software Screenshots
WSOP.com Cash Games
WSOP offers a variety of standard poker cash games and tournaments plus several uncommon formats. As is the case with all US poker sites currently, the vast majority of the action here is of the Texas Holdem variety. WSOP does offer other game types including Omaha, Omaha Hi/Lo, Stud and Stud Hi/Lo, but traffic is pretty hit or miss at these other game types.
As far as Texas Holdem goes, WSOP.com holds tables for no limit cash games, fixed limit cash games, multi-table tournaments and sit-n-go tournaments (SNGs). With healthy player traffic, nearly all Texas Holdem formats boast medium to high levels of traffic.
No-limit Holdem cash games are by far the most popular format for cash games at WSOP. Cash game stakes run from as low as $0.01/$0.02 (with a $2 buyin) to as high as $100/$200 with a $20,000 buyin. Fixed limit stakes run from $0.05/$0.10 to $100/$200, but these games do not run as often due to a lack of interest.
Omaha and Stud cash games are hosted as high as $25/$50 for pot-limit Omaha and $10/$20 for fixed limit stud – if you can find anyone willing to take a seat. Currently, Texas Holdem is your best bet followed by Omaha.
Cash game types and limits
No limit Holdem: $0.01/$0.02 to $100/$200
Fixed limit Holdem: $0.05/$0.10 to $100/$200
Pot limit Omaha: $0.01/$0.02 to $25/$50
Pot limit Omaha Hi/Lo: $0.05/$0.10 to $5/$10
Fixed limit Omaha Hi/Lo: $0.05/$0.10 to $30/$60
Fixed limit Stud: $0.02/$0.04 to $10/$20
Fixed limit Stud Hi/Lo: $0.02/$0.04 to $5/$10
WSOP Online Tournaments
As you would expect for a poker site named after the World Series of Poker, WSOP.com invests heavily in its tournament offerings. This is still a growing poker site operating in a limited US market, but the tournament scene here is above average in terms of value, number of players and types of tournaments offered.
A quick look at the promotions tab on the WSOP.com website will confirm that tournaments play a major role at this poker site. The biggest regular tournament currently is the weekly Sunday $100K guarantee, but that's not as big as it gets. WSOP.com also hosts actual online-only events that are considered a part of each year's World Series of Poker.
Just recently, WSOP.com hosted four World Series tournaments online with prize pools ranging from $500,000 to $1,000,000. Million-dollar prize pools are not a weekly occurrence at WSOP.com yet, but it is still nice to finally see big online tournaments return to the US.
In addition to major tournaments, WSOP.com hosts a daily lineup of smaller online events with buyins ranging from free to $500. Sundays feature hundreds of thousands of dollars in guaranteed prize pools. Dozens of tournaments run each day of the week in a variety of formats. WSOP hosts normal freezeout tournaments plus re-buys, deep stacks, shorthanded events, all-in tournaments, knockouts, turbos, super turbos and even team events.
Some of the older WSOP.com reviews found online mention the tournament scene here being just "ok" or "decent," but it seems the poker site has expanded since then. With multiple states now sharing tables at WSOP, it is getting easier for the site to support larger tournaments.
The one thing that's still lacking is tournaments in other game types. You will find the occasional pot limit Omaha tournament, but those are infrequent. Omaha Hi/Lo and Stud tournaments are even rarer.
Traffic
Player traffic has improved since WSOP first launched in Nevada and New Jersey. The ability to combine players between WSOP, 888 NJ and the three licensed Delaware poker sites has given a boost to average traffic in all three states.
On an average Sunday afternoon as this review was being written, WSOP Online had enough traffic to support no-limit Holdem games at stakes as high as $2.50/$5. In fact, WSOP.com had four full tables of 6-person $2.5/$5 NL games, plus multiple games running at $1/$2 NL, $0.50/$1 NL and on down to the micros at $0.01/$0.02 NL. WSOP is also able to get $10/$20 no-limit games running fairly often these days.
The fixed limit tables, however, were still a ghost town at the time of this review with not a single active fixed-limit table game. There was also one small stakes Omaha Hi/Lo game.
Tournament traffic is growing as well. At the time of this review, WSOP.com had about 10 sit-n-go tournaments in progress plus more registering and hundreds of active players participating in multi-table tournaments. Sundays are always the best days for tournaments with WSOP keeping an active tournament schedule through the weekend. Weekday tournaments also run every day of the week, but Saturday and Sundays are the best.
At the time of this review, WSOP had a $15,000 tournament running with 133 players as the biggest tournament in progress. There were also about a dozen other tournaments with buyins ranging from free to $100 all in progress.
WSOP Banking Methods
WSOP Online accepts deposits and processes withdrawals via the following methods:
Banking Method
Minimum Deposit
Maximum Deposit
Online eCheck
$10
$5,000 per deposit

$30,000 per day

Visa and MasterCard
$10
$600 per deposit

$5,000 per day

PayPal
$10
$5,000 per deposit

$30,000 per day

In-Person*
$10
$100,000 per deposit

$100,000 per day

PayNearMe
$10
$500 per deposit

$500 per day
*In-person deposits are accepted in the cashier's cage at any of the following Nevada casinos:
Rio All Suite Hotel & Casino Las Vegas
Caesars Palace Las Vegas Hotel & Casino
Planet Hollywood Las Vegas Resort & Casino
Harrah's Las Vegas Hotel & Casino
Paris Las Vegas Hotel & Casino
WSOP.com also supports personal deposit limits and self-exclusion if you find yourself playing too much. You can set limits and request self-exclusion online or by contacting WSOP. You can set limits on how long you can play per session, how much you deposit per day and how much you may lose per day. You may also request self-exclusion for one year, five years or permanently.
WSOP.com State-by-State Operations
WSOP is slowly but surely expanding its presence in the US as new states legalize online poker. Progress on this front has been slow, but not because of any hesitation on the part of WSOP. Where online poker has been legalized, WSOP has not been far behind.
The US in general has just been slow to pass laws related to online poker, especially with much of the focus these days now being on sports betting. However, a handful of states have taken action in recent years and the spread of legal online poker seems inevitable over the longer term.
The World Series of Poker has a long relationship with Caesars Entertainment, which will greatly assist WSOP in entering new states as legislation is approved. Caesars operates land-based casinos in more than a dozen states that can be used as anchor points in each state, similar to how WSOP operates in New Jersey on the Caesars Interactive license.
Below, we look at the states in which WSOP is active and states that could see the launch of WSOP.com in the future.
WSOP New Jersey
WSOP brought online poker to New Jersey in 2013 and is now one of a handful of competing poker sites in the state. In New Jersey, WSOP is partnered with Caesars Entertainment for online gambling and with 888 for software support. WSOP and 888 also have a separate agreement in place to share traffic across most of their tables.
WSOP Delaware
WSOP is not active in Delaware by name, but it does operate in the state in an indirect manner. International gaming 888 runs all three of Delaware's poker sites and has agreed to share tables with players seated at WSOP tables in Nevada and New Jersey. While Delaware does not boast a large population to support a thriving online poker scene, these types of interstate player sharing agreements give local players access to a larger player pool.
WSOP Nevada
In Nevada, WSOP.com has a virtual monopoly over online poker. Two other poker sites have launched in Nevada to date, but one of those (Ultimate Poker) has closed while the other (Real Gaming) has almost zero traffic.
WSOP West Virginia
West Virginia has legal online gambling, but the odds of WSOP entering the WV market remain uncertain at this point. Each of the state's five casinos may operate up to three individual sports betting apps but just a single online casino. This leaves WSOP with few options as most land-based casinos have selected other partners to manage their online gaming operations.