Boston-based DraftKings.com was founded in 2012 and quickly grew to prominence as the leading fantasy site alongside chief competitor FanDuel.com. It did not take long for DraftKings to become a major player in the industry thanks to the expertise and funding capital provided by the founders and investors.
DraftKings
DraftKings
DraftKings has a well-deserved reputation for high quality games and massive payouts. No other daily fantasy sports site has created more millionaires than DraftKings.com.
Pros
Trusted company headquartered in the USA
Unique prizes such as VIP sports trip packages
Useful stats tools make it easier to draft a strong lineup
High paying guaranteed prize pool contests
Cons
Not quite as large as FanDuel
Dark interface may turn off some players
DraftKings Info
Betting Site: DraftKings
Website: www.draftkings.com
Established: 2012
Country: United States
Support: Phone, live chat and e-mail
Minimum Deposit: $5
The company received $25 million in venture capital in 2013 and has used a large chunk of that cash to make a major marketing push. If you watch ESPN or listen to sports radio, you've probably seen or heard at least one advertisement in recent weeks. Their success isn't entirely a result of clever marketing, though. DraftKings.com has a product that is unique, polished and easy to use.
Is it legal?
DraftKings.com is legal in the USA, Canada, United Kingdom, Australia, Germany, Ireland, Austria and Malta.
Regarding the United States, federal gambling laws do not apply to fantasy sports betting thanks to a carve-out that was included in the Unlawful Internet Gambling Enforcement Act of 2006. The federal government considers fantasy betting to be a contest of skill and therefore 100% legal in the United States.
Unfortunately, a handful of states have passed laws in recent years that ban online fantasy sports wagering. If you live in any of the following states, you may only participate in free contests at DraftKings.com.
Restricted states: Arizona, Hawaii, Idaho, Iowa*, Louisiana**, Montana, Nevada and Washington.
Restricted provinces in Canada: Quebec
*Note: Iowa passed a law in 2019 legalizing and regulating fantasy sports sites. DraftKings still restricts customers from Iowa, but that will be changing as soon as regulators draft new rules and begin issuing DFS licenses.
**Note: Most Louisiana parishes opted to legalize daily fantasy sites in a November 2018 ballot measure. Soon, people in most Louisiana pages will be able to play at FanDuel. It's just a matter of time now as the state forms rules and regulations before FanDuel may begin accepting players.
DraftKings.com in a Nutshell
Draft Kings offers daily fantasy sports betting for numerous sports leagues. These include the MLB, NFL, NBA, NHL, college football, college basketball, EuroLeague basketball, MMA, PGA tennis, NASCAR, eSports, the Canadian Football League (CFL) and even the Arena Football League (AFL). In all sports, your goal is to assemble a team of the best players possible while remaining under your salary cap. As your picks earn points in the real world, your team earns points in the fantasy realm.
The difference between what DraftKings has to offer and the fantasy leagues you may have played at work is DraftKings.com leagues last for just a single day or week. Instead of getting stuck with one team for the entire season, you can make new selections every week. You can even create multiple teams and try to win a dozen different short-term leagues.
Contests are hosted at a variety of stakes ranging from $0.25 to $26,200. If you win, you get a real money payout based on the size and buyin of the contest. Heads-up matches are played in winner-take-all format while the largest tournaments produce hundreds of winners. Some of the biggest fantasy tournaments at DraftKings award six-figure prizes to the winners.
In addition to daily fantasy sports, DraftKings also offers actual sports betting and casino games in certain states. The sports betting and casino divisions are still just getting started, but already both are making waves in the industry. DraftKings Sportsbook, for example has taken the lead in New Jersey while the casino is raising expectations for fans of the brand.
You can read more about each at the links below:
What It's Like Playing at DraftKings
The DraftKings website is fairly intuitive. If you have any prior experience with fantasy sports betting, you'll see what's going on here immediately. After logging in and making a deposit, the main lobby is where you'll spend the majority of your time. This is where you browse open contests, manage your account and find the games you'd like to try.
The lobby uses a tab system to organize the different types of contests. Just click on any tab along the top to switch between guaranteed tournaments, qualifiers, head-to-head matchups and so on. There's also an option to filter the contests by sport. The advanced filters feature allows you to narrow down the list of upcoming competitions by time, entry fee and number of players.
Choose any detailed contest to view that contest's details. The detail screen shows you all the relevant information such as number of registered players, how the prize money is awarded, which games this contest will cover and more. If you like what you see, you can begin drafting your team.
Every contest at DraftKings.com comes with a virtual salary cap of $50,000. Each player comes with an associated cost related to that player's overall perceived strength. The stars of the league can cost upwards of $9,000 while cheaper players can be picked up for a couple thousand dollars. Your goal here is to draft the best possible team while staying within your salary cap.
While drafting your team, you can click on an individual player's name to see that player's details. Doing so will bring up a min-bio for that player plus his recent stats and any relevant news from around the league. For example, here's what I saw recently when I selected Peyton Manning:
Types of Contests
The various types of contests at DraftKings all use the same basic format of picking teams and racking up points. Where they differ is in how prizes are awarded and the number of contestants in each match. All contests cover either a single day or weekend of games.
Guarantees
Guarantees are contests in which DraftKings.com promises a certain prize even if not enough players join to fill the event. These are popular because you always know you're going to compete for at least a certain amount of money. Guarantees range in size from a minimum of $2,000 to more than a million dollars.
Qualifiers
Qualifiers, also known as satellites, award entry to bigger tournaments in lieu of cash. For example, let's say you'd like to compete in Sunday's $400,000 guarantee but don't want to risk $200. You could instead play in a $10 qualifier to compete for a free seat in the Sunday $400K.
Head-to-Head
A head-to-head matchup pits you against one other person. You and your opponent pay the entry fee, pick your teams and the winner takes all. These contests are a lot of fun because you don't have to compete against a whole field of opponents for a chance to win money. You either take first place and win the whole pot or you take second place and lose your buyin.
Entry fees for head-to-head contests range from $1 to $5300.
50/50s
A 50/50 contest doubles your entry fee if you end up with enough fantasy points to put you in the top half of finishers. It doesn't matter how well you score as long as you don't end up in the bottom half. These contests can host anywhere from 4 to 600 entrants.
Leagues
Leagues are just basic tournaments that can accommodate as few as three contestants going on up to thousands of contestants. Smaller leagues offer payouts to the top 1 or 2 people while bigger leagues can pay out hundreds of the top finishers.
Multipliers
Multipliers are sort of like 50/50s except they return 3x or 10x your original entry fee. A 3x multiplier pays out 3x the buyin fee to the top third of the field. A 10x multiplier pays 10x the buyin fee to the top 10% of the field.
Steps
Step tournaments are structured as small, 6-10 player tournaments that award entry to the next level up. For example, Step 1 tournaments cost $2 and awards entry to step 2 tournaments. If you make it all the way to step 4 and win, you get $200.
The cool thing about step tournaments is you have the option to buy in at any level. You can start at the bottom for $2 or buy in direct to step 4 for $88. If you start at the bottom, you don't necessarily have to take first place every time. There are consolation prizes on the way up that award tickets to try again at that level or move down a level. However, it is possible to be knocked all the way out if you have a poor finish at any level.
Super Bowl Squares
In a major departure from its usual fantasy offerings, DraftKings introduced Super Bowl Squares ahead of the 2019 Super Bowl. You may have seen squares played at Super Bowl parties and the idea here is almost the same.
In DraftKings Squares, each player is given a blank 10×10 grid with one team represented by the top row and the other team represented by the left column. Each player selects one box in the grid before the Big Game begins.
After kickoff, the numbers 0-9 are randomly assigned to the top row and left column. The score at the end of each quarter is then applied to one of those boxes by taking the final digit of each team's score and plotting it on your grid.
For example: If the score after the first quarter was Patriots 10, Rams 7, that would correspond to the coordinates 0-7 on your grid. If you happened to pick that exact box, you would win a cash prize. Winning this game is 100% luck because the numbers on your grid aren't even shown before you select your box, but it's completely free to play for all DraftKings members.
Here's how your grid looks after making a pick but before the numbers are assigned: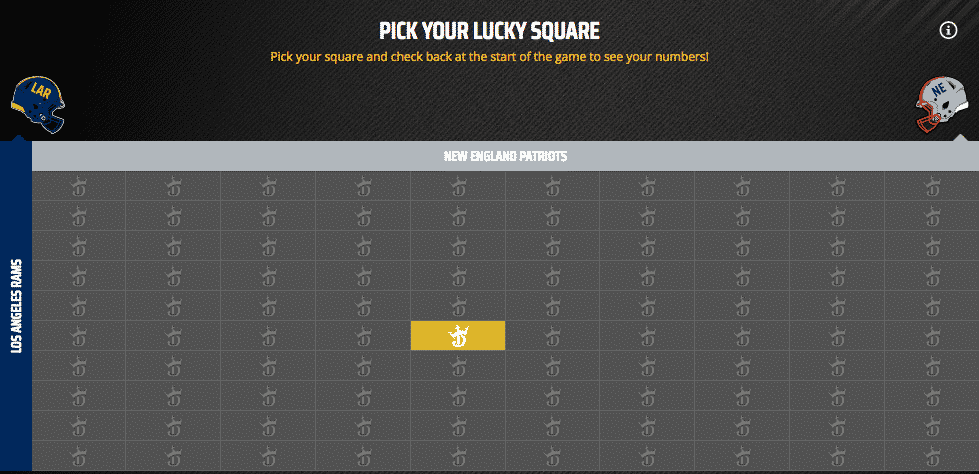 Major Events
Each season, Draft Kings hosts at least one major event for each sport. The NFL has its own championship event, the MLB has another one and so on. These events are massive and grow larger every year. In some cases, you can win as much as a million dollars as the first place winner.
These events change every year as DraftKings.com grows in popularity. The major events for the NFL and MLB remain mostly the same but the prizes tend to get bigger each year. Additionally, Draft Kings adds new special events to the lineup. For this review, I'll recap just a few of the major contests they held for 2014. This should give you a pretty good idea of what some of the biggest events are like at Draft Kings.
NFL Millionaire Maker
The2014 NFL Millionaire Maker was noteworthy for its $2,200,000 prize pool. The first place finisher took home a grand prize of one million dollars. Best of all, this tournament cost a mere $27 to enter. They also hosted dozens of qualifiers leading up to the tournament for as little as $2.
Qualifiers and direct buyins were all welcome here. The tournament had a massive field but prizes were paid out to hundreds of people. This one will surely be a big event next year as well.
$2.5 Million NFL King of the Beach
The King of the Beach event was hosted on December 14th for 50 teams that qualified throughout the regular NFL season. There was no way to buy in to this event; the only way to earn a seat was to win one of the qualifiers during the season.
The 50 people who earned seats to the King of the Beach were invited to play in a special tournament with a $2.5 million prize pool. First place for this one was worth $1,000,000. Prizes were awarded to all 50 teams no matter what. Even if you finished dead last in this one, you still walked away with $54,000 and an all-expenses paid four day trip to Atlantis on Paradise Island in the Bahamas to compete in the event.
$3.3 Million Fantasy Baseball Championship
The 2014 Fantasy Baseball Championship was open to 50 players via qualifiers only and sent the top 50 players to Atlantis on Paradise Island to compete in the main event. First place earned a cool $1,000,000 but all 50 places earned a prize.
The worst you could have done in this event was spend five nights in the Bahamas and end up with an extra $7500. Simply qualifying for this event was enough to cap off your summer with a bang. This one will definitely be coming back next year as well.
World Poker Tour Prize Package
There's quite a bit of crossover between poker and fantasy sports. Both games involve a high level of skill and lots of cash. DraftKings.com captured the best of both worlds by hosting qualifier daily fantasy MLB, NBA and NHL events.
The player who took this one down earned a free trip worth $15,400 to play in the WPT in Atlantic City and stay six nights free of charge. The prize package included a seat to compete in the World Poker Tour, free travel, free lodging and $500 spending cash.
Deposits and Withdrawals
You can fund your DraftKings account with a credit card, debit card, PayPal or Dwolla.
Credit and Debit Cards: DraftKings.com accepts VISA, MasterCard, Discover and American Express. They also accept prepaid gift cards, but make sure you save those cards before you deposit. DraftKings.com will attempt to credit that same card when you withdraw your winnings.
PayPal: PayPal can be used to fund deposits instantly and receive withdrawals. If you choose this method, you'll be redirected to a PayPal page where you will log in to confirm the deposit amount.
Dwolla: Dwolla is an e-wallet similar to PayPal but is even cheaper to use. The basic premise is the same as PayPal but withdrawals cost significantly less. You can learn more about Dwolla here.
Overall Impression
My overall impression with DraftKings.com is overwhelmingly positive. They have more contest types than FanDuel and have a few unique options such as last-minute substitutions that make this a strong alternative to the leading fantasy site.
Draft Kings has the most room for improvement in its total player pool. There just aren't as many people here as there are at FanDuel so the big tournaments here don't get quite as big as what you find at FanDuel. On the other hand, it's kind of nice having fewer opponents to compete against in the bigger tournaments.
In the end, I'd say it's worth opening an account here. It may not have the sheer number of players, but their marketing team is pushing the brand hard lately. Besides, it's free to have an account so you might as well get one and keep an eye on upcoming promotions.