4NJBets.com is New Jersey's only legal parimutuel horse racing betting site. In years past, 4NJBets was an antiquated racing betting platform, but the website got a major upgrade in 2013 after national horse racing network TVG was chosen to run everything behind the scenes at 4NJBets. TVG is in turn owned by Betfair US, so you may occasionally see references to Betfair when betting at 4NJ Bets.
4NJBets
4NJBets
4NJBets.com is a licensed horse racing site authorized by the New Jersey Racing Commission. At 4NJBets, you can place real money bets online from anywhere in New Jersey. All bets placed online at 4NJBets are pooled with track wagers and pay at full track odds.
Pros
Covers 150+ domestic and international racetracks
Live racing video and replays
Free handicapping advice and tips
Online, mobile and phone wagering offered
Cons
Only open to residents of NJ
Mobile app only available for Apple devices
4NJBets Info
Betting Site: 4NJBets
Website: www.4njbets.com
Established: 2007
Country: USA
Support: Phone and e-mail
Deposit Bonus: $100
Bonus Code: SUMMER
The new 4NJBets is a significant improvement over the old platform with easier access to current races, simpler deposits, faster withdrawals and a streamlined signup process. Readers should note that 4NJBets is only open to residents of New Jersey 18 and older. If you live outside of New Jersey, you can instead visit TVG.com (see our review here) for a similar experience.
Where 4NJBets.com differs from regular sports betting is that it does not involve betting against the house. 4NJ Bets offers parimutuel wagering, which means all wagers are placed into a common pool and payouts come from that pool.
Payout odds are determined by the amount of action put onto each horse rather than by a house oddsmaker. For instance, the favored horse offers lower payouts because more people tend to bet on that horse, which means the prize pool has to be split among more people.
Likewise, long shot horses pay much more because fewer people back those horses. When long shot horses win, the prize pool is split fewer ways and each person therefore receivers a larger portion of the wagering pool. All wagers placed online at 4NJBets.com are mixed into the same pool as wagers taken in-person, which means you always receive full track odds when you bet online here.
4NJBets Welcome Bonus
All new customers who sign up for an account at 4NJBets.com get a 100% welcome bonus worth up to $100. In other words, they'll double your first deposit to give you up to $100 extra. For example, a $100 deposit will get you an extra $100 so you can bet with $200.
You can claim this bonus by signing up for an account and using the referral code SUMMER. Then, fund your account within 15 days of signing up and they'll give you 100% extra to your first deposit only.
The bonus money may only be used to place wagers at 4NJBets.com and may not be withdrawn, although anything you win with the bonus money is yours to keep with no strings attached. The 4NJBets bonus does not come with any wagering requirements; anything you win by wagering the bonus money may be withdrawn immediately if you wish.
Claim your bonus today at: www.4njbets.com
Horse Racing Betting at 4NJBets.com
The 4NJBets interface has improved significantly since coming under the ownership of TVG and Betfair US. Most notably, the betting platform manages to achieve the difficult task of showing a lot of information while still being fairly intuitive even for new users.
Once you're logged in, the left side of the website displays a list of tracks based on the order of the next race. You can also see a full racing schedule and a complete list of tracks in case you have a specific race or track in mind.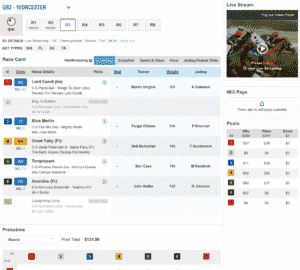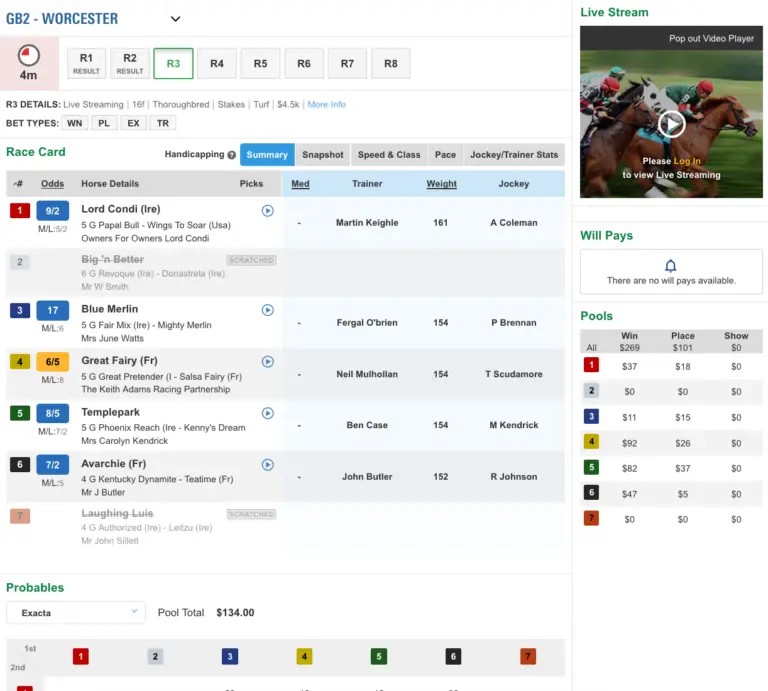 The center of the screen is reserved for the actual betting interface. Once you select a track and race, this is where you'll see a list of horses, horse details, track information and betting odds. A series of tabs across the top of the interface allows you to view different sets of information such as snapshots, class and speed, pace and jockey/trainer stats.
The main betting area also shows current wagering pools displaying how much money has been taken on each type of bet, the morning line odds and much more. One feature I found particularly useful was the ability to click on a little play icon next to any horse's name to see that horse's past results as well as video of every race that horse has run in.
There is enough information here to satisfy serious handicappers, but the interface is intuitive enough that it also works for casual bettors.
As far as value goes, 4NJBets is exactly equal to going to the track yourself. This website is specifically authorized by the state of New Jersey and your wagers are actually placed into the track pools at every racetrack. Every type of bet that you could place in person is also available online. This includes the basic bets such as win/place/show as well as exotic bets and their many permutations via boxing, keying and wheeling.
4NJBets.com accepts wagers ranging in size from $0.10 to as high as $9,999.00, but that does vary based on track. You can place bets online or through your mobile device at 4NJBets.com. Additionally, customers may call 1-888-4NJBETS (465-2387) to place phone wagers.
4NJBets Deposit Methods and Fees
4NJBets does well in accepting a nice variety of deposit methods, but earns negative marks for charging fees for many of these methods.
| | | |
| --- | --- | --- |
| Deposit Method | Fee | Brief Description |
| Debit / Credit Card | $5 | MasterCard and VISA accepted |
| BetCash | $0 | Transfer money to and from your checking account – easiest method once set up, free to use |
| Vanilla MasterCard Gift Card | $5 | Purchase Vanilla gift cards at retailers such as Wal-Mart, Rite-Aid and so on, then redeem online. |
| Wire Transfer | $15 | Expensive, but useful for very large deposits |
| Green Dot MoneyPak | $0 | Online only – buy the MoneyPak temporary card and then redeem online or via mobile device |
| PayNearMe | $0 | Available at 7/11, CVS and Family Dollar. Log in to your account, generate barcode then visit one of the above stores to fund your account with cash |
| TVG Prepaid Card | $5 | Sign up for TVG Prepaid card online, then make a deposit online suing your own debit/credit card. TVG will also send you a physical card at the mail that you can use for purchases / ATM withdrawals |
| Deposit at Track | $0 | Some tracks accept TVG / 4NJBets deposits – call for current list of tracks and hours |
| Money Order / Check | $0 | Mail a check or money order to the address shown here. |