Greyhound racing betting is legal in most US states despite the number of active tracks declining significantly in recent years. In most states, customers can bet on greyhounds online through mobile apps developed by licensed betting operators.
There are active greyhound racetracks in just four states today, and even that number is on pace to be cut by half over the near term. A measure to ban greyhound racing in Florida will close seven of the country's remaining tracks on January 1st, 2021 while the last track in Arkansas says it will close in 2022.
That leaves just Iowa and West Virginia as the last holdouts without immediate plans to close.
Best Greyhound Racing Betting Sites and Apps
Rank
Betting Site
Bonus
Rating
Visit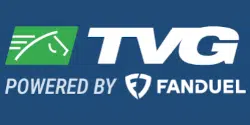 BettingUSA.com strongly recommends all readers wager exclusively at greyhound betting sites or mobile apps that are licensed and headquartered in the USA. Most importantly, licensed greyhound betting sites are safe from a legal and financial standpoint.
Additionally, legal greyhound betting sites in the USA have agreements in place with the host track of every race. Online wagers are pooled with those taken in person and fans are paid at full track odds. These agreements also allow legal racebooks to provide live racing video straight from the track free of charge.
Only small number of racebooks are licensed to take wagers on greyhound races, but fortunately, the nation's most prominent names in racing betting offer greyhound racing betting. These betting sites are well-known, financially suitable and have been in the business for a very long time.
Greyhound Betting Promotions
TVG and BetAmerica offer numerous promotions and rewards in customer signup and retention efforts. One of the first promotions offered to new depositing customers when signing up is a bonus.
Greyhound betting sites offer a variety of promos that change over time. These incentives often include cashback on losses, payouts if your horse comes in second and more.
Is Online Greyhound Betting Legal in the USA?
Greyhound betting was one of the first forms of online betting to be legalized in the United States. This dates back to 2006, when horse and dog racing were specifically exempted from the Unlawful Internet Gambling Enforcement Act of 2006 (UIGEA).
Individual states retained the authority to opt-out of racing betting, however. Most states decided to allow racing betting, but a handful do not. You can see the full list of states that allow online greyhound betting below.

Greyhounds
So why did horse and dog racing get exemptions from the law? Well, it was most likely a result of political clout. Horse and dog tracks have strong connections with politicians in their states and were able to plead their cases to the powers that be.
Additionally, dog and horse racing tracks rely on betting revenue to stay in business. In some cases, even that isn't enough (we have seen many tracks of both types go out of business over the past couple of decades). Internet betting was seen as a way to bring increased viewership and wagers to struggling tracks, which in turn hire people and spur the local economy.
What this means for you is that it is legal to bet on greyhounds online and via mobile devices at any of the licensed racebooks listed here.
Greyhound Tracks in the USA
Arkansas: 1 track, but set to close in 2022
Iowa: 1 track
West Virginia: 2
Florida: 7, but greyhound racing will be banned beginning January 1st, 2021
The significant decline in active greyhound tracks beginning in 2021 will have a major impact on the industry as a whole, but fans in most states (including Florida) will still be able to bet on greyhound races online at major websites for as long as there are active racetracks anywhere in the United States.
How Greyhound Betting Works
Greyhound betting is a form of parimutuel wagering, in which all wagers of the same type are pooled together. Payouts for each wager are determined based on the amount of money bet on each dog after the house take and taxes have been removed from the pool.
The most important thing to know about parimutuel racing betting is that the odds are not fixed in place, even after you place your wager. The final payout odds are only known after the final bet has been placed.
The advantage of pari-mutuel wagering is that bettors do not compete against the house. The house takes a cut regardless of how the race plays out. Your only competition is the general betting public.
Types of Dog Racing Bets
Betting on greyhounds is almost identical to betting on horses. The same bets and wagers that can be placed on horse races can also be placed on greyhounds. This makes for a nice transition if you're coming over from horse racing to greyhounds.
There are two main categories that all greyhound bets fall under: straight bets and exotics.
Straight Bets
Exotic Bets
The next set of wagers are collectively known as the "exotics." Exotics are a little more complex, but they aren't that bad. If you take a little time to read through them, you won't have too much trouble getting started with these bets.
Mobile and Simulcast Options
TVG and BetAmerica both have a nice simulcast system for watching live greyhound races. All you need is an account and you can watch the races in real-time. You do not need to bet or even fund your account. Sign up, log in and you can watch every race.
How Dog Races Work
Greyhound racing is similar to Thoroughbred and Harness racing, except that dogs are used in place of horses and jockeys.
The greyhound race track itself is a very simple course, usually an oval or circular dirt track. The greyhound track is fenced in on the outside with a special rail running along the inside of the course. There is a belt attached to the rail equipped with a mechanical lure that the greyhounds are trained to chase, encouraging them to race.
On the outside of the track is the place where the race spectators sit, the vast majority of whom are bettors watching the results of the race to see if they've won. Along the bottom wall of the spectator area are a series of betting stalls or bookie counters, where live greyhound race betting takes place.
The average greyhound track has a series of crates or cubicles on the starting line. These crates, as they are most commonly-known in the industry, are where the dogs sit and wait for the race to begin. For the ease of betting, the number on the jackets worn by the racing dogs is in sharp contrast to the color of the dog's jacket, and numbers are consistent across all greyhound courses: number 1 is red, number 2 is blue, number 3 is white, number 4 is black, number 5 is orange, and number 6 is white with black stripes. Depending on the number of dogs in the race or course traditions, numbers and colors may vary, but generally the above descriptions are standard no matter where the race takes place.
How the Greyhound Race Works
The beginning of every greyhound race is the release of the mechanical lure; once the crates or "traps" are opened, the greyhounds are trained to chase the lure and are tracked until they cross the finish line. The first dog to cross it is the overall winner. Certain bets also depend on which dogs comes in second, third, fourth, etc.
Because each greyhound course is a little different, each track will have slight variations to dimensions and arrangements for the races. No specific dimensions are required by the governing bodies of greyhound racing, but an average of known greyhound tracks gives dimensions as follows:
The track is usually about 26 or 27 feet wide. There are three standard track lengths: 900 feet, 1066 feet, 1560 feet, and the largest of all at about 1700 feet.
Industry Controversy
There's a bit of controversy surrounding the greyhound industry. On one side, we have animal rights groups who claim that greyhound racing fosters an inhumane environment for dogs. On the other side, we have industry supporters who claim that greyhounds are well-trained, well-cared for and taken care of after they retire.
Groups such as the ASPCA and the Humane Society claim that the competitive greyhound racing industry incentivizes mass breeding of greyhounds for the sole purpose of getting just one winner. The remainders are given away, killed or sold.
These groups also claim that greyhounds are stuffed into crowded kennels all day, forced to wear their muzzles and are generally only given the minimum amount of treatment necessary to produce winning runners.
Pro-greyhound groups such as the Greyhound Racing Association of America (GRA) claim that greyhound breeding has been significantly reduced and that they have become much more successful at finding homes for dogs that can't race well enough to satisfy owners.
And as far as the treatment of animals, pro-greyhound groups constantly remind us that you can't just beat a dog and stuff it in a kennel all day and expect it to even learn how to run around a track. These groups explain that dogs must be trained, exercised, played-with and coaxed just like all other well-trained animals. They say that abuse is overemphasized by radical animal rights groups.
In any case, it seems time for reform is growing short. In the November 2018 mid-term elections, Florida voters approved a referendum to ban all greyhound racing in the state. The passage of that measure will result in more than half of America's total greyhound race tracks closing on January 1st, 2021.