OffTrackBetting.com is a licensed US horse racing betting website that is open to most US states where horse and greyhound wagering are legal. What OffTrackBetting.com offers is a simple and straightforward racing betting platform with a killer rebate program. Through Off Track Betting, customers can wager on:
Thoroughbred horse racing
Quarter horse racing
Greyhound racing
OffTrackBetting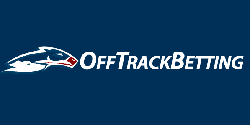 OffTrackBetting
OffTrackBetting.com is a licensed betting site that accepts wagers on more than 300 horse and greyhound tracks around the world. This site is best for high-volume horse racing bettors who can fully take advantage of the generous rewards system. Offsetting this advantage is a sub-par betting interface.
Pros
Generous cash back program
Licensed and headquartered in the USA
Covers more than 300 tracks around the world
Thoroughbred, quarter, harness and greyhound racing supported
Cons
Below average betting interface
Must wager $1,000+ to take advantage of cash back program
Lien Games Racing, LLC operates the website and holds licenses from both the North Dakota Racing Commission (see license) and the Montana Board of Horse Racing (see license).
Lien Games Racing, LLC is not exactly a household name, but it is a legitimate horse racing services provider based out of Fargo, North Dakota that has processed hundreds of millions of dollars' worth of wagers through its online and in-person operations. Lien Games was also the parent company of BetAmerica.com, another horse racing site that was sold off to Churchill Downs Inc in 2017.
Where Off Track Betting differs from other betting sites is in its business model, which is essentially to appeal to serious racing bettors by offering a generous cash back rewards program. Competing sites such as BetAmerica and TwinSpires offer more wagering tools and content while OffTrackBetting keeps it simple but offers more value in the form of racing rebates.
OffTrackBetting.com Deposit Bonus
OffTrackBetting.com offers a simple and easy-to-understand deposit bonus that offers all new customers $100 in extra funds after signing up and placing a total of $300 in wagers.
To claim this bonus, just sign up for an account and start betting on horses at your own pace. Once you've reached $300 worth of wagering activity, send an e-mail to OTB customer support and they'll drop an extra $100 in your account.
What's nice about this bonus is that it comes without any sneaky terms and conditions. All you need to do is place a total of $300 worth of wagers within your first month as a customer and you'll get an extra $100. After you claim the bonus, you will then need to place an additional $100 worth of wagers before withdrawing the bonus money.
What's not so nice is the bonus is not offered to customers from California, Kentucky, Maryland, Minnesota, Montana, New York, Oregon and "certain Florida zip codes."
Claim your welcome bonus today at:
OTB Cash Rewards Program
Now, let's take a look at OTB's biggest selling point and how it compares to the competition. The OffTrackBetting cash rewards program offers daily cash back rewards for wagers placed on most thoroughbred, harness and greyhound races.
Depending on how much you wager each month and on the types of wagers you place, you can earn as much as 6% of your daily wagering activity paid back to you in cash. Better yet, there are no loyalty points or other complications in calculating your cash back rate. Your cash back rewards are calculated by simply tracking how much you've wagered over the past day and giving you back a percentage the next day.
The downside is that cash back rewards only kick in after you've placed $1,000 worth of wagers in a single month. This program is not going to help casual players who bet infrequently – you need to do a pretty serious amount of betting at OTB to take advantage of the program. Casual players looking for rewards and promotions will probably do better at a competing betting site.
On the other hand, this program is more generous than what is offered by other sites for high volume bettors. High volume players can get up to 6% back while extra­ high volume players can actually contact OTB to receive custom rates.
The chart below shows your return based on your total wagering activity for the current month and the types of wagers placed.
Monthly Wagering Total
W/P/S Bets
EX/QU/DD Bets
TRI/SUP/PEN/PK Bets
$1,000 – $2,500
1%
1.5%
2%
$2,501 – $5,000
1.5%
2%
2.5%
$5,001 – $7,500
1.75%
3.5%
5%
$7,501 – $10,000
2%
4%
6%
$10,001 or more
Custom VIP rates
OffTrackBetting Interface Review
While OffTrackBetting has an excellent cash back program, that is paid for at the expense of the betting interface. The OTB interface is absolutely bare-bones in terms of looks and special features – it simply gets the job done with almost no window dressing whatsoever as you can see in the screenshots below.
On a more positive note, the interface is easy to use and navigate. The top of the screen shows a short list of tracks with races that are minutes from starting so you can jump straight to the action. You can also set a list of your favorite tracks for easy viewing later.
You can visit the betting pages for specific pages through a simple dropdown menu located in the upper-left hand corner of the interface. Opening that menu will drop down a list of all available tracks organized first by type of racing (thoroughbred, harness, etc.) and then alphabetically by track name.
Selecting any particular track will bring up a program listing all races scheduled for the day along with a list of wagers you can place on those races. You'll also find live racing video embedded in the interface allowing you to watch all races in real time.
Off Track Betting also provides standard handicapping tools such as past results, entry information, probables and more. Selecting the "store" link located above the betting pad will take you to the handicapper's store where you can buy past performances and Winner's Circle selections from experienced handicappers.
Although the interface isn't the greatest, all the most important tools are available. OffTrackBetting.com provides key information and is fairly intuitive – it's just not quite as sleek or as in-depth as the interfaces at other major online racebooks.
One last thing worth noting is that OffTrackBetting has agreements in place with all 300+ racetracks it covers. Wagers placed online through OTB are comingled with wagers taken at each track, so you are always paid at true track odds.
The types of wagers accepted online at OTB also matches those offered by each track. This includes standard win/place/show bets, exotics, and multi-race bets such as daily doubles.
OffTrackBetting.com Screenshots
Deposit Methods and Withdrawals
Once you have an account, you can use any of the following deposit methods to get started with real money.
Visa and MasterCard: Credit and debit cards of both brands are accepted, but note that credit card deposits come with a 4.5% "convenience fee."
Green Dot MoneyPak: If you have physical cash, you can visit a nearby Walgreens, CVS, Rite Aid, and other stores to pay in cash with no forms to fill out. Your account will be credited immediately. OTB charges no fees for using this method and the minimum deposit is $20. The maximum deposit is $500 per transaction, $1,500 per day, $3,500 per week and $5,000 per month.
ACH Bank Transfer: You can send money from your bank account directly to your OTB account via ACH transfer with no middleman. OTB charges no fees for using this method. This method can also be used for withdrawals.
PayNearMe: PayNearMe is similar to the Green Dot MoneyPak in that it can be used to fund your account with cash. Choosing this method will create a payslip that you can either print at home or send to your phone. Take the payslip to a nearby 7-Eleven, Family Dollar, or CVS and then pay the cashier with cash. OTB charges a $4.99 processing fee for this method.
Cash @ Bank of America or Wells Fargo: Contact OTB for instructions to fund your account with cash at your nearest Bank of America or Wells Fargo branch. Note that you do not need to have an account with either bank and there are no deposit limits beyond what the bank is willing to take.
Check: You can write a personal check or have your bank draw up a cashier's check or money order and then mail it to the OTB Business Office. Your account will be credited after OTB receives the check and the funds are posted.
Bank Wire: Log in to your OTB betting account and choose this deposit method for the information you need to visit your bank and initiate a wire transfer. There are no deposit limits using this method, but your bank will most likely charge a fee in the range of $20.
Final Thoughts
OffTrackBetting.com has its strong and weak points, but the most important thing to know is that this is a safe, legal and licensed betting site. OTB is based in the United States and is run by a large, financially-stable company. The interface could use some work, but the rebate program is hard to beat if you're a high-volume horse racing bettor.