A sports fan from Mississippi has hit one of the biggest sports betting payouts to date after nailing a 20-leg parlay for more than $104,000 in winnings. The lucky bettor placed a $25 parlay covering 20 different college and pro basketball games earlier this month and got every single prediction correct to win the payout of a lifetime.
ESPN reports the parlay was placed at Riverwalk Casino in Vicksburg on March 8th and included a variety of point spreads, totals and moneylines all involving college or NBA basketball games. According to ESPN, the unnamed customer backed three underdogs, 14 favorites and chose the over on three totals.
BetAmerica Vice President Alan Stremel told ESPN every leg came through to turn the $25 wager into a payout worth exactly $104,412.44. That makes this the biggest payout since BetAmerica Sportsbook opened at Riverwalk Casino last year.
How Parlay Wagers Work
For anyone unfamiliar with parlays, the reason this bettor was able to score such a large win was because that's exactly what these bets are designed to do. Parlays essentially allow a bettor to wrap multiple bets into one big wager for larger payout odds.
For instance, a simple two-leg parlay might consist of picking the winners of two different NBA games or even the winners of an NBA game and an MLB game. Today's online sportsbooks allow customers to build parlays from scratch by simply adding two different wagers to the betting slip and combining them into a parlay.
For example, you can see below that I've combined a bet on the Florida Gators in a college basketball game with a bet on the LA Dodgers in an MLB game. Individually, each wager would have returned just -110 or even money by itself, but by combining them I was able to get +281.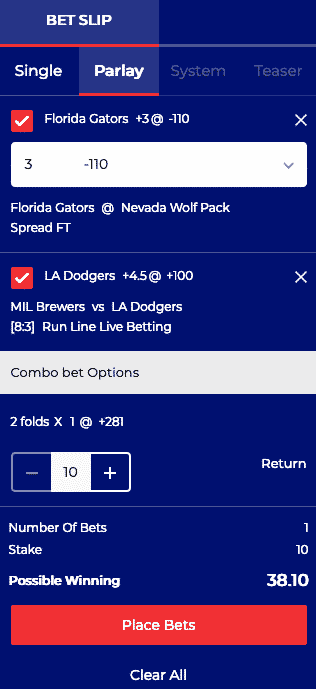 One thing to keep in mind is that although parlay payout odds are essentially the same as betting on each game individually and then rolling your winnings over to the next bet, parlays allow you to accomplish the same thing even if some of those games will all be taking place at the same time.
The big catch with parlays is that every single leg has to win for your wager to win. If just a single game goes against you, the entire parlay is lost. Thus, the more legs you add to a parlay, the risk of losing increases along with your payout potential. This is why our unnamed sports bettor from Mississippi has made the news – hitting a 20-leg parlay is almost unheard of.
Expensive Payout for BetAmerica, But Great Publicity
BetAmerica was not shy to share the details behind the massive win. "We know players are excited about it, and the market has been interested in in parlays," Stremel told ESPN. "People like the potential payouts when putting it all together."
Mississippi legalized sports betting at casinos last June and BetAmerica was quick to capitalize by partnering with Riverwalk to open a retail sportsbook the following month. BetAmerica also operates the sportsbook at Harlow's Casino in Greenville.
Moving beyond Mississippi, BetAmerica also has a partnership in place with Golden Nugget Atlantic City to offer mobile betting in New Jersey. BetAmerica NJ launched in February and now offers a full menu of sports betting and casino games to NJ residents.
Pennsylvania is also on the radar with BetAmerica parent company Churchill Downs completing its acquisition of Presque Isle Downs earlier this year. In a statement released at the time, Churchill Downs CEO Bill Carstanjen confirmed the company's intention to "participate in the sports betting and online gaming market through the state."
In addition to all of that, BetAmerica already operates as an established racing betting site across much of the US. Between the company's known brand name and experience with online wagering, BetAmerica is in a nice position to take advantage of the new legal landscape for sports betting.
The big parlay win may have been an expensive payout for BetAmerica in Mississippi, but it does make for great publicity as the company seeks to further establish its name in the US market as a whole. If a sportsbook is going to have to pay $104,000 to a customer, there are worse times it could happen than just as March Madness kicks off prime college basketball betting season.