Caesars Entertainment announced this morning it has reached an "unprecedented" 15-year partnership with the NFL team that will be known as the Las Vegas Raiders starting in 2020.
A Caesars Entertainment press release explained that this deal will make Caesars "the first founding partner" of the Raiders' future stadium in Las Vegas. Financial details behind the deal have not been released, but the Caesars press release does provide a preview of what this sponsorship deal will look like from the outside.
For starters, Caesars is set to establish a "commanding presence" at the Las Vegas Raiders stadium. Caesars Entertainment will sponsor the stadium entrance and drop off zone and feature prominently on digital, radio and print assets. Caesars also alluded to "player and cheerleader appearances," but did not expound on what exactly that entails.
Caesars also says it will reward its casino customers and Total Rewards members with special Raiders-themed benefits such as: sending customers to a Caesars-branded owners suit, giving away VIP dinners on the field, access to training events, stadium tours and tickets to home games.
Caesars Entertainment included in its press release a preview of the future owner's suite: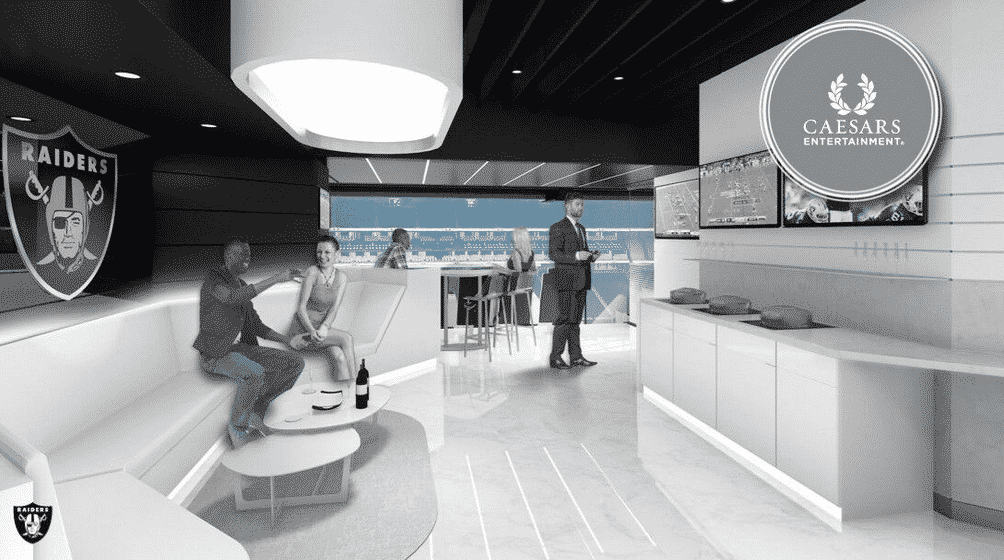 The company also released a video this morning announcing the partnership agreement:
In a statement, Caesars Chief Marketing Officer Chris Holdren said:
"Sports have long been a core part of the Caesars experience. With this deep partnership, Caesars will become an essential part of the game time ritual for Raiders fans everywhere. From activations to exclusive experiences, fans of the silver and black will see Caesars as their home on game day."
The new Las Vegas Raiders stadium will comfortably fit 65,000 fans and is set to open for the 2020 NFL season after the Oakland Raiders complete their move to Las Vegas. The Raiders will become the second major professional sports team to call Las Vegas home after the Las Vegas Golden Knights launched for the 2017-18 NHL season.
This is the second NFL team that Caesars Entertainment has linked up with in recent weeks. Just last month, Caesars-owned Horseshoe Casino Baltimore signed a similar deal with the Baltimore Ravens.
In that deal, Caesars Entertainment was given rights to display Ravens imagery throughout the Horseshoe in Baltimore and will convert the Horseshoe's three-level bar into a Ravens-themed bar.
In total, four NFL teams have now signed partnerships with major gambling brands:
Today's deal is just the latest in a series of moves made by Caesars to capitalize on the newly-regulated sports betting market in the United States. Back in July, Caesars stated its intent to make a major push on sports betting.
That announcement was later followed with the launch of sports betting at Bally's and Harrah's in Atlantic City, the launch of the Caesars NJ app and the commencement of sports betting in Mississippi.
MGM Resorts International has also been busy on the sports betting marketing front. In a conference call on Tuesday, MGM said it in "a vast number of discussions" with sports teams across the country. That's in addition to deals MGM has made with the Jets and to become the official gambling partner of the NHL and NBA.