Betgenius VP: The US Sports Bettor Is Ready For Sophisticated Products
Following the repeal of PASPA, the US sports betting industry has put the pedal to the metal as it tries to catch up to the more established European sports betting markets. One way the US can close the gap is the introduction of more sophisticated products like BetBuilder from Betgenius.
BetBuilder falls into the request-a-bet product category. Request-a-bet products allow customers to create customized parlay bets. They can vary in scope, with different products allowing wagers across a game, a league, and in some cases, a sport or combination of sports.
Betgenius plans to debut its "first-of-their-kind" NFL and NBA version of BetBuilder (image below) at the upcoming G2E conference in Las Vegas.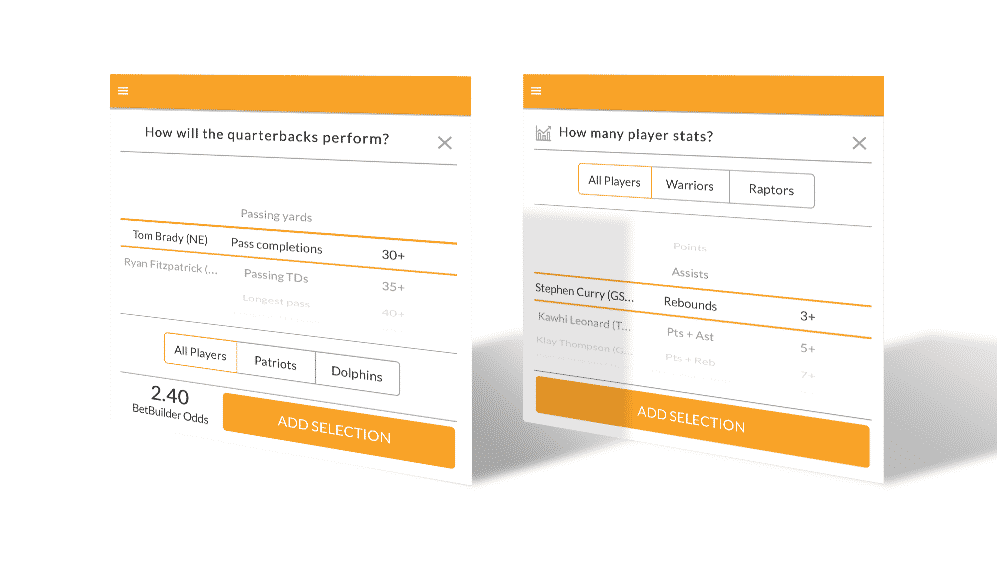 Betting USA spoke with Andrew Patterson, VP of U.S. Business Development at Betgenius, to get his thoughts on how a product like BetBuilder fits into the burgeoning US sports betting landscape.
Request-A-Bet Products Explained
Betting USA: Could you explain what BetBuilder is for readers who may not be familiar with such products?
Andrew Patterson: BetBuilder is a pre-match product that allows bettors to instantly create and bet on their own unique same-game-parlays. These kinds of products give players hundreds of markets to choose from on every game, including game results, team and player markets. All possibilities and outcomes are fully modeled, meaning players can watch their odds grow as they build a 'story' around the game.
Parlays have always been popular, but players have historically been limited to choosing the side and total of a single event or outcomes of various games. The shift the industry is now seeing means players can intensify this engagement on a single game.
Request-A-Bet Is "New" to the US
BUSA: How long have these products been available in Europe and other regions, and how have they been performing?
AP: Our move to launch BetBuilder last year (in partnership with Sportcast) was very much driven by the success of 'request a bet' services in the UK, where players could ask for a combination of selections on a single game.
These first emerged a number of years ago when the likes of Sky Bet and William Hill launched manual features that saw traders individually price selections submitted by customers via Twitter. The concept was perfect, but the process required a lot of manpower, the choice of markets was limited, and many customers' requests weren't bet due to time and pricing constraints.
The demand among sports fans was very clear – puntors wanted the ability to apply their knowledge and create their own, customized bets, often placing small stakes for a potentially high return.
Having devised a way to automate the whole pricing process, we launched a soccer version last year and a lot of European operators – and African for that matter – used it as a key part of their FIFA World Cup product set and marketing campaigns. It proved massively popular and drove significant handle across the board, returning a high hold.
Excitingly for the US market, there are now versions for the NFL and NBA.
Does A Request-A-Bet Customer Differ From The Typical Sports Bettor?
BUSA: What type of bettors do same-game-parlay products appeal to? And how are customers using same-game-parlay products in other markets?
AP: BetBuilder appeals to all sorts of customers – mainly online to date, but there's no reason why this can't be a hugely engaging product for retail players. While it's massively popular with casual bettors, who want to apply their knowledge and show their friends and social media followers they can pick winners that are different and unique, BetBuilder resonates with a host of customer groups.
In Europe, bettors tend to engage with match, team, and player performance markets in strong numbers, with corner-based markets the most popular in a number of jurisdictions across the continent.
Meanwhile, in Africa, the success of BetBuilder has been driven in large part by long-odds bets with jackpot-style returns, involving more selections than we see on average in Europe. Players across the maturing continent have taken to the freedom of building their own bets and ticking off each aspect as they watch the live-action.
When Can US Sports Bettors Expect These Products To Become Available?
BUSA: What's the status of same-game-parlay products in the US?
AP: BetBuilder-style products haven't been offered on the US leagues to date, so we're excited to roll out our first-of-their-kind NFL and NBA versions at G2E in Las Vegas later this month.
There's a common misconception that US bettors are behind the curve. The past 16 months since PASPA was overturned have shown us that players are sophisticated from their engagement in daily fantasy sports, free-to-play competitions, and past offshore betting. We're seeing customers bet away from the result markets and respond to different formats be that player props, unique specials or points-style betting.
BetBuilder has huge potential to tap into that demand, with player stats markets in particular likely to appeal to the US sports fan.
Expectations Are High For BetBuilder
BUSA: Are there any indications of how BetBuilder will perform in the US?
AP: As I've alluded to, current fan behavior in the U.S. means BetBuilder style products will become a staple in the market before long. Non-result and player props are already sewn into the fabric of US sports betting – fans are engaged with related information throughout a game, tallying up each pass, tackle or point. BetBuilder taps into engagement with these markets and Daily Fantasy Sports, strengthening the experience by enabling players to create narratives around their favorite teams and players, including multiple actions on one game.
Combine this with the popularity and profitability of parlays, which sportsbooks clearly recognize given the breadth of parlay-related marketing schemes already out there, and the opportunity is huge.
Our recent conversations with US licensees have been great, and I don't think it will be long until BetBuilder becomes part of the pre-match betting offering in all regulated states.