Penn National Jumps Onboard The Barstool Sports Pirate Ship
It's official, Penn National is acquiring Barstool Sports.
The deal, first reported by Vox, brings together one of the largest casino operators in the US and a rapidly growing multimedia company with a fanbase tailormade for sports betting.
Penn National stock soared after news of the deal, with at least one analyst, Chad Beynon of Macquarie, predicting the deal could boost Penn National's share price by $5.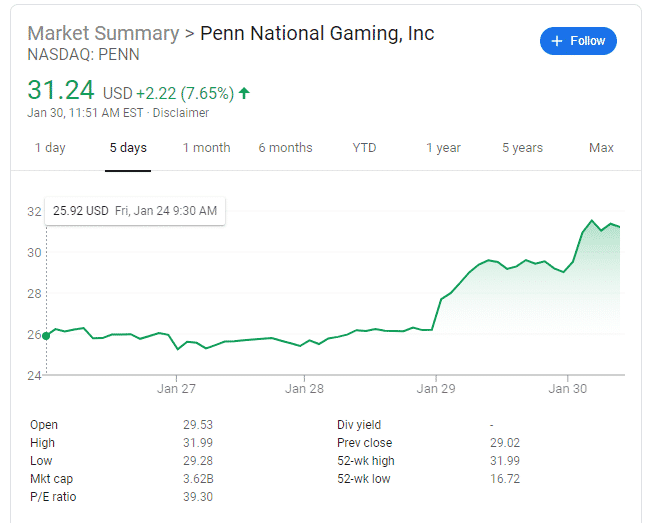 And according to the Fantini's Gaming Report, Felicia Hendrix of Barclays summed up the deal thusly, "Penn National acquired a sticky and loyal Barstool audience at a low cost." And Thomas Allen of Morgan Stanley called the deal, "the next step in Penn's goal of being best positioned for the US sports betting opportunity."
Inside the Penn National-Barstool Sports Deal
Penn National is paying $163 million ($135 million in cash and $28 million in stock) for a 36% stake in Barstool Sports, which is now valued at $450 million.
Penn National will increase its ownership stake to 50% in three years for an additional $62 million, with options in place to increase its ownership up to 100%.
The Chernin Group, which bought a majority stake in Barstool in 2016 for $10 million and increased its ownership to 60% in 2018 with another $15 million investment, will maintain a 36% stake for the time being.
Barstool founder Dave Portnoy and other key employees round out the ownership with a combined 28% stake.
For those of you following along at home, Barstool Sports valuation ballooned from $20 million in 2016 to $100 million in 2018, to $450 million in 2020.
As Portnoy noted in his "Emergency Press Conference," announcing the Penn National deal, thanks sports betting!
What Is Penn National Getting with Barstool?
In a presentation, Penn National summed up the structural details of the deal in two bullet points:
BSS to exclusively promote Penn's interactive products and land-based casinos for up to 40 years without any additional consideration
Penn secures exclusive right to use the Barstool brand for its retail sports book, online sports betting and iCasino products, as well as the right to operate Barstool branded sports bars or restaurants
Penn went on to list the reasoning behind the deal:
Penn will utilize Barstool's nationally recognized brand for retail and online sports betting and iCasino products
Barstool key talent will be highly incentivized to grow Penn's business, which will significantly reduce Penn's customer acquisition costs
Barstool provides Penn with access to complementary audience of 66M monthly uniques with a strong affinity for sports and gaming
Barstool will leverage its key talent, live events and tailored content to promote Penn's land-based casinos
Penn will create a bespoke omni-channel sports betting and casino ecosystem for retail and digital customers across the U.S.
Penn National is getting a multimedia company with an incredible (and still growing) reach that has a core audience that overlaps with sports betting. And with 66 million monthly unique visitors, the Barstool database could be the most valuable database to date – yes, even more valuable than FanDuel or DraftKings.
Penn is also acquiring a very well-known flagship brand and a growing suite of sub-brands with a rabid following. That type of brand loyalty is rare in the gambling world, and it will be interesting to see if Barstool customers end up being loyal-to-the-brand sports bettors.
If they do, the numbers could be staggering. According to internal data in the Penn National presentation:
62% of "Stoolies" bet on sports
44% of those gamblers bet at least 1x/week
41% of those gamblers say their average bet is >$51
The Pirate Ship That Is Barstool
Of course, Penn is also getting Barstool's controversies. Past, present, and future.
Unless you've been living under a rock for the past decade, you're likely aware of Barstool Sports' reputation as a polarizing company.
The majority of Barstool content is funny, entertaining, informative, or all of the above. But like an edgy comic, Barstool's content can sometimes fall flat. A fair bit of its content is sophomoric and not for everyone, and some of it is downright cringeworthy. And with a 13-year-online track record to pore over, the company has left a trail of such content for detractors to find and highlight.
But that's also part of the appeal. A Barstool mantra is, "By the common man, for the common man." It's human; it's not perfect. Their shows have technical difficulties. Their personalities don't always say the right thing. And the mentality is often, "we're creative, so to get the good you have to deal with a little of the bad."
And because of the bad, Barstool is often dismissed as nothing more than an outlet for young, white males to rage against an evolving world. The truth is, that while that describes its core audience, Barstool reaches and appeals to a much larger, more diverse crowd. Anyone who writes the company off as a one-trick-pony does so at their own peril.
Barstool has 69 personalities, 38 podcasts, a SiriusXM channel, a social media audience measured in the millions, and 23 video shows. Its talent is diverse and content runs the gamut from sports to comedy to lifestyle.
Penn National appears to be taking a gamble on Barstool, but so far, every gamble on the company has paid off.