Australian firm PointsBet has achieved a major milestone in securing its place in the quickly-growing US sports betting market. And, rather than bringing just another sportsbook to the US, PointsBet will be unveiling a product unlike any other currently available in the United States.
In a press release, PointsBet announced that it has reached "a long-term agreement" with Meadowlands Racetrack in New Jersey to offer online and mobile betting. The PointsBet team is aiming for a 4th quarter 2018 launch in New Jersey.
PointsBet also announced an agreement with Tioga Downs in New York to offer online betting, pending favorable legislation.
Meadowlands and Tioga Downs chairman Jeff Gural said this in the press release:
"We were impressed by the PointsBet team from our first meeting. They have a creative approach, with their highly differentiated Points Betting product and aggressive go to market plan. I believe they are the ideal complement to our other partners and am confident they will quickly become a meaningful player in the US market."
Here's what PointsBet CEO Sam Swanell said:
"We are very excited to partner with Jeff Gural and his partners for online sports betting. Mr. Gural can see that PointsBet will bring the same energy and innovation that has allowed us to rapidly grow the PointsBet sportsbook business in Australia.
"Via our advanced back-end and front-end technology, we are confident PointsBet will become the sports betting service of choice for players wanting the most exciting and wide-ranging bet types. PointsBet has significant ambitions for the US market and we can't wait to get started in New Jersey."
The PointsBet Model is Unlike Anything Seen Before in the USA
Yesterday's announcement is particularly interesting because PointsBet proposes bringing a new form of sports betting to the United States. It's called spread betting, not be confused with betting on the point spread.
Sports spread betting is different than traditional sports wagers that pay a fixed amount in one key way: your potential wins and losses are determined by how accurate you are compared to the line set by the sportsbook.
If you bet the over on a points total, your payout grows as the actual score advances further and further beyond the total set by the book. Likewise, your losses grow the further your prediction comes up short if your game misses the total.
For example, let's say you take the over on an NFL game in which the total has been set at 46 points and you bet $10 per point. If the actual total ends up exceeding 46 points, you'll be paid $10 per point over 46. So, if the actual total in this game ends up being 56 points, your payout would be $100 (10 points over the total x $10 per point).
The flip side to this is that losses can also be magnified. That same $10 bet on the same game would result in a $100 loss if the actual total ended up falling 10 points short of the projected total.
This video from PointsBet offers a simple explanation of how it works:
If the possibility of losing more than your original wager sounds a little intimidating, that's to be expected. However, an early version of the PointsBet US-facing website explains users can view win and loss caps before confirming any bet. This is certainly a more intense form of sports betting, but at least you can know ahead of time your maximum risk.
Here's a sample from the PointsBet website: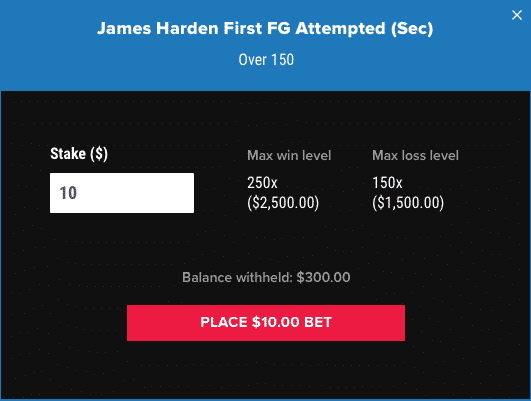 Additionally, you can set stop losses for certain markets. Stop losses will enforce a hard limit on how much you can lose if the bet goes against you. However, stop losses also limit your maximum potential win.
For example, you might be able to set a 10x stop loss on the point total. If you bet $10 per point, the most you can lose with that stop loss would be $100. However, this would also limit your maximum win to 10x or $100.
Between stop losses and the ability to adjust how much is wagered per point, customers will have a fair amount of control over their risk.
Not Limited to Point Totals
Point totals serve as an easy example for explaining the concept, but PointsBet has plans to offer much more than mere point totals.
From the PointsBet website:
"We offer a wide range of US Sport betting markets that are exclusive to Pointsbet. We specialise in NBA, NFL and MLB betting, offering up to 500 markets per game, including hundreds of betting options and propositions not offered anywhere else in the world."
Other types of bets you might be able to make would include things such as:
How many points a certain player will score
How many seconds before the first field goal is made in an NBA game
How many rushing yards an NFL running back will have
How many passing yards a quarterback will have
How many strikeouts a pitcher will achieve
Even more examples include:
Tom Brady's completion percentage
Minutes/seconds before the first touchdown or scoring play in a game
Total sacks recorded by one team
An NBA team's field goal percentage for the game
A pitcher's total number of earned runs allowed
You can extrapolate from there to imagine the many types of markets that might be available at PointsBet once it goes live in New Jersey and New York.
What Will New Jersey Regulators Think?
Before PointsBet can go live in New Jersey (and New York if legislation permits), they'll need to receive approval from the Division of Gaming Enforcement. The potential for users to lose more than their original wager is likely to cause regulators to sit up and take notice as this is something NJ regulators haven't yet dealt with.
New Jersey gaming regulators are concerned with promoting responsible gambling, so it's likely they'll give this business model an extra-close look before giving PointsBet the go-ahead. PointsBet's practice of clearly showing maximum wins and losses prior to accepting wagers as well as giving users the ability to set stop losses will work in its favor as the company seeks approval.
Current NJ regulations (see here) call on the NJ Casino Control Commission and Division of Gaming Enforcement to issue regulations as necessary to fulfill the obligations of New Jersey gaming laws – which includes issuing regulations related to the types of wagers that may be accepted by operators.
How NJ regulators react to PointsBet will serve as a useful indicator for the future of sports betting in New Jersey. If PointsBet is allowed to take its product to market, New Jersey could become a hotbed of sports betting innovation. If PointsBet is blocked by regulators, we'll be looking at a fairly static market in terms of innovation for the foreseeable future.