BetAmerica Sportsbook launched in New Jersey in February of 2019 to expand beyond the company's well-established online horse racing betting business. While BetAmerica has been in operation since 2008 as an online racebook open to customers across the country, its sports betting business is still relatively new.
That being said, BetAmerica is well-versed in all aspects of running an online betting site. The company's previous experience in horse racing betting and more recent experience managing physical sportsbooks in Mississippi have clearly been put to use as the new BetAmerica Sportsbook is a polished and complete product.
From day one, BetAmerica Sportsbook launched with coverage of a wide range of sports and numerous promotions.
BetAmerica Sportsbook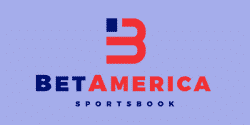 BetAmerica Sportsbook
BetAmerica Sportsbook launched in February of 2019 with a full menu of sports betting and online casino options. Operated by Churchill Downs and backed by a longstanding reputation, BetAmerica.com is confirmed as a safe place to bet on sports online.
Pros
Thousands of betting markets every day
Operated by a trusted brand
Large welcome bonus
In-play betting offered
Cons
Only available in New Jersey
BetAmerica Sportsbook Info
The Basics
BetAmerica Sportsbook Available in: New Jersey, Pennsylvania and other states in the future; brick-and-mortar locations operate in Mississippi
Operated by: Churchill Downs and SBTech
Land-Based Partner: Golden Nugget Casino Atlantic City
Platforms: Desktop website and mobile apps for iOS/Android
New Customer Bonus: 100% up to $500
BetAmerica Sportsbook Bonus
100% up to $500
BetAmerica Sportsbook welcomes all new customers with a 100% deposit bonus worth up to $500. To claim this bonus, visit BetAmerica.com and sign up for an account. You do not need a special bonus code to claim your bonus; simply signing up and making a deposit is enough to get this bonus.
After you make your first deposit, BetAmerica will match your deposit dollar for dollar in bonus funds. This means a $25 deposit will get you $25 in bonus funds while a $400 deposit will get you $400 in bonus funds. You can get up to $500 extra with this promotion.
Important terms and conditions:
This bonus is offered automatically to all new customers who sign up for an account and make a deposit. Your bonus funds will be made available for wagering immediately, but you will be required to place a total sum of wagers equal to 6 times the bonus plus deposit amount before making a withdrawal.
For example, if you deposit $50 and get a $50 bonus, you would need to place wagers totaling $600 before initiating a withdrawal. Additionally, your bonus funds may be used to place straight bets, moneylines, spread bets and totals as long as the odds on those wagers are -150 or greater.
Claim Your Bonus Today at:
Other Sports Betting Promotions
The BetAmerica first deposit bonus is just the first promotion you'll be able to take advantage of as a customer. Other promotions that have launched include:
Bet $5 Get $20: Log in to BetAmerica and visit the promotions tab to opt-in to this promotion. Then, place at least $5 worth of wagers to get an extra $20 added to your account. After receiving your bonus, place at least $20 worth of wagers to free up your money for withdrawal.
Free $20 Mobile Bet: BetAmerica is keen on promoting its mobile betting interface and will give you $20 in free bets to try it out. All you need to do is opt-in and then place your first wager of at least $20 to get an extra $20 added to your account. Place at least $20 worth of wagers to unlock withdrawals after receiving your bonus.
Free $20 Live Bet: This offer works just like the free mobile bet except for in-play betting. Opt in to this promotion and then place your first in-play bet of at least $20 to get an extra $20 in bonus funds. Wagering requirements for this bonus are also $20.
Sports Covered and Types of Bets Offered
BetAmerica covers a full range of sports from around the world to include all the mainstay American sports (as you would expect given the name "BetAmerica") as well as major international sports.
The full menu covers:
| | | | |
| --- | --- | --- | --- |
| Football | Basketball | Soccer | Tennis |
| Hockey | Golf | MMA | Motor Racing |
| Boxing | Baseball | Aussie Rules | Cricket |
| Cycling | Rugby Union | | |
One other point worth noting is that individual markets at BetAmerica include a large lineup of individual wagers. For example, a quick look at the last Super Bowl showed more than 200 wagers on offer for that one game alone. This large selection of wagers is not limited to major events, either. Even smaller matchups in other sports are likely to have upwards of 150 or more wagers ready for action.
The types of wagers offered for individual games covers a large range of possibilities. You'll find your standard moneylines, point spreads and totals along with many different props, player totals and more.
For example, an NFL game at BetAmerica.com might offer alternative wagers such as the first player to score a touchdown, total rushing yard for a specific player, longest run for a running back, the first scoring play and much more.
BetAmerica Interface
The sports betting interface at BetAmerica strikes a fair compromise between maintaining ease-of-use while still offering plenty of features within reach from just about every screen.
Logging in to the sportsbook brings users to a standard starting page where popular bets are offered prominently in the middle of the screen while a navigation menu to the left can be used to find specific sports, statistics, live results and customer support.
Tapping on any individual matchup brings users to a page dedicated specifically to that event listing all wagers open for that one game. One thing BetAmerica has done well from the beginning is to provide many betting options for every single game. It is not uncommon to find 150 or more options for a single game.
Individual game pages display all wagers by default as a long list on that page, but filtering options provided across the top of the page assist in navigation. For example, you can select "halves" to see all wagers on halftime markets, "players" to see wagers on individual player performances and "specials" to see all prop bets.
Overall, BetAmerica Sportsbook is easy to navigate with intuitive menu options and a layout that just makes sense. A lot of information and options are thrown at users from the beginning, but BetAmerica has done a good job providing a logical layout so you can find what you need.
Sports Betting Features
A variety of additional features make BetAmerica stand out as one of the more complete sportsbooks to hit the US market to date. Early cashouts, custom parlays and a statistical database are all integrated into the betting interface to give serious handicappers plenty of options when it comes to finding value and managing risk.
Early Cashout
Early cashout is the option to close your pre-game or in-play bets early (before the wager has been settled) at odds determined by how your selection is doing at the moment.
For example, if you have a bet on the Patriots to beat the Rams and the Patriots get off to a quick start, you could choose to close your bet early and book a profit right now. You wouldn't make as much as letting the bet ride to the end of the game, but the advantage is you can lock in your profit immediately rather than risk something going wrong later.
Early cashouts can also be used to limit losses when a wager turns against you. Imagine having a bet on the Patriots to win, but this time they've lost the lead and are now down by a touchdown at the half. If you're starting to sweat this one, you can initiate an early cashout to close your bet early and cut your losses. This locks in a loss but saves you the potential of losing a full bet in case the Patriots do go on to lose the game.
Custom Parlays
BetAmerica Sportsbook supports an endless variety of custom parlay wagers. All you have to do is add two or more wagers to your betting slip, hit the "multi-bet" option and your wagers will be wrapped into a single parlay with enhanced payout odds. The disadvantage is that every selection in your parlay must win or else the entire bet is lost; the advantage is you can score sizable wins without risking a whole lot up front.
Teasers
Teasers are also offered and work similarly to parlays in that they combine two or more wagers. The difference with teasers is the point spread is adjusted by a set number of points in your advantage to make the bet easier to win. Your payout odds are lower with a teaser than with a parlay, but you'll find these bets easier to hit.
Buying and Selling Points
BetAmerica supports buying and selling points for certain pre-game markets. If you visit the "buy/sell points" tab from within any game's page, you'll see a list of alternative spreads that adjust the spread and payout odds in either direction.
For example, if the Patriots are listed at +3.5 -210 as the standard option, you can visit the buy/sell tab to see other spread options to increase or decrease the spread. Moving the Patriots down to +1 favorites would increase the odds in your favor to -150 – thus making the wager more difficult to win but offering a better potential payout.
Statistics
For the more methodical handicappers out there, BetAmerica maintains a free statistical interface that can be accessed from any game's page or by selecting the "statistics" menu from the left menu.
The statistics database can be used to look at leagues as a whole, the recent results of individual teams or to compare two teams in a heads-up fashion to see how those two teams have performed specifically against one another.
The stats offered by BetAmerica could be found for free elsewhere as well, but it's handy having quick access to those stats from within the betting interface.
BetAmerica Mobile App
BetAmerica Sportsbook mobile apps can be downloaded for Android and iOS devices for betting on the go. Sports fans can download and view the app from any state, but real money wagers are restricted to customers located in states in which BetAmerica is licensed for sports betting.
The app itself is a quick download and runs smoothly on mobile devices. We tested the iPhone app and had no issues downloading, logging in or navigating through the various betting options.
Simple navigation menus designed specifically for mobile users make it easy to get around between the various sports and betting options. Every capability offered to desktop users is also available through the mobile app.
Whenever a selection is made, an icon representing your betting slip will appear near the bottom of the app. Tap that icon to view your current wagers, adjust your bet sizes and to create parlays, manage teasers and so on.
In-play betting is fully supported through BetAmerica mobile and includes a plethora of live stats information. In fact, there are three different views one can use while betting on games in-play. One shows simple live scoring updates, a second view provides a digital representation of the field showing what's happening in real time and a third shows a detailed list of up-to-date stats making it easy to see the flow of the game.
Mobile Screenshots
In-Play Betting
BetAmerica.com offers an extensive in-play betting menu that covers multiple live events every day of the week. Visit the "live betting" at the top of any page to see a list of games that are in progress, and then select any individual game to find all markets available for that game right now.
The in-play betting options at BetAmerica are definitely above average compared to other betting sites that have launched in the US to date. In fact, this may be one of the most comprehensive live betting sites open in the US right now.
A standard in-play event provides a range of normal markets including moneylines, point spreads and totals along with winning margin wagers, team totals and more. Additionally, BetAmerica offers "fast markets" for some games that cover even shorter-term propositions that are resolved in five minutes or less.
The in-play betting interface also deserves a mention with live stats and a graphic representation of what's happening on the field or court at any given time. For instance, an in-play basketball event at BetAmerica will display a graphic of the court showing current possession, who's attacking, if someone is attempting free throws and more.
Meanwhile, an area below the graphic provides an up-to-date list of stats such as free throw scoring percentage this game, three-pointer percentage, max points in a row, biggest lead of the game, ball possession time and much more.
In-Play Screenshots
Deposit Methods
BetAmerica Sportsbook accepts all the most common deposit methods such as Visa, Mastercard, Discover, electronic banking transfer, cash and e-wallets. Note that credit card, debit card and bank transfers are all made through the PlayPlus deposit option.
PlayPlus: PlayPlus is a prepaid debit card option that can be loaded instantly online while you wait for a physical card in the mail. After choosing Pay+ as your deposit method, you can fund it with a Visa, Mastercard, Discover or your checking account instantly to make deposits online.
PayNearMe: Selecting PayNearMe as your deposit method will prompt BetAmerica to generate a onetime pay slip that you can either send to your mobile phone or print off at home. Take your pay slip to your nearest PayNearMe location, pay the cashier with cash and your account will be credited immediately. Read more here.
Neteller: Neteller is an established online payment system that has been involved with online sports betting for years. You can sign up for a Neteller wallet and then fund that account from home. From there, you can transfer funds out of Neteller to BetAmerica or receive instant payment of winnings to your Neteller account. Read more here.
PayPal: PayPal is similar to Neteller as an e-wallet that is fast, effective and easy to use. Sign up for an account at PayPal and then you can use that to make deposits or receive payouts. As an added bonus, PayPal is a widely-accepted payment method for online retailers of all types. Read more here.
Skrill: Another e-wallet that functions similarly to Neteller and PayPal. Visit Skrill.com to create an account and use that to make deposits or receive payment of your winnings.
BetAmerica States of Operation
BetAmerica offers horse racing betting throughout most of the country today, but its sports betting services are just now ramping up for wider access. Below are overviews of where BetAmerica Sportsbook operates today or where it has firm plans to operate in the future.
BetAmerica New Jersey
Availability: Mobile betting
Land-Based Partner: Golden Nugget Casino
BetAmerica made its grand entrance into sports betting with the launch of mobile betting in New Jersey in early 2019. BetAmerica is partnered with Golden Nugget Casino for online betting but does not operate a retail sportsbook in the state.
BetAmerica Pennsylvania
Availability: Retail sportsbook open and mobile betting coming soon
Land-Based Partner: Presque Isle Downs
Presque Isle Downs is owned by Churchill Downs, which also happens to be the parent company of BetAmerica. A retail sportsbook and 50 betting kiosks at Presque Isle Downs launched in July 2019 with mobile betting planned for a later launch.
Mississippi
Availability: Retail sportsbooks
Land-Based Partners: Harlow's Casino and Riverwalk Casino
Churchill Downs launched two retail sportsbooks in Mississippi within months of the 2018 Supreme Court decision overturning the federal sports betting ban. Both casinos offer a full menu of sports betting, including in-game betting.