It's no secret the horse racing industry has seen better days. Too many tracks around the country have closed while remaining tracks struggle to boost attendance and reinvigorate America's love for the sport of kings. One horse racing site is taking a different approach by appealing to a different demographic: the casual gamer.
Derby Jackpot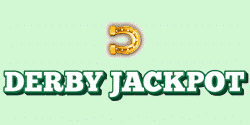 Derby Jackpot
Derby Jackpot is a unique betting site that combines casual gambling with horse racing betting for an experience that everyone can enjoy. If you're not the type to follow horse racing religiously, DerbyJackpot.com is the site for you.
Pros
Licensed and legal in the USA
Perfect for casual horseplayers
Feels very similar to online casino gambling
Cons
Not a site for serious horse wagering
Limited track coverage
Small welcome bonus
Derby Jackpot Info
Betting Site: Derby Jackpot
Website: www.derbyjackpot.com
Established: 2012
Country: United States
Support: E-mail only
Minimum Deposit: $10
Deposit Bonus: $10
Bonus Code: FREE10
Derby Jackpot is a legal betting site that offers a new take on the age-old tradition of horse racing. Unlike other horse racing websites, Derby Jackpot is designed to appeal to casual gamblers rather than experienced handicappers. Where other horse betting sites offer in-depth statistics and a complex assortment of wagers, DerbyJackpot.com looks and functions more like a social game you'd see on Facebook – think Candy Crush except with real money on the line.
Their goal is to introduce new fans by way of a simple and social interface. At Derby Jackpot, you're not expected to sit down and pore over statistics before placing carefully researched wagers. You interact instead with a lighthearted gaming interface complete with brightly-colored icons, slot machine reels, a live chat room and simple wagers.
It feels like traditional gambling but every wager placed at Derby Jackpot is derived from a real horse race. Every bet you place at DerbyJackpot.com is pooled with the wagers accepted at the actual tracks on race day. This is how they keep everything legal. Remember, online horse racing betting is exempt from federal anti-gaming laws.
How Derby Jackpot Works
Derby Jackpot is tied to about 50 real-world racetracks in the USA and Canada. Every few minutes, a new race is added to the lineup and you have a period of time during which you can choose your horses and place your wagers. There are six different types of wagers, with each displayed in a simple format that requires no previous horse betting experience.
Wagers are presented in a way that's easy for the casual gamer to come in and place a bet. At a typical horse betting website, you're given a whole list of racetracks, statistics, horse racing odds and a betting slip that's not friendly to complete newbies. Derby Jackpot opts instead for something similar that looks more like regular gambling. For example, here's what it looks like to place a basic bet on one horse to win the next race: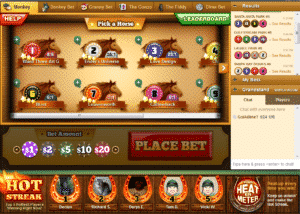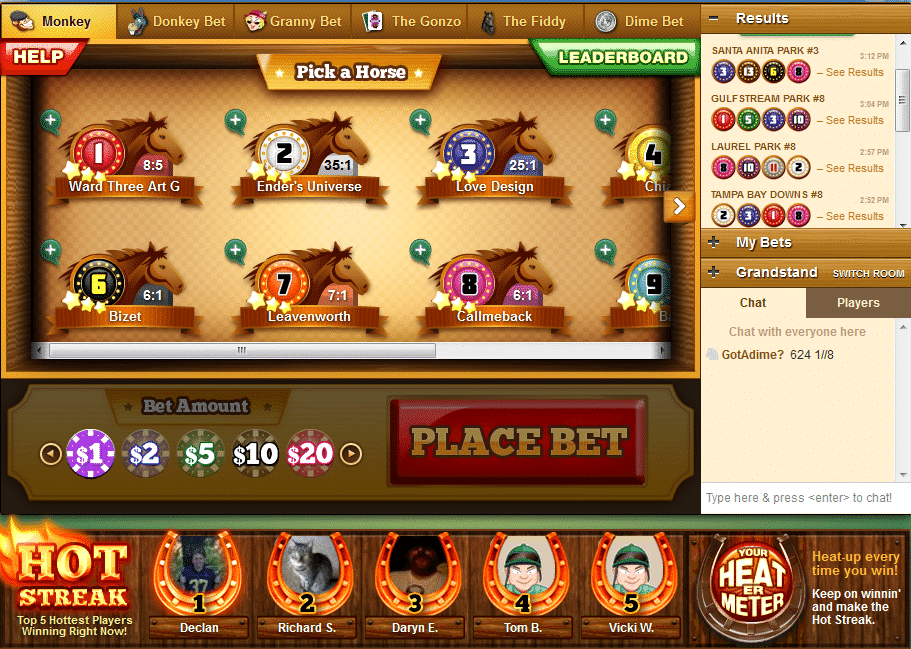 Each horse's name, number, payout odds and icon are all you see here. If you want more information, you can click on the "plus" sign next to any horse and you'll see a little more information about that horse's most recent starts: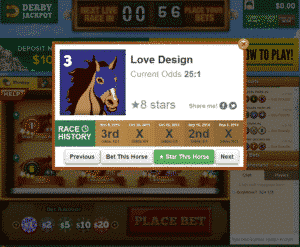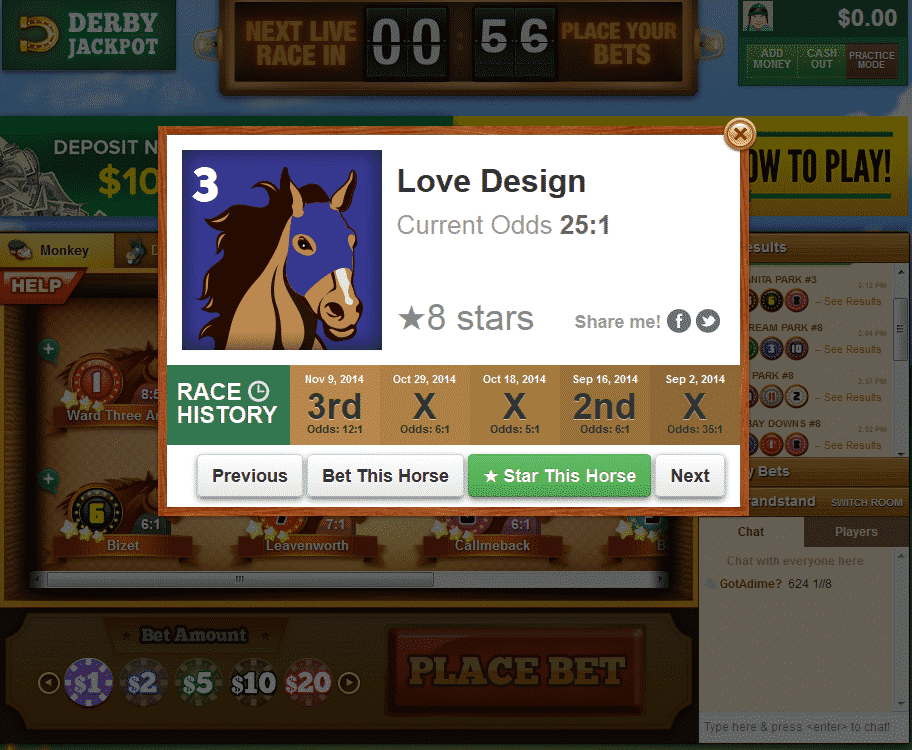 DerbyJackpot.com has a video that explains the concept in simple terms:
Six Types of Bets
There are six types of bets that you can place for any upcoming race. Each of these bets is a legitimate horse wager but it is presented in a fun, lighthearted manner. During peak racing hours, a new race begins every 2-3 minutes. During that time, you can choose your bets and look up stats if you feel so inclined.
When the race begins, the betting interface switches to live video mode. You can watch on your screen as the horses race around the track in real time. You can also chat with other players the whole time thanks to a built-in chat box attached to the side of the betting area.
Monkey Bet: Pick one horse from the options on the screen. If that horse wins, you win a prize at the posted payout odds. For example, a winning wager on a horse listed at 8:1 odds would pay eight times your original wager in prize money. This is also known as a "win bet."
Donkey Bet: Choose one horse from the options on the screen. Your bet wins if that horse takes first or second place. This is known as a "place bet" in traditional horse racing circles.
Granny Bet: This is a basic "show" bet. Pick a horse and you win if that horse finishes in first, second or third place. Granny bets are easier to win but come with lower payouts.
Gonzo Bet: Pick two horses and you win if they finish in first AND second place in any order. Both horses have to finish in the top two spots for you to win. You also have the option to select a third horse as an alternate. This is commonly known as an "exacta box." Derby Jackpot sets up this wager to look like a casino card game. You choose your cards at random and each card is tied to a horse in an upcoming race. If you don't like any pick, you can select a different card at any time.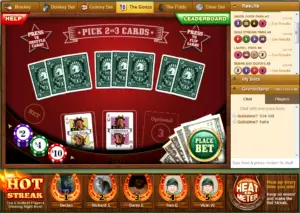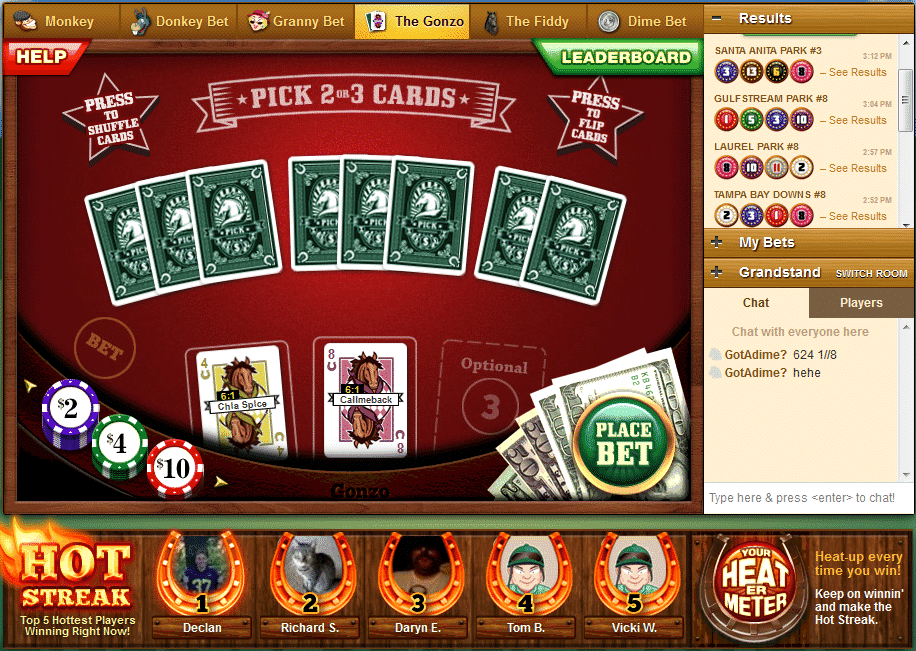 The Fiddy: This is a slot-machine style wager in which each symbol on the slot machine is tied to a particular horse. You win the wager if all three horses come in first, second and third place in that exact order. At a normal horse racing betting site, this would be called a "trifecta." You can click on the "box" option at any time for an additional fee. When you box your wager, your horses can finish in 1st, 2nd and 3rd place in any order.
Dime Bet: This is another slots-style wager. In this one, you choose four horses and win if your horses finish first, second, third and fourth place in that exact order. This is the most difficult to win but offers massive payouts. Wagers of just a dollar or two sometimes return more than $10,000 in winnings. The Dime Bet also gives you the option to box your wager at a cost. Doing so will result in a win when your horses take 1st through 4th place in any order.
Derby Jackpot Bonus Promo Code
All new customers qualify for a free $10 bonus with any first deposit of $10 or more. All you have to do is sign up for an account and make a deposit. You'll get an extra $10 added to your first deposit. Wager the bonus at least one time and you're free to use it to place wagers or withdraw it at any time.
Promo Code: FREE10
>>>Click here to claim your bonus now<<<
Payment Options
Derby Jackpot accepts deposits via credit card, Green Dot MoneyPak and InstaFund. There is no minimum deposit but you'll need to start with at least $10 to get the new player bonus.
Credit Card: Enter your credit card number, choose an amount to deposit and verify your billing address. DerbyJackpot.com will credit your account instantly. This is the quickest and easiest method for getting up and running.
Green Dot MoneyPak: Green Dot MoneyPak is a prepaid voucher that you can purchase at drug stores, grocery stores, certain gas stations and Family Dollar. Visit a location in person to purchase a voucher with cash. You can then return home and redeem that voucher online at DerbyJackpot.com.
InstaFund: InstaFund is an online payment system that sends money directly from your bank account to your online betting account. This method uses the bill pay feature offered by major banks such as Bank of America, Wells Fargo and more.
Accepted and Restricted States
The games hosted at Derby Jackpot are classified as horse racing. Online horse racing is legal in most of the USA, but some states do have restrictions. If you live in any of the following restricted locations, you may not play for real money at DerbyJackpot.com.
DerbyJackpot.com is legal and accepts customers from all of the following locations.
The Last Word
DerbyJackpot.com is a fun betting site. The emphasis here is on having fun and gambling it up. This definitely isn't the go-to site for serious handicappers. You'd want to see some of the other legal options if you're into stats, research and so on. Derby Jackpot is all about the casual gaming experience. The games here look more like slot machines and scratch cards than actual betting slips.
Overall, Derby Jackpot is good at what it does. The experience is fun, it's easy to get started and you have a legitimate chance of winning some serious cash here. This one gets my seal of approval. Check it out if you'd like to try something casual and social.