Monkey Knife Fight is a unique type of sports gaming website that is best described as daily fantasy meets predictions. Contests hosted by Monkey Knife Fight resemble fantasy contests in some ways but are played against the house rather than against other players.
We wouldn't go so far as to call Monkey Knife Fight a form of sports betting, but it is definitely the next best thing for fans who live in states that have yet to legalize online sports betting. In the meantime, just follow along with our Monkey Knife Fight review to learn how it works and everything else you need to know.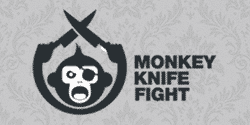 Monkey Knife Fight
Monkey Knife Fight is a unique type of sports gaming website that offers predictions-based contests with questions such as "Will Dak Prescott throw for more than or fewer than 230.5 yards today?" Enter contests, make your picks and get paid for being right.
Pros
Unique form of sports gaming based on props
Simple and fast contests with quick payouts
Get a bonus with your first deposit
Cons
Needs more deposit options
Could stand to increase payout odds
It's tough to pin MKF down into any one category. There are definitely strong fantasy elements in here, such as the Fantasy Challenge contests that have you pick three athletes in an attempt to score a minimum number of fantasy points to win a payout.
There are also predictions contests that look and feel a lot like actual props. A lot of times, you'll find yourself answering questions such as "Will Jerad Eickhoff have more than or fewer than 4.5 pitching strikeouts?" or "Will Stephen Curry have more points than Kawhi Leonard?"
For instance, an Over/Under MLB contest might set a total number of strikeouts for two different pitchers and have you predict whether each will achieve more than or fewer than the total for a payout.
Monkey Knife Fight offers quite a variety of contest types, but the one thing they all have in common is you'll be putting your prediction skills to the test for a shot at a real money payout. We'll go into more detail regarding the various types of MKF contests shortly.
The name of the business should give you an idea of Monkey Knife Fight's approach to sports gaming. There are no actual monkeys with knives to be found, but what you will find is a light-hearted type of gaming site that isn't afraid to poke fun at itself from time to time.
How Monkey Knife Fight Works
To put it simply, Monkey Knife Fight is all about making smart predictions. Each contest type works a bit differently in certain regards, but they all require some thought regarding how real-world athletes will perform in their games.
One other thing all Monkey Knife Fight contests have in common is they always involve at least two different predictions. In order to avoid falling afoul of the law in states without legal sports betting, MKF always combines at least two or more predictions into a single contest.
It's probably easiest to just explain how each type of contest works. As you'll see, none of them are particularly complicated. It always comes down to predicting point totals, stats or how two different players will perform on game day.
There are three main categories of contests offered at MonkeyKnifeFight.com. There are also multiple variations within each category, but all fall into one of the three following general categories.
Sports Leagues Covered
MonkeyKnifeFight.com offers contests on a variety of sports leagues depending on the time of year with a focus on the major US sports. Throughout the year, Monkey Knife Fight hosts games for:
NFL
NBA
NHL
Soccer
Golf
MLB
NASCAR
Lobby and Contest Screenshots
Monkey Knife Fight Bonus
Up to $50 Bonus
Are you sold on the idea of putting your prediction abilities to the test at Monkey Knife Fight? If so, you can give it a try for real money today and claim a deposit bonus at the same time.
Sign up for a new account, make a deposit and Monkey Knife Fight give you up to $50 in bonus cash. The maximum bonus amount is matched to the size of your first deposit.
For example, a $20 deposit will get you $20 extra while a deposit of $50 will get you an extra $50.
Note that the bonus money is offered as site credit only. You can use the bonus funds to buy into real money contests, but you cannot withdraw the bonus money itself.
Use the bonus code BUSA to claim this offer now:
Clearing Your Bonus
All bonus money is added to your pending bonus account immediately after making a deposit. From there, the funds will be released to your real money account at a rate of 4% of total entries paid.
Monkey Knife Fight Mobile
Monkey Knife Fight is compatible with smartphones, tablets and desktops alike. They haven't yet launched a dedicated mobile app, but you can visit MonkeyKnifeFight.com from your mobile device and the website will be resized to fit your screen.
In our experience, the mobile website works just about as well as an actual app. Logging in, making deposits and entering contests is all possible through the web interface. We tested the site with an older iPhone model and had no issues other than the occasional overlapping image, but nothing severe enough to cause any issues.
Mobile Screenshots
Deposit Methods and Withdrawals
MKF accepts deposits via credit and debit card. When you're ready to withdraw, you'll be able to request a check in the mail or have the funds send to your PayPal account.
Minimum deposit: $10
Maximum deposit: $1,000 per day, $5,000 per week and $10,000 per month
Minimum withdrawal: $20
Monkey Knife Fight Accepted States
Monkey Knife Fight accepts customers from most US states. We have a list of accepted states below, but that can change without notice. Your best bet is to simply try to sign up for an account wherever you are – the odds are you'll be accepted.
The minimum age to play is 18.
| | | | |
| --- | --- | --- | --- |
| Alabama | Alaska | Arkansas | California |
| Colorado | Connecticut | Washington DC | Florida |
| Georgia | Illinois | Kansas | Kentucky |
| Massachusetts | Maryland | Michigan | Minnesota |
| Mississippi | Nebraska | New Hampshire | New Jersey |
| New Mexico | New York | North Carolina | North Dakota |
| Oklahoma | Oregon | Rhode Island | South Carolina |
| South Dakota | Texas | Utah | Vermont |
| Virginia | West Virginia | Wisconsin | Wyoming |
Where Monkey Knife Fight Could Improve
Our chief complaint with Monkey Knife Fight is the website doesn't go into a whole lot of detail regarding how the various types of contests works. Hints and tips are scattered around the website, but overall it feels like being thrown into the pool and expected to figure it out on your own.
However, we have to be fair here. The contests hosted at MonkeyKnifeFight.com are not particularly complicated. You don't need to be a rocket scientist to get your bearings here. It just takes a little time to figure out the lobby and navigation. Once you get it, entering contests is a breeze.
MKF could also stand to boost payouts a bit. Correctly predicting two, three or more outcomes in any sport is a tough thing to do with any consistency and the payouts seem a bit shallow in comparison.
As some people have noted on social media, you could just as easily visit a legal sportsbook and place actual parlay wagers with better payouts if you live in a state with legal sports betting. This obviously isn't an option for everyone, but it is worth keeping mind if you do have access to legal betting sites.
Finally, Monkey Knife Fight could use a few more deposit methods. Credit and debit card deposits should work for most players, but additional options would help a lot. Bank transfers, e-wallets such as PayPal and cash deposits via PayNearMe would all be welcome additions.