PointsBet is an online sportsbook that brings a unique approach to sports betting to the United States. What this betting site offers is completely unlike anything we've seen before in the US, so we present this PointsBet review to explain how it works and fill you in on what to expect.
PointsBet now offers mobile betting in the following states, with more to come:
Indiana
Iowa
New Jersey
Illinois
Colorado
Michigan
To be clear, PointsBet also offers regular sports betting in addition to its unique form of spread betting. However, it is the spread betting format in particular that has caught our attention. What makes spread betting unique is that your payouts vary based on how right you are. We'll get into the nuts and bolts below, but the basic idea is that you're betting on points (hence the name) and getting paid more for being more right.
This new form of betting has the added benefit of keeping every game interesting down to the very end. Watching your team run away with the lead, for example, becomes much more exciting when you know you stand to gain money for every additional point by which they increase their lead.
Regular sports betting is also offered for the major sports leagues of the world. PointsBet said before its launch that it will offer more markets than "any other sports bookmaker in the world" for the major US leagues, and so far, the sportsbook seems to be on the right track.
The launch of PointsBet in the United States was highly anticipated due to the company already being active for over a year in Australia. The firm is still licensed for online betting in Australia, but PointsBet USA CEO Johnny Aitken told iGaming Business this back in mid-2018:
"Our focus from day one has always been on the US, with Australia very much a proof of concept for us to get our Points Betting and sportsbook capabilities tuned up to execute at an optimal level when the market here finally opened."
PointsBet further entrenched itself in the US market with the announcement of a major partnership with NBC Sports in August 2020. The deal made PointsBet the official betting partner of NBC Sports while at the same time, NBC Universal acquired a 4.9% stake in PointsBet with the option to increase that to 25%.
Under the terms of the partnership, PointsBet receives marketing access across NBC Sports' entire portfolio of sports broadcasting, news and analysis platforms. This includes regional NBC networks that broadcast 2,200+ events per year, digital platforms, the NBC Sports Predictor app and more.
PointsBet Bonus Code
PointsBet launched in the United States with a two-part welcome bonus consisting of two risk-free bets worth up to $1,000 in total after you place your first two wagers.
Use the bonus code BUSA to claim this offer when signing up for your PointsBet account.
$500 PointsBetting Offer: This bonus is particularly attractive because it allows you to try the unique type of betting offered by PointsBet with a guarantee to refund your first wager with up to $500 in bonus bets if things don't go your way.
All you need to do is place your first PointsBetting wager (see below for an explanation of how these wagers work). If it loses, PointsBet will refund the amount of your loss with up to $500 in bonus bets.
Key terms: The PointsBetting bonus offer does not apply if you use a stop-loss setting in your wager. Some markets enforce a stop-loss and are therefore not eligible, so make sure you find a market that does not come with a stop-loss feature. Additionally, make sure to size your wager accordingly such that the maximum loss is $500 or less in order to take full advantage of this offer.
Also, keep in mind that the refund is issued in the form of bonus bets only. This means you can't deposit your grocery money (something you shouldn't do anyway) and expect to just cash it back out if your first wager is a loser. Bonus bets cannot be withdrawn; they can only be used to place additional wagers.
$500 Fixed Odds Offer: PointsBet offers a similar refund offer for customers placing their first fixed-odds wager (which the standard type of sports bet we've seen in Vegas for decades now). Just place your first regular sports wager and PointsBet will refund it with up to $500 in bonus bets if it loses.
Key terms: Again, remember the refund is issued as bonus bets only, not as withdrawable cash. Also note that no bonus refunds are issued for wagers that win, that are voided or that result in a push (which would give you a refund even without this bonus).
Claim Your Bonus Today at:
Use bonus code: BUSA
Other PointsBet Promotions
PointsBet.com has come out with a long-running list of promotions since its big debut in the USA. You can log in to your account or visit the PointsBet website often to see the latest promotions.
The promotional offerings change regularly, but below are a few examples of promotions the sportsbook has offered in the past. Some of these are bound to be out of date by the time you read this page, but these should serve as an example of the types of promotions PointsBet tends to offer.
No Juice NFL Lines: PointsBet came out with this awesome promotion during last year's NFL season which eliminated the juice on all NFL point spreads. This means that rather than betting on, say, the Patriots at +3 -110, you could get the Patriots for +3 +100. In other words, you would have stood to win more money on average on your NFL spreads by doing business with PointsBet than with any other betting site last year.
Random Booster Odds: One type of promotion PointsBet offers fairly frequently is an odds-boost on random wagers every day. If a certain wager was paying +220 the day before, PointsBet might offer +300 during the promotion. Check out the promotions tab in your account every day for a list of boosted bets.
Early Payouts: PointsBet sometimes comes out with early payout offers that pay your pre-game wagers instantly if your side gets ahead by a certain number of points. For example, PointsBet recently offered instant payouts on your pre-game NHL and soccer moneylines the second your team got ahead by two goals.
Name Your Bet: This is more of a feature than a promotion, but you can tweet @PointsBetUSA with an idea for a wager you'd like, and they just might give your idea odds and take wagers on it. For example, you might send a Tweet to PointsBet asking for odds on the Cowboys to win by a field goal in overtime and they'll consider pricing it up to make your custom bet idea a reality.
Personal Good Karma Refund: Since launching in 2019, PointsBet has operated what it calls the "Good Karma Kommittee" to refund all customers in cases of extream bad beats. The idea started after a blown pass interference call in the Rams-Saints NFC Championship, which prompted PointsBet to refund all customers who lost because of the call. In December 2020, PointsBet took it one step further by introducing personal good karma payouts. At the end of every month, customers who placed 10 or more bets throughout the month can pick the one lost bet that hurt the most to receive a refund worth up to $100.
PointsBet Game Day Guarantee: Smart Money Welcome
If you've ever been limited from winning too much from other sportsbooks, you already know how frustrating it can be. It's almost a compliment except for that fact that it can crush a great season when all of a sudden half the sportsbooks in town are limiting you to $5 or even $1 wagers just because you know what you're doing.
It's legal and quite common, but no less frustrating. It doesn't have to be that way.
In April 2019, PointsBet announced the "Game Day Guarantee" to appeal specifically to the types of customers other betting sites don't want. The idea behind Game Day Guarantee is simple: PointsBet will accept wagers as high as $10,000 on game day for all wagers on NBA, NHL and NFL games no matter how skilled you are.
Rewards Program
PointsBet USA features a straightforward rewards program in which your wagering activity earns points that can later be redeemed for bonus bets. First, points are earned for every wager placed at the PointsBet website or through the mobile app as follows:
Fixed odds wagering: Earn 1 Reward Point for every $5 wagered
Parlay wagers: Earn 1 Reward Point for every $1 wagered
PointsBetting wagers: 1 Reward Point for every $1 won or lost
After you've accumulated Rewards Points, you can log in to your account and visit the "rewards" tab to redeem them for free bets at a rate of $1.00 per 100 Reward Points. Redemptions are allowed at the following intervals:
How PointsBet Works
The PointsBet.com approach to sports betting is hinted at in the name of the firm itself. While PointsBet does offer traditional wagers such as who will win games, its key point of differentiation among the many other online sportsbooks out there is that it offers a special type of spread betting with payouts that grow based on the number of points scored by your team, by how much your team covers the spread and so on.
To use PointsBet's own words, the more you're right, the more you win. Likewise, the more you're wrong, the more you lose. It should be noted that you can set limits ahead of time so that you know your maximum risk and reward before you place a bet.
The concept is best explained with an example.
Let's imagine the Golden State Warriors and Toronto Raptors are slated to play a game tonight and the total has been set at 230 points. You decide to take the over for $10 per point.
Using the handy betting slip at the PointsBet website, we can quickly see how much you stand to win or lose based on the game's outcome.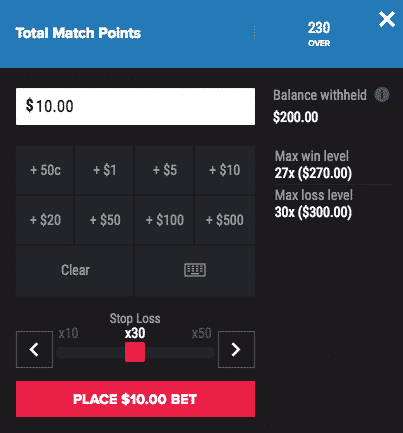 Here are a few of the many possible outcomes that could occur with this wager:
If the game finishes with a total of 231 points, you win $10 ($10 per point x 1 point over the total).
If the game finishes with a total of 250 points, you win $200 ($10 per point x 20 points over the total)
If the game finishes with a total of 229 points, you lose $10
If the game finishes with a total of 210 points, you lose $200
Here's a short preview video from PointsBet showing a different example using a quarterback's total passing yards in an NFL game:
Spread betting is not limited just to totals, though. PointsBet also takes these types of wagers on point spreads with payouts determined by the amount your team covers the spread.
For instance, imagine an NFL game between the Cowboys and Redskins that has the Cowboys priced as -8.5 favorites. If you were to bet $10 per point on the Cowboys to win, you would stand to win $10 per point above the spread if the Cowboys win the game by 8.5 or more.
In this example, let's say the Cowboys go on to win the game by two touchdowns. In that outcome, the Cowboys covered the spread by 5.5 points and you would be paid $55 on your original $10 wager. On the other hand, if the Cowboys fail to cover the spread or lose outright, you would lose $10 x the numbers of points by which the Cowboys missed the spread.
Setting Stop Losses
There are two ways to manage your risk when spread betting with PointsBet. One is to simply adjust how much you wager per point. Wagering $10 per point means every point for or against you is worth $10 – and that can add up quickly. Wagering $1 or less per point, on the other hand, helps keep things under control.
Additionally, the PointsBet platform offers a stop-loss feature for certain markets. You can use the stop-loss tool to put a cap on the most you can lose – at the cost of also putting a cap on the amount you can win. If you look again at the previous betting slip screenshot, you'll notice a slider that allows you to adjust your maximum risk.
PointsBet Screenshots
Types of Bets Offered by PointsBet.com
PointsBet.com has a full wagering menu on offer that covers a range of both traditional and spread betting markets. The spread betting concept is applied to all sorts of different outcomes such as:
Spread bets on who will win the game
Point totals
Total passing yards for a specific quarterback
Running yards for a running back
How many seconds it will be before the first scoring play
The winning margin
Largest lead acquired by either team at any point during the game
Individual NBA player's 3-point field goal percentage
These are just a few of the many examples we can already find on offer at PointsBet today. In addition to spread betting, PointsBet will also offer traditional markets including:
Money lines
Point spreads
Player props
Team props
Game props
Point totals
Regarding the PointsBet promise to offer more markets on US sports than any other sportsbook, that is starting to look like it may be the case already. In some of the higher-profile matchups, we have seen more than 200 individual betting options for a single game.
Sports Covered
PointsBet Mobile App
The PointsBet mobile app is available for iOS / Android devices and can be downloaded from the App Store or by visiting PointsBet.com. We've been able to play with PointsBet on an iPhone and found the app to be sleek, responsive and intuitive.
It seems the people at PointsBet used their experience in the Australian market to work out all the kinks long ago and have no brought to us a refined mobile sportsbook in the US. Logging in to the app brings you straight to a list of featured betting markets and a navigation menu bar across the bottom that can be used to quickly switch between sports wagers, in-play betting, promotions and account management.
The full range of betting options offered at PointsBet.com is also offered through the mobile device. This includes a full range of standard pre-game wagers, PointsBetting markets and in-play betting.
One thing that has become clear in our time with the app is that PointsBet was not kidding when it said it planned to offer more markets than any other sportsbook in the USA. PointsBet mobile often has upwards of 250 individual markets for a single game alone.
Despite the vast selection of wagers, the mobile app is fairly intuitive. The front page only shows the most popular games happening soon, but you can select the "sports" option from the bottom menu to see the full list of sports. From there, tap the sport you're interested in to be taken to that day's games.
Mobile Screenshots:
PointsBet Pick 6 Review
PointsBet launched a nationwide, free-to-play game for the most recent NFL season as a way to introduce customers across the country to a basic form of sports betting and to the PointsBet brand name.
PointsBet Pick 6 is open to customers across the country (except Florida and New York) and costs nothing to play. The basic idea is you can sign up for a free account at PointsBetPick6.com and predict the winners of six games along with the margin of victory each week for a chance to win as much as $25,000.
If you get every prediction and margin of victory correct, you'll win that week's top prize of $25,000. If multiple people get every prediction correct, the prize will be divided equally among all winners.
The game is open to existing and new PointsBet customers alike who are 21 or older and located anywhere in the US except Florida and New York. The game is legal even in states that have not yet legalized sports betting because every contest is 100% free to enter.
The game itself is easy to play:
Visit PointsBetPick6.com to sign up for a free account
Select pro or college games. Each week, you can predict the outcomes of pro or college games, but not both. You're welcome to try pro games one week and college games the next, but you'll need to pick one or the other each week. No matter which path you choose, the top prize is $25,000
Pick the winner of each game and margin of victory
Confirm your predictions and then wait for the results to roll in
If you get every prediction correct, you'll win $25,000 if you are the only winner
If more than one person gets every prediction correct, the $25,000 prize will be split equally among each winner
Pick 6 Screenshots
Horse Racing Betting
PointsBet entered the online horse racing business in mid-2020 through a partnership with BetMakers Technology Group, which was previously selected to manage on-course fixed-odds betting for Monmouth Park racetrack in New Jersey.
Legal horse racing betting in the US has traditional taken place in the parimutuel format in which all wagers taken on a particular outcome are pooled together, the house takes a cut and the rest distributed equally among the winners. As a result, the final payout odds remain fluid up until the start of the race.
By comparison, fixed-odds horse racing betting removes the uncertainty by naming a price for each horse and paying winners at those odds in the same fashion as regular sports betting.
Monmouth Park CEO Dennis Drazin welcomed the partnership and explained in a statement issued at the time that fixed odds betting has the potential to generate new interest in horse racing
In part, he said his companies sees "the fixed odds betting type as having great potential for horse racing to be a preferred wagering choice across the US, which can increase both the profile of Monmouth Park and horse racing in general."
PointsBet Deposit Methods
PointsBet has launched four deposit methods to date:
Credit card: $5 minimum, $50,000 maximum deposit
Debit card: $5 minimum, $50,000 maximum deposit
ACH eCheck: Input your banking info to fund your PointsBet account straight from your bank account. You can deposit up to $50,000 per transaction
PointsBet Card: The PointsBet card functions as a prepaid debit card in that you can fund it online with your credit or debit card and then have winnings credited back to your PointsBet Card. You can apply for the PointsBet Card online after logging in to your account and visiting the deposit screen. After applying, you can use a digital version of the PointsBet card at first to deposit while you wait for the actual card in the mail. Once you have a physical card, you'll be able to use it anywhere Mastercard is accepted, including at ATMs.
State-by-State Availability
The launch of PointsBet NJ was just the first step in bigger plans the company has for the US market. Moving outside New Jersey, PointsBet has also struck deals with casinos in other states in anticipation of expanding its market reach.
Here's a look at the states in which PointsBet already operates or has plans to operate.