Resorts Casino Online launched in February of 2015 after receiving approval from the New Jersey Division of Gaming Enforcement. Resorts Casino in Atlantic City maintains the internet gaming license while gaming software provider SG Digital supplies the platform and technology that underpins the online experience for players.
Resorts Casino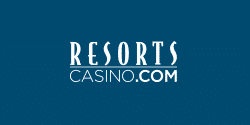 Resorts Casino
Resorts Casino Online is run by Resorts Atlantic City and offers sports betting, nearly 500 online slots, table games, video poker, virtual sports and slingo. As a licensed gambling site, Resorts Casino is a safe place to play for real money.
Pros
Sports betting and FastPick fantasy games
Nearly 500 casino games on offer
Large welcome bonus
Daily spin-the-wheel promo for random prizes
Cons
Casino bonus has high wagering requirements
With a strong software provider and the backing of an established Atlantic City casino, Resorts Online provides customers with a clean, functional gambling site that is easy to navigate and safe to play at for real money.
In terms of function and user experience, Resorts Online checks all the boxes. Game selection has improved since we first reviewed Resorts Casino and it now offers a full range of casino games, live dealer games, sports betting and a type of fantasy game called FastPick.
ResortsCasino.com hosts about 500 games in total and runs a constant stream of customer promotions that make it worthwhile to stick around. The additions of sports betting and FastPick have also gone a long way in making this a well-rounded gaming site.
Resorts Casino Sports Betting Review
Resorts Casino in Atlantic City now operates two online sportsbooks for NJ customers. First, Resorts teamed up with DraftKings to launch DraftKings Sportsbook in August 2018. DraftKings has since become the leading betting site in New Jersey thanks to strong brand name recognition and a sleek product that offers sports fans just about everything they could ask for from a sportsbook.
We have a separate review to discuss DraftKings Sportsbook as it is a standalone betting site with a unique experience, different software provider and a separate account for customers. The review you're reading right now will focus exclusively on the Resorts Casino sports betting experience.
In January 2019, Resorts Casino launched an online sportsbook integrated with its existing casino platform. The new Resorts Casino Sportsbook is powered by SBTech and covers all the major pro and college sports leagues around the world in addition to a full menu of in-play betting markets.
The pre-game markets on offer at Resorts Casino are varied with some matches boasting upwards of 175 individual wagers covering every aspect of the game. This includes all the usual point spreads, moneylines and totals along with many other options to bet on first half/second half results, first score, last score, first method of scoring, game props and all manner of player props.
The full menu of sports covered at Resorts Casino online includes:
| | | | |
| --- | --- | --- | --- |
| Football | Basketball | Baseball | Hockey |
| Golf | Soccer | MMA | Boxing |
| Tennis | Aussie rules | Cricket | Cycling |
| Motor Racing | Rugby Union | | |
Resorts Casino Sportsbook Bonus
Whether you're new to Resorts Casino or already have an account, your first bet will matched with a free bet worth up to $250. To claim this offer, all you need to do is make a deposit and place your first wager in the sportsbook.
The free bet offer matches your first bet only to give you up to $250. For example, placing a first bet of $100 will give you a $100 free bet to use anywhere within the sportsbook. The free bet itself may not be withdrawn, but any money you win with it may be withdrawn.
If you win money with your free bet, your winnings may be withdrawn after rolling over the free bet amount one time. This means if you receive a $100 free bet, you will need to place a total sum of sports wagers equal to $100 or more before withdrawing your winnings.
Click here to claim your Resorts Casino bonus today
No bonus code necessary
Resorts Online Sportsbook also offers other sports betting promotions from time to time for new and existing players alike. For example, one promotion that has been running since Resorts launched online betting is the Parlay Bonus Boost.
The Parlay Bonus Boost is always active for all customers and offers anywhere from 20% to 60% extra to winning parlay wagers depending on the number of legs in your parlay. If you build a 5-fold or better parlay, any winnings will be boosted by a minimum of 20%. The more selections in your parlay, the bigger the boost.
You can get up to $25,000 added to your parlay payouts with this promo and all winnings are paid straight to your account with no strings attached. No bonus codes are necessary to take advantage; this offer simply exists all the time for all customers.
Resorts Casino also runs daily odds boost and reduced juice specials that enhance the payout odds on select wagers each day. For example, Tiger Woods winning his next major championship was boosted from +1200 to +2000 and Duke winning the National Championship was bumped from +235 to +280 on the day this review was written. You can see what's on offer each day by selecting the "Resorts Boost" option from the main sports betting menu.
Sportsbook Screenshots
In-Play Betting at ResortsCasino.com
The in-play betting platform designed by SBTech has some clear strong and weak points. On the strong side, live betting at Resorts Casino covers numerous events every day. This includes live NFL betting, basketball, college sports, international soccer leagues and other sports as they come into season.
Another strong point is the inclusion of live stats that are updated in real time to show the pace of the game as it happens. In a basketball game, for example, you'll be provided with a range of stats such as free throws scored versus attempted, two-pointers scored, rebounds, lead changes, ball possession and more.
On the weaker side, the Resorts Casino live betting markets are most limited to basic wagers such as the moneyline, spread and total along with a few first half/second half markets. For Resorts Sportsbook to compete with the best betting sites, it really needs to add player props and shorter-term markets such as the method of the next score and outcome of the next drive.
Resorts Mobile App Review
Mobile sports betting is integrated into the existing Resorts Casino app, which can be downloaded for Android devices or through the App store for iPhones and iPads. After you have the casino app downloaded, open the main menu in the upper-left corner of the app and you'll see an option to visit the full sportsbook.
The Resorts Casino Sportsbook app offers the same functionality as the website interface all the way down to live betting stats. Some items are rearranged to fit mobile screens better, but generally you'll find the experience almost identical. In-play betting markets, live stats and even real-time visualizations of the game are all offered through the app.
Navigation is simple for the most part aside from some minor annoyances such as having to tap the menu icon a second time to close the menu (rather than tap anywhere outside the pop-up menu as most people would intuitively try first). Aside from the occasional navigation hiccup, the Resorts Sportsbook app works well and should be fairly easy to get used to.
Resorts Casino Mobile Sportsbook Screenshots
---
FastPick Review
In 2017, Resorts AC launched FastPick, which is a form of daily fantasy sports that pits players against the house in high-paying games that almost resemble parlay wagers. The game was originally launched on a separate website at FastPick.com, but Resorts has since merged it into the existing casino platform. Today, FastPick games can be played online at ResortsCasino.com or through the mobile casino app.
The basic idea behind FastPick is to pick which of any two players in heads-up matches will earn the most fantasy points in their real-world games. Each game starts with you choosing an amount to wager and then making anywhere from 3-10 predictions for a chance to win a payout ranging from $25 to $100,000.
After choosing an amount to wager, you'll then browse head-to-head matchups created by FastPick. Each matchup shows two players scheduled to play in today's games. For example, you'll see matchups involving two quarterbacks, two running backs, two defenders, two goalies and so on.
Your job is to pick which of the two players in each matchup will score the most fantasy points based on his real-world performance on the field or court. As your picks score touchdowns, hit three-pointers and deliver strikeouts, they'll rack up fantasy points.
You win the game and a payout if all of your picks finish with more points than the opposing athlete in each heads-up matchup. The more predictions you make, the bigger the potential payout. FastPick payouts range from 5x to 500x, but you have to get every prediction right to win.
Here's how payouts work in FastPick:
| | | | |
| --- | --- | --- | --- |
| # of Picks | Min – Max Bet | Payout Multiple | Winning Payouts |
| 3 | $5 – $10,000 | 5x | $25 – $50,000 |
| 4 | $5 – $10,000 | 10x | $50 – $100,000 |
| 5 | $5 – $5,555.56 | 18x | $90 – $100,000 |
| 6 | $5 – $2,857.14 | 35x | $175 – $100,000 |
| 7 | $5 – $1,428.57 | 70x | $350 – $100,000 |
| 8 | $5 – $800 | 125x | $625 – $100,000 |
| 9 | $5 – $400 | 250x | $1,250 – $100,000 |
| 10 | $5 – $200 | 500x | $2,500 – $100,000 |
---
Resorts Casino Review
Now, we move on to the casino portion of our review. Resorts Casino has been online since 2015 and has upgraded the games offering regularly since then. With more slots and the addition of live dealer games, Resorts Casino can now be considered an all-in-one gaming site.
Resorts Casino Bonus
100% up to $1,000
New customers at ResortsCasino.com can claim a 100% first deposit bonus worth up to $1,000. In other words, Resorts Online is willing to double your first deposit to give you up to $1,000 in additional bonus funds that will be added to your account immediately.
You can claim your bonus by signing up for an account, logging in, visiting "my bonuses" in the account menu and then follow the instructions under the "active bonuses" label.
The large maximum bonus amount is nice, but players should be aware that this one comes with some hefty clearing requirements. The bonus money must be wagered 30x on slots or 150x on table games, roulette and video poker before the bonus or winnings are released to your account as unrestricted cash.
Claim your bonus today at:
Other Resorts Promotions and Rewards
Resorts Casino Online maintains an active promotional schedule with frequent reload bonuses, cash drawings and even the occasional vacation giveaway. For example, Resorts Casino recently offered a reload bonus giving customers an extra $5 for depositing $75 or an extra $50 for depositing $750 for no reason other than to entice players to come back and play.
There's also a long-running promotion in which all Resorts Casino customers can log in once a day for a free spin at the rewards slot and one free spin of the rewards wheel. Your one spin each day offers a chance to win one of the following prizes from each game.
Resorts Casino also runs the occasional game-specific promotion that gives players a chance to win prizes for playing certain games. In one recent promotion, Resorts Casino held a drawing for players who played the Black Diamond slot. For every 40 reward points earned at this game during the promotion, players had a chance to win one of 100 prizes ranging from a $5 bonus to $125 in cash.
Resorts Rewards Loyalty Program
The "Resorts Rewards" loyalty program is organized into five tiers that reward customers based on their volume of play. Whether you play once in a while or often, you can earn Reward Points (RPs) that unlock perks and that can be redeemed for cash.
This is a combined online/offline program that offers a mix of benefits for both real-world and online play. Players can redeem points online for cash, claim discounts on live entertainment, earn discounted rooms at Resorts AC and unlock VIP-exclusive promotions online.
The basic gist of it is the more you play, the more rewards you get. All customers start at Bronze level and can then work their way up through Silver, Gold, Platinum and Diamond to unlock increasingly valuable rewards. Additionally, the higher your rewards level, the better the conversion rate when redeeming points for cash.
RPs are earned by playing in real money games at ResortsCasino.com. The mere act of earning points propels you through the five VIP tiers, and then the points themselves may be redeemed for cash and other perks. Here's a quick look at the various perks unlocked at each level:
| | | | | | |
| --- | --- | --- | --- | --- | --- |
| Rewards | Bronze | Silver | Gold | Platinum | Diamond |
| | | | | | |
| Points required / month | 0 | 500 | 2,000 | 7,500 | 20,000 |
| Points needed for $10 cash | 20,000 | 12,500 | 5,000 | 3,030 | 2,220 |
| Tier status upgrade at Resorts AC | | | | | |
| 15% entertainment discount at Resorts AC | | | | | |
| 10% entertainment discount at Resorts AC | | | | | |
| VIP-exclusive promotions | | | | | |
| 5% entertainment discount at Resorts AC | | | | | |
| Discounted rooms at Resorts AC | | | | | |
| Increased loyalty point conversion rate | | | | | |
| Exclusive Resorts AC hotel offers | | | | | |
| Exchange reward points for cash | | | | | |
Virtual Sports Betting at ResortsCasino.com
ResortsCasino.com also provides a selection of virtual sports betting games that allow you to wager on the outcome of virtual horse races, dog races, motorcycle races, auto races and soccer matches.
Each virtual sports game lasts just 3 or 4 minutes and new games run around the clock on autopilot. The computer generates random outcomes, but players can still take a chance backing underdogs or favorites as they wish just like an actual sports bet.
The types of bets available resemble real sports betting as well. In a virtual soccer match, for example, players can bet on who will win, what the point total will be, the exact final score, first team to score, last team to score and more. The experience is quite similar to sports betting aside from these games being entirely virtual in nature and only lasting a few minutes.
Virtual Sports Screenshots
ResortsCasino.com Game Variety
Resorts Casino scores high marks in game variety with slots, video poker, live dealer games and more. With the addition of live dealer games, ResortsCasino.com offers a bigger game selection than nearly every other licensed gaming site on the market.
In all, there are just shy of 475 unique games to choose from. A bulk of the games list consists of online slots, of which there are hundreds. SG Digital, which operates the casino on behalf of Resorts AC, is contracted with numerous third-party software providers to provide customers with a large range of slots in all different styles.
Some of the more popular slots providers that have developed games offered at ResortsCasino.com include: Williams Interactive, SG Digital, NetEnt, Everi, NextGen, Aristocrat and IGT.
You'll find progressive jackpot slots, late-gen video slots with complex bonus features, traditional reel games and online versions of some of the same slots you can find on the casino floor in Atlantic City.
There are also table games, video poker games, virtual sports betting, instant win scratch cards, live dealer games and slingo. The table games variety here deserves a mention because one of our most common complaints when reviewing legal online casinos is how few table games they offer. Resorts Casino does not fall into that trap with 23 table games on offer.
The Resorts Casino lobby provides a few sort and filter features to help players navigate the long list of games. You can filter games based on type so that you only see slots or table games, you can sort by name and popularity or you can search for individual games by name using a search function near the top of the lobby.
The sort features are decent, but do not help narrow down the selection a whole lot. It would a major improvement if Resorts Casino were to add sort options by software provider, current jackpot, pay lines and so on.
Gameplay Screenshots
Resorts Online Software Review
Resorts Online is powered by software from SG Digital, which is the online gaming division of Scientific Games. SG Digital was formed in 2018 after Scientific Games acquired the NYX Gaming Group and combined it with SG Interactive to form SG Digital.
The SG Digital group alone employs more than 1500 people and powers major online casinos around the world. Some of its bigger clients include the likes of Resorts Casino Online, Betsson and William Hill.
SG Digital's parent company (Scientific Games) is headquartered in Nevada and employs roughly 9500 people. In addition to providing software for online casinos, Scientific Games provides management services to real casinos, develops physical slot machines and is contracted to run or assist more than 150 lotteries around the world.
The point of mentioning all of this is simply to emphasis that Resorts Casino is powered by a reputable gaming company. Scientific Games and SG Digital have extensive experience in gaming and develop reliable, stable products for customers.
Interacting with the software is a breeze with games laid out plainly upon logging in. Plays are able to play any game online without downloading anything. Mobile visitors can head to ResortsCasino.com to play online via web browser or head to the app store for an iOS or Android-compatible mobile app.
Resorts Casino Slots
Resorts Online is a particularly slots-heavy gambling site with hundreds of slots provided by dozens of different software providers. There aren't just a lot of slots here, but there are a lot of different types of slots thanks to Resorts' ability to bring in games from all manner of slots developers.
You'll find titles from the likes of Everi and IGT that can be found on actual casino floors across the country alongside online-exclusive titles such as those designed by NetEnt and other developers. Generally, the slots ported from the real world provide a more straightforward, classic slots experience while those designed by providers such as NetEnt tend to be more graphically-intense with additional features and bonus rounds.
ResortsCasino.com is also home to a handful of exclusive games developed specifically for Resorts. These include titles such as Double Play Super Bet, Cleo's Wish, Dragon Wins and Queen of the Castle.
One thing that could be improved when it comes to slots is the number of progressive jackpot games. Currently, there are just a few progressive games: Cleopatra, Divine Fortune and Siberian Storm. The good news is the few progressive Resorts Online does have are home to very large jackpots.
Siberian Storm and Cleopatra from IGT are both linked across a number of regulated online casinos and share a jackpot that is always growing. The jackpot starts at $500,000 and grows rather quickly as players at Resorts and other gambling sites test their luck. At the time of this review, the jackpot for both was just north of $516,000.
ResortsCasino.com Table Games and Video Poker
Resorts Casino has a larger-than-average variety of table games and video poker. Having said that, the table games selection here is not massive – it's just that licensed USA casinos tend to be light on the table game offerings.
At Resorts Online, the table games selection consists of multiple roulette and blackjack variations, baccarat, three card poker and let it ride. Resorts could stand to add a few more table games, but overall this is a bigger selection than what is found at most online casinos. In total, there are 23 table games:
Blackjack (11 variations, including single-hand and side bet variants)
Roulette (8 variations, including classic, American, European, double wheel and 3-wheel)
Let It Ride
No Commission Baccarat
Three Card Poker
Wheely Wheely Big Win
The video poker collection at Resorts Casino consists of a healthy mix of the most popular games and variations of each. This includes single and multi-hand games that can be played for as little as $0.25 a round to as much as $100 a round. The full list of video poker games includes:
Aces and Faces Power Poker
100 Hand All American
Deuces Wild (3 variations)
Bonus Poker
Double Bonus Poker
Double Double Bonus Poker (2 variations from 2 different software providers)
Regal Poker
Regal Poker Deluxe
Double Regal Poker
Double Double Regal Poker
Five Play Draw Poker Multi Hand
Jacks or Better (2 variations)
Tens or Better
Triple Play Draw Poker Multi Hand
Live Dealer Games
After roughly three years in business, Resorts Casino finally launched live dealer games in December 2018 to fully round out its gaming options.
For those new to online gambling, live dealer games are just like they sound: real games staffed by real dealers who shuffle the cards and spin the wheel via live video streamed straight from the casino floor in Atlantic City. You still place your wagers online from anywhere in the state, but a human dealer manages the rest as you watch in real time.
Resorts Casino live dealer games run daily from 11 AM to 3 AM and offer:
5 live dealer blackjack tables
3 roulette tables
Ultimate Texas Holdem
3 Card Poker
Baccarat
Resorts Casino Online Deposit Methods
Resorts Casino accepts a standard range of deposit methods that you can use to fund your account from home via electronic transfers, in-person at Resorts AC and with cash via prepaid vouchers.
VIP Preferred: This is the deposit method recommended first by Resorts Casino Online and works as an eCheck/ACH deposit. All you need to do is select "VIP Preferred" from your account deposit screen, enter your bank account number and choose an amount to deposit. VIP Preferred costs nothing to use.
PayPal: PayPal, the same company used by millions to make purchases online, is also accepted at ResortsCasino.com. You may use PayPal for deposits and withdrawals. Resorts does not charge any fees for using this method.
ResortsCard: ResortsCard prepaid card that you can use to not only fund your account, but also to receive payouts and make purchases anywhere Discover is accepted. You can sign up for a card and complete your deposit online instantly. Resorts will also mail a physical card to your address in the meantime.
Online Bank Transfer: This option uses your bank's existing online bill pay feature to fund your Resorts account. If you already have bill pay set up with your bank, you can log in to Resorts and choose this method, then authorize the deposit using your existing online banking login.
PayNearMe: This is the deposit method to use if you'd rather fund your account with actual cash. Choose this method and pick a deposit amount. Resorts will then give you a pay slip that you can either print or save to your mobile phone. Take your pay slip to the nearest 7-Eleven, dollar store or drug store and pay using cash. Your Resorts account will be credited instantly.
Visa and MasterCard: Use your Visa or MasterCard to fund your account – it's just like buying something online. You'll need your card number, security code and expiration date to authorize your deposit.
Cash at the Cage: If you're in the area, you can stop by Resorts Casino AC to make a deposit or withdrawal at the casino cage. You'll need an ID, a bank statement and your Resorts Online account info.
Resorts Casino State-by-State Operations
Resorts Casino is operated by Mohegan Gaming & Entertainment, which in turn operates casinos in a handful of states. In addition to running Resorts Casino Atlantic City, Mohegan Gaming operates casinos in Pennsylvania, Connecticut, Louisiana, Washington and South Korea.
Mohegan Gaming first got into online gambling with the launch of Resorts Casino Online in New Jersey but has plans in place to expand beyond that in other states pending legislation allowing sports betting.