DraftKings Sportsbook launched in August 2018 with mobile sports betting in New Jersey and entered the West Virginia market one year later as a part of an ambitious expansion plan. Today, DraftKings offers online betting in each of the following states:
New Jersey
Colorado
Indiana
Illinois*
New Hampshire
Pennsylvania
West Virginia
Iowa*
DraftKings has also launched retail sportsbooks in Mississippi and New York and has plans to launch mobile betting in other states as legislation permits.
*Update: IL has temporarily suspended its in-person registration requirement – customers in IL may sign up from anywhere in state lines. State law in Illinois and Iowa requires customers to complete in-person registration at the casino associated with each mobile sportsbook. DraftKings has solutions in place, however, that allow customers to avoid lines and crowds by simply logging into the app while located anywhere on casino property.
Illinois bettors can complete registration at Casino Queen in East St. Louis while Iowa bettors can complete registration at any of the three Wild Rose Locations.
DraftKings Sportsbook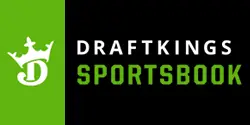 DraftKings Sportsbook
The world's leading daily fantasy site now offers real money sports betting and casino games in addition to daily fantasy contests. DraftKings Sportsbook is licensed in a growing number of states and offers DFS in most others.
Pros
Mobile and online betting from a trusted name
In-play betting offered
Can "cash out" bets early to limit losses or protect winnings
Sleek, easy-to-understand interface
Cons
Limited number of deposit options
DraftKings Sportsbook Info
Prior to entering the sports betting business, DraftKings operated as the world's largest daily fantasy sports site, home to some 9 million customers from across the country.
Numerous major cash injections from investors turned the fledging fantasy site into a behemoth on the back of aggressive marketing campaigns. DraftKings operated strictly in the fantasy sports arena for the first six years of its existence, but moved to sports betting after a Supreme Court decision ruled the federal ban unconstitutional.
Now, DraftKings fantasy and sports betting are provided on one platform. For customers, this means you can log in to your DraftKings account to place a bet on the Steelers to beat the Eagles and then immediately turn around and enter a fantasy football contest using the same account balance.
Leveraging widespread brand awareness and a database of millions of qualified sports fans, DraftKings entered the sports betting business with a running start. Prior experience in the online gaming space also eased the transition to sports betting. From day one, DraftKings Sportsbook covered mainstream and niche sports alike with a wide range of wagers.
DraftKings Sportsbook is authorized by the New Jersey Division of Gaming Enforcement (DJGE) and is now authorized to accept wagers from anyone 21+ and located within state borders. The company also holds an Indiana license and is authorized in West Virginia for mobile betting.
In New Jersey, DraftKings operates under an online betting license controlled by Resorts Casino. In West Virginia and Indiana, DraftKings is partnered with Hollywood Casino at Charles Town Races and Ameristar East Chicago respectively.
Thanks to our partnership with DraftKings, we can also detail a juicy deposit bonus for all new customers. As DraftKings Sportsbook works to establish its place in the legal betting landscape, the company has made a strong promotional push of late that includes offers for new and existing customers alike.
DraftKings Sportsbook Bonus
Deposit Bonus up to $500 + $500 Risk Free Bet
DraftKings has given its standard welcome bonus a big upgrade heading into 2020. What was formerly a $200 bonus has become a $500 deposit bonus plus a $500 risk-free bet on top of that for new customers.
$500 Deposit Bonus
Sign up or log in to your account, deposit at least $5 and DraftKings will match it 20% to give you up to $500 extra. This means a $50 deposit will get you $10 extra, a $100 deposit will get you $20 extra and so on. To claim the maximum bonus amount, deposit $2,500 or more and you'll get an extra $500 to pad your bankroll.
No bonus code is needed to claim this bonus.
Clearing your bonus: 10% of your bonus amount is released instantly to your DraftKings account and the remaining 90% will be released a rate of $1 for every $25 wagered in the sportsbook, every $25 in DFS entry fees or every $60 in casino wagers.
$500 Risk-Free Bet
Additionally, all new customers who sign up for an account also get a $500 risk-free bet. After you sign up and make a deposit, DraftKings will match your first wager with site credit of an equal amount. For example, if you sign up and you place a first wager of $75, DraftKings will match it with a free bet of $75.
Call 1-800-GAMBLER (NJ/WV/PA) or 1-800-9-WITH-IT (IN only) or 1-800-BETS-OFF (IA only).
*21+. NJ/IN/WV/PA/IA only. Bonus comprised of a first deposit bonus and a first bet match, each up to $500. Min. $5 deposit. Deposit bonus is in DK Dollars which have no cash value and must be used on DraftKings. Bonus requires 25x Play-Thru. Offer not valid for users physically located in NH. Eligibility restrictions apply. See draftkings.com/sportsbook for details.
---
Visit DraftKings Sportsbook and Claim Your Bonus Now:
---
Sports Covered and Types of Bets Offered
DraftKings covers 60+ sports throughout the year, including all the major US and international leagues along with a good number of the world's lesser-known sports. Availability varies based on season and local state regulations (for example, some states allow esports while others do not).
| | | | |
| --- | --- | --- | --- |
| Athletics | Aussie Rules Football | Bandy | Baseball |
| Basketball | Beach Volleyball | Cricket | Curling |
| Cycling / Cyclo-cross | Darts | Esports | Boxing |
| MMA | Football | Golf | Handball |
| Hockey | Horse Racing | Lacrosse | Motor Sports |
| Netball | Olympics | Entertainment / Specials | Pesäpallo |
| Rugby League | Rugby Union | Snooker | Soccer |
| Speedway | Surfing | Swimming | Tennis and Racquet Sports |
| Volleyball | Winter Sports | | |
The types of bets on offer cover much more than just who will win the game. DraftKings launched with a wide range of betting options from the beginning. If you visit any particular game on the DraftKings Sportsbook website or mobile app, you'll see dozens of other options including in-play bets.
In-play betting isn't something we've seen here in the United States yet, but it is a very popular form of betting overseas. With in-play betting, you can place bets in the middle of a game at odds that are updated in real time based on how the game is playing out in the real world.
What makes in-play betting different than traditional betting is it happens during the game and not just before the game. You can, for example, watch the first half of a game between the Giants and Broncos to get a feel for the momentum of the game and then place a bet at the current odds. Or, if the ball game is tied after nine innings, you might decide to place a bet at the top of the 10th inning on who will pull off the victory.
In June 2019, DraftKings Sportsbook launched an even faster form of in-play wagering called Flash Bet. The offering was launched exclusively for tennis at first with plans to expand the offering to other sports.
The basic idea behind Flash Bet is to give customers a chance to place very short-term wagers that are paid instantly as the game progresses. In tennis, for example, you can place in-game wagers quickly between points as a match happens.
Meanwhile, the live betting interface depicts the tennis ball traveling back and forth across the court along with live updates and a running record of your results so far in the match.
DraftKings also offers an early cashout feature for in-play bets. For instance, if you bet on the Giants to beat the Broncos and then halfway through the game, you see the Broncos up by 14, you can cut your losses and cash out early. Likewise, you might see the Giants get a lead and decide to claim a reduced payout in order to avoid any late-game surprises.
Here's how DraftKings co-founder Matt Kalish put it when interviewed by North Jersey on the day DraftKings Sportsbook launched:
"We have the capability to offers dozens of sports. We're working with regulators in New Jersey to determine what sports we will offer, and over time more may be available. But all major American sports – we're not missing anything that people would expect.
"What's interesting is the depth. You don't come on and only see, say, the Giants to win. There are dozens of markets within the game, real-time priced in game wagers. And there is the capability of cashing out bets already made. It's really an amazing platform with amazing depth."
DraftKings Mobile Sportsbook
DraftKings originally rolled out its sports betting service as a mobile-first product and that's where the focus remains today. However, desktop users may also visit DraftKings.com for an online betting experience that does not require a mobile device.
You'll find the official download links for Apple and Android smartphones here.
Anyone familiar with DraftKings fantasy will not be surprised to see the sports betting app is clean and well-designed, as is par for the course with DraftKings.
The home screen of DraftKings mobile presents a quick listing of important promos and popular bets while a navigation bar along the bottom edge of the screen can be used to navigate to specific sections such as a listing of all promos, a full list of sports and in-game betting.
There are also places on the app where you can view in-game scoring, the statuses of your outstanding bets and manage your account. In short, the app provides everything you need to set up your account, bet on sports and cash out when you're done.
DraftKings App Screenshots
DraftKings Sports Betting Pools
DraftKings Pools are a sort of cross between daily fantasy and traditional sports betting in which you sign up for a contest, pay an entry fee and then make a number of straight-up picks. Then, prizes are paid out to the players who make the most correct picks in a tournament-style structure.
For example, a recent DraftKings Pools contest came with a $3 buyin and a guaranteed $10,000 prize pool. The contest covered a weekend slate of 15 NFL games. After paying $3 and entering the contest, you would pick which team was going to win straight up in each of the 15 games.
After the last NFL game was played, prizes were paid out as follows:
50% of the prize pool was split among the entrants with the largest number of correct predictions
30% was split among those with the second-highest number of correct predictions
15% was split among those with the third-highest number of correct predictions
5% was split among those with the fourth-highest number of correct predictions
Pools Contest Screenshots
DraftKings Live Streaming Sports
DraftKings Sportsbook offers live streaming sports feeds for certain leagues integrated into the mobile app. Customers with an account balance greater than $0 can log in to the app and watch live sports at no extra charge in all jurisdictions except Iowa.
Currently, DraftKings provides live streaming sports for the following leagues:
Korean Baseball Organization
D1 Bundesliga Soccer
Table tennis
In a press release announcing the launch of live streaming, DraftKings said it would be looking to expand its streaming options over time. Although Korean baseball and German soccer are not exactly top draws in the US, this is a start and portends well for future deals – possibly with more mainstream sports.
Deposit Methods
DraftKings Sportsbook accepts a handful of deposit methods but comes up a bit short compared to other sportsbooks in terms of sheer variety of options. That being said, the deposit methods DraftKings does accept should work for the vast majority of people:
Credit and debit cards: DraftKings accepts Visa, Discover and Mastercard.
Online banking: Select this method to transfer funds from your bank to DraftKings with no credit card necessary.
PayPal: Use your PayPal account to transfer funds to and from DraftKings Sportsbook instantly.
Skrill: Skrill is an e-wallet similar to PayPal but with a greater focus on serving the online gaming industry.
Play+ prepaid card: The DraftKings prepaid card allows you to make deposits online using your own credit card, debit card or bank transfer. You will also receive a physical prepaid card in the mail that can be used to withdraw cash at ATMs and to make purchases anywhere Discover is accepted.
Wire transfer: Wire transfers take 1-2 business days and may require a trip to the bank, but this option is useful for making larger-than-normal deposits.
The standard maximum deposit for all new customers is $2,500, but funding limits can be increased significantly by completing identity verification.
If you have any trouble depositing with a credit or debit card, you can thank your bank for that. Some banks still refuse to work with anything related to online betting or gambling. Bank transfers, PayPal, Skrill, prepaid card and wire transfer all serve as reliable alternatives for anyone having issues with a credit card deposit.
PayPal is even easier once you have a PayPal account. You may fund your PayPal account with credit or debit cards in addition to online banking transfers. Once you have a funded PayPal account, you can then transfer that money on to DraftKings. PayPal also comes in handy as a withdrawal method when you're ready to cash out your winnings.
State-Specific Restrictions
This portion of our DraftKings Sportsbook is reserved for special, state-by-state considerations. Each state in the US regulates sports betting a bit differently, and that has an impact on how licensed betting sites operate. We only have New Jersey, Indiana, West Virginia and Iowa to contend with for now, but it is a near certainty that DraftKings will expand to other states as quickly as the law permits.
New Jersey: Customers from New Jersey are prohibited from betting on college games or events that take place in New Jersey or on any single college game/event taking that involves a team from New Jersey, even if that event takes place elsewhere.
West Virginia: DraftKings WV customers have access to pro and college betting with no restrictions on in-state games unlike New Jersey. Esports betting is also permitted as long as all competitors are at least 18 years old.
Indiana: DraftKings IN customers may also bet on pro and college games alike. In-play betting is allowed for both, but Indiana law restricts sportsbooks from accepting in-play wagers on individual college athletes.
Iowa: DraftKings Iowa is allowed to accept wagers on pro and college sports, but there is a restriction on in-play prop bets during games involving Iowa college teams. The other big thing to know about Iowa is in-person registration is required to finalize the signup process until January 2021. DraftKings customers can sign up for an account online or via mobile but must visit one of the three Wild Rose locations to verify their identity.
DraftKings Sports Betting Plans for Each State
Below is a list of states in which DraftKings Sportsbook either already operates or will likely operate based on partnership agreements it has reached with major casino operators.
Availability: Mobile betting and retail sportsbook
Land-Based partner: Resorts AC
DraftKings Sportsbook is only open to customers from New Jersey at the moment. Daily fantasy contests are still available to customers in NJ and elsewhere, but actual sports betting is limited to New Jersey for now via the mobile app and a retail sportsbook at Resorts AC.
If you live outside New Jersey, you can see our DraftKings fantasy review for more information.
Additional states are in the process of passing legislation to authorize mobile and online sports betting, and DraftKings will almost certainly expand to other states over coming weeks and months. We'll keep this page updated with a full list of states where DraftKings Sportsbook is active.
Availability: Mobile betting and online casino
Land-Based Partner: Hollywood Casino at Charles Town Races
In December 2018, DraftKings announced it would be expanding its online operations to West Virginia next. The launch was considered "imminent" at the time, but sports betting in WV was set back in general due to BetLucky WV suddenly ceasing operations after its software provider experienced an internal dispute.
DraftKings finally received the green light to launch in August 2019. Now, DraftKings WV is live and accepts customers who are 21 or older and located within state lines.
Availability: Mobile betting and a retail sportsbook
Land-Based Partner: The Meadows Casino
DraftKings launched online betting in Pennsylvania through a deal with Penn National Gaming, parent company of The Meadows Casino just outside of Pittsburgh. DraftKings currently offers in-person betting at The Meadows and mobile betting across the state.
Availability: Mobile betting
Land-Based partner: Ameristar East Chicago
DraftKings is now live in Indiana. In August 2019, the Indiana Gaming Commission gave DraftKings a sports betting license and approved its partnership with Ameristar East Chicago.
This deal was made possible through the broader agreement DraftKings reached with Ameristar parent company Penn National Gaming just a few weeks prior.
The Commission granted DraftKings authorization to go live on October 3rd, 2019. Now, DraftKings Sportsbook is open to customers 21+ who are located in the Hoosier State.
Availability: In-person and mobile betting in the works
Land-Based Partner: Bay Mills Resort & Casino
DraftKings Sportsbook is coming to Michigan. In June 2020, DraftKings announced a partnership agreement with Bay Mills Resort & Casino that involves online and mobile betting as well as the operation of a retail sportsbook to take wagers in person.
In a statement, DraftKings Chief Business Officer Ezra Kucharz said this:
"Through a commitment to provide customers with a premier sports betting experience, DraftKings is happy to partner with Bay Mills Resort & Casino. The Great Lakes State presents a number of gaming opportunities and we look forward to collaborating with Bay Mills to provide residents with the best-in-class experience DraftKings is known for."
Availability: Retail Sportsbook and Mobile Betting
Land-Based Partner: Mardi Gras Casino Black Hawk
DraftKings made its Colorado plans known in January 2020 with a press release announcing a partnership with Twin River Worldwide Holdings, which operates three casinos in Black Hawk.
The deal resulted in DraftKings launching mobile sports betting across Colorado and the launch of a retail sportsbook at Mardi Gras Casino.
DraftKings holds all necessary CO sports betting licenses.
Availability: Mobile betting now available; retail sportsbooks coming soon
Land-Based Partner: NH Lottery
DraftKings came to New Hampshire on December 30th, 2019. New Hampshire legalized sports betting in 2019 with a law authorizing the state lottery to choose up to five mobile betting providers.
The state eventually chose DraftKings as the sole operator of mobile betting and retail sportsbooks. The NH Lottery and DraftKings launched as expected at the end of 2019 for customers 18 or older and located within state lines.
Availability: Retail sportsbook and mobile betting
Land-Based Partners: Wild Rose Jefferson, Wild Rose Clinton and Wild Rose Emmetsburg
DraftKings is partnered with the three Wild Rose Resorts in Iowa to manage retail sportsbooks at each along with statewide mobile betting.
Iowa-based customers can begin the signup process through the mobile DraftKings app but are required to make a one-time visit in person to finalize their registrations. After signing up for an account, DraftKings customers can visit Wild Rose Jefferson, Wild Rose Clinton or Wild Rose Emmetsburg to enable mobile betting.
Availability: Retail sportsbook and mobile betting
Land-Based Partner: DraftKings at Casino Queen East St. Louis
DraftKings Sportsbook is now live in Illinois, and on a faster timeline than previously anticipated. The IL sports betting law that was passed in 2019 includes a provision restricted standalone mobile providers such as DraftKings from entering the market for a full 18 months after the issuance of the first license to a land-based operator.
DraftKings found a workaround by partnering with Casino Queen East St. Louis to avoid the wait and begin offering statewide mobile betting much sooner than expected.
DraftKings cleared another major hurdle in July 2020 after receiving a temporary operating permit from the Illinois Gaming Board and launched the following month. Now, DraftKings offers in-person betting at Casino Queen plus statewide mobile betting.
In September 2020, DraftKings announced a sweeping partnership with the Chicago Cubs to become the team's official daily fantasy and sports betting partner. In addition to special advertising arrangements, the deal includes the construction of a sportsbook in or near Wrigley Field plus mobile betting in nearby Wrigleyville (IL law gives stadiums a 5-block exclusivity zone for mobile betting).
Availability: Retail sportsbook
Land-Based Partner: Scarlet Pearl Casino Resort
If you live in Mississippi, you can also visit DraftKings in-person at the Scarlet Pearl Casino Resort in D'Iberville. The physical sportsbook is open seven days a week until 10 PM and has betting kiosks available 24 hours a day.
Availability: Retail sportsbook
Land-Based Partner: del Lago Resort and Casino
DraftKings operates the sportsbook at del Lago Resort and Casino in Waterloo. The 6000 square foot DraftKings Sportsbook features 23 betting kiosks that are open for business 24 hours a day, four betting windows, 1,000 square feet of LED video screens and a full food menu.
New York has only passed legislation allowing existing casinos to launch retail sportsbooks. This means DraftKings cannot operate mobile betting until new legislation is passed, but the company will be ready to move when that happens.
DraftKings has also stated its intention to launch a mobile app in Tennessee as soon as law permits. Tennessee passed a mobile-only sports betting bill in 2019 and a local news channel reached out to DraftKings for comment. A DraftKings rep confirmed to News Channel 11 that they "absolutely intend" to launch mobile betting in TN as soon as possible, preferably even on day one.