SugarHouse Online is a legal betting website and mobile app available to users 21+ in New Jersey and Pennsylvania.
SugarHouse Online Casino opened for business in late 2016 as a partnership between Rush Street Interactive and the Golden Nugget Casino in Atlantic City. The unique name derives from a casino by that name located in Pennsylvania and operated by parent company Rush Street Gaming.
About a year-and-a-half later, SugarHouse Online Sportsbook went live with the launch of a betting website, iOS app and Android app. The New Jersey Division of Gaming Enforcement (NJDGE) signed off on SugarHouse sports betting in August of 2018 to make it New Jersey's third mobile sportsbook.
Shortly after launching online betting in NJ, SugarHouse Sportsbook made the decision to cut ties with Golden Nugget and move its license over to Monmouth Park due to the Golden Nugget being restricted from offering NBA betting. SugarHouse Casino remains with Golden Nugget, but the sportsbook is now associated with Monmouth Park and is now able to book NBA wagers online.
In May 2019, SugarHouse entered the Pennsylvania market to become the state's first legal mobile betting app.
Our SugarHouse review will discuss the sportsbook and casino in-depth as we consider sports betting options, useful features, game selection, interesting features and more. We'll keep the opinion to a minimum as we focus on the facts so you can decide if SugarHouse is for you.
SugarHouse Online
SugarHouse Online
SugarHouse Online Casino launched in September of 2016 under the Golden Nugget New Jersey license and added sports betting in mid-2018. This site offers casino games, virtual sports betting, video bingo, keno and sports betting all under one roof.
Pros
Realistic, easy-to-clear bonuses
In-play betting with live video
Wide variety in types of games offered
Full-fledged sportsbook added in 2018
Cons
VIP program too complicated
Only features one progressive jackpot slot
Rush Street Interactive has emerged as a major contender in the regulated online gambling market with a solid platform and absolutely massive library of games. At last count, SugarHouse Casino boasted more than 470 slots, table games, video poker, live dealer games and virtual sports betting. New games are added on a regular basis, so the list is constantly growing.
The sportsbook offers a similarly large variety of options for customers. For instance, on the very first day SugarHouse Sportsbook opened for business in New Jersey, the international soccer betting tab had more than 48,000 individual bets open for action. That's not even including football, baseball, basketball and other sports.
Overall, SugarHouse Online is a massive gaming site and can now claim top honors as the market's most comprehensive online betting site. Whether it's sports betting or casino games, this gaming site has a lot of variety. Now, let's move on to the nuts and bolts of today's review. We'll start with the sportsbook and then move on to the casino.
---
SugarHouse Online Sports Betting
SugarHouse Sportsbook entered the US sports betting market after going live in New Jersey on August 23rd, 2018. From the beginning, Sugarhouse sports betting was advertised as being home to extensive online betting options.
A company press release described the sportsbook as offering "more than 5 million live in-game bet options" in addition to standard pre-game wagers of all types on an international variety of sports. All the major North American sports are featured along with international sports such as foreign soccer leagues, cricket and rugby. Smaller, niche sports such as darts and cycling are also covered.
We'll go into more detail regarding sports coverage and types of bets offered later, but for now, here's some basic information:
SugarHouse Sportsbook is available in: New Jersey, Pennsylvania and likely other states in the future
Operated by: Rush Street Interactive, a subdivision of Rush Street Gaming that is headquartered in Chicago, IL
Established: Online sportsbook launched in 2018, Rush Street Gaming founded in 2009
Platforms: Available via desktop at PlaySugarHouse.com and via mobile apps for iOS and Android devices
New customer bonus: 100% up to $250
SugarHouse Sportsbook Bonus
Use the bonus code 250MATCH when you make your first deposit to get an extra 100% in bonus funds for up to $250 extra. For example, a $50 deposit will get you $50 in bonus funds, a $75 deposit will get you $75 extra and so on.
The more you deposit, the bigger the bonus. A deposit of $250 or more will max out the bonus to give you exactly $250 extra. After you make your first deposit, the bonus funds will be credited to your bonus bank within 48 hours.
This is one of the easiest deposit bonuses to clear with wagering requirements of just 1x. This means a bonus of $100, for example, would require $100 worth of wagers on slots, video poker or sports betting before it is cleared for withdrawal.
The low wagering requirements are a major selling point when you consider most other betting sites offer bonuses with clearing requirements in the range of 20x to 30x. Under 30x terms, this bonus would require $3,000 worth of wagers to clear a $100 bonus, which would make it difficult to clear and still have anything left over after.
By contrast, the 1x wagering requirement at SugarHouse requires just $100 worth of wagers when claiming $100 in bonus funds. You have 30 days to clear the SugarHouse bonus.
Note: The new customer bonus may only be claimed once per person across all SugarHouse and Bet Rivers betting sites/apps.
Click here to claim your bonus today
Use bonus code: 250MATCH
Sports Covered and Types of Bets Offered
As we alluded to in the introduction, SugarHouse Sportsbook has a very large selection sports to choose from and bets to place. This resembles any number of major international sportsbooks that have operated overseas for years with all the world's major sports covered and thousands of bets to choose from among individual sports.
There is some seasonal variety when it comes to betting options. Naturally, the NFL options are reduced during the offseason, but even then you'll still find a range of futures and prop bets related to the next NFL season. If you just have a hunch the Eagles will make it all the way next year, you can usually get a bet on the next Super Bowl winner year-round.
The full range of sports on offer includes:
| | | | |
| --- | --- | --- | --- |
| NFL Football | College Football | Baseball | NBA Basketball |
| College Basketball | MLS Soccer | International Soccer | Tennis |
| Boxing | Golf | Cricket | Cycling |
| Darts | NHL Hockey | International Hockey | Motorsports |
| Rugby Union | UFC / MMA | | |
Additional sports come and go depending on the season, but those are the main standbys that you can find available most of the year.
Volume-wise, there are tens-of-thousands of wagers on offer on any given day. For example, the NFL tab at SugarHouse Sportsbooks had exactly 746 unique bets available on a preseason weekday. The soccer tab had even more bets to choose from with over 48,000 soccer bets listed for matches hosted around the world.
This type of volume is achieved by offering multiple bets for individual games. The betting variety for just a single NFL game includes a variety of wager types such as point spreads, money lines, props such as whether or not the game will go into overtime, single-game parlays such as "home team wins and the point total is over 41.5" and more.
The following screenshots offer a quick peak at one NFL game and one soccer game showing the types of bets that were offered for each individual game.
Keep in mind it was impossible to capture the full list of bets for either game with a single screenshot. The soccer screenshot in particular shows the true extent of the options at hand – the number displayed on the right side of each blue bar listing different categories of wagers shows how many wagers were offered for that particular category. In all, that one soccer game had nearly 300 wagers to choose from.
Parlay generator: One of the more unique features offered by SugarHouse Sportsbook is a random parlay generator that you can use to build high-paying parlay wagers. With this tool, you can select any combination of sports, a number of legs to add to your parlay and an amount to bet.
Click the "re-pick" button and SugarHouse will automatically generate a new parlay card filled in with a series of wagers designed to generate a massive payout. SugarHouse also randomly suggests parlays from time to time that are completely random aside from always having even higher-than-normal payouts.
To illustrate, here's an example of a parlay I created myself just now. In this example, I chose tennis and baseball, selected a bet amount of $1.00 and generated an 8-leg payout offering a potential win of $98,553.09.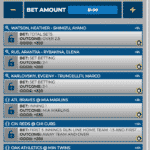 SugarHouse Mobile Betting App and Interface
The people at SugarHouse Sportsbook did well in releasing the desktop platform, iOS app and Android app all at once. From day one, players were granted access to the full range of sports betting options regardless if they were visiting from home or while on the go.
The sportsbook interface makes smart use of navigation menus that allow customers to view popular and upcoming sporting events or to browse a full range of sports. Navigating through the various sports leagues is intuitive with a navigation menu that can be used to scroll through the various sports leagues.
Players will also see notifications of other options across the top of the app and website such as the "game of the day," special parlay offers and other features. Choosing a league or sport from the main navigation menu will then display a list of upcoming games along with odds for each side to win.
From there, you can either place a bet on the winning side or select that game to see a full list of additional wagers for that game. For example, selecting an NFL game will bring up a list of money lines, different point spread options, totals, alternate game lines, in-game parlays and props.
Clicking on any individual wager brings up a bet slip in which you can input your intended bet amount to see exactly how much you are risking and how much you stand to win. Select "place bet" to confirm the wager. If your bet is a winner, you'll paid into your SugarHouse account immediately.
Mobile App Screenshots
Desktop Screenshots
In-Play Betting
The SugarHouse sports app and full desktop version both support live, in-play betting. Selecting "more sports" on the mobile app and then "live right now" will take you to a listing of games that are in-progress right now and which have in-play betting markets.
Choose any game that's in progress now and you'll see a list of all wagers available for that game. The odds are constantly updated in real time, allowing you place wagers at any point during the course of the game.
For instance, you can watch half an Eagles vs. Giants game to get a feel for the momentum before heading to SugarHouse Sportsbook to place a bet on who will win. Most of the standard bets that you would normally place before the game are also available in-play, but at updated odds based on how the game has been going.
You'll also see an "instant betting" category during some live events that provides even shorter-term wagers such as the outcome of the next play, how many free throws will be made and so on. These wagers last only a few seconds, but offer instant payouts throughout the game to keep things interesting from start to finish.
Live Streaming Sports
SugarHouse Online offers live streaming sports video to customers through a deal reached with IMG Arena in May 2019. The current deal only includes live tennis streams but can easily be expanded to include other sports such as hockey, soccer and basketball. As more sports become available for live streaming, we'll update our SugarHouse review appropriately.
Live streams offered by SugarHouse are open to all customers through the website and app. Additionally, the deal with IMG Arena includes live odds straight from the source. Back when the service launched, a press release issued by IMG explained that umpires enter data themselves, and that data is transmitted instantly to SugarHouse customers.
The addition of streaming sports video gives SugarHouse a major competitive advantage over every other betting app in the country right now. SugarHouse was first to the market with live tennis video and will most likely be adding more sports over coming months.
SugarHouse Pennsylvania Review
The SugarHouse PA betting is nearly identical to the one offered in New Jersey in terms of function, feel and wagering markets. One major difference between the two is the Pennsylvania edition does allow wagers on in-state college teams as well as on college games taking place in PA (not allowed in NJ).
Aside from that, there is nothing important to note specifically for SugarHouse Pennsylvania customers. A few deposit options were missing when the PA edition first launched, but other than that the experience is largely the same.
Welcome bonuses, in-play wagers and the betting interface are all the same across the board. The same also goes for customer support options and betting lines. There was some concern SugarHouse PA would have worse lines than the New Jersey edition due to Pennsylvania lawmakers setting such a high tax rate (36% in PA vs. 13% in NJ). So far, this has proven not to be the case.
More recently, Rush Street Gaming notified the Pennsylvania Gaming Control Board that the entire casino, including online operations, will be rebranding its name to Rivers Casino Philadelphia.
Rush Street officials told the PGCB the change was planned to take effect for its online properties at the commencement of online casino games in July 2019. Meanwhile, the brick-and-mortar casino had plans in place to change its name to Rivers Casino Philadelphia later that year.
SugarHouse Casino Review
Now that we've covered the sportsbook, let's take a look at the casino. One thing that jumps out immediately is the large collection of games to choose from. PlaySugarHouse.com boasts hundreds of casino games that run the gamut from video slots to live dealer games to virtual sports betting all accessible via desktop or mobile app.
Easy-to-clear bonuses combined with the wide gaming variety make SugarHouse Casino a serious contender in the regulated US market. We'll start the casino review with a look at bonuses and promotions before moving on to discussions of the software and a closer look at each of the main gaming categories.
SugarHouse Online Casino Bonus
New customers to SugarHouse Online Casino are welcomed with a two-part bonus consisting of a no-deposit bonus in addition to a first deposit bonus. After you sign up for an account, you'll be given a free spin on the bonus wheel to determine the size of your registration bonus. Then, you'll get a 100% match bonus added to your first deposit.
One thing you may appreciate with SugarHouse is they refrain from extending unrealistic welcome offers to players. Other online casinos offer gigantic bonuses that also come with hard-to-meet wagering requirements in a manner that feels almost slimy. The welcome offer at SugarHouse is smaller but it is realistic and is easy to clear.
Other Promotions
SugarHouse runs frequent short-term promotions giving away cash, prizes, free scratch cards and more. If you follow SugarHouse on Twitter, you'll see they maintain an active presence on social media and tend to offer frequent promotions there.
You'll also find contest-style promotions that reward players for earning frequent player points. For example, one promotion SugarHouse ran a while back hosted a series of bingo tournaments organized into steps. Placing highly in one step would move you up to the next step and so on. At the end, the final step awarded $10,000 in bonuses to the top-25 players. During this promotion, players who earned enough frequent player points could skip steps and start closer to the final step.
These ongoing promotions change often, so it helps if you follow SugarHouse Casino on Twitter for frequent updates. If you have an account, they'll also let you know about upcoming promotions if you choose to receive e-mail updates.
Loyalty Program: iRush Rewards
The SugarHouse loyalty program rewards customers for playing in real money games. As you play, you earn Loyalty Points and Reward Points simultaneously.
Loyalty Points are used to determine your level in the 10-tiered VIP program while Reward Points can be redeemed in the rewards store for free spins on the bonus wheel, free scratch cards, bonuses and more.
The rewards program is quite comprehensive in that it has a wide range of levels that are beneficial for casual and frequent players alike. However, the program is unnecessarily complicated in the manner in which points are earned and kept.
Reward Points are awarded based on the return-to-player (RTP) percentage of each game played. For example, a game with a 95% RTP awards 1 point for every $5 wagered while a game with a 94% RTP awards 1 point for each $4.17 wagered. A game with a 96% RTP awards 1 point for every $6.25 wagered.
Loyalty Points are similarly complicated, with the added complication of your current number of Loyalty Points being averaged on a rolling basis. Trying to keep track of how many points are earned and how many are kept is needlessly complicated to the point where it's easier to just play whichever games you like and not even worry about the loyalty program until it's time to redeem your points.
There are 10 levels in the VIP program plus a special eleventh level that is achieved by invitation only. The more Loyalty Points you earn, the farther up you move in the VIP program. Each level up unlocks increasingly valuable rewards and perks.
| | | | |
| --- | --- | --- | --- |
| Loyalty Level | Points Required | Loyalty Level | Points Required |
| 1 | 40 | 6 | 2,800 |
| 2 | 160 | 7 | 5,200 |
| 3 | 400 | 8 | 8,800 |
| 4 | 760 | 9 | 13,600 |
| 5 | 1,400 | 10 | 20,000 |
| | | 11 | Invitation Only |
Game Variety
Game variety is one of SugarHouse Casino's bigger selling points with more than 450 games including slots, table games, live dealer games, video poker, slingo, video bingo, keno and virtual sports betting. SugarHouse is well above average when it comes to sheer numbers and types of games available.
Casino Screenshots
SugarHouse Casino Software
The SugarHouse gaming platform powered by Rush Street Interactive is polished, stable and compatible with all devices. Desktop users can head to PlaySugarHouse.com to play online with no download necessary while anyone with an Android or iOS device can visit the website to download the SugarHouse mobile app.
Rush Street Interactive has done well in securing partnerships with a multitude of independent game developers, which provides even more variety as every software provider has its own style. The options here include developers who have ported real-world games that you'll find on the SugarHouse Casino floor in Philadelphia along with other providers who specialize in online gaming.
Games from NetEnt, Aristocrat, Spin Games, Rush, Shuffle Master, SGI, NYX, IGT, Konami, Everi, WMS, Side City, Bally Games, Grand Vision and more can be found here. This is one of (if not the) most diverse game lineups on the market today.
There are a handful of online casinos with massive numbers of games on offer, but SugarHouse seems to be the only one with effective features for sorting and searching for specific games or specific types of games.
Unorganized games lobbies are a frequent annoyance in the regulated online gaming market, but thankfully you can sort the games list at SugarHouse by game type (slot, table, etc.) as well as by who made the game, number of paylines and even which games have issued the biggest payouts in the past.
The right side of the main games lobby features a recent winners feed that shows how much was won as well as the game that issued the payout. This feature comes in handy if you're into choosing (or avoiding) slots that have paid recently. If you want to hunt down one of those games, just note the name and then use the search bar near the top of the lobby to go directly to that game.
Along those same lines, the lobby also has a filter for games that have paid back more than 100% over the last hour. This means that overall, those games have paid out more in prizes than what they've taken in from wagers over the last hour. The idea that jumping on slots when they're "hot" for better winning chances is a thoroughly-debunked myth, but it's still a nice touch for the superstitious players out there.
SugarHouse Online Slots
Slots account for the bulk of the game variety at SugarHouse with exactly 416 slots available at last count. You'll find slots from all manner of software providers, including the same slots that can be found at actual casinos in the real world. Late-gen video slots designed by online providers are also featured along with old-fashioned reel machines and one progressive jackpot game.
The main casino lobby also offers a handy feature that shows the minimum amount you can wager to cover every pay line. This serves to show not only which games are penny slots, but also how many lines are available so you can find a game that suits your needs.
For example, one game might have a little bit of text beneath that reads "min $0.09 covers all 9 lines" and you know you're looking at a 9-line penny slot. A different game might say "min $1.00 covers all 20 lines" so you know you're looking at a game that costs $0.05 per line with up to 20 lines that can be activated.
One area in which the slots collection at SugarHouse could improve is in progressive jackpot games. Currently, Divine Fortune is the only progressive game on offer. The upside is that with just one progressive to choose from, the jackpot tends to build quickly as that's the only progressive players have to choose from.
In March of 2018, SugarHouse Casino paid one of its largest jackpots to date to a 33-year-old NJ resident. As local media reported at the time, Anibal Lopes took home a $193,737 jackpot won at Divine Fortune. It would be nice to see more games, but at least this one is known to pay. At the time of this writing, the Divine Fortune jackpot was sitting at $248,533.
Table Games
SugarHouse hosts an average number of table games, but could still use some additional variety in this category. They currently have several variations of blackjack plus Let It Ride, Three Card Poker and several roulette variations.
Blackjack variations include Multi-Bet Blackjack and Single Deck Blackjack (both SugarHouse exclusives), Atlantic City Blackjack Pro and two more standard blackjack tables. Roulette options include American Roulette, Advanced Roulette, Double Bonus Spin Roulette, Three Wheel Roulette and two more standard variations.
In short, the table games list includes the usual standbys you would expect to find at any mid-sized brick-and-mortar casino plus a few special extras thrown in for good measure. It would still be nice to see more table games, but this is about standard for online casinos today in the United States.
Live Dealer Games
One of my chief complaints when SugarHouse Online first launched was a lack of live dealer games. They have since rectified that situation by adding ten live dealer games that are staffed from noon to midnight seven days a week.
For anyone new to live dealer games, they are exactly what they sound like: online casino games run by human dealers. Live dealer games are designed to combine the convenience of playing online with the trust and social aspects of gambling in-person at a brick-and-mortar casino.
The SugarHouse live dealer games are provided by a software company called Evolution Gaming. Evolution Gaming was established in 2006 and signed its first contracts the following year with major European brands such as 888, Ladbrokes, Unibet, Paddy Power and SkyBet.
Over the interim years between 2006 and today, Evolution Gaming has been named "Live Casino Supplier" nine times at the EGR B2B Awards. Evolution Gaming is headquartered out of Latvia and has operations in the United States, the UK, the Netherlands, Malta, Latvia, Estonia and Canada.
The full list of live dealer games includes:
Baccarat: One table with a minimum bet of $1.00
Blackjack: Six tables with minimum bets starting at $10
Roulette: Two tables minimum bets starting at $0.10
Three Card Poker: One table with a minimum bet of $0.50
Ultimate Texas Hold'em: One table with a minimum bet of $0.50
Virtual Sports Betting
Rush Street Interactive tapped Inspired Games to provide a collection of five virtual sports betting games to add a little variety to the mix. These games are designed to mimic actual sports betting with the exceptions being the outcomes are randomized and games only last a minute or two.
Virtual soccer, for example, will allow you to place up to thirty different types of bets just like you'd be able to at an actual sportsbook. After you place your bets, just sit back and watch the game play out over next two minutes and collect your winnings. It's not quite the same as actual sports betting, but the experience is similar and you don't have to wait all day for the outcome.
Virtual sports you can bet on include: horse racing, soccer, greyhound racing, motorcycle racing and auto racing.
Video Bingo and Keno
A small collection of video bingo and keno games with payouts based on matching your numbers to numbers randomly selected by the casino offer sizable payouts to lucky players.
Currently, there are three video bingo games that are a sort of mashup between bingo and slots. For example, Empire Action Casino Bingo gives you four bingo cards printed with 15 numbers at the beginning of each round and then draws numbered balls at random. The more matches you have, the higher the payout.
The video bingo games also come with additional bonus features that can multiply your winnings, draw additional numbered balls and more. For example, Mega Ball Action will let you purchase up to 10 additional balls to try and complete patterns that were nearly completed after the initial drawing.
There's also Ancient Thunder Keno which more closely resembles traditional keno but with additional features such as special gold coins that multiply your wins in a round by up to 5x. The potential for big wins is significant, and fairly recently a player won a 5,000x payout while playing this game.
SugarHouse Online Deposit Methods
SugarHouse Casino accepts a variety of online and cash-based deposit methods. Between these various options, you can fund your account with cash, through your debit card or simply moving money from your bank account straight to your gaming account.
SugarHouse Prepaid Card: The SugarHouse prepaid card facilitates instant online deposits without having to leave your house. Just log in to your account to sign up for a SugarHouse-branded prepaid debit card. You can fund your prepaid card online immediately via credit card, debit card or bank and then you'll receive a physical card in the mail within 14 business days.
ACH / eCheck: This deposit method does not require a credit or debit card. All you need is your bank account number, routing numbers and a driver's license. Fill out the information online and choose an amount to deposit then confirm the deposit. Your funds will be available for play immediately even if the deposit takes a few days to clear from your bank account.
Cash at the Cage: You can make cash deposits at the Golden Nugget Casino in Atlantic City or SugarHouse Casino in Philadelphia. Just visit the casino cage in-person with your photo ID and online account information to make a deposit. Your account will be credited instantly.
Online Bill Pay: Online bill pay allows you to fund your account without revealing any of your private financial information. It works by having you log in to your bank's online banking feature on a page hosted by your bank to authorize the transaction. If you can login to check your balance, you have everything you need to make an online bill pay deposit.
Cash via PayNearMe: Choosing the PayNearMe option will give you a payslip that you can either print off or save to your smartphone. Take the payslip to your nearest 7-Eleven and pay the cashier with cash to fund your SugarHouse account.
SugarHouse State-by-State Operations
SugarHouse and parent company Rush Street Gaming operate a handful of casinos in three states, which limits the reach of its in-person betting aspirations.
However, the parent company's online division, Rush Street Interactive, has proven quite adept at managing mobile betting apps. Rush Street Interactive may very well find ways to enter other states as a software provider to other land-based casinos that do not have online betting expertise.