PayLucky is an online payment solution that provides services to licensed betting sites in the US. Some of its services include handling debit and credit card deposits, processing ACH transfers, managing prepaid debit cards, paying out withdrawals and running e-wallets that players can use to manage their gaming accounts.
Much of PayLucky's work happens behind the scenes as a business-to-business services provider rather than as a deposit method shown to players. For example, the prepaid debit card or paper check sent to you by your betting site may have actually been handled by PayLucky.
However, PayLucky does show up as its own deposit method from time to time. The highest-profile site at which you'll find PayLucky actually listed as an option is BetAmerica Racebook. At BetAmerica, you'll see PayLucky listed as a method to make instant deposits with credit cards and debit cards.
---
Sites with the PayLucky Deposits
Rank
Betting Site
Bonus
Rating
Visit
---
PayLucky also serves a number of licensed betting sites in New Jersey but is not specifically named as a deposit method. Instead, PayLucky provides backend services assisting operators in managing payments and withdrawals.
How PayLucky Works at BetAmerica
BetAmerica.com is the only mainstream betting site that specifically names PayLucky as a deposit method from within the cashier's screen. PayLucky is primarily offered as a solution to players who have experienced declined credit card deposits as a result of outdated anti-gambling policies maintained by their banks.
If you have had problems depositing with a credit or debit card, you can select PayLucky as your deposit method within the BetAmerica cashier in order to fund your gaming account using the same card that was previously rejected.
BetAmerica describes PayLucky as an e-wallet, but it functions more like an instant deposit method that simply routes your credit or debit card payment to PayLucky before crediting your BetAmerica account. It all happens instantly, so it feels like a normal card deposit but with a much higher acceptance rate.
Here's how it works:
Visit BetAmerica.com and login to your account
Visit the deposits page and select PayLucky
Submit your credit/debit card details and choose an amount to deposit
Accept the terms and conditions
Your account is funded instantly
PayLucky can be used to deposit a maximum of $10,000 a month at BetAmerica and comes with a 3.98% fee on deposits.
All in all, PayLucky is a hassle-free deposit method that works well for people experiencing declined deposits. The single biggest drawback with PayLucky is that it is only available in a few states:
California
Massachusetts
New Mexico
Ohio
Oregon
Wisconsin
New York
More About PayLucky
PayLucky was launched as the online and land-based gambling arm of global payment services company First Data back in 2014. BetAmerica signed on with PayLucky in 2016 and remains a partner to this day.
Beyond PayLucky, First Data is involved in a wide range of payment operations that include providing merchant services to more than six million businesses and processing some 2,500 financial transactions per second.
To offer some perspective on the size of this company, it has been estimated in the past that First Data handles as much as 45% of all credit and debit card transactions in the United States. PayLucky is just one small part of what is an absolute behemoth of a financial services firm.
Neither First Data nor PayLucky have a whole lot of name recognition among society at large. Both companies operate primarily on the backend as service providers to other companies, but both are still very active in their respective operations.
The PayLucky division of First Data provides a number of different services for legal betting sites in the US. This graphic from the First Data website shows, in a nutshell, how PayLucky serves the online gaming industry from initial registration to payout: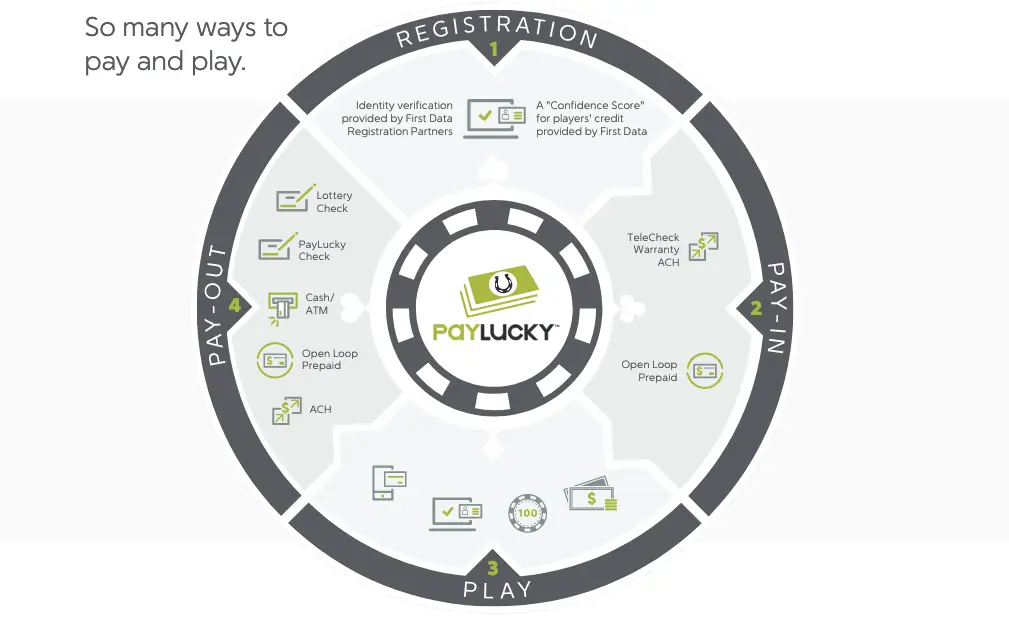 Prepaid Debit Cards
PayLucky provides prepaid card services for betting sites that wish to offer branded prepaid cards to their customers similar to how many sites offer PlayPlus cards. With PayLucky, operators have their choice of open-loop or closed-loop prepaid cards.
Open-loop prepaid cards issued by PayLucky can be branded with the site's logos and then sent to players who can use those cards to upload funds, receive withdrawals, get cash at ATMs and make purchases where Mastercard is accepted.
Closed-loop prepaid cards work in a similar manner but lack the Mastercard logo and are thus restricted to being used with that particular betting site. If you imagine a Starbucks gift card that can only be used at Starbucks, that would be a n example of a closed-loop card. In fact, First Data actually provides such services to Starbucks.
Deposit Assistance
Gaming websites can also partner with PayLucky to manage deposits made through credit and debit cards, prepaid cards and ACH transfers. Essentially, betting sites can hand off payment processing to First Data and focus on their core business (serving players).
As a part of its deposit services, PayLucky assists operators by offering risk-free payment acceptance using TeleCheck Warranty ACH services. The benefit to operators is PayLucky guarantees player deposits and notifies them if players present a transaction risk.
Withdrawal Services
Finally, betting sites can rely on PayLucky to manage player withdrawals. When players are ready to withdraw, PayLucky can handle the process of sending payments via ACH transfer, prepaid card (including cash ATM withdrawals) and paper checks in the mail.