A comprehensive report published by Eilers & Krejcik Gaming shines some much-needed light on the habits of US sports bettors.
The 58-page report, titled, Why Americans Do (And Don't) Bet On Sports, provides a cornucopia of interesting information. You can find an overview of the report's findings here.
BettingUSA also picked up on three interesting data points in the report:
Preferred bet types among US sports bettors.
An important difference between what the report terms, "Mainstream Active Bettors" and "Engaged Active Bettors."
Mobile wagering being a sleeping giant (slowly roused from its slumber).
To help us understand and interpret the data, BettingUSA.com spoke with one of the report's authors, Gene Johnson, the executive vice president of Victor-Strategies.
The Methodology of Eilers & Krejcik's Sports Betting Report
Before delving into the findings, it's important to point out the methodology of the project.
Eilers & Krejcik conducted an online quantitative study between February 22, 2019, and March 7, 2019. The study collected a total of 2,836 responses.
The research identified 1,017 respondents as "Mainstream Active Bettors," defined as, "having a placed a sports wager for real money on some type of commercial gambling platform within the past 12 months." This group doesn't include respondents that engaged in office pools or bet with friends.
Of the 1,819 respondents that hadn't wagered (or bet with friends), E&K classified 776 as "Interested Non-Bettors." E&K classified the remaining 905 respondents as "Uninterested Non-Bettors."
According to E&K:
"The full survey questionnaire was administered to Mainstream Active Bettors. Interested Non-Bettors answered a brief attitudinal questionnaire designed around their potential acceptance of sports wagering. Uninterested Non-Bettors received a shorter attitudinal questionnaire and demographics."
Further:
"The national survey was augmented by an identical, secondary survey administered to participants recruited by Eilers & Krejcik Gaming through social media and via the online sports gambling community RotoGrinders."
That survey produced 560 respondents that E&K deemed "Engaged Active Bettors."
And there are both similarities and significant differences between the two groups.
 Wagers Mainstream and Engaged Bettors Prefer
As the chart below shows, American bettors of all stripes prefer meat and potatoes type bets – straight wagers, money lines, and betting against the spread.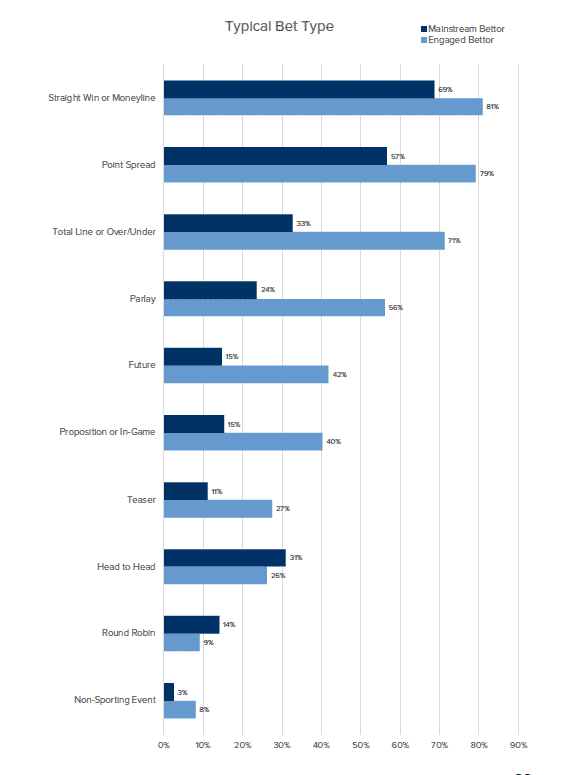 Johnson doesn't see that changing anytime soon.
"I think money-line and straight wagers will continue to be the most popular bets, particularly with novice and occasional bettors," he said.
But he did caveat that statement: "As Americans become more familiar and comfortable with betting on sports, they will also become more educated, and the more educated bettors will explore more sophisticated betting practices."
Johnson believes those sophisticated bettors will transform into in-play aficionados.
"I expect it to become extremely popular and eventually grow to a majority of sports betting revenue," Johnson said. "The most popular American sports — football, baseball, basketball, and golf — offer far more opportunities to place bets once the game has begun than popular international sports like soccer.
"Imagine the permutations to bet on in the next football play, the next baseball pitch, basketball shot or golf drive."
But there are potential stumbling blocks.
"Many hurdles could impact the growth of in-play betting," Johnson noted. "Official league data requirements will limit the potential because of the necessity for real-time data, and we should also never underestimate the power of politicians to ruin a good thing."
Johnson also noted, "in-play betting is likely to increase the potential for problem gambling behavior, and the industry must address this issue proactively to mitigate gambling harm to customers."
Differences Between Mainstream and Engaged Bettors
Preference aside, there are clear differences between the two groups of bettors.  One noticeable difference being the frequency they wager. Two pieces of data give us a pretty clear picture of how these two groups of bettors diverge on that front.
No Surprise, Engaged Bettors Are More Engaged
As the descriptive implies, engaged bettors place more wagers than mainstream bettors. And that's true virtually across the board. Looking back at the E&K chart posted above, the only bet types mainstream bettors outpace engaged bettors are head-to-head and round-robin.
It's important to note that the report indicates that engaged bettors don't prefer different wagers, rather they want to place more wagers across the entire wagering spectrum.
Bet Frequency
According to the E&K report, the median statistic for betting frequency falls between 6-8 games per season for the four major professional sports and PGA golf.  That number is slightly lower for collegiate sports, which makes sense when you factor in the abbreviated schedules in college sports.
Essentially, this tells us that rather than betting at every opportunity — the early, late, Sunday night, and Monday night games — the median sports bettor in the US is betting a very small percentage of games throughout the season.
If we extrapolate the data, with 30 NBA teams, the median NBA bettor is wagering on about .3% of total regular season NBA games.
Taken together, the betting preferences and frequency indicate mainstream bettors might have action on one game every week or two. On the other hand, an engaged bettor is likely always in action, juggling multiple bets across multiple games every week.
Engaged Bettors Are Also More Likely To Be Mobile Bettors
The E&K report also provides some insights into how the two groups of bettors are placing wagers online.
Nearly two-thirds of mainstream bettors use laptops (32%) and desktops (32%) as their primary method for placing online sports bets. Just 27% of mainstream bettors selected mobile devices as their primary method.
On the other side of the coin, engaged bettors favored mobile devices. Mobile was the primary method for 36% of engaged bettors, with 29% selecting laptops and only 19% desktops.
Johnson doesn't see desktop holding off mobile wagering for very long, even among mainstream bettors.
"From New Jersey's experience, mobile sports betting has already exceeded desktop, accounting for 80% of all betting volume," said Johnson. "Nationwide I think desktop may be more popular with sophisticated players now betting offshore (where accessibility is not always easy) but as legal sports wagering becomes more widespread and more popular, and as mobile betting options diversify and mobile applications become more user-friendly then mobile will take off and surpass desktop permanently."