PokerStars and the UFC Announce Partnership Ahead of UFC 232
PokerStars and the UFC have announced a new partnership that will result in the former having a noticeable presence in the Octagon on December 29th when Jon Jones and Alexander Gustafsson meet once again to contest the light-heavyweight championship in Las Vegas.
What that Octagon presence includes or even what else this partnership entails remains to be seen. PokerStars cryptically wrote on its official blog that "fans will notice a PokerStars presence inside the world-famous Octagon later this month" and left it at that.
But, if we know anything about PokerStars and the UFC, it's that both are very good at marketing their wares. As the UFC was building its brand starting from a $2 million purchase in 2000 to what would become a $4 billion household name, PokerStars too established its presence in the USA to become the country's biggest online poker site.
PokerStars and the UFC took wildly divergent paths after US gaming laws changed in 2006 pushed PokerStars out of the USA, but the world's most popular poker site is now in the midst of staging a comeback. After being forced out of the US market and spending years focusing its efforts on other countries, PokerStars is now back in business with a licensed poker site and online sportsbook in New Jersey.
Speaking on the deal, Stars Interactive Chief Marketing Officer Christopher Coyne said this:
"UFC and PokerStars have a lot in common. We want to thrill and entertain, both in our products and customer experience. UFC is the world's leading MMA promoter with millions of fans and followers around the globe, while PokerStars is the heavyweight of online poker. It's a classic combination."
Here's Paul Asencio, UFC Senior VP, Global Partnerships:
"We're excited that PokerStars has joined our roster of global partners and has helped us create a new sponsorship category for our final event of 2018. This agreement lays the foundation to work together with PokerStars in the future to grow our respective customer bases in key markets."
Deal Just in Time for Jon Jones vs. Alexander Gustafsson II
The deal with the UFC is just further evidence of what many of us have suspected for years: that PokerStars has big plans in place for the USA. New Jersey, in all likelihood, is just a foothold for The Stars Group (parent company of PokerStars) as it stages its comeback in the broader US gaming market.
Speaking of comebacks, the partnership announcement comes just in time for another behemoth from overseas looking for a second chance. Alexander Gustafsson, the 6'5" light-heavyweight fighter from Sweden is also looking to make a comeback in the US and claim the title that has eluded him thus far in two championship fights.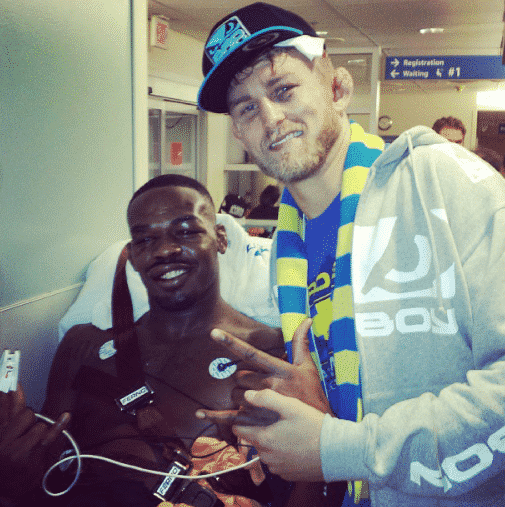 In 2013, Alexander Gustafsson faced reigning light-heavyweight champion Jon Jones for the belt in an epic back-and-forth fight that would leave both men battered and bruised, but with just one of them holding the belt. Some still call it the greatest fight of all time.
Gustafsson took a second crack at the title in 2015, this time against Daniel Cormier. That fight too would be a war, but again Gustafsson would come up just short. Roughly one week from today, Gustafsson will get his third chance and a rematch against the man who helped him put on one of the greatest mixed martial arts fights of all time.
Meanwhile, Jon Jones hopes to continue a comeback of his own after serving a 15-month suspension for banned substances. His victory over Daniel Cormier last year was overturned after a pre-fight test came back positive for steroid metabolites.
On Saturday, December 29th, Jon Jones will make his return to the Octagon opposite the only man who has ever come close to truly defeating him. If Jones vs. Gustafsson II is anything like the first fight, it will be one for the ages.
New Jersey betting site SugarHouse has Jon Jones priced as the -286 favorite and Alexander Gustafsson as the +230 underdog.
If you happen to be reading this from New Jersey right now, you can now bet on this fight online from the comfort of home. If there's any possible way to make Jones vs. Gustafsson even more exciting, it would have to be having some skin in the game.