BetAmerica is a USA-friendly betting site that hosts real money wagers on horse racing, greyhounds and (in some states) online sports betting, poker and casino games. It is one of the largest legal betting sites in the United States and also happens to be one of my favorites thanks to the variety of wagers and a slick betting interface.
BetAmerica
BetAmerica
BetAmerica is a US-based company that offers online sports betting, casino games and horse racing betting across the country. A reputation for fast payouts and generous bonuses makes BetAmerica an attractive option for many.
Pros
Safe betting site licensed in the USA
Frequent promotions
Sportsbook, casino and racebook under one roof
Fast, easy withdrawals
Cons
Could use a larger welcome bonus
Gaming products vary by state according to local laws
BetAmerica Info
Betting Site: BetAmerica
Website: www.betamerica.com
Established: 2008
Country: United States
Support: Phone, live chat and e-mail
Minimum Deposit: $10
Deposit Bonus: $50
Bonus Code: BET50
The first thing I'd like to point out is that BetAmerica is a 100% legal and licensed betting site located right here in the United States. Unlike offshore gambling sites you see on the internet, BetAmerica operates in the open view of the law and is authorized to offer real money wagers to US citizens.
What makes BetAmerica different is that it sticks to forms of gambling that have been exempted from all the major anti-gambling legislation to have been passed over the past 5 decades. Horse racing, greyhound racing and fantasy sports betting have all received special exemptions from legislation such as the Wire Act of 1961 and the UIGEA of 2006.
This is kind of a big deal because almost every other betting site you see mentioned on the internet operates overseas and in contradiction to US law. This gives BetAmerica a big advantage because you don't have to worry about the US government coming in and seizing your money, your withdrawals are processed instantly and you can do business with a company that is subject to (and follows) US law.
So if you're tired of betting at sites with questionable business credentials and you're tired of waiting 6+ weeks for your payouts to process, you might want to give BetAmerica a look. It's a legitimate betting site with a rock solid reputation.
Types of Wagering Offered By BetAmerica
The BetAmerica website is organized into two major sections, with each one dedicated to a different form of racing betting:
Horse racing
Greyhound racing
BetAmerica has also announced it will be expanding into additional forms of gaming in select states over the next few months:
Sports betting
Online poker
Online casino games
BetAmerica Horse Racing Betting
Horse racing is BetAmerica's specialty. Horse wagering is where BetAmerica started and that's where it continues to shine today. BetAmerica covers more than 200 major racetracks around the world and offers all the same wagers online that you would find in person at the track. This includes all the major tracks in the US, Australia, the UK and even Sweden's V75 weekly harness racing jackpot.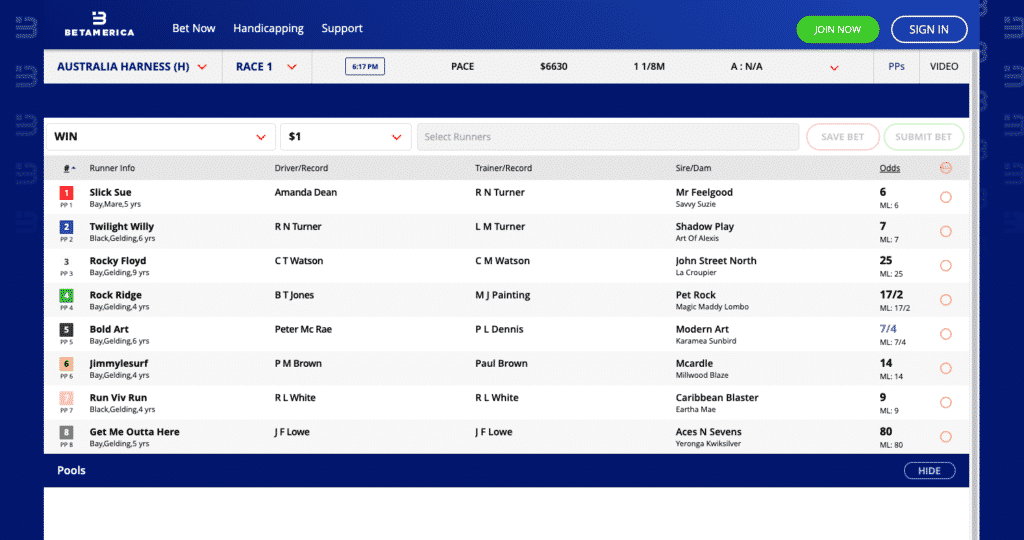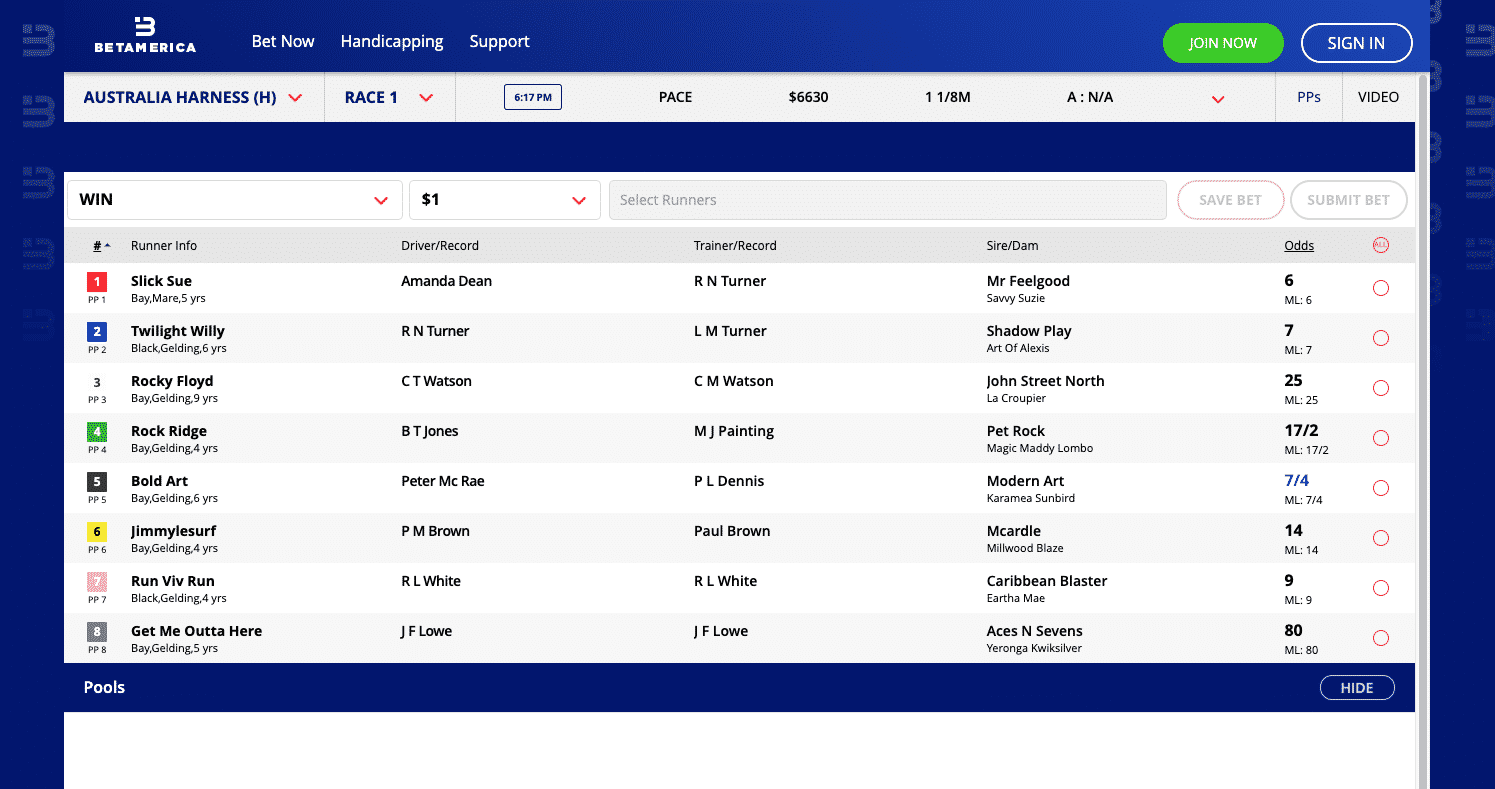 One of the nice things about betting at BetAmerica is that your wagers are combined with the pool at each racetrack. In any race, the bets that you place at BetAmerica are combined with the wagers placed by people who are actually at the track. This is only possible thanks to BetAmerica's legal status in the US. This is not something you get when you place your wagers at offshore betting websites.
Another advantage you get at BetAmerica is the ability to watch live races on your computer. If you have an account, you can log in any time to watch the races in real time. BetAmerica has deals with all the major racetracks which allow BetAmerica to stream the races on your screen. This is another advantage that you don't see at offshore betting sites.
All the standard types of horse racing bets are available online as well. You can place standard win/place/show bets as well as exotics and other combinations. Payouts are determined in standard parimutuel fashion just like you would see at the track in person.
BetAmerica Greyhound Racing
Greyhound betting at BetAmerica is much the same. You get access to the 18 largest greyhound racetracks in North America. With more than 100 races hosted every day across the United States, there are plenty of opportunities to try your hand at dog racing – even if you don't live near a track.
The betting interface for greyhounds operates in the same basic manner as the interface for horse racing. You can place all different types of bets on the dogs and then watch them race in real time on your computer via streaming video. Again, this is something the offshore betting sites don't offer.
BetAmerica Bonuses and Promotions
BetAmerica is strong in the bonus and promos department. The first thing you'll get as a new customer is a 100% bonus added to your first deposit for up to $100 extra. All you have to do is make a deposit and BetAmerica will match it dollar for dollar.
You'll also get to take advantage of a constantly-changing list of promotions that BetAmerica has on offer for active bettors. New promos come out all the time, but they generally include the likes of free bets, refunds on losing bets, 10% win bonuses and other giveaways that add to your bottom line.
I've looked into many of these promotions over the years and they're all pretty good deals. They don't come with a whole bunch of ridiculous terms and conditions like you see at offshore betting sites. What you see is what you get.
BetAmerica Sports Betting
The first hint that BetAmerica would be opening a sportsbook came within days of the 2018 Supreme Court decision to strike down the federal sports betting prohibition. Two days after the fateful decision, BetAmerica parent company Churchill Downs Incorporated (CDI) announced it had reached a partnership agreement with Golden Nugget Atlantic City in order to offer online sports betting and casino gambling in New Jersey.
That first announcement did not specifically mention BetAmerica, but of all the brands owned and operated by CDI, BetAmerica just seemed the most fitting as an online sportsbook. Churchill Downs later confirmed the company would be expanding into additional states, including Pennsylvania and Mississippi. Still, it remained uncertain whether Churchill Downs would leverage the BetAmerica brand or simply partner with land-based casinos as a behind-the-scenes sports betting services provider.
That changed in October 2018 when Churchill Downs Inc. submitted details of its plans to the Pennsylvania Gaming Control Board and confirmed it would indeed offer sports betting at BetAmerica.com.
BetAmerica Sportsbook has since launched online betting in New Jersey in addition to establishing land-based sportsbooks in Mississippi. BetAmerica expanded its online betting operations to Pennsylvania in December 2019 and later added Indiana to its list of accepted states.
You can read more about BetAmerica Sportsbook in our review here:
BetAmerica Casino
In addition to sports betting, Churchill Downs has also entered the online casino business. BetAmerica Casino launched on the same day as the sportsbook with a full menu of slots, table games, video poker and progressive jackpot games all offered on the same website and accessible with one account.
The addition of casino games makes BetAmerica.com a near-complete gaming site with horse racing betting, sports wagering and casino games that are all licensed and legal in the United States. With Churchill Downs running things on the backend, you'll be in good hands at BetAmerica if you choose to play here. Churchill Downs has been involved in wagering for many years now and maintains a sterling reputation to this day.
That being said, BetAmerica Casino is not perfect. This casino has its strong points and areas where there is certainly room for improvement. You can read all about it and decide if this is the right casino for you in our full review here:
Online Poker?
BetAmerica has also revealed plans to introduce online poker. BetAmerica Poker will likely begin with a rollout in Pennsylvania, where parent company Churchill Downs has stated its intention to offer online gaming.
The details behind BetAmerica online poker are limited, but a page published on the company website explains the site will offer cash games, tournaments, sit-n-go tournaments, play-money tables and more. BetAmerica also says it will offer the following poker variants for real money:
Texas Holdem (limit and no-limit)
Omaha
Omaha Hi-Lo
Five Card Draw
Oxford Stud
Caribbean Stud
Pai Gow Poker
Four Card Poker
The mentions of Caribbean Stud, Pai Gow Poker and Four Card Poker stand out as a bit odd because those are traditional casino games played against the house, not against other players. However, BetAmerica has made it clear it will also be offering player-vs-player poker games.
We also know little about the software itself, but it is likely BetAmerica will partner with an experience poker software provider and may already have one in mind. The BetAmerica website states that desktop and mobile play will be supported.
Fantasy Sports
BetAmerica offered daily fantasy sports for a period but has since given up on that business model. There was no official announcement regarding the end of fantasy sports at BetAmerica, but a visit to the contest lobby shows zero active contests. In all likelihood, BetAmerica has simply ceded to the dominance of FanDuel and DraftKings in that space.
At one point, BetAmerica offered real money fantasy games on the following leagues and sports:
NBA
MLB
NFL
NCAA football
Fantasy horse racing
BetAmerica had a variety of competition styles for fantasy matchups. Customers were also able play in more complex matches that involved a whole variety of player statistics, or simpler competitions such as which team scores the most points, achieves the most rebounds and so on.
BetAmerica also dabbled in fantasy-style betting games that revolved around subjects other than sports. The site formerly offered a form of celebrity Twitter betting in which you and the other players on the site drafted a team of celebrities and then earned points whenever your celebrities sent tweets during specific sports events.
For example, you might have picked 3 celebrities for your team during an upcoming Dodgers-Yankees game. You would have won the bet if your team of celebs sent out the most tweets during the course of that game. This might sound a little odd, but it was further proof of BetAmerica's willingness to think outside the box.
These games have also been discontinued. Now, BetAmerica seems more focused on the upcoming launch of actual sports betting, casino games and poker.
BetAmerica Deposits and Withdrawals
If you've spent any time at offshore betting sites, you're in for a pleasant surprise with BetAmerica. As a US legal gambling site, BetAmerica doesn't suffer from the same deposit and withdrawal problems that plague other sites. Banking with BetAmerica is fast, simple and cheap.
BetAmerica offers five different deposit methods:
eCash (instant electronic bank transfer)
Credit Card (Visa, MasterCard, American Express and Discover)
PayNearMe
Green Dot MoneyPak
Wire Transfer
PayLucky (read about it here)
Check or money order
All of the above methods except for the check/money order are instant. You simply choose your method, pick an amount to deposit and the funds show in your betting account right away. Most players go with the eCash or credit card deposit method since those are both instant and most people have a card or bank account.
If you're not familiar with the Green Dot MoneyPak, this is a method that allows you to use cash to fund your account. Just head to your nearest Wal Mart or pharmacy (Walgreens, for example) and purchase a MoneyPak with cash. The MoneyPak comes with a number code that you can then redeem at BetAmerica to finish your deposit.
Checks and money orders take a little more time simply because you have to send them in the mail. This method does work, but it's slow. I'd recommend looking into one of the other methods first if possible.
Withdrawals are offered via eCash or a paper check in the mail. If you have a bank account, eCash is the easiest and fastest. All you have to do is give BetAmerica your account information and they'll send the money directly to your bank account.
Depositing to and withdrawing from BetAmerica is so much easier than at other, offshore gambling sites. BetAmerica doesn't have to deal with the same legal issues as those other sites, so it's a simple matter of picking your method and waiting a day or two for your money.
Accepted and Restricted States
Like all licensed betting websites, BetAmerica is required to get permission from each state in which it would like to offer its services. Below are two charts that show the states from which BetAmerica does accept customers and from which it does not.
Customers from the following states are accepted at BetAmerica:
| | | |
| --- | --- | --- |
| Alabama | Arkansas | California |
| Colorado | Connecticut | Delaware |
| Florida | Idaho | Illinois |
| Indiana | Iowa | Kansas |
| Kentucky | Louisiana | Maine |
| Massachusetts | Michigan | Minnesota |
| Missouri | Montana | New Hampshire |
| New Mexico | New York | North Dakota |
| Oklahoma | Oregon | Pennsylvania |
| Ohio | Rhode Island | South Dakota |
| Tennessee | Vermont | Washington |
| West Virginia | Wisconsin | Wyoming |
Customers from the following states are NOT accepted at BetAmerica:
| | | |
| --- | --- | --- |
| Alaska | Arizona | Georgia |
| Hawaii | Maryland | Mississippi |
| Nebraska | Nevada | New Jersey |
| North Carolina | South Carolina | Texas |
| Utah | Virginia | Puerto Rico |
Final Thoughts
It's hard to come up with anything negative to say about BetAmerica. The simple fact that the site is legal and licensed to do business in the United States gives it a huge leg-up over all the other options out there. It's just so much nicer to know that when you deposit at BetAmerica, you're doing business with a legitimate organization based out of the US.
BetAmerica was purchased by Churchill Downs Inc. in 2017. This is the same company that operates Churchill Downs racetrack (home of the Kentucky Derby) and TwinSpires.com. Churchill Downs is a legitimate and US-based racing betting operator as well so there have been no issues since the change in ownership. We prefer not to see competitors buying each other up so there is more competition among betting sites, but so far both betting sites continue to offer high quality racing betting online.
The only real complaint I have is related more to the current state of the law in the US than anything BetAmerica does wrong. If you're into casino games or traditional sports betting, you'll have to look elsewhere. BetAmerica doesn't offer anything along those lines because most states still outlaw those forms of online betting.
Hopefully things will change for the better in the future. If they do, I expect BetAmerica to expand its offerings and join the fun. But in the meantime, BetAmerica is an excellent alternative to betting at sketchy, quasi-legal offshore sites.