DerbyWars.com offers real money fantasy horse racing contests based on the outcomes of real-world horse races. This is the largest and most reputable fantasy site specializing in horse racing, so we can say up front this site should be on your shortlist if you have an interest in horse racing.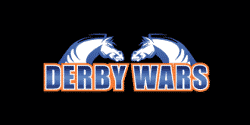 DerbyWars
DerbyWars is the largest daily fantasy site dedicated to horse racing. At Derby Wars, you put your handicapping skills to the test against other players and win money when you make the best picks in real horse races.
Pros
Specializes in horse racing
Regular qualifiers to live events
Trusted and headquartered in the USA
Cons
Large prize pool contests are infrequent
Limited deposit methods
The basic idea behind DerbyWars is to put your handicapping skills to the test against other real people and be paid when you win. DerbyWars contests have you pick the winners of multiple horse races and then issue payouts when your results (based on actual track odds) give you more points than the competition.
DerbyWars.com was launched in 2011 by HorseRacingNation.com. You will probably recognize the name if you're already involved in horse racing betting. Horse Racing Nation is one of the bigger horse racing websites on the internet and has been around since 2009. These people know horse racing and have many connections, which in turn benefits players.
For example, DerbyWars is able to provide online qualifiers for the annual National Horseplayers Championship (NHC) in Las Vegas and the World Harness Handicapping Championship. The NHC is the most prestigious horse racing handicapping event in the world and awards millions of dollars each year. Last year's winner took home a grand prize of $800,000.
DerbyWars has a positive reputation online and I have no questions regarding this site's legitimacy. The company is based in the United States and is backed by a strong company. The only question that remains is whether or not this is the right site for you. Today's DerbyWars review will attempt to help you answer that question.
Let's begin with the basics:
New Player Bonus: No bonuses offered currently
Established: 2011
Headquarters: Louisville, Kentucky
Contest buyins: $1 to $275
Deposit Options: Visa and MasterCard
How DerbyWars Works
DerbyWars fantasy contests are designed to reward you for making smart picks and growing a virtual bankroll by picking the winners of each race in a meet. The goal is to predict the winners and accumulate points based on the parimutuel payouts those horses achieved in the real world. The contestant with the most points at the end of the contest is declared the winner and receives a payout based on that contest's prize structure.
Although no actual horse bets are placed during DerbyWars contests, the system does base results on the odds offered for each horse in the real world. Thus, you can make "safe" picks by choosing each race's favorite, opt for a higher-risk strategy picking longshots or mix it up as you please.
You and all your opponents in any given contest begin from a starting point of $0. You then make picks in each race as if you were really betting money on each horse. The system will then track your results based on the actual track odds offered for your horses. The person who earns the most through these mythical wagers wins the contest.
You do pay money to enter contests, but again, no money is actually bet on horses. The only times real money changes hands are when the contestants pay to enter the contest and when the winners are paid at the conclusion of the contest. You could say DerbyWars runs handicapping contests, but technically it's a bit different because parimutuel payouts are converted to a points system to determine the winners of each contest.
From the main lobby (pictured left), you can view all open contests to find one that suits your needs. DerbyWars offers contests with buyins ranging from $1 to $275, although the majority of contests take place in the range of $5 to $111.
Prize pools vary based on the number of entries, but generally you can expect to see prize pools ranging from about $100 to several thousand dollars. With a focus on horse racing, DerbyWars remains a fairly niche site, so I don't expect to see million-dollar prize pools any time soon. However, DerbyWars has grown year after year and now does offer a decent selection of high prize events. While writing this review, I was able to find prize pools ranging from $111 to $22,727.27.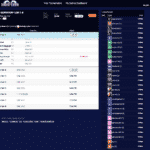 After you find a contest you like, click on its name to visit that contest's page. This is where you can see more details such as which horses are slated to run, how many races will be covered and how many players have entered so far. From here, you can choose to enter the contest and begin making picks.
In each race, you will make a primary and an alternate pick. Your primary pick is designated to be your runner for that race, but the alternate is used if your primary horse scratches. On this screen, all you need to do is make your picks for each race and enter the contest. Once you have entered the contest and made your picks, all you need to do is wait for the results to come in.
This video from DerbyWars explains the mechanics of actually entering a contest and making picks:
DerbyWars Survivor Contests
DerbyWars.com introduced survivor contests in 2015 as a new format combining high payouts with low entry fees. Survivor contests work just like normal handicapping contests at the beginning – you make your picks for each race in an attempt to predict the winner.
What makes DerbyWars survivor contests different is the goal is not to build a bigger virtual bankroll. Your only goal is to survive.
Each race in the contest is treated as a single elimination event. Picks must finish in 1st, 2nd or 3rd for that player to advance to the next round. Players are eliminated in each round until a lone survivor remains to collect the prize. If there are multiple survivors after the end of the last race, the prize money is split equally among all survivors.
You will come to find that survivor races are easy to play and understand, but difficult to win. No matter how many players start, scores are eliminated every time a longshot wins a race. Surprise outcomes quickly whittle down the pool of remaining players.
In fact, it happens sometimes that a favorite runs completely off the board and every single player is eliminated in one fell swoop. When that happens, the contest does come to a sudden and early end. Instead, that one race is considered a PASS and every player in that round moves on to the next round.
DerbyWars Deposit Bonuses
DerbyWars does offer deposit bonuses from time to time, but they do not offer anything on a long-term basis. I think I have seen one welcome bonus in all my time following DerbyWars dating back to 2014 or so.
Basically, you'll have to get lucky to get a welcome bonus at DerbyWars. Don't count on receiving anything and be pleasantly surprised if you do. The one bonus I have seen offered players 100% up to $100 on their first deposit, but that bonus is no longer active as of this review.
DerbyWars Lawsuit
DerbyWars was involved in and lost a significant lawsuit in 2017. I believe this is actually a good thing for the long term, but the result of the lawsuit cost the company money and this is something readers should know.
The lawsuit stemmed from a disagreement between DerbyWars and a company called the Stronach Group. The Stronach Group operates a number of racetracks across the United States and took issue with DerbyWars holding contests based on the outcomes of races that take place at Stronach-operated tracks.
Basically, Stronach argued that DerbyWars was letting people bet on horse races even if the whole business model was wrapped under the "daily fantasy" cloak. The problem from Stronach's point of view is that horse racing betting sites are required to have the permission of tracks before accepting wagers on races held at their tracks. DerbyWars did not have permission, hence the lawsuit.
The case went to court where DerbyWars argued that their business model is nothing more than fantasy sports, subject to the same rules as operators such as FanDuel and DraftKings. No bets are actually being placed on horses, so no permission is needed.
A federal judge ultimately ruled against DerbyWars and ordered the company to pay a total of $500,000. Not only was this an expensive decision for the company, but it also set a precedent requiring DerbyWars to have permission from racetrack owners before holding fantasy contests involving races that take place at their tracks.
The reason I believe this may actually be a good thing is two-fold. First, it's just nice to have the lawsuit settled and done with. The outcome was expensive, but it ends a legal battle that had been going since 2015.
Second, the lawsuit finally legal clarity for DerbyWars. The lawsuit may have been expensive, but it was not a judgment on the legality of the DerbyWars business model. Nobody is telling DerbyWars that they need to acquire expensive horse racing licenses. They just need to talk to racetrack owners and work out deals before hosting contests based on their races.
It didn't take long for DerbyWars to go out and do exactly that. Within weeks of the lawsuit settlement, DerbyWars had negotiated revenue-sharing deals with numerous big-name tracks such as Kentucky Downs, Fairmount Park, Monmouth Park, the Meadowlands and more. The uncertainty is gone and Derby Wars has been running strong ever since.
Restricted States
DerbyWars accepts customers from Canada and the USA except the following states:
Arizona
Hawaii
Iowa
Louisiana
Montana
Nevada
Vermont
Washington
Final Verdict
DerbyWars gets an easy recommendation from all of us here at BettingUSA.com. We have followed this company for years and they have never given us a reason to suspect them of being anything but a legitimate site for horse racing enthusiasts. It is also the largest fantasy site of its kind with decent prize pools and regular qualifiers to live events.