Fantasy horse racing contests provide the thrill of handicapping while simultaneously minimizing the inherent risk. You get a chance to win real money on horse races, but you're not required to place wagers. Pay one entry fee and you now have a stake in multiple races with the potential to win a lucrative payout.
---
Reputable Fantasy Horse Racing Sites
Rank
Betting Site
Bonus
Rating
Visit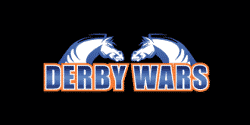 Once you pay the fee to join a fantasy horse racing contest, you're taken to a page where you select picks for 8 or more upcoming races, usually hosted at the same racetrack. In some contests, you place win wagers only while in other contests, you can choose between win, place, show and exacta wagers. In each race, you pick one horse (and maybe an alternate) and place one wager.
Your handicapping bankroll exists in theory only. Whenever one of your mythical wagers comes in, your virtual bankroll grows by an amount equal to that wager's actual track odds. The person with the largest virtual bankroll at the end of the tournament is declared the winner and is paid real money.
Smaller tournaments only pay the overall winner wile larger tournaments offer payouts for 1st, 2nd, 3rd place and so on. In any case, your goal is to make smart selections and amass a larger bankroll than your competitors.
The strategy for horse handicapping tournaments is not the same as the strategy for straight horse racing betting. You're not just trying to win a little cash for yourself; you're trying to beat the competition. In larger daily fantasy horse racing contests, it pays to be aggressive because there are so many people to beat. Longshots play a vital role in larger tournaments. In smaller contests with fewer people, it pays to be more conservative because a smaller ending bankroll is enough to place well. Longshots lose their value in horse racing tournaments with fewer contestants.
This is just one example of how the strategy changes when you play fantasy horse racing. It is most definitely not a game of luck. It is a competition that requires risk management in addition to traditional handicapping skills. The better you are at identifying winners and plotting a strategy for beating your competitors, the better your results.
Best Fantasy Horse Sites
Fantasy horse racing is a very niche hobby so there are not a ton of options. Below is a look at some of the bigger name sites capable of hosting tournaments with worthwhile prizes.
BetAmerica.com: BetAmerica is a well-known horse racing betting site that also dabbles in real money fantasy sports. Recently, BetAmerica added fantasy horse contests in which you choose 2 horses (1 primary and 1 alternate) in each of 10 upcoming races. Points are accrued based on your picks' performances in each race. Accumulate more points than the competition and you earn a payout.
Visit at: www.betamerica.com
DerbyWars.com: DerbyWars is the most polished fantasy racing site. It's easy to use and hosts contests at least five times a week. The frequency of contests here is a major advantage over competing sites that typically only hold contests over the weekend or during major events.
Contest buyins at DerbyWars.com range from just a few dollars to upwards of $1,000 during special events. One of their biggest recent tournaments was the $875 24-race handicapping tourney hosted on December 26th. This one covered 24 races and paid out a total of $100,000 in prizes. First place took home nearly $50,000.
DerbyWars is the largest fantasy horse racing site of the bunch. It has the greatest frequency of races, most intuitive software, largest selection of contests and fairly frequent NHC qualifier events. Most importantly, the site is backed by a reputation for security and fast payouts.
Visit at: www.derbywars.com
Difference Between Fantasy Competitions and Handicapping Tournaments
To clear up any confusion, there is one distinct difference between the fantasy competitions described above and handicapping tournaments: handicapping tournaments involve live wagers and not just fantasy wagers.
If you visit an actual horse betting website and enter a handicapping tournament, you will pay an entry fee to join the tournament and then place real wagers during the course of the tournament. Any money that you win or lose during the course of the tournament is actual cash either added to or subtracted from your bankroll. Whoever makes the most real money during the tournament wins the tournament prize in addition to any personal winnings.
The only "live" money you risk in a fantasy tournament is the entry fee that you pay to enter. From that point on, any wagers that you place during the contest are for virtual cash only. The winners are determined based on how much theoretical money they won over the series of races.
For example, the fantasy horse racing contests at BetAmerica.com (a legal racing betting website) cost a set fee and then give you a mythical bankroll to pick your horses in 10 different races. The one-time entry fee is all you risk in real money. All other wagers placed during the handicapping contest are made with virtual money that exists only for the purpose of the tournament.