FantasyDraft.com opened in 2014 and has grown to become one of the bigger sites in the daily fantasy industry. It still faces stiff competition from the likes of FanDuel and DraftKings but offers a unique take on DFS that just might prove quite tempting to regular DFS players.
In July 2019, FantasyDraft unleashed a totally new model to become the first rake-free fantasy site. Rather than charging rake like every other mainstream DFS site, FantasyDraft.com works on a subscription model with fixed monthly costs. This means you pick your plan, pay a monthly fee and never pay rake again.
FantasyDraft
Fantasy Draft opened for business in 2014 and has grown quickly since then thanks to an awesome refer-a-friend program. More importantly, the competition here is quite a bit softer than your average DFS site and FantasyDraft uses a subscription model to offer rake-free contests.
Pros
Very soft competition
Free contest entry with your first deposit
Lucrative referral program
Rake-free contests based on a monthly subscription model
Cons
Some contests have a hard time filling
Doesn't do much to differentiate itself for players
The subscription plan is attractive for two reasons. First of all, it's probably quite a bit cheaper over the long run than paying rake on every contest you enter. As the FantasyDraft homepage notes, rake can eat up as much as 30% of an average player's bankroll over time. This also means FantasyDraft pays back 100% of all contest entry fees to players in the form of prizes.
Second, the subscription plan is a fixed cost that you can know and account for. As a player, you know exactly how much it's really costing you to play in all those contests and you can much more easily track your results.
Rake is a clever way for fantasy sites to turn a profit because it's on not as obvious as charging a flat monthly fee, but it adds up quickly. The Fantasy Draft model is transparent and easy to comprehend. There are numerous plans to choose from (detailed below) and plans can be swapped out any time.
Moving beyond the subscription model, FantasyDraft is at its core a normal daily fantasy site. You get your virtual salary, draft players for your team and accumulate points based on your athletes' real-world performances. Score more points than the competition to win the league and a cash prize.
The Rundown:
New Player Bonus: $4 free entry + 10% rakeback
Promo Code: Use links on this page
Established: 2014
Headquarters: Cornelius, NC
Sports Leagues Covered: NFL
Coming Soon: MLB, NBA, NHL, PGA, CFB and CBB
Stakes: Buy in to contests for as little as $1 and as much as $1,060
Deposit Options: credit card, debit card and PayPal
FantasyDraft Subscription Plans
FantasyDraft does indeed offer rake-free fantasy contests as advertised, but those have been replaced with two other costs. First are the various subscription plans as detailed below. Second, all deposits are now subject to a 3% "processing fee."
It's not free, but choosing the right plan can potentially save you quite a bit of money over the long run. Here are the seven plans players can choose from:
| | | |
| --- | --- | --- |
| Plan Name | Cost Per Month | Entry Fees Waived Each Month |
| | | |
| Playersfirst | $0 | $100 |
| Starter | $5.99 | $1,000 |
| All-American | $14.99 | $3,000 |
| Professional | $49.99 | $10,000 |
| All-Star | $99.99 | $25,000 |
| MVP | $499.99 | $100,000 |
| Hall Of Fame | $999.99 | Unlimited |
When you sign up for a FantasyDraft account, you'll be asked to select one of the above plans. If you're new to DFS or aren't sure how much you'll really play, the Playersfirst plan is an easy first choice. This one will cost you absolutely nothing and it will waive up to $100 worth of entry fees every month.
To be clear, you will still pay to enter costs under any plan – you're just not going to be charged any rake. This means if 10 people join a $10 contest, the total prize pool will be the full $100 as all winnings are now paid back to contestants. Likewise, 50/50 contests actually pay a full 2x your entry in winnings to the top 50% of the field.
You can also adjust this as you go to better tailor your plan to your needs. If you log in to your FantasyDraft account, visit settings and enable "Show Entry Fees Paid," you can then go to your My Contests page to see how much you have paid in rake so far. With this, you can see how quickly you've been going through your monthly allotment of waived fees and adjust your membership plan accordingly.
FantastyDraft Deposit Bonus
FantasyDraft.com offers a free $4 entry ticket with your first deposit. After you sign up for an account and make a deposit, you'll get entry to a $4 contest of your choice.
>>>Click here to visit FantasyDraft.com now<<<
Joining a Contest and Drafting a Team
The main lobby is where you go to join contests and draft teams. This part of the website is organized in a pretty straightforward manner. You can filter the games by league, contest type, entry fee, prize pool and number of entries allowed.
When you see a contest you like, click on its name and a summary will appear that shows all the details. You'll see the payout structure, list of games included in this contest, a list of entrants, scoring rules and start date. Click on the blue "enter" button if everything looks good.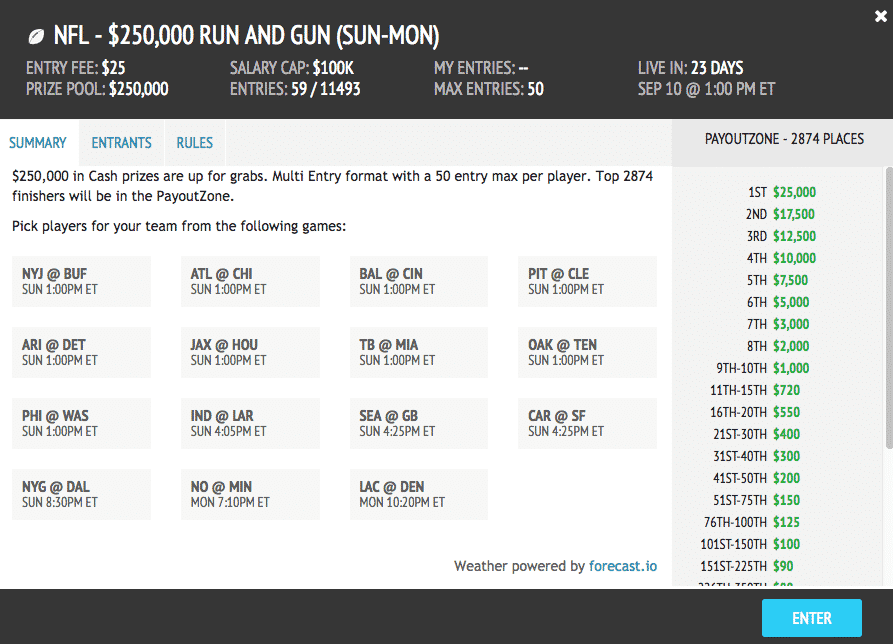 Now it's time to draft your team. In the NFL, you get a salary of $100,000 that you can use to draft 9 players. Each player is priced according to his perceived strength, average number of fantasy points earned and so on. The rules for NFL games are that you remain within the salary cap, you fill all 9 positions, you draft players from at least 3 teams and that you have fewer than six players from any one team.
Click on the arrow next to any player's name to add that player to your lineup. As you add players to your team, the roster will update itself to show how much salary you have remaining and the average amount you have left to spend on each player.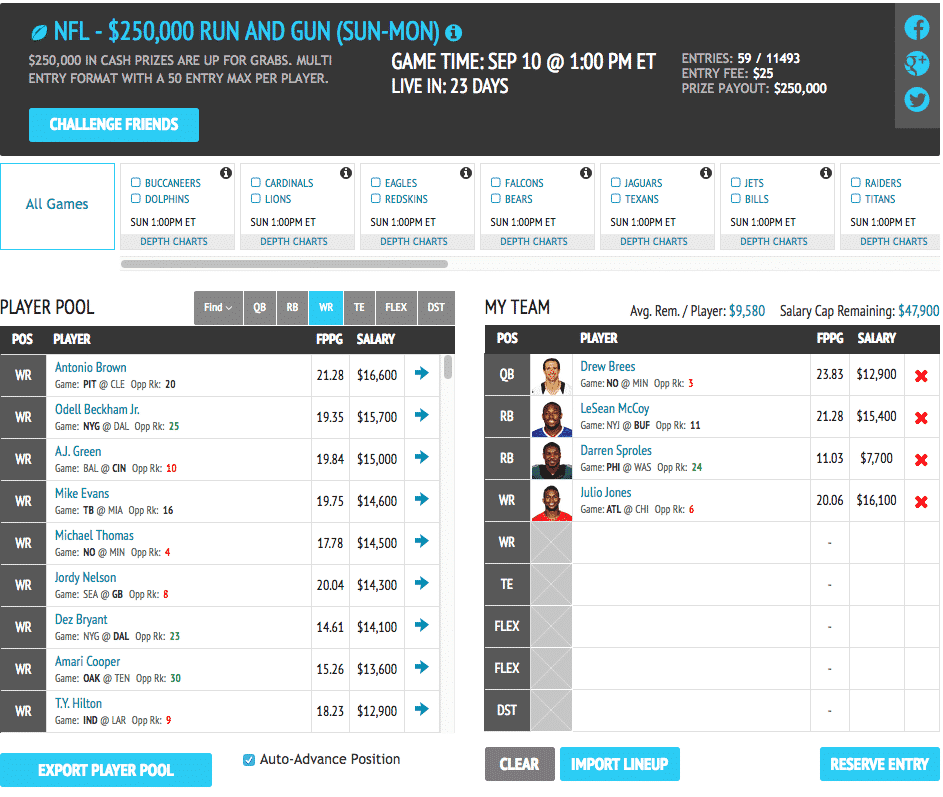 You can also click on any player's name to see a summary of that player. The summary displays that player's stats for the season, average number of fantasy points scored, how that player looks against the upcoming opposing team and recent news for that player.
FantasyDraft Contests and Scoring Rules
FantasyDraft.com has a standard lineup of contest types. All contests are hosted in the salary cap format but there are differences in how many entries are accepted and how payouts are awarded.
Leagues: The leagues accept anywhere from 3 to 20 players. Payouts are awarded as either "winner take all" or with payouts for the top few players. You can join leagues created by other people or host your own with custom rules for size, entry fee and number of paid places.
Tournaments: Tournaments are just like leagues except bigger. The biggest tournaments accept thousands of entries and pay out significant, life-changing amounts of money to the top performers. If you want to try to strike it big, tournaments are the way to go.
50/50s: 50/50 contests accept multiple entries and double the money of the top 50% of the field. All you have to do is place in the top 50% and you'll win double your entry.
Head-to-Head: A head-to-head contest pits you against exactly one other person. Whoever ends up with the most points wins the entire prize pool.
Beginner: Beginner contests are for the rookies of FantasyDraft. These contests are only open to people who have participated in fewer than 60 contests.
Guaranteed: Guaranteed contests publish a prize pool in advance and run no matter how many people enter the contest.
NFL Scoring
| Offense | |
| --- | --- |
| Passing Touchdown | 4 points |
| Passing Yards | .04 points per yard |
| 300+ Passing Yards | 3 points |
| Interception | -1 point |
| Rushing Yards | .10 points per yard |
| 100+ Rushing Yards | 3 points |
| Rushing Touchdown | 6 points |
| Receiving Yards | .10 points per yard |
| 100+ Receiving Yards | 3 points |
| Receptions | 1 point |
| Receiving Touchdown | 6 points |
| Kick Return Touchdown | 6 points |
| Lost Fumble | -1 point |
| 2 Point Conversion | 2 points |
| Field Goal 0-39 Yards | 3 points |
| Field Goal 40-49 Yards | 4 points |
| Field Goal 50+ Yards | 5 points |
| Extra Point Conversion | 1 point |
| Defense | |
| Sack | 1 point |
| Interception | 2 points |
| Defensive Touchdown | 6 points |
| Safety | 2 points |
| Blocked Kick | 2 points |
| 0 Points Allowed | 10 points |
| 1-6 Points Allowed | 7 points |
| 7-13 Points Allowed | 4 points |
| 14-20 Points Allowed | 1 point |
| 21-27 Points Allowed | -1 point |
| 28-34 Points Allowed | -4 points |
| 35+ Points Allowed | -6 points |
MLB Scoring
| Hitters | |
| --- | --- |
| Single | 3 points |
| Double | 5 points |
| Triple | 8 points |
| Home Run | 10 points |
| RBI | 2 points |
| Run | 2 points |
| Base on Balls | 2 points |
| Hit by Pitch | 2 points |
| Stolen Base | 5 points |
| Caught Stealing | -2 points |
| Pitchers | |
| Innings Pitched | 2.25 per complete inning (.75 point per each 1/3rd inning pitched) |
| Strikeout | 2 points |
| Win | 4 points |
| Earned Run Against | -2 points |
| Hit Against | -0.6 points |
| Base on Balls Against | -0.6 points |
| Hit Batter | -0.6 points |
| Complete Game | 2.5 points |
| Complete Game + Shutout | 2.5 points |
| No Hitter | 10 points |
NBA Scoring
| Point Scored | 1 point |
| --- | --- |
| 3-Point Basket | 0.5 bonus points |
| Assist | 1.5 points |
| Rebound | 1.25 points |
| Steal | 2 points |
| Block | 2 points |
| Turnover | -0.5 points |
| Double-Double | 1.5 points |
| Triple-Double | 3 points |
| Player can have either a double-double or triple-double in a game | |
NHL Scoring
| Skaters | |
| --- | --- |
| Goal | 1.2 points |
| Assist | 6 points |
| Shot on Goal | 2 points |
| Shorthanded Goal Bonus | 5 points |
| Shorthanded Assist Bonus | 3 points |
| Hat Trick Bonus | 8 points |
| Blocked Shot | 2 points |
| Goalies | |
| Win | 5 points |
| Save | 0.5 points |
| 0 Goals Allowed | 15 bonus points |
| 1 Goal Allowed | 10 bonus points |
| 2 Goals Allowed | 5 bonus points |
| 3 Goals Allowed | 2 bonus points |
| 4 Goals Allowed | -2 points |
| 5 Goals Allowed | -4 points |
| 6+ Goals Allowed | -8 points |
PGA Scoring
In-Play Points
Double Eagle
25 points
Eagle
10 points
Birdie
5 points
Par
1 point
Bogey
-1 point
Double Bogey
-2 points
Worse Than Double Bogey
-3 points
Tournament Finish
1st
25 points
2nd
20 points
3rd
15 points
4th
13 points
5th
12 points
6th
11 points
7th
10 points
8th
9 points
9th
8 points
10th
7 points
11th-15th
6 points
16th-20th
5 points
21st-25th
4 points
26th-30th
3 points
31st-40th
2 points
41st-50th
1 point
51+
0 points
Bonuses and Streaks
Streak of 3 Birdies or Better
(Max 1 streak per round)
3 points
Streak of 4 Birdies or Better
(Max 1 streak per round)
4 points
Streak of 5+ Birdies or Better
(Max 1 streak per round)
5 points
Bogey Free Round
5 points
Hole in One
5 points