FastPick is a unique type of daily fantasy sports game that is unlike any other DFS provider out there. Whereas other fantasy sites have you pick teams either via salary or snake draft and then compete against teams built by other people, FastPick is played against the house for substantially higher rewards on average.
FastPick
FastPick is the first US-legal fantasy site to offer parlay-style contests with payouts awarded for predicting which player will have the best day in head-to-head matchups. This is the closest thing we have to legal sports betting online – available only in New Jersey.
Pros
Similar to parlay-style sports betting
Convenient and easy to understand
Win up to 500x your buyin
Operated by Resorts Casino in Atlantic City
Cons
Played against the house, not against other players
All predictions must be correct to win a payout
Only available in New Jersey
The legality of something like FastPick would be a tough sell in other states under current gaming laws, so for now the site is limited to people located in New Jersey. FastPick definitely has a base in fantasy sports, but the way the games work dances right up to the line between fantasy gaming and actual sports betting.
While FastPick pushes the envelope under current gaming laws in some states, the site is perfectly positioned to strike in states where sports betting is legal. Resorts Casino launched FastPick in 2017 as an extension of their land-based operations there.
FastPick originally went online at FastPick.com, but was integrated into the online casino and sportsbook website operated by Resorts Casino in 2019. Today, FastPick games can be played at ResortsCasino.com alongside online casino games and regular sports betting.
Because New Jersey is one of just a small handful of states in which online gambling is permitted, FastPick is able to accept real money players online from New Jersey. You may visit and explore the site from elsewhere, but real money play is restricted to people located inside New Jersey.
Quick Info:
New Player Bonus: $250 free sports bet; $1,000 casino match bonus
Bonus Code: None needed
Established: 2017
Headquarters: Resorts Casino / Atlantic City
Sports Covered: football, baseball, hockey, basketball and soccer
Contest Buyins: $5 to $10,000
Maximum Payout: Win up to $100,000
Deposit Options: credit, debit, PayPal, cash at the cage, Resorts prepaid card, bank transfer
How FastPick Works
Unlike normal DFS games, FastPick contests are created from scratch by the user: you log in to the main lobby, select the sport(s) of your choice and then browse head-to-head player matchups. Your job as the player is to pick which real-world player will accumulate the most fantasy points out of each matchup.
For example, here's a screenshot from today's FastPick MLB lobby:

This screenshot shows three head-to-head matchups available for today's games:
Bryce Harper (Washington Nationals) vs. Aaron Judge (New York Yankees)
Ryan Zimmerman (Washington Nationals) vs. Brett Gardner (New York Yankees)
Anthony Rizzo (Chicago Cubs) vs. Francisco Lindor (Cleveland Indians)
If you wanted to play this slate, you would make one pick in each of these matchups with the goal being to correctly predict which player in each matchup will score the most fantasy points in his upcoming games.
I chose MLB for this particular example, but you are not limited to just one sport at a time. You're free to make picks across all sports available that day and combine them all in one wager if you wish. The screenshot below shows me making multiple picks in baseball and hockey matchups for a potential win of $5,000 off a $10 bet: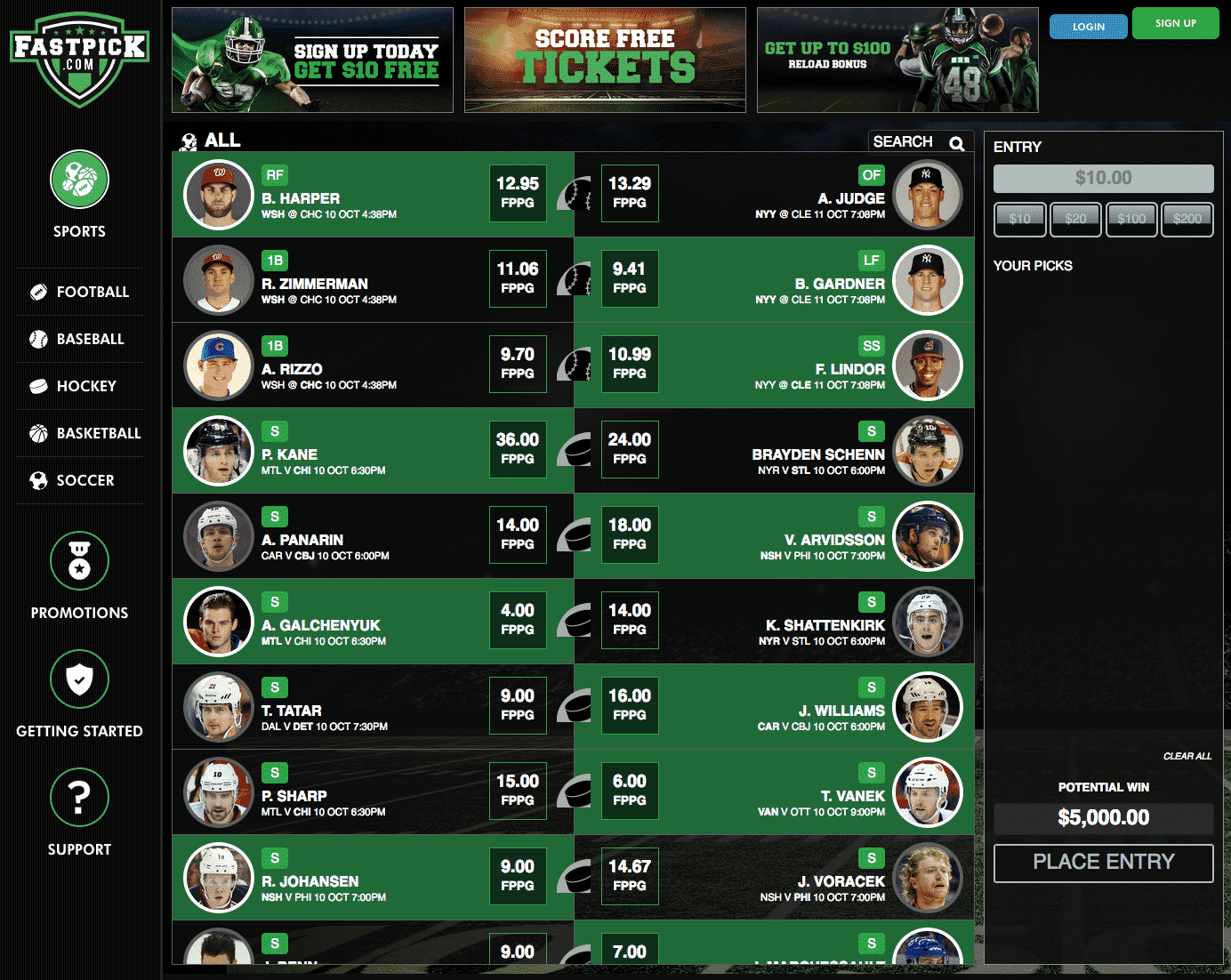 Fantasy points are earned based on each player's performance in the real world. As the players rack up stats in their games, they also earn fantasy points. After the day's games are complete, the player in each head-to-head matchup with the most fantasy points is considered the winner. You win by predicting the winner of each matchup.
You can make anywhere from 3 to 10 predictions in this manner and then place a wager ranging from $5 to $10,000. These games resemble parlay bets in the simple fact that all of your picks must be correct. If just one of your picks is wrong, your wager is lost.
The more picks you make, the higher the potential payout. Making three picks and getting all three correct results in a 5x payout. In that case, a $5 bet would pay $25. If you make ten picks and get all ten correct, you win 500x your original bet. In that case, a $5 bet would pay $2,500.
Minimum and maximum bets vary based on the number of picks made in order to set a maximum single-wager payout of $100,000. You can bet as much as $10,000 when making three or four picks, but the maximum bet tops out at $200 when making ten picks.
The following table shows minimum and maximum wagers and how much you can win based on the number of picks made.
Picks
Payout
(as a multiple of entry)
Min Entry - Max Entry
Min Payout - Max Payout
3 of 3
5x
$5 - $10,000
$25 - $50,000
4 of 4
10x
$5 - $10,000
$50 - $100,000
5 of 5
18x
$5 - $5,555.56
$90 - $100,000
6 of 6
35x
$5 - $2,857.14
$175 - $100,000
7 of 7
70x
$5 - $1,428.57
$350 - $100,000
8 of 8
125x
$5 - $800
$625 - $100,000
9 of 9
250x
$5 - $400
$1,250 - $100,000
10 of 10
500x
$5 - $200
$2,500 - $100,000
To reiterate, there is no point at which you ever assemble a fantasy team at FastPick like you would at other fantasy sites. FastPick arranges a variety of head-to-head matchups between sports players in the main lobby and you simply make anywhere from 3 to 10 picks across those matchups. Basically, all you're doing in each matchup is predicting which of two players will have a better game that day.
FastPick Deposit Methods
You may fund your FastPick account with PayPal, Visa, MasterCard, online bank transfer, prepaid Resorts Card, PayNearMe and cash at Resorts Casino AC. You can select a custom amount to deposit or simply select one of the default deposit amounts to fund your account. When you're done playing, you may withdraw your winnings via PayPal, bank transfer, Resorts Card, check or cash at Resorts Casino.
FastPick Bonuses
As an extension of the existing casino and sports betting platform at Resorts Casino, FastPick itself does not have a unique deposit bonus. However, signing up for an account at ResortsCasino.com does qualify you for the standard casino and sports betting bonuses offered to all new customers.
Sports Betting Bonus: First Bet Matched Up to $250
If FastPick happens to whet your appetite for actual sports betting, you can take advantage of the new customer sports bonus at Resorts Casino. All you need to do is place your first sports wager with your own money and Resorts Casino will match it with a free bet worth up to $250.
This means if you place a $50 bet, for example, Resorts Casino will match that with a free $50 bet to use on sports. Likewise, placing a $100 wager will get you a $100 bet and a $200 bet will get you $200.
The free bet is treated as site credit, which means it cannot be withdrawn. However, anything you win with your free bet can be withdrawn at will after meeting wagering requirements of 1x. This means you need to place a total sum of wagers equal to the free bet amount before withdrawing.
It is important to keep in mind that the free bet offer is only applied to your first wager, so you'll want to make it count to take full advantage.
Casino Bonus: 100% up to $1,000
Resorts Casino also offers a first time casino bonus should you decide to switch things up and try your hand at slots and table games. You can claim this bonus by logging in to your account, visiting the "my account" menu, selecting "my bonuses" and then select "deposit" next to the current bonus code.
After that, your deposit will be matched 100% to give you up to $1,000 in bonus money you can use in the casino. The casino bonus is treated as site credit and cannot be withdrawn, but anything you win can be withdrawn after meeting the following wagering requirements:
Slots: Place a total sum of wagers equal to 30 times the bonus amount
Table games: Place a total sum of wagers equal to 150 times the bonus amount
Important: this bonus must be claimed within 30 days of signing up for a Resorts Casino account. Typically, this wouldn't be such a big deal, but it is worth noting for anyone signing up to play FastPick exclusively. If there's any chance you'll try the casino, make sure to claim this bonus within 30 days of signing up.
FastPick Versus Traditional Daily Fantasy
FastPick barely squeezes into the legal definition of "daily fantasy sports," but it is different enough than most DFS sites that we can reasonably consider it a completely unique form of fantasy wagering.
As we have discussed so far, the biggest difference between FastPick and other DFS sites is that you do not play against other players here. All contests are played against the house and you do not draft actual teams like they have you do over at FanDuel, DraftKings and just about every other fantasy site.
FastPick provides a much simpler experience than regular fantasy sports. If you have experience playing at other fantasy sites, think back to how much time and effort you expend into building a lineup – comparing players, looking up stats and trying to balance all that with your salary limitations.
FastPick does away with all that by simply having you pick either Player A or Player B in each matchup. You can do the research if you want as you make your picks, but even that is much simpler than building an entire fantasy team from scratch with no direction. Here, you have exactly two players to consider for each matchup.
There is no easy way to answer this question because FastPick is just too different compared to other types of fantasy games out there. It really depends on what you're looking for as a player and what you think about playing against the house.
A skilled DFS player who wins consistently at sites such as FanDuel and DraftKings would probably argue that traditional DFS is better because you play against other humans and can win consistent money against those people if your skills are up to par.
That person would have a good point, because never in my life have I found a game played against the house in which the house can be beaten. We should keep in mind that FastPick is run by a casino in Atlantic City, and casinos are not in the business of giving away free money.
On the other hand, the percentage of winning players in traditional DFS is extremely small. If you're not one of the elite fantasy grinders, you're probably not going to win consistent money at DFS anyways, so that point becomes moot.
The FastPick model is faster and more convenient for players, but still provides significant payout potential. A single wager can return as much as $100,000 at FastPick, and those games are always available. It may be incredibly difficult to get all 10 picks correct for a payout that big, but it would also be incredibly difficult to out-score several hundred thousand entries in a big fantasy contest at FanDuel or DraftKings for a similar payout.
In the end, it comes down to personal preference. FastPick is just a completely different experience than regular DFS. My take on it is that it is a very cool product and will probably be successful assuming the site does not run into any legal issues in the future.
FastPick Scoring Rules
After you make your picks in 3 to 10 matchups and confirm your bet, the FastPick system will then monitor real-world sports games and assign fantasy points to every player based on his stats according to the following scoring rules. Remember you win if your picks score more fantasy points than their opponents in each matchup.
| Stat | Points |
| --- | --- |
| Passing Touchdown | 4 |
| Passing Yards | 0.04 |
| Rushing Touchdown | 6 |
| Rushing Yards | 0.1 |
| Receiving Touchdown | 6 |
| Receiving Yards | 0.1 |
| Reception | 1 |
| Interception | -2 |
| Fumble Lost | -2 |
| 2 Point Conversion | 2 |
| Stat | Points |
| --- | --- |
| | |
| Hitters | |
| | |
| Single | 3 |
| Double | 6 |
| Triple | 9 |
| Home Run | 12 |
| RBI | 3 |
| Run Scored | 3 |
| Walk | 2 |
| Stolen Base | 5 |
| Caught Stealing | -2 |
| Hit by Pitch | 2 |
| | |
| Pitchers | |
| | |
| Innings Pitched | 3 |
| Strikeout | 2 |
| Walk | -1 |
| Hit Allowed | -1 |
| Earn Runs Allowed | -3 |
| Win | 6 |
| Stat | Points |
| --- | --- |
| | |
| Skaters | |
| Goal | 12 |
| Assist | 8 |
| Shot on Goal | 2 |
| Shorthanded Goal | 4 |
| Shorthanded Assist | 4 |
| Blocked Shot | 2 |
| | |
| Goalies | |
| | |
| Win | 12 |
| Save | 0.8 |
| Goal Against | -4 |
| Shutout | 5 |
| Stat | Points |
| --- | --- |
| Points | 1 |
| Rebound | 1.2 |
| Assist | 1.5 |
| Steal | 2 |
| Blocked Shot | 2 |
| Turnover | -1 |
| Stat | Points |
| --- | --- |
| | |
| Forwards and Midfielders | |
| | |
| Goal | 5 |
| Assist | 3 |
| Shot on Target | 2 |
| Shot | 1 |
| Own Goal | -2 |
| Yellow Card | -1 |
| Red Card | -3 |
| Chances Created | 0.5 |
| | |
| Goalkeepers | |
| | |
| Save | 1 |
| Penalty Save | 5 |
| Goal Against | -2 |
| Clean Sheet | 6 |
| Goal | 7 |