The August numbers are in and New Jersey can once again lay claim to the title of top dog in the legal US sports betting market.
The Garden State's sportsbooks generated $25.2 million in August, well ahead of the $18.7 million collected by Nevada sportsbooks.
New Jersey's swift climb to the top spot is an easy headline (more on that below), but a deeper look inside the national numbers calls into question how long New Jersey can maintain its pole position.
A Two-Horse Race No More
After accounting for nearly 90% of revenue in the US sports betting market as recently as June, Nevada and New Jersey saw their market share shrink to around 70% in August. And that doesn't account for the two states, New Mexico and Arkansas, that haven't reported sports betting revenue.
The biggest gains were posted by Pennsylvania, which accounted for nearly 16% of all US sports betting revenue in August. Needless to say, the launch of mobile wagering has been a boon for the Keystone State.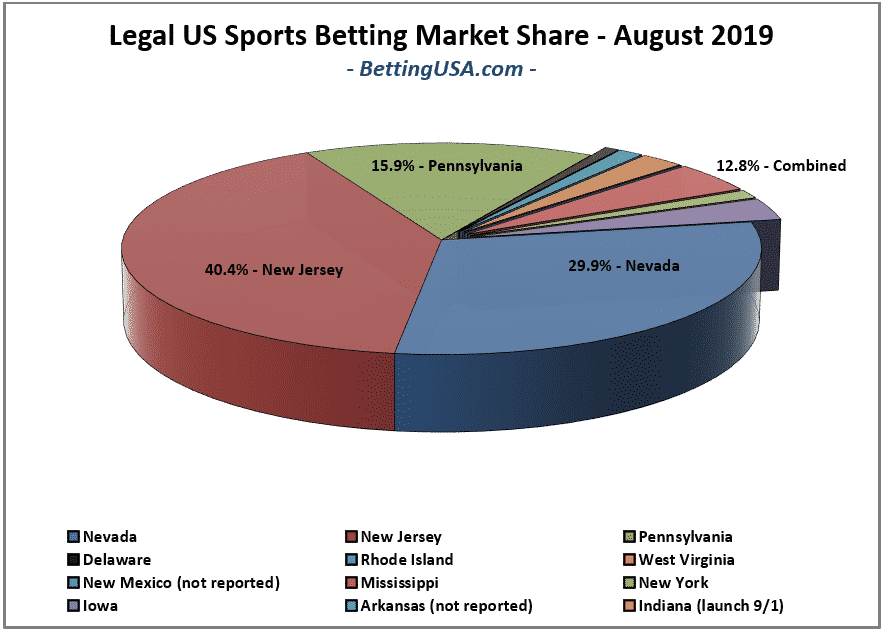 Here's how the rest of the active sports betting state's stack up on the revenue front:
Pennsylvania – $9.9 million
Rhode Island – $852k
Delaware – $500k
West Virginia – $1.5 million
Mississippi – $2.9 million
New York – $800k
Iowa – $2.1 million
Arkansas – Arkansas hasn't reported sports betting revenue
New Mexico – N/A (New Mexico tribes aren't required to report sports betting revenue)
Indiana – launched September 1
Upshot
New Jersey's and Nevada's reduced market share has nothing to do with the health of their respective sports betting industries, or because the new markets are cannibalizing the existing ones. Both markets (New Jersey and Nevada) saw revenues increase year-over-year.
Rather, the shrinking market share of the two states is simply a byproduct of the US sports betting base expanding, thanks to:
Sports betting launches in new states.
The continued maturation of existing sports betting markets.
Pennsylvania's emergence following the launch of online sports betting.
Why NJ Is Winning…
Multiple factors helped New Jersey quickly overtake Nevada.
Mobile Registration
The big difference between the two markets is the hoops a bettor must jump through to register an online account. In Nevada, a would-be online sports bettor must register their online account at a land-based casino.
In New Jersey, bettors can register an online account remotely.
Population
Nevada might be the gambling capital of the world, pulling in some 43 million visitors per year, but New Jersey's base population is more than three-times the Silver State's.
The NYC Effect
New Jersey also benefits from the combination of heavy border populations in neighboring states and the aforementioned mobile registration.
New York City residents may not have access to legal, online sports betting options, but a quick jaunt across the George Washington Bridge places them in New Jersey, where they can register a mobile account, place sports wagers, and head back home.
Estimates vary, but it's safe to say that New Yorkers make up at least 10% of online wagering in New Jersey.
That advantage will likely disappear when New York authorizes mobile wagering, but for now, it's a factor that's working in New Jersey's favor.
… and Why PA Is Catching Up
Those same factors (population, border populations, and mobile registration and betting) are now present in Pennsylvania.
The Pennsylvania border isn't as close to NYC as New Jersey, but it does share lengthy, well-populated borders with three non-online-sports-betting states: New York, Ohio, and Maryland.
More Sports Betting States on the Way
New Jersey and Nevada are dominating now, but their supremacy is tenuous.
The above pie chart is set to become even more colorful in the coming months. One state to really watch is Indiana, The state launched multiple mobile sports betting sites on October 3.
Sports betting went live in Indiana on September 1 (the mobile wagering launch was October 3), and five more states are waiting in the wings:
Oregon (Expected Launch Mid October 2019)
Illinois (Legalized June 2019)
Montana (Legalized May 2019)
New Hampshire (Legalized June 2019)
North Carolina (Legalized July 2019)
Tennessee (Legalized May 2019)