The rapid expansion of legal sports betting in the US has caught many people by surprise, as have the eye-catching handle and revenue numbers those sports betting markets are generating. And October was one of the best to date.
Legal sports betting was available in 13 states in October, and with just 10 of those states reporting handle numbers, the total amount wagered was a staggering $1.5 billion.
With 11 of the 13 states reporting, revenue eclipsed $150 million for the month.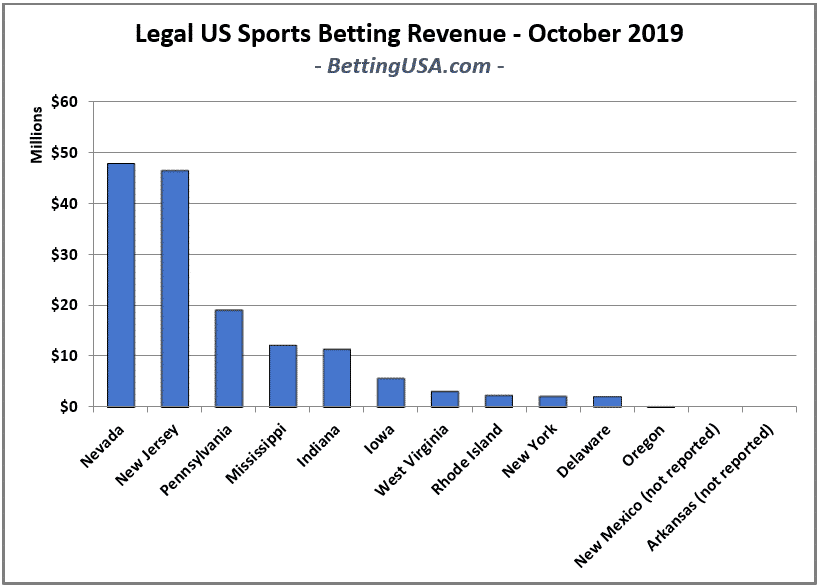 The US Sports Betting Leaders
Of the 13 states with legal sports betting industries, five warrant special attention.
They are:
The two leaders in the sports betting clubhouse are Nevada and New Jersey. Nevada once again led the way with $544 million in wagers and $47.9 million in revenue. But New Jersey sports betting was a close second. The Garden State tallied $488 million in wagers and $46.4 million in revenue.
After a slow start, Pennsylvania is beginning to close the gap between New Jersey and Nevada. The total betting handle in the Keystone State was $241 million, with revenue of $19.1.
Despite a lack of mobile betting (the state only allows mobile betting at casinos), Mississippi is producing some very strong sports betting numbers. In October, Mississippi tallied $48 million in handle and $12.3 million in revenue.
With a big assist from out-of-state bettors, Indiana is living up to its pre-launch sports betting hype. Even with a limited number of online operators, the Hoosier state posted solid handle ($91.7 million) and revenue ($11.5 million) numbers in October.
New States Take Market Share from Nevada and New Jersey
Nevada and New Jersey account for 2/3 of all handle and over 60% of revenue in the legal US sports betting market, but their share is being cut into by the bevy of states that have launched sports betting industries.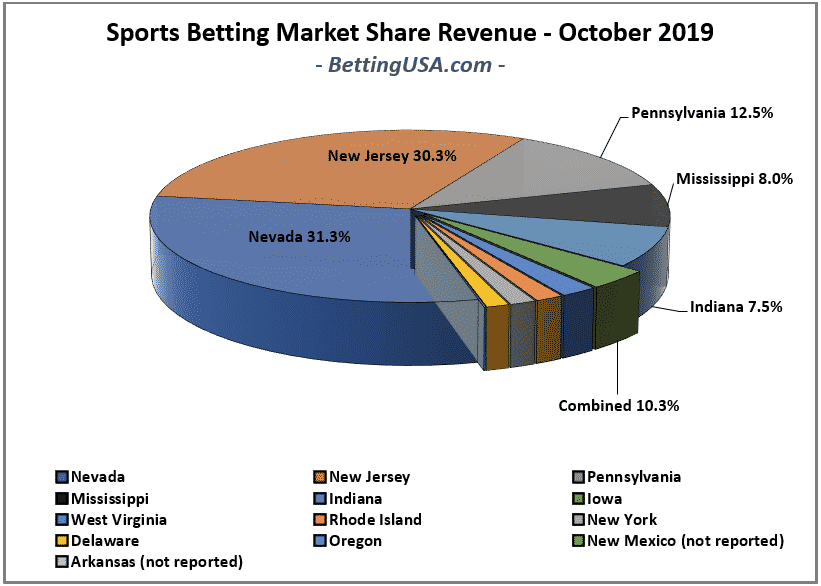 Pennsylvania and Indiana Are the Most Intriguing States
Pennsylvania and Indiana have already established themselves as strong sports betting markets, but both states are still far away from reaching their full potential.
The biggest area of growth in both states is online. Online sports betting options are still sparse in both markets.
Pennsylvania's online sports betting operators number just seven:
Pennsylvania is one of the most populous states in the country, but it has one of the most restricted sports betting markets in the US.
High tax rates and licensing fees, coupled with burdensome regulations, were expected to tamp down the market, and they have. That said, thus far the state's sportsbooks are performing admirably. Yes, growth is slower than other states, but the market will be one of the best in the country until other large states like New York and Illinois launch online sports betting.
Indiana is a much younger market and has even fewer online options:
BetRivers
DraftKings
FanDuel
Unlike Pennsylvania, Indiana is seen as a model market to operate. Modest tax rates created a low barrier of entry, and the state didn't drag its feet getting sports betting up and running.
More Sports Betting States on the Way
In addition to the 13 states that are already up and running, six more states are in the preparatory phase:
And plenty of other states have their sights set on joining them.