Novel Coronavirus (COVID-19) is wreaking havoc on the gaming industry across the globe. In the US, its impact has been swift and pronounced.
Efforts to stall the spread of COVID-19 have shut down most of the casino markets across the country and completely upended the burgeoning legal US sports betting industry following the cancellation of all major sports leagues.
In a matter of days:
It's not a stretch to say that the entire world is in a heightened state of anxiety, and the gaming industry is no exception. But there is one bright spot: online gambling. And specifically, online casino and poker.
Where available, online casinos and poker sites are seeing a massive uptick in traffic, and many are pointing to this as yet another reason to accelerate rollouts and jumpstart legalization efforts in jurisdictions that have, to date, been hesitant to go down the online gambling road.
The Proof Will Be in the Pudding
Every legal gaming jurisdiction in the US is going to be hard hit, if not crippled. But it's safe to say that New Jersey, Pennsylvania, and perhaps even Delaware, the three states with legal online casino and poker industries, are in better shape to weather the storm.
New Jersey's online gambling industry (poker and casino) was responsible for 14% of total gaming revenue in 2019.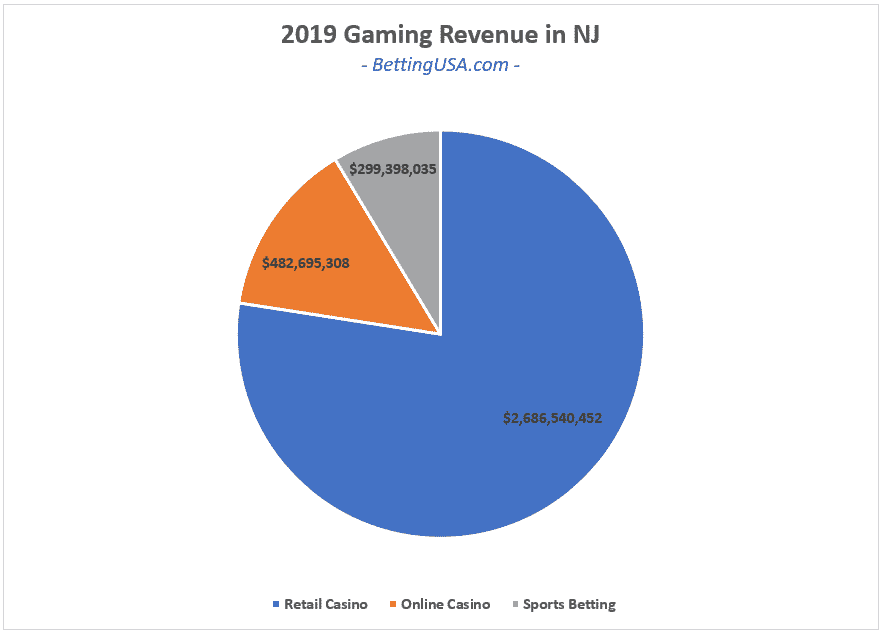 Retail casino and sports have been stripped away for the foreseeable future. Still, if some of that spend shifts to online casino and poker, New Jersey's operators should see huge gains on the online casino, wiping out some of the losses from retail gambling and sports betting.
Here are three examples of how it might play out.
The Baseline Case
My baseline forecast would see monthly online casino revenue grow by about 25%.
To get to that number, New Jersey's online gaming operators would need to shift about 10% of their sports betting, and land-based spend to its online casinos.
The Bear Case
In a bear case, online revenue would tick up 0-10%.
The climate that would bring about a bear market is the loss of sports betting, which has produced a tremendous add-on effect for online casinos. If sports bettors sit this out, and online casinos lose the cross-play sports bettors have been providing, growth slow, and perhaps grind to a halt. That's true even if a similar percentage of retail customers from the baseline case shift online.
Other factors that could bring about a bear market are:
The lack of play from New Yorkers
Less disposable income as the COVID-19 crisis drags on.
The Bull Case
Under my bull forecast, New Jersey online casino operators would see revenues grow 50% or more, with 100% not out of the realm of possibility.
We're already seeing copious amounts of evidence that mandated and self-quarantines around the globe are causing significant upticks in online poker and gambling numbers.
With the continued growth seen in Q1 of 2020 (Eilers & Krejcik previously estimated the market would grow to $612 million in 2020), the $482 million generated at the state's online casinos in 2019 could jump to $1 billion in 2019 if the COVID-19 crisis extends through the summer, and sports pick back up in the fall.
What Does It All Mean?
While other gaming markets without online gambling fall to zero during the COVID-19 lockdowns, the operators in New Jersey and Pennsylvania could be running at about 25%. That means they'll still be sending a nice chunk of change to the state.
Think about that for a moment. By embracing online casino and poker, the gaming industries in New Jersey and Pennsylvania are still going to generate enormous amounts of tax revenues for the state and set themselves to land on their feet when this is all over.
That will likely translate into more jobs saved in the long run. All casinos will operate with a skeleton crew, but casinos with online gambling will need to maintain, and even beef up their staff in certain areas. Online live dealer games will keep some dealers employed throughout the shutdown, and some front desk and help desk employees can transition over to online customer service.
A couple of dozen jobs might not seem like much, but with predictions of 20% unemployment, every job saved during this crisis is essential.
And more importantly, the revenue from online gaming results in a quicker return to employment for all casino employees when the crisis ends. To put it another way, there will be a casino to come back to.
Unfortunately, I don't know if that will be the case in locales without online gambling that suffer through a sustained shutdown.