Harrington Gaming Online is the official online betting site for Harrington Raceway & Casino in Delaware. Legislation approved in 2012 authorized Delaware's three racetracks to offer online gambling and Harrington Raceway jumped on the opportunity the following year along with Delaware Park and Dover Downs.
Harrington Gaming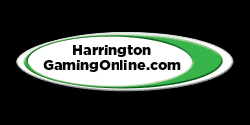 Harrington Gaming
Harrington Raceway launched online gambling and poker in 2013 with the blessing of the Delaware Lottery. Harrington Online Casino offers a small collection of slots and table games in addition to an online poker room.
Pros
Legal and licensed in Delaware
No-deposit welcome bonus for signing up
Connected to the Multi-State Poker Network
Casino is desktop and mobile friendly
Cons
Small game selection
Confusing bonus terms and conditions
Low quality software
Poker room only compatible with PCs
Since then, Harrington Gaming has offered online casino games and poker to anyone 21 or older and physically present in Delaware. Gamblers from all 50 states may sign up for an account to try the games for free, but you must be within state lines to deposit and play for real money.
All three of Delaware's legal gambling sites are operated by the Delaware Lottery and are powered by software from 888 Holdings. As a result, all three gaming sites are identical in terms of game selection and software. Any differences between the three are mostly cosmetic in nature, with each racetrack adding its own logos and branding to the casino interface.
Harrington Gaming Sports Betting
Harrington Raceway offers in-person sports betting only at this time. Delaware gaming laws do not specifically exclude online sports betting, but state officials have said in the past they're open to the idea.
Until new regulations are passed, Delaware sports betting will remain confined to the state's three racetracks. At Harrington Raceway, you can bet on sports at Murphy's Race and Sports Book if you're 21 or older. The book is open 10 AM to midnight during football season and 11 AM to midnight the rest of the year.
Sports covered by the sportsbook include:
Pro and college football
Pro and college basketball
NBA
NHL
Golf
Auto Racing
Soccer
Harrington Online Casino Review
A visit to the Harrington Gaming website may not inspire much confidence, but Harrington Online is legitimate and operates under the watchful eyes of the Delaware Lottery and the Division of Gaming Enforcement (DGE).
An issue we've noted with all three of Delaware's gaming sites is a distinct lack of innovation, uninspiring websites and limited game selection. Harrington Online is no exception with a dated website and a game selection consisting of fewer than 50 slots and just two table games.
While frustrating, these issues are not surprising. Delaware's casinos are heavily taxed with the first $3.75 million of total state iGaming revenue taxed 100%. Any revenues beyond that are taxed at 43.5% for slots and 29.4% for table games. To date, the state has never broken above that $3.75 million mark.
This has resulted in the casinos being unmotivated to pour too much money into their online operations. If the state is only going to swoop in and take 100% of the revenue, the casinos have little incentive to develop their platforms beyond offering the absolute basics. Harrington Gaming is safe and legal, but it is not particularly expansive in its gaming options.
On a more positive note, Harrington Online Gaming is powered by software from the venerable 888 Holdings. 888 has been active in online gaming since the late 90s and has a rock-solid reputation as a safe, high quality gaming company. If you can deal with the disorganized website and clunky lobby, you'll find the actual games look great and run well.
Harrington Online Casino Bonus
Harrington Online offers an instant registration bonus and a first deposit bonus that combine to offer up to $110 in bonus money. Both bonuses come with fairly restrictive clearing requirements that serve to lessen the value of these offers. Additionally, unclear terms and conditions make it difficult to even fully analyze the value provided by each bonus.
Signing up for an account at Harrington Online Casino will get you a $10 instant bonus with no deposit necessary. After you sign up, the money will be dropped in your account and may be used to play real money games.
Important things to know about this bonus are that you have 14 days to use the money and that certain wagering requirements must be met prior to withdrawal. The frustrating thing about this bonus is that the terms and conditions on the bonus page contradict the terms described on the website's general bonus policy.
For example, the Harrington Gaming bonus page explains that 2 status points must be earned per $1 in bonus money before a withdrawal is allowed. However, the general bonus policy page states 2.5 status points must be earned per $1 in bonus money. Additionally, it is unclear whether these wagering requirements apply to the bonus money only or are also applied to any winnings.
Things are made even more confusing by the website's failure to describe exactly how status points are earned. We know they are earned by playing real money games, but nowhere does the website explain how much money must be wagered to earn 1 status point. Dover Downs and Delaware Park both award 1 status point per $16 wagered at the casino, so the safest assumption is that is also how it works at Harrington Online.
100% up to $100 Deposit Bonus
After you've had a chance to try the casino for free, you can claim a welcome bonus worth up to $100 by making your first deposit. This is a 100% match deposit which means Harrington Gaming will double your first deposit to give you up to $100 extra to play.
The most important things to know for this bonus include:
You may use the bonus for 30 days
Minimum deposit of $20 to qualify
Must earn 2 status points per $1 in bonus money before withdrawing
Harrington Online Casino Software Review
The Harrington Casino software is functional but suffers from major design issues that seriously hurt the site's credibility as a legitimate gambling site. To be clear, Harrington Online is licensed by the state and runs fair games, but the gaming platform simply does not evoke a sense of professionalism due to dated graphics and poor design.
These issues become apparent from the moment one visits the Harrington Casino website. The website is difficult to navigate and important information such as bonus terms and conditions is hard to find. The casino lobby is similarly troubled with a clumsy interface for browsing games not optimized for modern computer monitors.
Fortunately, things improve dramatically upon entering any individual game. 888 Holdings has done a fine job when it comes to designing individual games. Slots and table games both function nicely with crisp graphics and smooth animations from beginning to end. The difference in quality between individual games and the main casino lobby is night and day.
One other bright note is the fact that the casino is compatible with PCs, Macs and mobile devices alike. If you're accessing from any desktop or laptop, you can simply head to the Harrington Online Casino website to play the games online through your browser with no download necessary. Mobile players can visit the website for links to download the Harrington Casino mobile app.
Casino Screenshots
Harrington Casino Mobile App
Interestingly, the Harrington Casino mobile app is a significant upgrade over the desktop-friendly casino with an improved interface and faster loading times. The overall structure and navigation are the same, but the mobile version is optimized and just seems to function better in general.
One downside is Harrington's mobile casino does not offer the full games lineup, which is already lacking as it is. The mobile version only carries 16 of the casino's 46 total slots, but does offer both table games (blackjack and roulette).
Mobile Screenshots
Game Variety
Game variety is a huge miss for all three of Delaware's gaming sites. Whether you play at Harrington or elsewhere, all you'll have is a collection of 46 slots, Classic Blackjack and American Roulette. There is no video poker, keno or even instant-win scratch cards (which you would expect for a gaming site run by the lottery).
The small number of games most likely has to do with Delaware's casinos being unwilling to invest too much time or effort into developing the casino. With state taxes sucking up 100% of Delaware's iGaming revenue so far, none of the gaming sites have expressed any interest in expanding the game lineup or improving the software.
Harrington Casino slots consist of a fairly typical lineup of games with bland themes we've all seen before: lucky leprechauns, pirates, outer space and the like. There are also a handful of progressive jackpot games with one jackpot exceeding $187,000 at the time of this review.
Harrington Online Poker Review
The online poker room at Harrington Online connects with Delaware's other poker sites and averages about 200 active players at a time. During peak hours, you'll sometimes find upwards of 450 players online at a time. This is not exactly a bustling poker site, but it is busy enough that you'll usually find a few cash games and tournaments running at a variety of stakes.
All three of Delaware's poker sites have seen a boost in traffic since the governors of Delaware, Nevada and New Jersey allowing licensed poker sites in all three states to share players among their tables. With three states on board and possibly more to come as additional states pass online poker legislation, Harrington Online Poker does have some growth potential.
Harrington Poker runs a variety of games, but Texas Holdem and Omaha are by far the most populated.
Harrington Poker Bonus
Harrington Online Poker provides a 100% welcome bonus to all new players that's worth up to $500 in extra cash. Unlike the casino bonus, this one is clearly explained and can actually be cleared somewhat easily.
After making your first deposit to the poker room, Harrington will deposit an equal amount (up to $500) in your pending bonus account. The bonus will then be released in increments as you participate in tournaments and cash games.
The pending bonus is released to your account in $5 and $10 increments at a rate of $1 in bonus money for every 8 status point you earn. Status points are earned as follows:
2 status points for every $1 in contributed rake in cash games
2 status points for every $1 paid in tournament entry fees
This works out to $1 in bonus paid out for every $4 paid in rake or entry fees, which is quite fair. Most players should have no issue clearing the bonus within the 60 days players are given to release as much of the bonus as possible. A minimum deposit of $10 is required to qualify for this bonus.
Harrington Online Poker Software
Just like the casino, the poker software has its strengths and weaknesses. The software lobby is functional and should work fine for most players, but a quick search online reveals a long list of player complaints related to glitches and disconnections. However, once you actually join a table, the software seems to run fine.
Our biggest complaint regarding the poker software is one of compatibility. The only way to access the poker room is by downloading the software, which is offered for PCs only. There is no way to play poker at Harrington Online via Mac or mobile device.
Harrington Online Gaming Deposit Methods
Harrington Online is a bit short on deposit methods with just bank transfer, credit card and debit card.
The minimum deposit for all deposit methods is $10 and most deposits are credited to your gaming account in under 10 minutes.