Delaware Park Online is one of three gaming sites authorized to accept real money wagers online in the state of Delaware. Delaware legalized online gambling in 2013 and all three of the state's racetrack-casinos have since launched gaming sites offering online casino games and poker for state residents 21 and older.
Delaware Park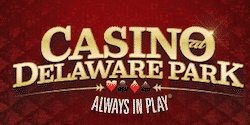 Delaware Park
Delaware Park Online is a legal and licensed gambling site managed by the Delaware Lottery. This gaming site offers online casino games and poker via software designed by noted gaming developer 888 Holdings.
Pros
Legal and licensed in DE
Strong mobile app
Poker room is networked with other states
Cons
Low quality instant-play interface for desktop visitors
Small game selection
Low-traffic poker room
Delaware Park, Dover Downs and Harrington Raceway each have an online gaming arm, and all are run under the purview of the Delaware Lottery. In turn, the Delaware Lottery is contracted with 888 Holdings to power the software for all three gaming sites.
If you have played at one Delaware betting site, you have pretty much played at all three. All three sites are powered by the same software and offer a nearly identical experience aside from minor branding differences such as logos and color schemes. Delaware Park Online mimics the sites run by Dover Downs and Harrington Raceway in terms of game selection, software and deposit methods.
Regarding Delaware Park Online specifically, the site is divided into two main arms: one for casino games and one for poker.
Delaware Park Casino is heavily weighted towards slots players with only games that aren't slots being blackjack and roulette.
Delaware Park Poker has undergone significant upgrades in recent years and now allows players to tap into a poker network that spans several states.
We'll discuss all that and much more in the remainder of today's Delaware Park Online review. We will begin with a detailed look at the online casino and follow that up with a review of the online poker room. Just read on for all the details.
Delaware Park Casino Review
Delaware Park Online Casino has some very obvious strong points and weak points. The most prominent strong point is the fact that this is a legal and licensed gambling site in Delaware. It is run by the state lottery and provides players with all the legal protections you would expect of a state-run lottery offering.
In other words, Delaware Park serves as a high-quality alternative to offshore gaming sites when it comes to getting paid, having a fair shot at winning and knowing that what you're doing is entirely legal. If something goes wrong, there's a regulatory body you can turn to right here in the United States – something offshore casinos cannot offer.
Delaware Park also has a strong mobile app. In fact, it could be argued that the mobile app provides a better experience than the desktop casino found at DelawarePark.com. Offshore casinos simply cannot compete on this front due to Apple's policies against hosting unlicensed gambling apps.
On the other hand, Delaware Park has some glaring weak points. The instant play desktop casino at the Delaware Park website is extremely dated with poor graphics and noticeable design issues that do not inspire any confidence whatsoever. It's actually surprising that a gaming company as prominent as 888 Holdings signed off on this.
Additionally, the game selection is quite limited. Delaware Park Online Casino only offers a collection of 46 slots plus blackjack and roulette. The casino could seriously stand an upgrade both in graphics and game selection.
Delaware Casino Deposit Bonus
20 Free Spins for Signing Up
Simply signing up for an account will get you a 20 free spins welcome bonus that can be used to try the games and win money without even making a deposit. Free spins are always a welcome sight, but this offer is limited in scope due to some onerous terms and conditions.
First of all, the Delaware Park terms and conditions explain that the most money that can be won with a free spins bonus is $20. Second, the free spins bonus comes with a 40x rollover before any withdrawals are allowed.
To further complicate matters, the Delaware Park website does not explain how the wagering requirements relate to the free spins. Nowhere is it explained if you need to roll over just your winnings from the free spins, the value of the free spins or both. In any case, the high wagering requirements make this welcome offer significantly less appealing than it appears at first glance.
100% up to $100 Deposit Bonus
Delaware Online Casino offers all new players a 100% welcome bonus worth up to $100 as an incentive for signing up and making a deposit. The 100% in this offer means Delaware Park will match your first deposit dollar for dollar to give you up to $100 in bonus funds.
You can claim this bonus by making a first deposit of at least $20 and no special bonus code is necessary. Just make a deposit of $20 or more and Delaware Park Casino will double it for up to $100 extra.
After you claim the bonus, you can clear it for withdrawal by earning 2.5 status points per $1 in bonus money. For example, earning 25 status points will clear $10 of the bonus money for withdrawal.
Status points are earned by playing real money casino games at Delaware Online Casino and accumulate at a rate of 1 status point for every $16 wagered. For example, wagering a total of $1600 on slot swill get you 100 status points.
This works out to a bonus wagering requirement of 40x the bonus amount. This means you must wager $40 for every $1 in bonus money to withdraw your bonus – which works out to $4,000 worth of play to clear a $100 bonus.
Wagering requirements are a normal course of business in online gambling, but the 40x rollover is significantly higher than the industry average and is difficult to meet. Overall, this is not a good bonus and should not even be taken into account when deciding whether or not to play at Delaware Park Casino.
Casino Software Review
We touched on this earlier and it's worth mentioning again: the Delaware Online Casino software is not impressive by any stretch. A visit to the website inspires little confidence with dated graphics, poor explanations of how the various promotions work and a general impression that this thing was cobbled together minutes before a deadline.
When signing up for an account, your browser may even warn you that the website does not use modern https encryption standards:
While Delaware Casino itself is a reputable gaming provider and is safe in terms of how they manage customers' funds, their technical security standards are clearly lacking.
The lack of an encrypted registration page is a big miss – especially considering we personally know that it really is not all that difficult or expensive to establish encrypted communications between a website and its visitors.
Once you get past the registration process, you'll find a simple casino lobby listing games by type. Like the rest of the website, the casino lobby is dated and navigation is clumsy.
The one saving grace is that the actual games look great once you launch any of the slots or table games. 888 Holdings has been designing casino games for a very long time. Once you get a game open, you'll find modern graphics as expected in this day and age.
Casino Screenshots
Delaware Park Mobile Gaming
Despite our harsh review of Delaware Casino's website interface, mobile users will be glad to know the iOS and Android apps operate on a much higher level by every conceivable measure. The graphics are better, lobby is easier to use and even the games seem to load faster on mobile devices.
The overall look and style of the mobile app resembles that of the website, but everything just runs smoother. One minor gripe we have with the app is its smaller selection of games consisting of just 16 slots, blackjack and roulette.
Mobile Screenshots
Delaware Casino Game Selection
Game selection is another area in which Delaware Park could use some serious work. At last count, the casino had a grand total of 46 slots, blackjack and roulette. Video poker, keno and other game types are nowhere to be found.
The slots at Delaware Casino include a normal variety of themes and playstyles that resembles the collection you would find at any mid-sized casino in the real world. Some of the standouts include the ever-popular Raging Rhino, an assortment of large-jackpot games and some based on popular entertainment franchises such as Elvis, KISS and Bruce Lee.
Among these slots is a collection of progressive jackpot games offering significant payouts for lucky gamblers. At the time of this review, Millionaire Genie had largest-jackpot bragging rights with a top prize of nearly $78,000.
Table games at Delaware Online are extremely limited in nature. The entirety of the table games collection consists of classic blackjack and a single game of double-zero roulette. We found it somewhat annoying that single zero roulette, which has a lower house advantage, isn't even an option at Delaware Online.
Delaware Park Online Poker Review
Delaware Park Poker launched online poker in 2013 and initially had trouble attracting a sustainable player base, mostly due to Delaware's population of less than one million people. However, things have improved a bit on that front in the intervening years thanks to player sharing agreements signed between Delaware, New Jersey and Nevada.
These agreements form the Multi-State Poker Network (MSPN) and allow players from all three states to sit at the same tables. This means if you log on to play online poker from Delaware, you may find yourself seated at tables with players from Nevada and New Jersey in addition to your Delawarean compatriots.
Traffic has improved since then, but it can still be difficult to find active games during off-peak hours and almost all the time for games other than No Limit Holdem or Pot Limit Omaha. Delaware Park averages a few hundred players online at a time depending on the time of day. This is a far cry from major poker international poker sites that attract thousands of players, but it is comparable to a real-world poker room at a major resort.
Delaware Park Poker Bonus
New Delaware Park Poker players can sign up and make a deposit to claim a welcome bonus worth up to $500. This is a deposit-match bonus, which means Delaware Park will match your first deposit with an equal amount in bonus money to give you up to $500 in bonus funds.
After depositing, your poker bonus will be set aside in a pending bonus account and then released in increments as you play real money games. The first $20 of your bonus will be released in $5 chunks every time you earn 40 status points and then the remainder of your bonus will be released in $10 chunks every time you earn 80 status points.
Status points are earned at a rate of 2 points for every $1 contributed in rake or tournament fees. For example, playing in a $10+$1 tournament will give you 2 status points. If you play cash games for an hour and pay $4 in rake, you'll be given 8 status points.
In other words, $1 of bonus money is released for every $4 paid in rake or tournament fees. This is a fair clearing rate and should not prove too difficult for regular players.
Delaware Park Poker Software
888 Holdings provides the software for all three of Delaware's poker sites and, like the casino, has a poor reputation in terms of design and functionality. Players complaints regarding the software have been an ongoing issue for years, yet it seems Delaware Park has little motivation to revamp the software.
Although Delaware's small population plays the biggest role in the networks' low traffic numbers, Delaware Park does itself no favors by catering only to PC users. Delaware Park Poker does not provide any means by which Mac or mobile users can play online. If you don't have a PC, you're out of luck.
Delaware Park Online Deposit Methods
As a licensed betting site in the United States, Delaware Park is able to accept standard deposit methods including:
Credit and Debit Cards: Visa and Mastercard are both accepted. The minimum deposit is $10 and most transactions are processed instantly.
ACH Bank Transfer: Send money directly from your bank account to your online gaming account – can also be used to receive payouts. The minimum deposit is $10 and most deposits are credited instantly to your account.
Delaware Park Sports Betting
Although New Jersey is fairly credited with leading the charge to legalize sports betting in the United States, Delaware actually beat NJ to the punch after the Supreme Court overturned the federal sports betting prohibition.
A law passed in 2009 authorized the Delaware Lottery to offer sports betting, but those plans were set aside after the NCAA and pro sports leagues to stop the law from taking effect. However, the law was never repealed. This made it possible for Delaware to jump on sports betting as soon as the Supreme Court ruled the prohibition unconstitutional.
Delaware Park, Dover Downs and Harrington Raceway all accept sports wager to this day. However, the DE Lottery has never been given authorization to offer online poker. Online sports betting remains prohibited in Delaware, but the state does have the option to legalize online betting in the future.
The Sportsbook at Delaware Park offers a full range of wagers on all major sports with large video walls and odds displays that look like something out of Las Vegas. The sportsbook is open daily from 9 AM to midnight.