Rivers Casino NY Aiming for Tuesday Sports Betting Launch
Rivers Casino Schenectady is aiming to kick-start the NY sports betting industry sooner than expected.
---
Update: Rivers Casino Sportsbook accepted the first legal wager in New York on Tuesday, July 16th as expected. A tweet from Rivers Casino sports betting partner Kambi captured the ribbon-cutting ceremony during which Schenectady mayor Gary McCarthy had the honors of placing the first wager:
---
The Albany Times Union reports Rivers Casino officials have tentatively planned to begin accepting sports wagers at the newly-constructed, 5,000-square foot sportsbook on Tuesday pending approval from the NY Gaming Commission.
According to the Times Union, Rivers Casino & Resort will hold a ribbon-cutting ceremony at 10 AM on Tuesday to celebrate the sportsbook's grand opening if they receive approval from regulators in time.
The tentative launch of Rivers NY Sportsbook on Tuesday is moving faster than expected and state regulators have given no indication they were planning to authorize the first sportsbook at such an early stage. Even so, Rivers Casino officials must be fairly confident if they are already sending out invitations as reported by the Times Union.
NY Gaming Commission spokesman Brad Maione told the Times Union that there is no hard-set timeline for when the first sportsbook will be authorized to go live:
"It is dependent on when the properties get their completed material in to the Commission."
Previewing Rivers Casino Sportsbook
A page on the Rivers Casino website details the soon-to-be-launched sportsbook, and what it shows looks promising. The sportsbook will feature a 9-foot by 53-foot video wall, 22 additional 86" TVs, tabletop seating and lounge seating.
Computer generated previews of the sportsbook show a spacious interior and modern design: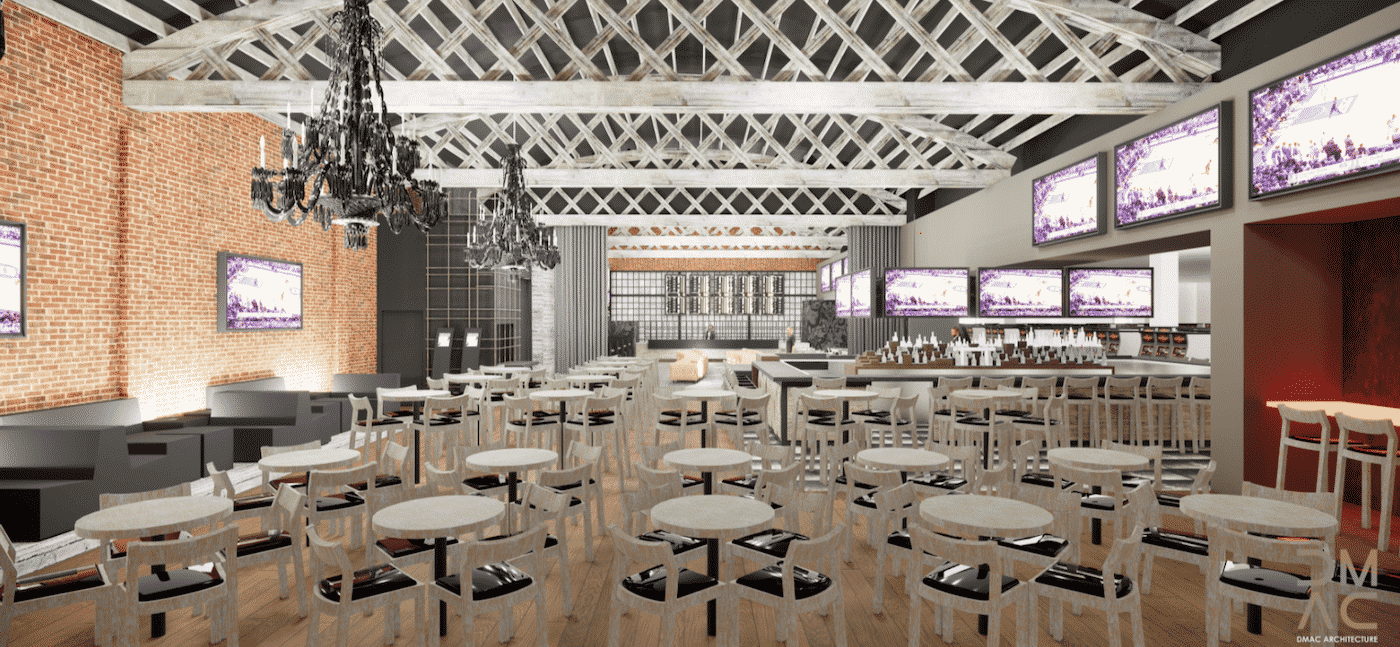 You can see more pics at the Rivers NY website for alternate angles and look at the sportsbook from the outside.
Rivers Mobile Betting Still A Possibility
New York legislators still haven't decided how they will approach mobile betting, but the demand is there, and Rivers Casino will be well-positioned if (when) online betting is authorized.
Rivers parent company Rush Street Gaming already operates online betting in New Jersey under the SugarHouse brand and in Pennsylvania at BetRivers.com. Rush Street Interactive serves as the in-house development team and has done admirable work on both apps in terms of user experience and promotions.
Last month, SugarHouse Philadelphia announced it would begin changing branding over to the Rivers Brand in order to provide a consistent message across all properties, websites and apps in New York, Pennsylvania and New Jersey.
Our takeaway from that announcement is mobile betting in New York will most likely launch under the Bet Rivers name.
Legal Basis for Legal NY Sports Betting
New York sports betting has been a work in progress for quite some time by now. A referendum approved by voters in 2013 approved sports betting at commercial casinos subject to a change in federal law. That change came in May 2018 when the Supreme Court ruled the federal sports betting prohibition unconstitutional.
The Supreme Court decision paved the way for NY to move on in-person sports betting at commercial casinos with no additional legislation needed. However, new regulations were still needed before the first sportsbooks could launch.
The NY Gaming Commission delivered on that end last month with the approval of sports betting regulations. With those regulations in place, commercial casinos can now move forward with their plans under an established regulatory framework.
Tribal casinos in New York have also stated their intention to join the party shortly after the first commercial casinos are authorized. Gaming compacts between the tribes and the state authorize tribal casinos to offer the same games offered by commercial casinos, to include sports betting.
Oneida Indian Nation announced the opening of 60 new sports betting employment positions last month in anticipation of launching sportsbooks at its Turning Stone, Point Place and Yellow Brick Road casinos in New York. Oneida also has a deal in place with Caesars Entertainment to manage its sports betting operations.
Meanwhile, the Akwesasne Mohawk Casino Resort has partnered with The Stars Group to operate a retail sportsbook under the new FoxBet.com brand. That deal also gives TSG the option to provide online/mobile betting services to Mohawk if and when the state approves mobile wagers.