This column is part of Betting USA's monthly market analysis and trends in legal US online gambling markets.
Revenue from online casinos has been a hot streak throughout 2019. October 2019 was a lot more of the same.
New Jersey set a new online casino revenue record and continues to be a shining example of the beneficial relationship between online sports betting and online casino products.
The Pennsylvania online casino industry is still in its infancy, and in just its fourth-month, online casino revenue crept up to almost $5 million.
Delaware online casino revenue pales in comparison to New Jersey and even Pennsylvania, but the Blue Hen State continued its streak of year-over-year gains in October.
Here's a more detailed look at the recent revenue trends in each state.
New Jersey: Growth Is the Name of the Game
New Jersey online casino revenue set a new high-water mark for the fourth consecutive month in October.
According to the latest numbers released by the New Jersey Division of Gaming Enforcement, online casino and poker revenue topped $45 million, and with a similar number generated by the state's retail and online sportsbooks, the "new" verticals accounted for $91.6 million of the $293.9 million the state's gambling industry took in.
One of the more remarkable aspects of the revenue numbers is the sustained growth of online casino since the launch of online sports betting last summer. You can find four more takeaways from New Jersey's October revenue numbers here.
As the chart below shows, since the launch of online sports betting in August 2018, New Jersey online casino revenue has been growing at an astronomical rate.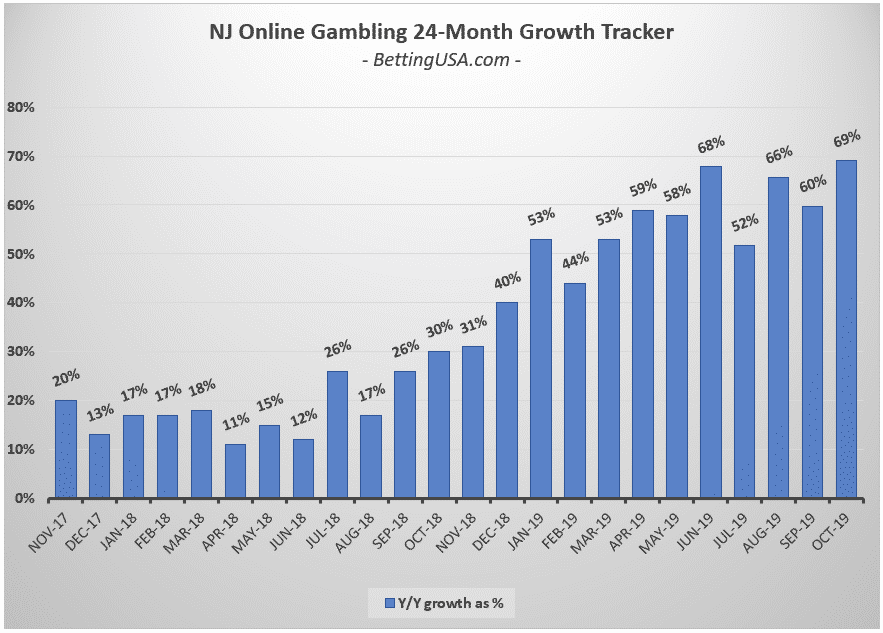 Pennsylvania: I'm the Tax Man
Pennsylvania isn't on par with New Jersey, but as we explained last month, there are several explanations for Pennsylvania's lag, most of which will get solved over time.
But there is one area where Pennsylvania is outpacing New Jersey: taxes collected by the state.
Even though Pennsylvania online casino operators generated a fraction of the revenue compared to their counterparts in New Jersey, the state of Pennsylvania collected over $2.3 million from online casino thanks to its higher tax rate. By comparison, New Jersey collected $6.8 million.
That's an important number to watch going forward. New Jersey generated nine-times more revenue than Pennsylvania, but the state only collected three-times more tax revenue.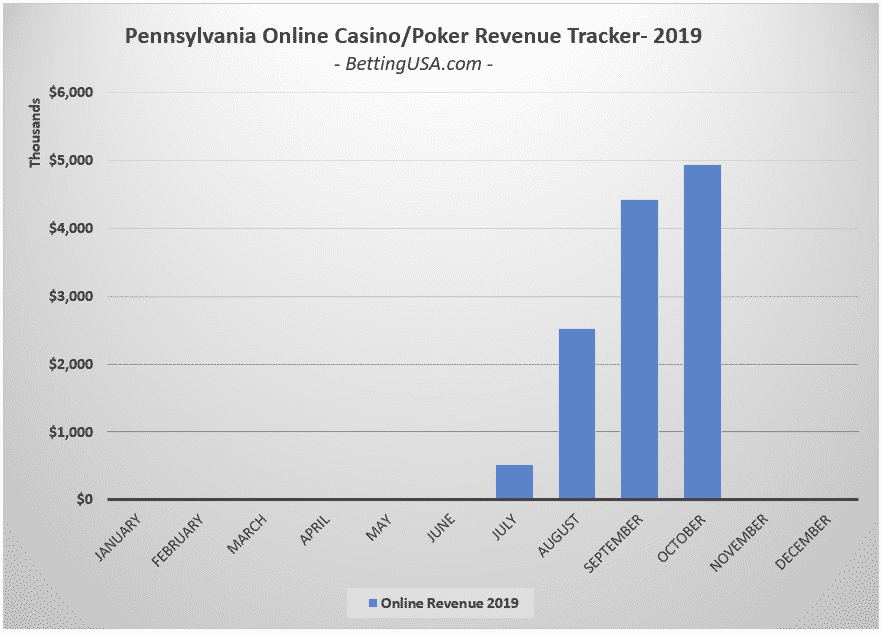 Delaware: A Little State With Little Revenue
Delaware continues to be the little engine that could.
Delaware's online gaming industry is constrained by its diminutive population, a lottery-run monopoly, and a tax scheme that makes it difficult for the state's three racinos to leverage their online gambling offerings.
That said, Delaware's industry is in a prolonged period of growth, caused by the launch of sports betting in the state.
However, as the chart below shows, growth is slowing now that the year-over-year comps include sports betting months.