The Massachusetts Gaming Commission got an in-depth look at the impact MGM Springfield has had on the city of Springfield, surrounding communities, and the state.
At the September 26 MGC meeting, representatives from MGM and the state's SEIGMA (Social and Economic Impacts of Gambling in Massachusetts) project relayed information and findings to MGC commissioners on the impact MGM Springfield has had on the area and the state.
The SEIGMA research is part of a larger, multi-year study that was initiated when Massachusetts legalized casino gambling in 2011. The monumental task of gathering data pre- and post-casino openings went to UMass Amherst.
The UMass Donahue Institute conducted the latest research detailing MGM Springfield's first year.
Employment Pre- and Post-Opening
The SEIGMA researchers estimated that during the construction phase, "4,250 workers, worked 2.6 million hours over 16 quarters and were compensated $173 million."
Broken down further, the numbers include hourly wage and the average length of service:
FTEs (full-time employees): 1,251
Hours/Worker: 612 (approx. 15 weeks @ 40 hrs./week)
Hourly Comp/Worker: $66
MGM's submitted report indicated that from an employment perspective, the property is doing even better than the construction numbers. MGM Springfield currently boasts 2,054 employees, of which 1,563 are full-time employees.
MGM is also closing in on or exceeding its hiring goals.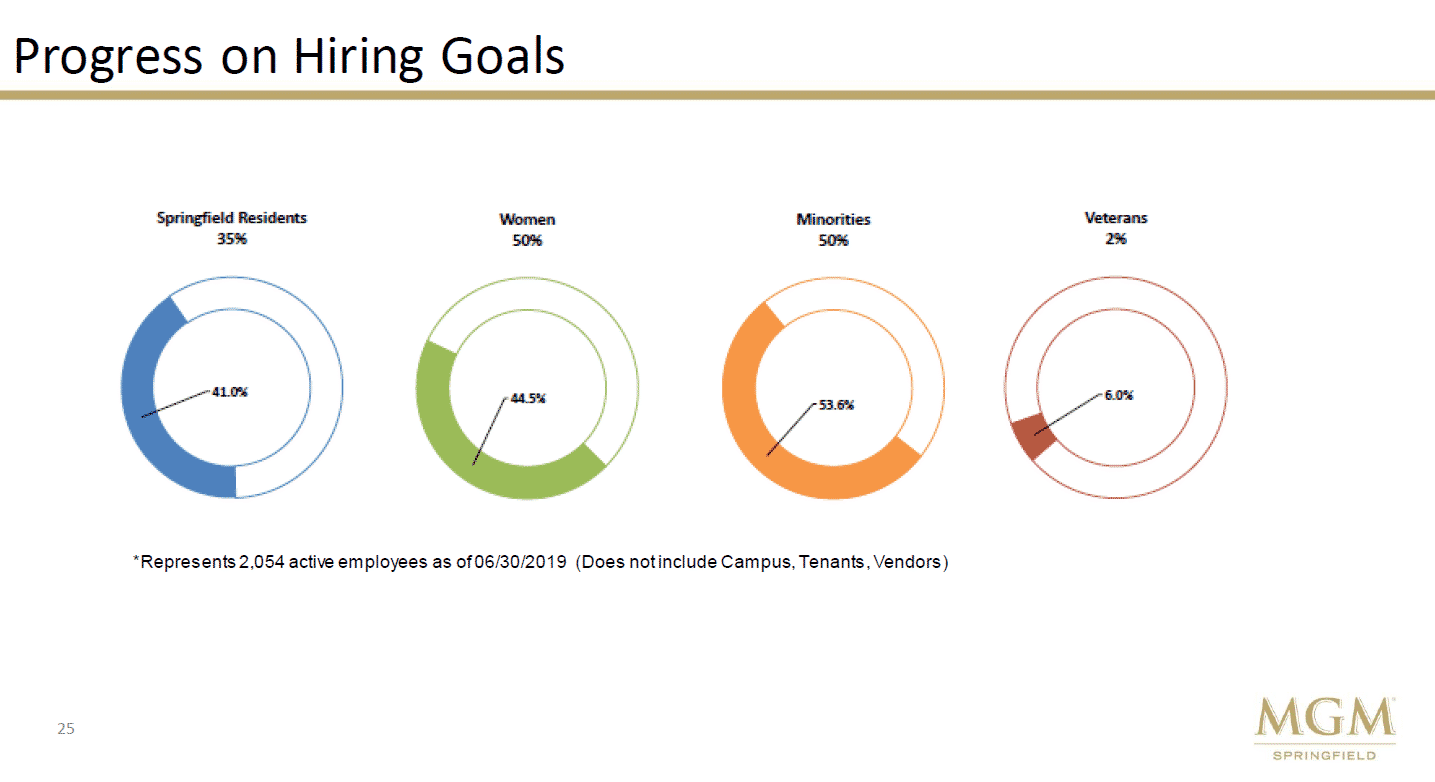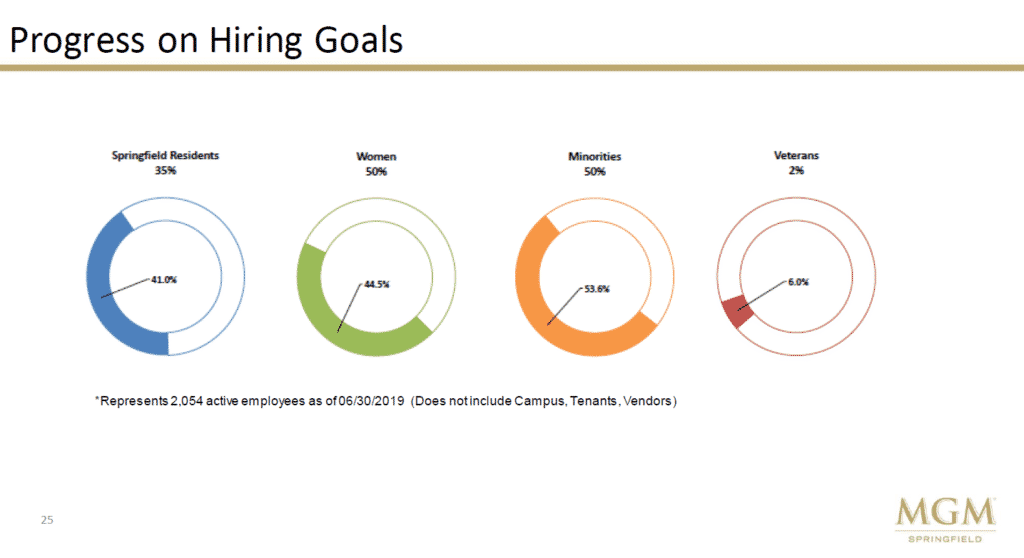 The SEIGMA report extrapolated the construction jobs and wages into economic impact, saying the state experienced an increase of $512 million in gross state product since 2015.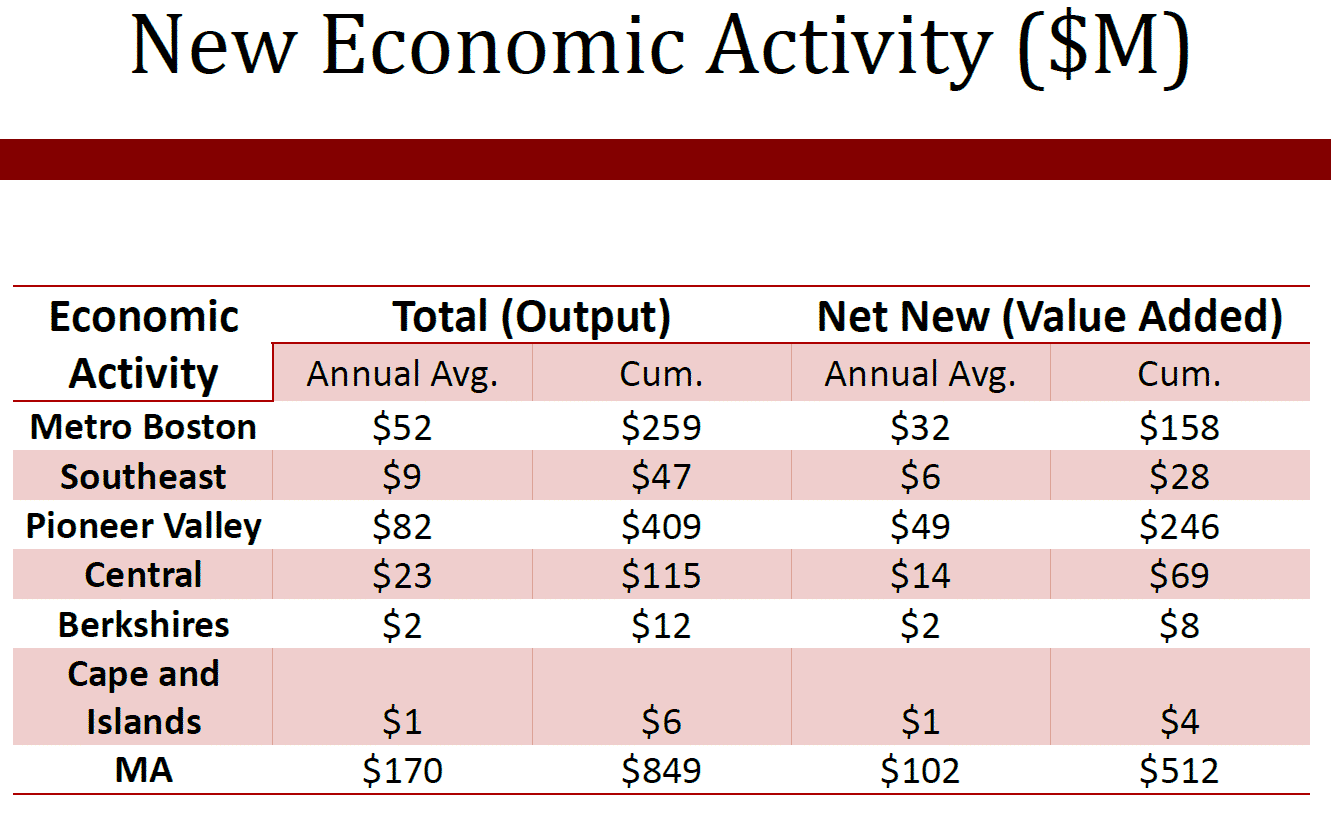 Insufficient Data on Real Estate Impact
A major point of the ongoing studies commissioned by the MGC is the impact the casinos have on residential and commercial real estate in the host community and surrounding towns.
With only a year of data to consider, the researchers were reticent to say the casino was the cause of home pricing changes in Springfield and surrounding communities, noting that other economic factors could be responsible.
One area they were willing to speculate about was rental prices, noting that real estate speculators were buying up multi-family homes before the opening and raising the rent.
"In 2013, you could get a 2-3 bedroom for $950. Now you're looking at $1,400-$1,600." —Rose Webster-Smith, Lead Community Organizer, Springfield No One Leaves

"You can still buy a house for really affordable prices, but rentals are really high." —Catherine Ratté, Principal Planner—environment and land use, Pioneer Valley Planning Commission
Casino Is Creating a More Vibrant Downtown
Apositive impact the researchers highlighted is a livelier downtown area.
"I have seen increased foot traffic around the venue and it does seem that there is spillover into downtown. How far? I can't say. […] There are more [people] around on main street in the evenings." ––Geraldine McCafferty, Director of Housing, City of Springfield

"We were making lunch plans with people […] and they were saying, 'Where can we go where there's isn't a line anymore? There never used to be lines in Springfield.' And the downtown in the evenings is also much livelier." ––Catherine Ratté, Principal Planner—environment and land use, Pioneer Valley Planning Commission
However, as the report suggests, the impact is limited to a small geographical area surrounding the casino.
"MGM Springfield has a major footprint in downtown Springfield, but spin-off commercial development remains limited. New restaurants, area improvements, increased foot traffic has thus far been limited to the area immediately adjacent to the casino."
Revenue Numbers Have been Underwhelming
MGM Springfield hasn't exactly lit Western Mass on fire in terms of revenue.
Initial projections back in 2011 suggested the property would pull in $416-$485 million annually. In its first year, the property barely managed to break $250 million.
That number is in further jeopardy. The opening of Encore Boston Harbor this summer, improvements and new betting options at other area casinos, and the continued specter of a tribal casino opening just 15 minutes away in Northern Connecticut could further cut into MGM's revenue numbers.