New Jersey's online gambling industry just created another millionaire. It was revealed yesterday that a man who didn't want to reveal his name won a $1,522,000 jackpot while playing Let It Ride at BetfairCasino.com. He hit the big jackpot on February 14th after catching a Royal Flush.
He did it after placing a $500 bet on each of the first three betting positions at the Let It Ride table and a $500 bet on the 3 Card Bonus Payout option. This means that at the time of the big hand, he had $2,000 in play.
His first three cards were the 10 of diamonds, Queen of diamonds and Jack of diamonds. Obviously, he let all three bets ride and said he was in shock when he was next dealt the King of diamonds and Ace of diamonds. This gave him a made Royal Flush and qualified him for major payouts on all four wagers.
Each of the first three wagers was paid 1,000:1 for hitting the 5-card Royal. This netted him $500,000 on each of those wagers for a total of $1,500,000. His 3-Card Bonus bet paid 40:1 for hitting a 3-card straight flush on his first three cards. This landed him an extra $20,000. His original wagers were returned as well, giving him a grand total payout of $1,522,000.
Here's a screenshot from Betfair Casino that shows what his wagers looked like at the time of the big win: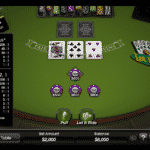 Altogether, this makes the lucky player the winner of the biggest single payout to date at a regulated New Jersey betting site.
About Betfair Casino
Betfair Casino is a licensed real money gambling site authorized by the State of New Jersey Gaming Enforcement department. The casino is the result of a collaboration between Betfair and the Golden Nugget of Atlantic City. They went live with the betting site in 2013 after New Jersey became one of the first states in the US to authorize real money online gambling and poker.
The bill that was passed into law in early 2013 allows each Atlantic City casino to partner with one software operator to offer real money games to residents. London-based Betfair originally teamed with the Trump Plaza, but that ended in 2014 when the Trump Plaza folded. Betfair is now allied with the Golden Nugget.
Betfair Casino is open to anyone 21 years of age or older and located inside New Jersey. You don't have to be a resident to play online, but you do have to be physically present in the state to log in and play real money games. If you're located in New Jersey and would like to try your luck at the same table, just head over to BetfairCasino.com to sign up for an account.
All new customers at Betfair Casino qualify for two welcome bonuses. First, they'll give you a free $10 bonus just for signing up. Betfair will then double your first deposit for up to $1,000 extra when you make the switch to real money. In addition to new player bonuses, Betfair hosts a variety of promotions for loyal customers each day of the week. These extra perks consist of reload bonuses, money back guarantees and more.