New Jersey Casinos Post Best Year Since 2012 Thanks To Online Gambling And Sports Betting
New Jersey's online gambling and sports betting industries collectively tallied $78.8 million for December, according to the New Jersey Division of Gaming Enforcement's latest revenue reports.
The big story continues to be the growth of online casino revenue following the introduction of legal online sports betting in the state. Despite being six years old, New Jersey is still a maturing online casino market, as year-over-year growth was nearly 75% (70% including online poker) for December.
And as the chart below shows, that's not an anomaly.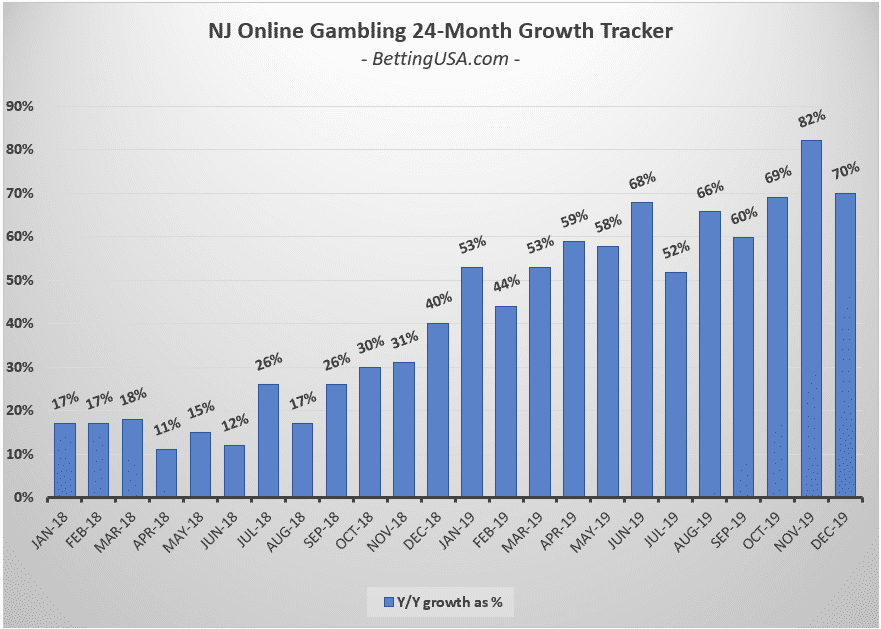 Another December number that stands out is sports betting handle. At just over $550 million, December handle was just shy of last month's record of $562 million, with the vast majority of wagers, 88%, placed online. Research firm Eilers & Krejcik Gaming expects the online-retail ratio to continue to skew heavily towards online and settle at around 90%-10%.
2019 Was a Banner Year for New Jersey
The December DGE numbers also provided us with a year-end look at the New Jersey gaming industry… and it's a million-dollar view.
Suffice it to say, the year-end and year-over-year growth numbers are staggering:
Total gaming revenue: $3,468,633,795 (+19.5% Y/Y)
Land-based casino revenue: $2,686,540,452 (+7% Y/Y)
Online casino-poker revenue: $482,695,308 (+61.6% Y/Y)
Sports betting revenue: $299,398,035
Sports betting handle: $4,582,941,931
At $3.5 billion in total gambling revenue, 2019 was the state's best year since 2010. It was also the second straight year total gaming revenue topped $3 billion (a feat last accomplished in 2012), and the fourth consecutive year of growth following a decade long downswing that saw revenues fall from $5.2 billion to $2.6 billion.
But what really stands out are the contributions of the new verticals of online gambling and sports betting. Online gambling and sports betting accounted for 22.5% of all gaming revenue the state of New Jersey collected in 2019. More importantly, it's doing it without cannibalizing land-based revenue.
The new ventures are not only benefitting the land-based casinos, but they're also benefitting the state. The combination of online gambling and sports betting provided New Jersey with $109 million in tax revenue in 2019.
To put the performance of online gambling and sports betting in perspective, if they were casinos, they would rank second and fifth in 2019 in terms of gross gaming revenue.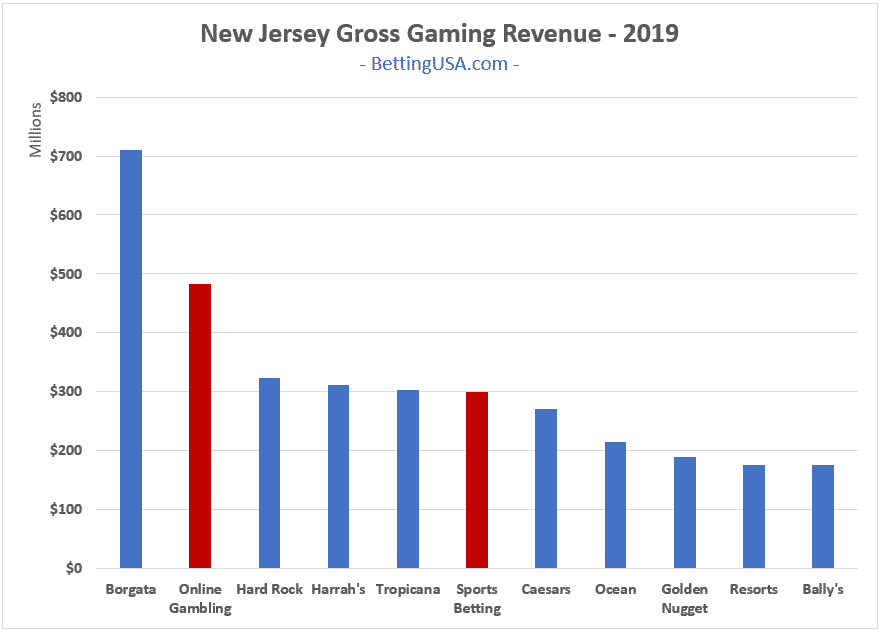 To put it plainly, online gambling and sports betting aren't the quaint additions they were initially made out to be. At least not in New Jersey. They are massive revenue drivers, both independently and as part of the collective gaming industry.
Furthermore, there's no telling what state the Atlantic City casino industry would be in if New Jersey didn't legalize online gambling back in 2013. At least two of the city's casinos (Golden Nugget and Resorts) heavily rely on online gambling revenue, to the point that they would very likely be shuttered casinos without it.
What Casinos Benefit the Most?
Golden Nugget has the distinction of being the only Atlantic City casino that has generated more revenue through online gambling than land-based gaming in a month.
For the year, Golden Nugget had a near 50-50 split, with $199 million in land-based revenue and $177 million in online casino revenue. Golden Nugget hasn't found its sports betting footing yet, as the casino's year-end tally was a meager $2.4 million.
Resorts Casino can tell a similar tale, but its story features a combination of online casino and sports betting. The Boardwalk property generated $176.4 million in land-based casino revenue in 2019. Its online gambling and sports betting tally: $179.7 million.
The benefits of online gambling and sports betting aren't limited to the city's small operators. Even the mighty Borgata is becoming heavily reliant on online gambling and sports betting, Of the $797.8 million the casino tallied in 2019, $88.3 million (11%) came from online gambling and sports betting.