New Jersey Online Gambling Revenue Surpasses $100M In January
2020 began with new revenue records for New Jersey's online casino and sports betting industries. All told, in January, online sports betting, online casino games, and online poker generated over $100 million, a first for the industry.
The online revenue breakdown was as follows:
Sports betting revenue: $47.1 million
Casino revenue: $53.3 million
Poker revenue: $1.8 million
Growth Can't Last Forever. Or Can It?
The question, when will online gambling in New Jersey reach maturation and level off, remains impossible to answer.
Launched in November 2013, the New Jersey online casino industry should have spoiled by now, but growth has extended well beyond it's "best if used by" date.
Beyond that, growth has accelerated since the addition of online sports betting in August 2018.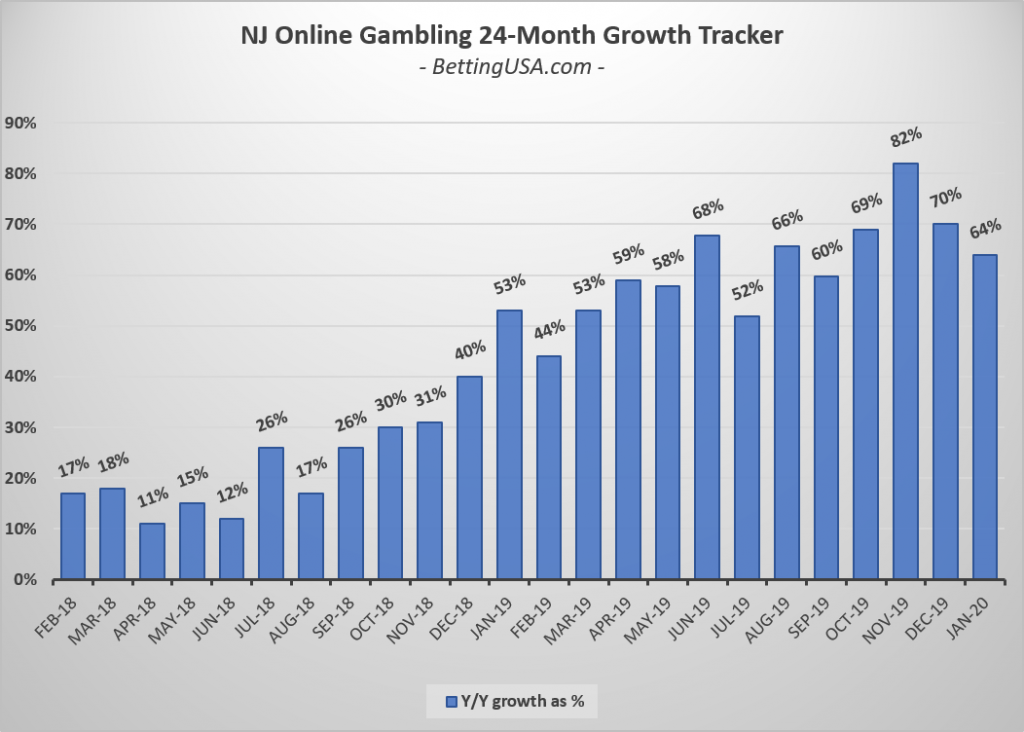 The ongoing growth of the New Jersey online casino market is without comparison. The inability to look to existing markets to forecast what the future holds can frustrate analysts. But, New Jersey is a unique experiment. An older comparable market simply doesn't exist.
When I raise the question, when does the growth end, with other industry types, the answer, without exception, is, "I don't know."
Is Current Growth a Byproduct of a Slow Start?
Ignoring Delaware, New Jersey was the first state in the US with legal online casino gambling, and the industry was a slow burn from the outset.
The industry was held back for the following reasons:
Lawmakers and regulators erred on the side of caution when it came to geolocation and player verification.
Consumer awareness was extremely low, with only about 10% of New Jerseans knowing that online gambling was legal, according to former 888-CEO Brian Mattingly.
Customers were also unaccustomed to a heavily regulated online gambling industry and frustrated by the geolocation and player verification process.
Payment processors were wary of facilitating online gambling transactions even in a legal state. That led to a high percentage of declined credit card transactions.
An early miscalculation by some operators that New Jersey was going to be an online poker market. Only later did they realize New Jersey was an online casino market and shift marketing spend accordingly.
The Formative Years of the New Jersey Online Casino Industry
The slow start wasn't a death knell. Rather, it gave the market more space to grow. And grow it did.
As seen in the chart below, from 2013 – 2018, New Jersey's online casino revenue grew at a steady clip annually before skyrocketing in 2019.
As the market matured, the New Jersey online casino industry gathered momentum. Payment processing improved, and customers grew accustomed to the ever-improving geolocation and player identification processes in place.
Additionally, more and more operators viewed the New Jersey market as a gateway to the US. The fundamental belief was, if you're not active in New Jersey, you're at a disadvantage. As such, the market has become hyper-competitive, with plenty of advertising and marketing spend.
And Along Came Sports Betting
By 2018 growth slowed, and the market appeared destined to level-off. That all changed when the Supreme Court struck down PASPA in May.
The addition of online sports betting in August 2018 was a shot in the arm for the state's online casino industry, and the two products have been feeding off one another ever since. And no one knows when that will come to an end.